London fashion was back to doing what it does best during LC:M this season: shock, awe and total surprise with a dash of practicality. Craig Green caused controversy with a series of mummified looks, as KTZ played baseball and Burberry went back to its classic checked scarves. But other designers forged new paths with fresh perspectives that made us re-think their game plans. Here's who made us take note this time…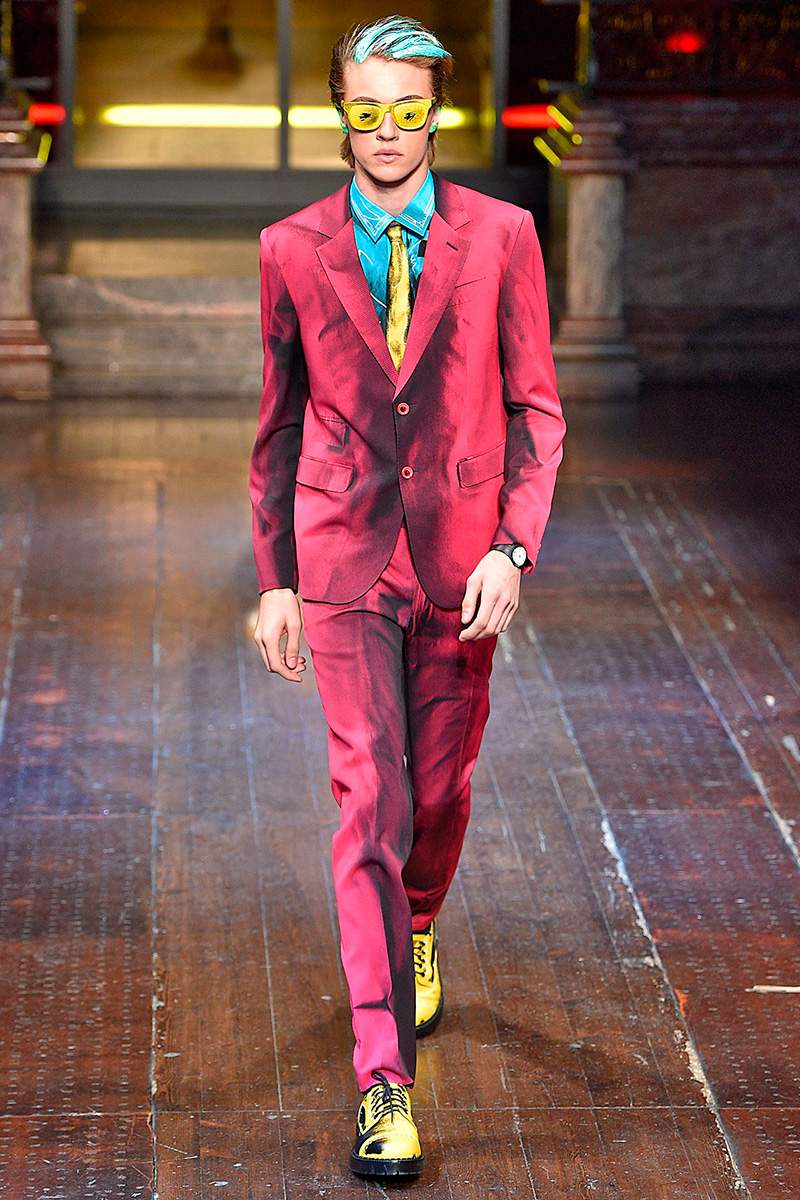 Moschino
A myriad of manic designs made Moschino the key talking point of LC:M again this season as Jeremy Scott sent a ravishing array of rainbow coloured costumes down the runway. Multi-coloured models instantly saturated the catwalk in an intoxicating mix of fruity cocktail tones. Lemon yellow jeans, luscious lime green bombers and plump blackberry puffer jackets were the perfect entrées to what amounted to a sordid visual sugar-rush of sweet candy-wrapper looks. Hyper-hued fabrics were given a textural twist with painted-on creases, giving each piece a 'Nestle Quality Street' nuance, while candy striped jumpers and scarves in strawberry and raspberry reds added to the syrupy sensation with a similarly saccharine flavour. But things took a sweet-and-sour Pop-Art turn when freakish 'neo noir' prints popped up on neon nineties clubkid tops featuring boys with punky Mohicans and ruffled New Romantic quiffs. The avant-garde adventurism of Andy Warhol's wacky art was definitely invoked in the kaleidoscopic colour collisions and cartoon caricatures as British modern art duo Gilbert and George rounded off the artistic elements with their archive prints of fluoro florals and statement slogans, from 'Power' to 'Life' and 'Fear.' It was as sweet and juicy as ever before, but with darker and more erratic twists.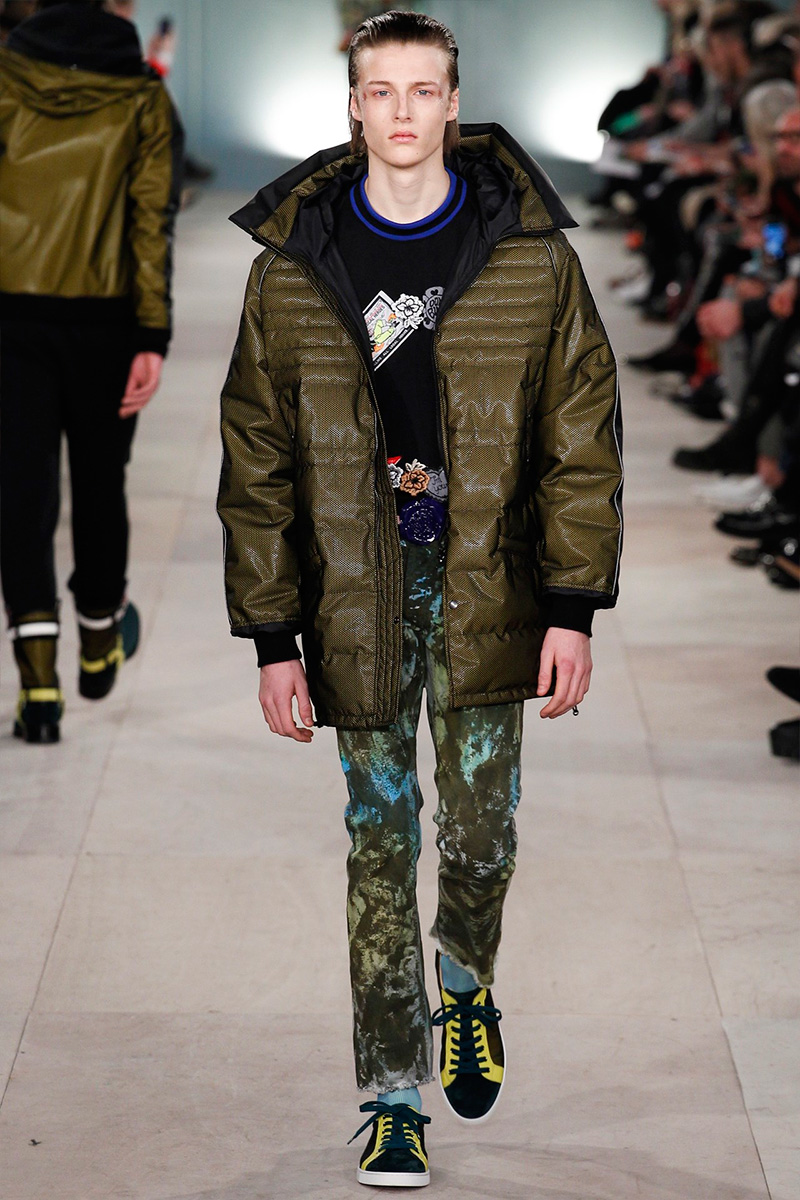 James Long
James Long's collection touched upon tribal mystique again with an emblematic edit of organic florals and ethnic Aztec stripes. But this time, the mood was more Dalston dancehall and Brooklyn house party than the deserted beaches and temples of Burma or Bali. Key clothing staples revolved around the wardrobes of local cool guys who work hard and play even harder at the hottest gigs and clubnights in town. Think vibrant sweatpants, chilled denims, patterned shearling jackets and colour-drenched sweatshirts for those whacked-out weekend rave moments which are always in the calendar. Party loving local heroes were the centre of attention in the comic cartoons of the hoodies and jumpers while trippy turquoise sequin tops and glitzy gold embellishments celebrated their disco dancetime desires. Spray painted denims resembled tripped out tie dyes that could easily be seen at a Thai full moon beach party or just down the road at the downtown shisha café, depending on your exact and preferred location. However, poppy printed trousers and dense green jungle jackets were certainly conjured from more mesmerising and mystical realms such as Afghan opium fields or Rarotongan rainforests. But such faraway distractions were brought back to reality with metallic tech bombers that glistened like the glass of urban skyscrapers. Adventurous escapades were still in the back of the mind, but weekend parties seemed far more pressing.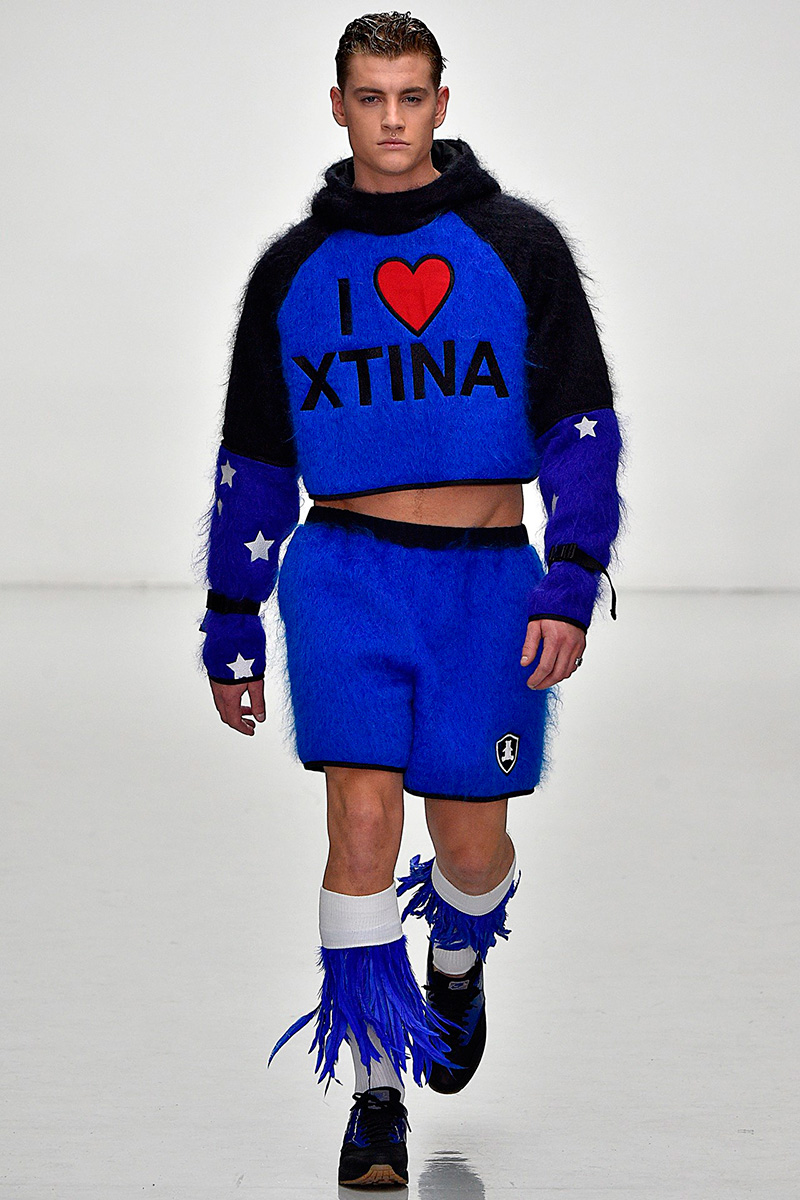 Bobby Abley
Bobby Abley also focused on the party for his bold and brash collection, while taking things back to tropical shores with a Rio de Janeiro themed Carnival colour clash. Lush tones burst onto the catwalk in an exotic extravaganza that featured colour-pop cartoon looks amongst Rio Carnival costume feathers in a range of Samba hues. Direct Rio references were aplenty with 'Christ the Redeemer' t-shirts and city slogans on passionfruit coloured tops, while Ipanema ocean blue hoodies made a nod to Disney's awesome animated epic of the same city name. Caipirinha green vests and coats fused with sports-luxe sweat pants that shone through in stand-out deep blues as a dusting of stars from the Brazilian flag transformed these casual basics into striking set pieces. The languidly lapping waves of Copacabana Beach were then hinted at through sea blue and lagoon green swirls on track pants and flowing shorts, while banana yellow trainers completed the sub-tropic streetwear vibe. But the ultimate tourist attraction had to be the cartoon sweats and hoodies featuring punchy Amazonian parrots and Daffy Duck on a jungle run. Christina Aguilera made a random cameo appearance too as the Carnival Queen in a tangerine orange 'Dirrty' crop top to complete the action-packed proceedings.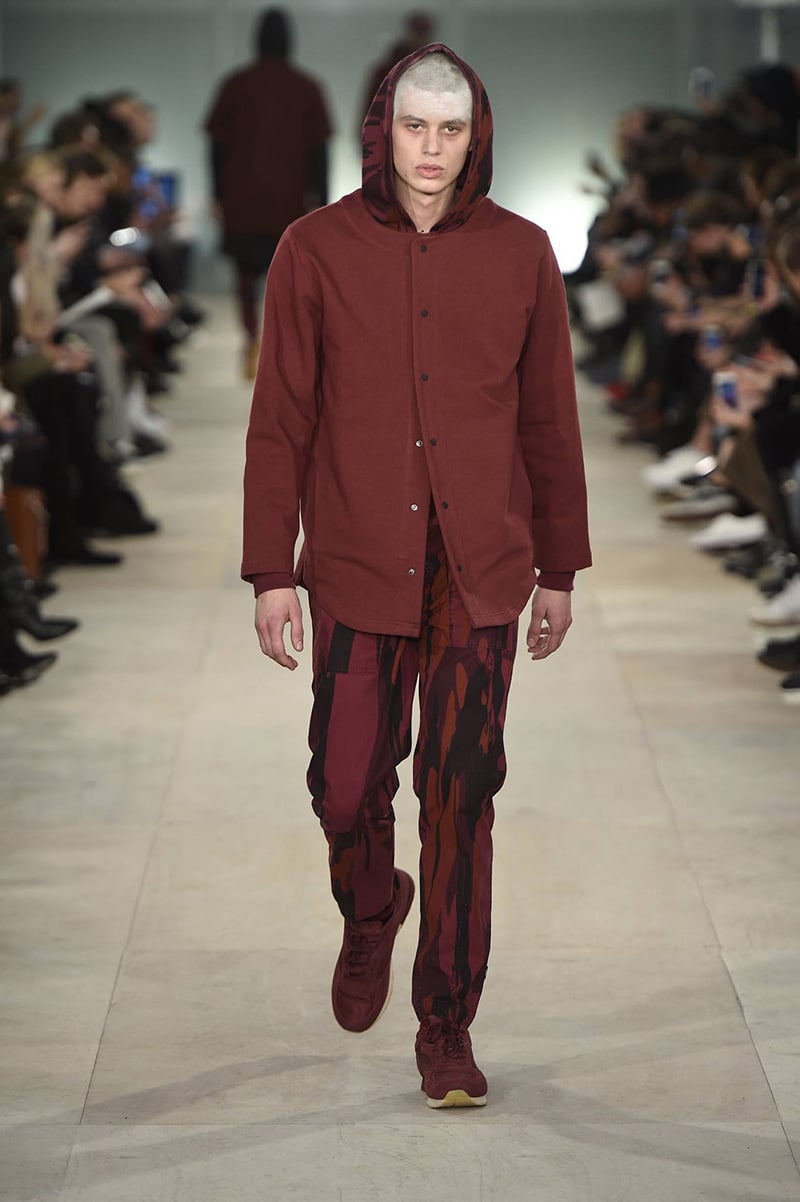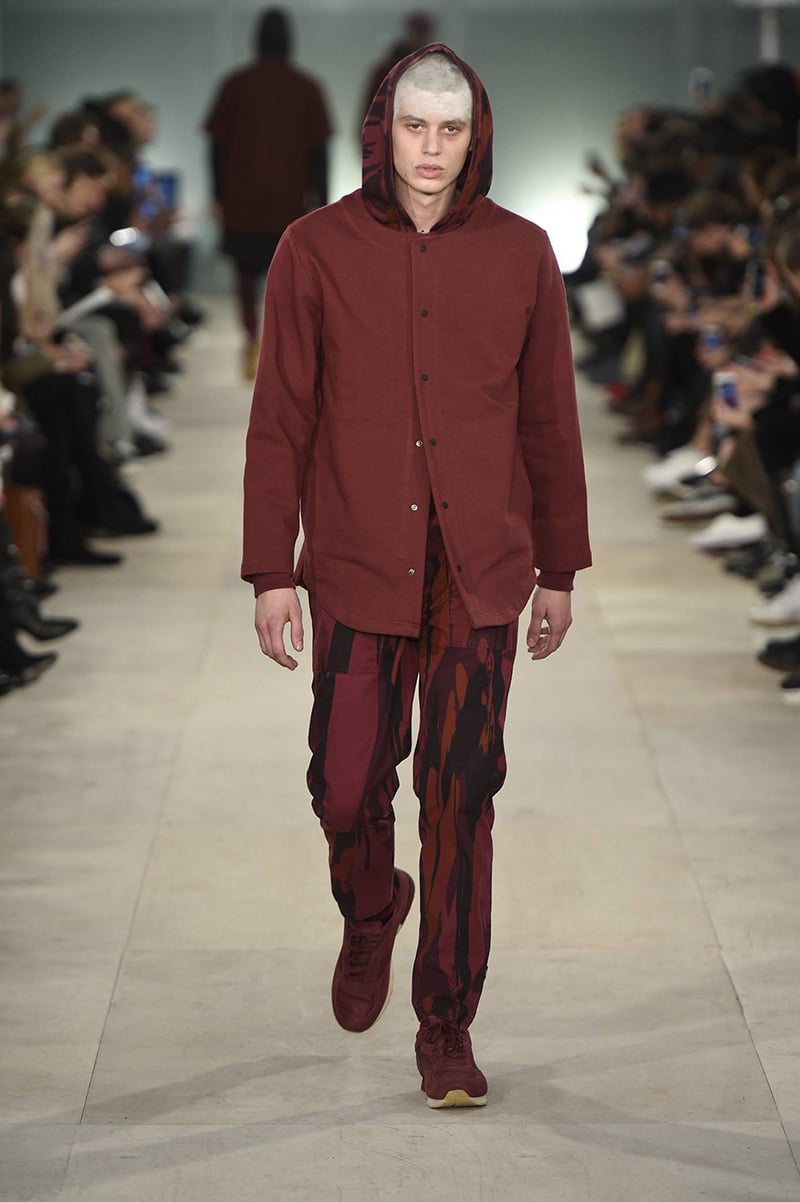 Maharishi
The destination then shifted to the Indian sub-continent and into the beating heart of the hypnotic Himalayas. The age-old military rivalry between India and Pakistan along the tranquil but tumultuous Kashmir border was expressed in ethnic inspired camouflage capes and rugged cargo pants, while the curvaceous snow-capped peaks of Ladakh and Leh were evoked in cosy padded outerwear of bulging proportions. Patchwork trousers and knitwear looked inspired by Nepalese Sherpa nomads with their rustic, hand-stitched clothing as the leafy green colours depicted picture perfect pine forests in the stunning Shimla foothills of the world's tallest mountain range. Tibet's sun-drenched steppes then emerged from a colourful cacophony of burnt cinnamon shades that submerged key clothing pieces in a swathe of Dalai Lama orange. Buddhist monk robes and shamanic patchwork shawls subsequently ensued from a monastic mirage of spiritual silhouettes that clearly aimed to demonstrate the drama and splendour of other-worldly looks. This was summed up most succinctly in some of the final show styles which diverted the route down to the holy waters of sacred Varanasi for an Indian sadhu insurgency; think combat camo pieces fused with spicy saffron hues, Hindu tika face paints and golden yellow yogi prayer beads plus obligatory Goa trance dreadlocks.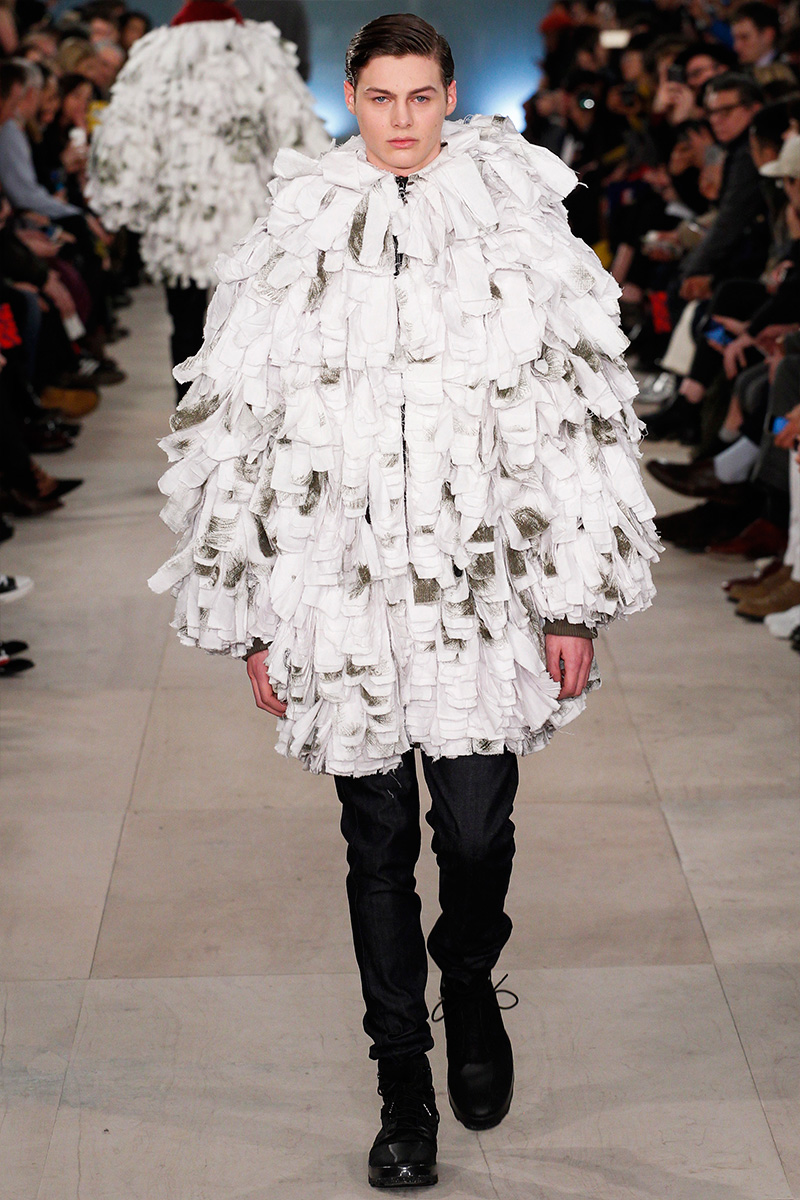 Christopher Raeburn
Christopher Raeburn similarly indulged in a far-flung journey that headed far deeper into the Far East. His obsessions with remote and rugged landscapes took him from the forests of Borneo to the land of Genghis Khan, with its inhospitable mountains and panoramic plains. Mongolian meadows with moss green foliage were exemplified in the olive anoraks and hooded parkas, which contained flecks of brown in the prints, like the woody bark of a tree. The sandy prairies of the Gobi Desert were also clearly imagined in the design of the patchwork bomber jackets and fluffy shearling lined overcoats, which not only reflected the caramel colours of the earth, but also denoted the loose and enveloping silhouettes worn by nomadic herder tribes in Mongolia's far north. This sense of remoteness was reiterated in shawl like cardigans with a Patagonian edge along with the ice-white shredded ponchos in the show finale, which looked pretty much like a Siberian snow blizzard. Eye-catching knitwear also added to the mountainous mood with white patches that resembled streaks of snow, and cute snow leopard prints that captured the wild and wondrous terrain of Mongolia's most isolated areas. In this sense, it was a show that pushed boundaries by expanding visual horizons and making people think about places more unknown to the outside world.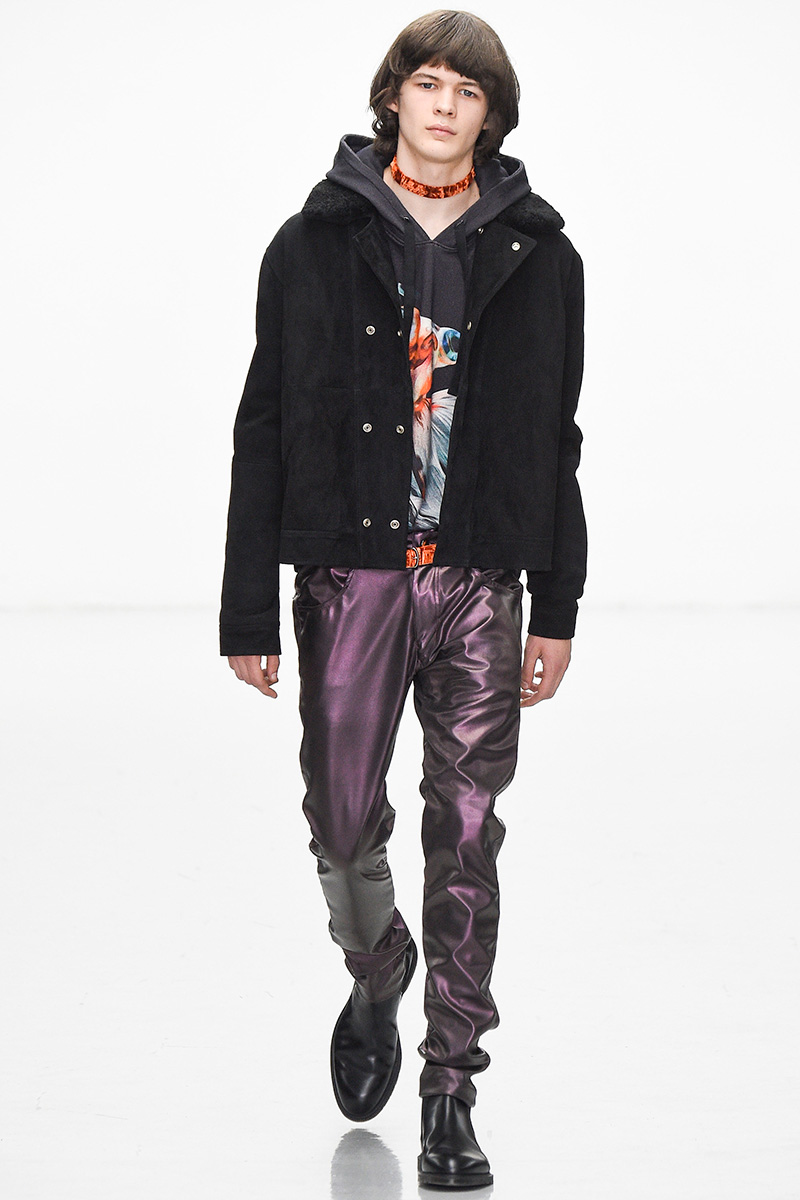 Katie Eary
Katie Eary also pushed boundaries this season, but this time, in a more personal way. The print princess toned things down a notch without selling the soul of her label, which depends on making statements with sublimely surreal patterns. Initial looks were full-on Eary: space-age metallics, crotch-grabbing PVCs and delicious crushed velvets, which included chocolate brown jackets, clementine sweaters and sapphire overcoats featuring garish glossy panels. Awesomely absurd motifs also re-appeared such as goggle-eyed goldfish on jumpers, hoodies and shorts. But things then took an almost ornamental turn with what looked like Art Nouveau patterns and sharp Art Deco lines on pseudo-oriental silhouettes with kimono connotations. Creatures of nature such as butterflies and snakes were curved and twisted along fluid lines to make highly decorative graphics from these retro artistic eras. And despite the fact that the snakes were winking like rebellious teenagers, patterns were definitely more mature, with sophisticated and elegant paisleys in romantic aubergine filling up one look, while jagged geometric lines dominated loose shirts and pyjama-like trousers, which draped like the robes of Ming dynasty emperors. Colours were as soft and sensuous as the highly tactile fabrics, which included everything from lustrous silks to supple wools. It was perhaps Katie at her more refined and renegade, but we certainly weren't complaining.