We walk back through the unstoppable career of the young actor who continues to accumulate unclassifiable and interesting projects. Photographed by Erion Hegel Kross and styled by Rita Bassols.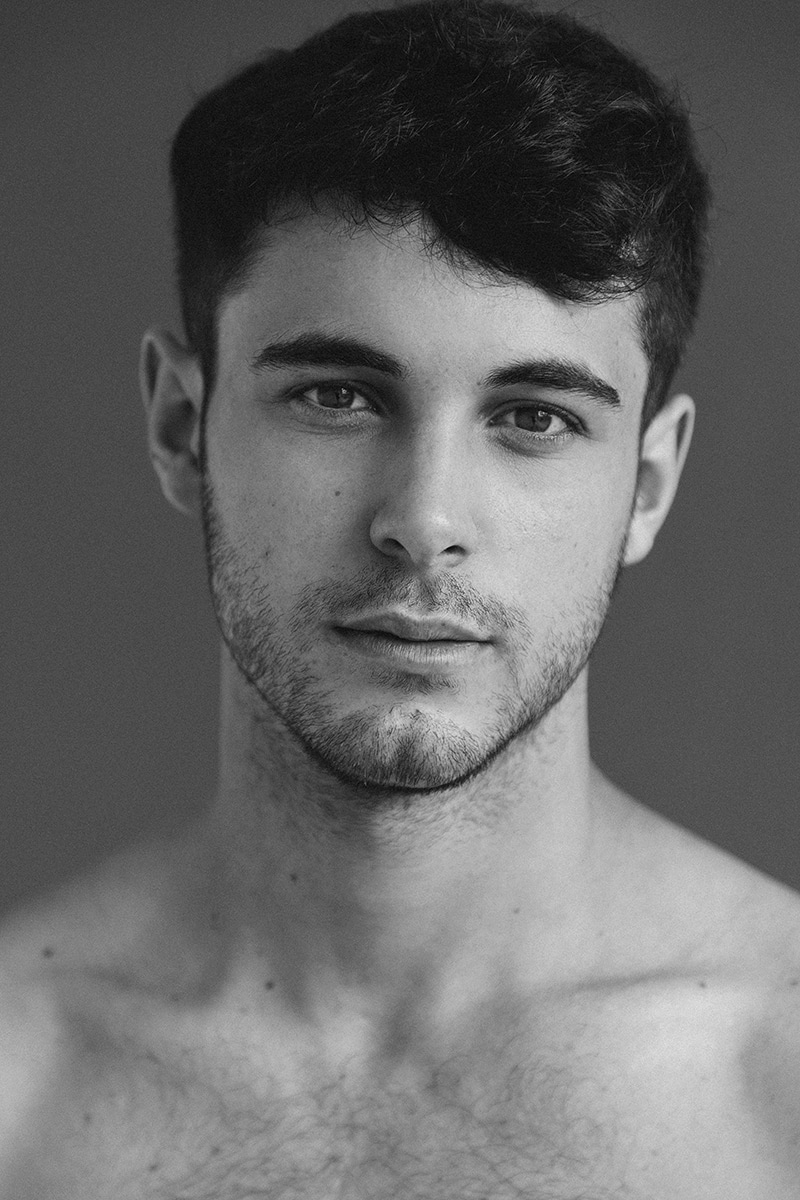 What a ride having the chance to speak with David Solans. Because this Catalan actor, through the misadventures of his characters, has served as the mirror of many confused young people. No matter how many of his characters felt lonely, dejected or disenchanted by life, school or the whims of a high school hunk, David continued to push them forward, reflecting his courage and power of completion choosing his own path without accepting the vagaries of fate. And the thing is that David, even with the mythical role of Merlí behind his back, has lived many lives and it is a privilege to be able to walk through them with him.
David, how's the summer going? Have you been able to leave to disconnect from the outside world?
Well, I'm spending the Summer working in Madrid, dying from the heat.
Based on your Instagram posts, I thought you were somewhere near the beach.
That depends on the day. I try to escape, but most of the time I'm on set working.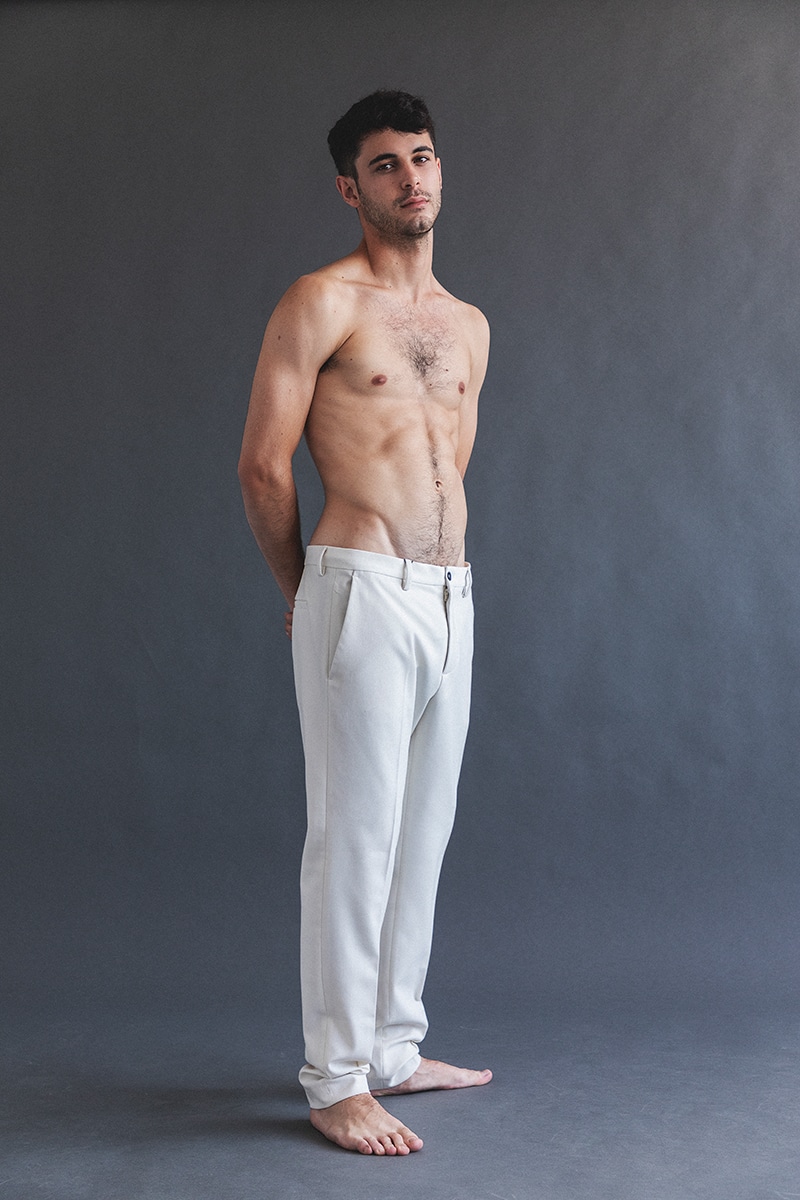 But, you live in Barcelona, right?
Yes, yes, I live in Barcelona but currently, I'm in Madrid for work.
What do you think about the experience of living in Madrid?
It is not the first time that I am here for work. I know these Summer months are rare because you prefer to be on the beach with your friends, but I am very grateful to be able to be a part of this new show, it is very cool.
Your 2021 is loaded with projects. You are currently filming "Baruca" a Netflix thriller set in a prison. You have already fooled around with this genre in series like "La Caza: Monteperdido" or "Bajo Sospecha". What do you find attractive in thrillers?
I guess in Spain, we are quite good at developing thrillers. I confess that it is not one of my favorite genres, but it has something that an actor feels grateful for, since many times, you don't even know how your own story is going to end. You don't know if you are going to reach the end dead or alive, it is a very exciting game. There is something in this kind of fiction that makes me feel very comfortable. But, my participation in the genre is by chance, I have not looked for it.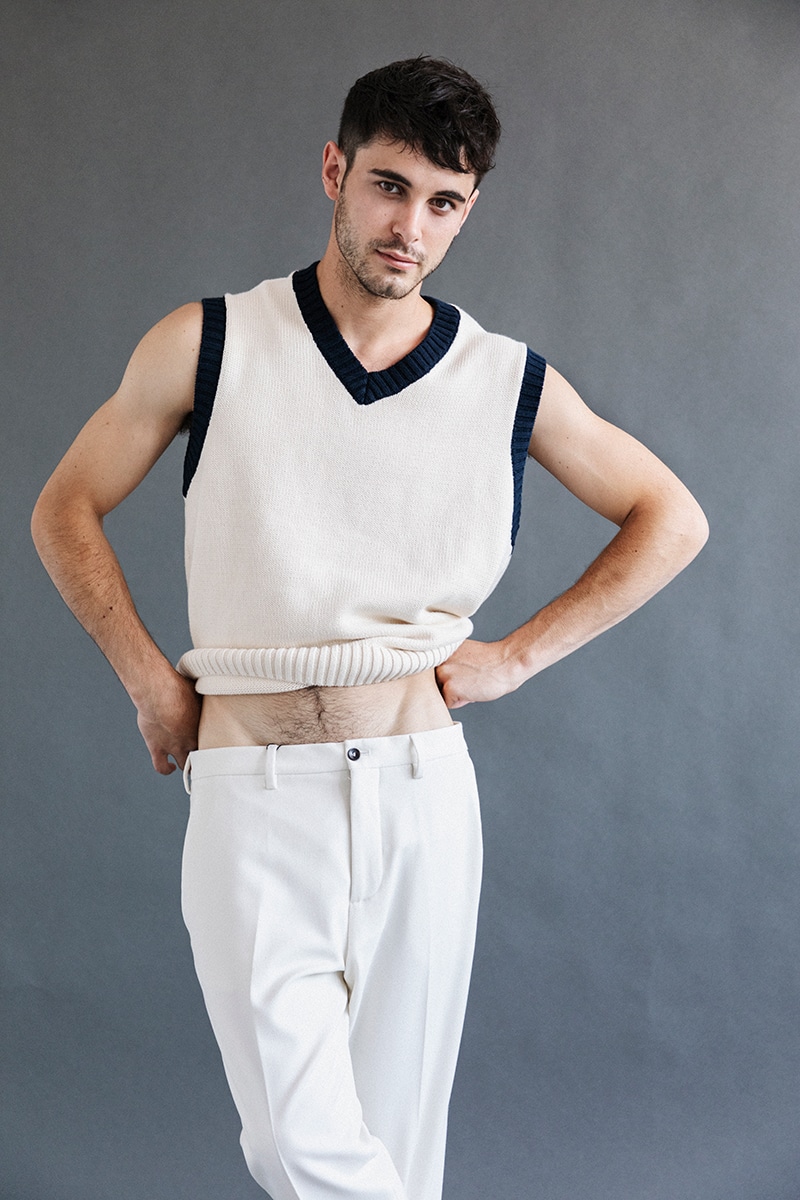 Vest and trousers by ZARA
I thought that now that the streaming services are premiering the full seasons of its series, you get all the scripts.
I suppose that each production is different. In "Bajo Sospecha", we had the scripts but we didn't know key information like who had kidnapped the missing girl. In "Monteperdido" we did not know what happened in the last episode. And in "Baruca", the script is quite alive and there are days when we arrive on set and the programmed sequences have completely changed. The scriptwriters are an active part of the shoot and depending on what they see each day on set they develop one plot line or the other.
And how are you able to learn the dialogues?
There is always time and space to study my part comfortably. It is like a new working format that I had never experienced before and that is being a lot of fun for me. Currently, we are filming the mid-season and it's been a blast.
So you're still alive! Good for you!
Yes, (laughs). I'm holding on
You mentioned that in "Bajo Sospecha" and "Monteperdido", you didn't know the end of the story. Is this all due to maintaining intrigue or just to preventing leaks?
To keep the intrigue. If nobody knows anything, everything is more real. It is very fun to take elements of reality and apply them to fiction. When this site of events occurs in real life, you never know who is behind them.
But what about the actor who plays the killer?
That one does know that he is!
Does he shut it up?
Just like in real life!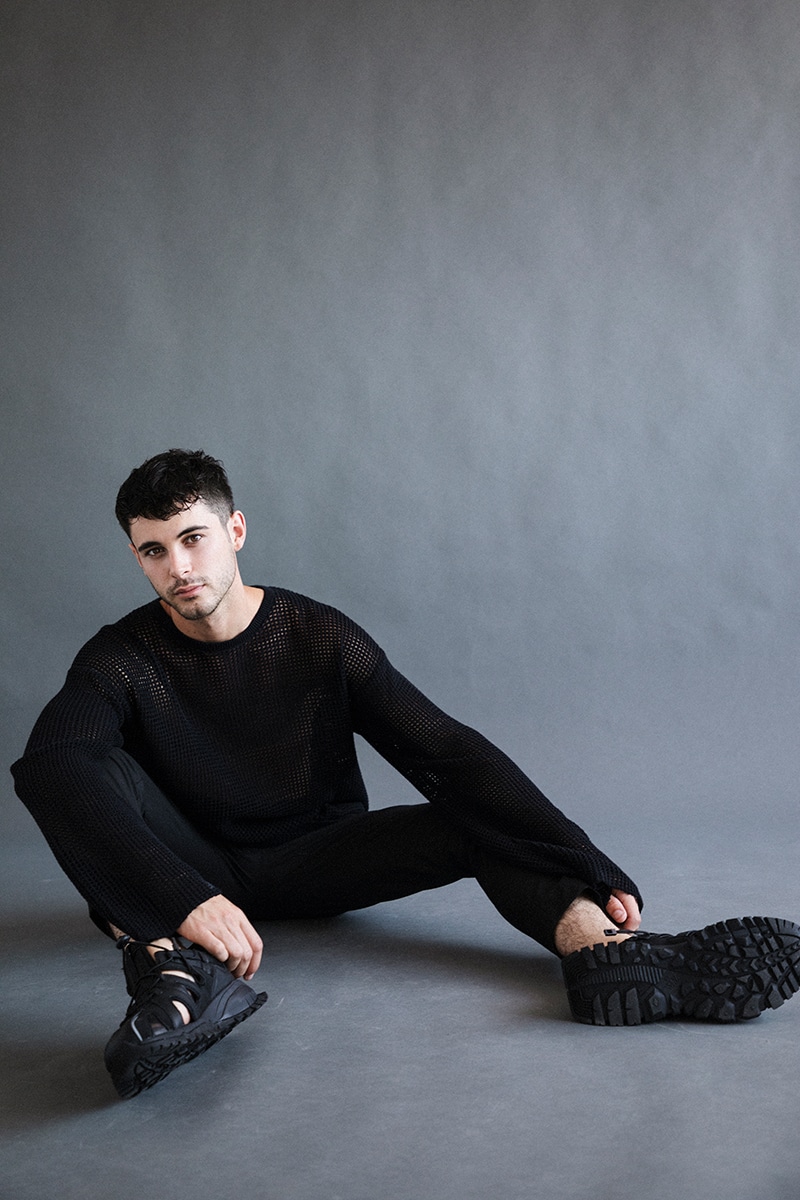 Tshirt by Weekday, trousers and shoes ZARA
The creator of "Baruca" is behind some of the most successful fictions of recent years in Spain such as Patria, Bajocero or Sky Rojo. How did you feel when you received the call to work on a project of this magnitude?
I loved it, clearly. But, having a project it's a reason to be happy. Obviously, when there are people like that behind one project, it is like a guarantee. When I get into a new project I need a few days to see how everything works, and then I jump in it with total confidence. Of course, when you see that you are going to work with people who have to create such a successful series, it is always easier to perform that exercise of confidence.
Little is known about your role in "Baruca", could you tell us about it?
I don't know if I can do that.
How much secrecy!
We can say absolutely nothing.
Are you one of the good or bad boys?
There are no good or bad ones, there is a lot of dualities.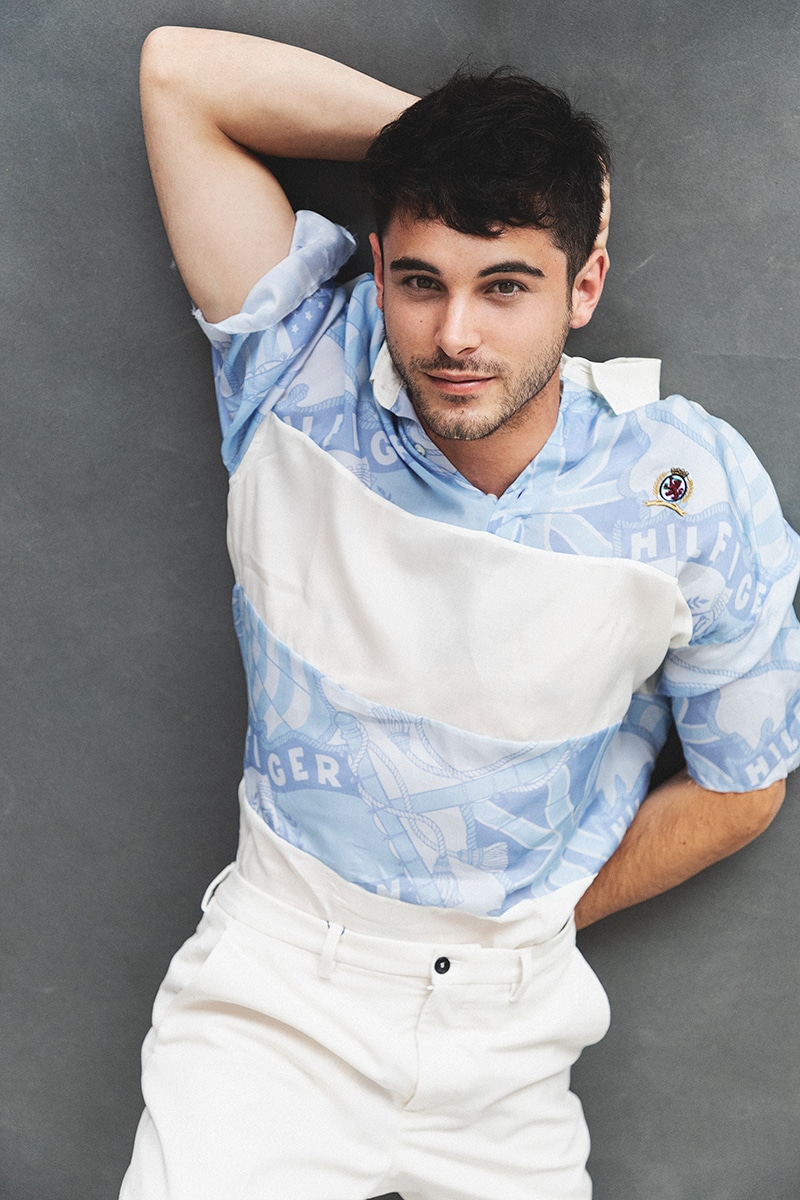 Tshirt Tommy Hilfiger vintage and trousers ZARA
The plot takes place in a prison, how did you feel involved in such a sordid environment?
Is incredible. Netflix has built a fucking jail.
If you open a tap, does water come out? I always have that kind of questions when I think of that kind of set…
(Laughter) It doesn't reach that level.
How frustrating!
Unless the script asks for it, that doesn't happen. Everything is distorted, walls are pushed aside, spaces are ventilated … everything is well thought out.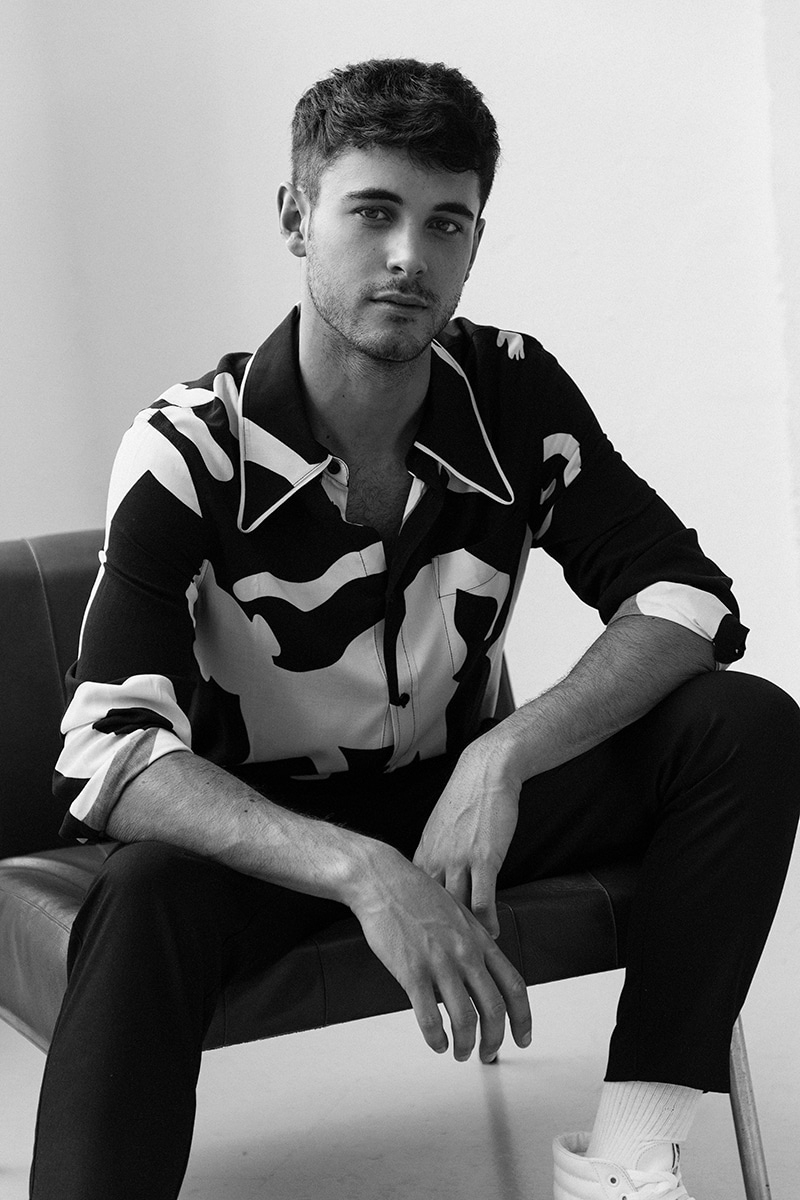 Shirt Desigual x Miranda Makaroff and jeans Levi's
You also lead the cast of "The Heirs of the Earth", the sequel to "The Cathedral of the Sea." Were you familiar with the work of Ildefonso Falcones before signing up for the project?
No, I knew it but had not read it before getting the part.
Did you enjoy it?
I had never read a medieval Spanish kind of novel but I liked it.
Are you a reader?
Yes. I didn't touch a bloody book until I was fifteen. Afterward, I got hooked on reading. I usually read seven or eight books at the same time. Each one depends on the circumstances. I do not read one book at a time. If I have a heartbreak there I read something about it … and so on with everything. I read one a week on average.
Who is your favorite author?
I would say that Alejandro Jodorowsky, who has some short stories that I love and Byung-Chul Han, a South Korean philosopher who reflects on modern times and makes me freak out.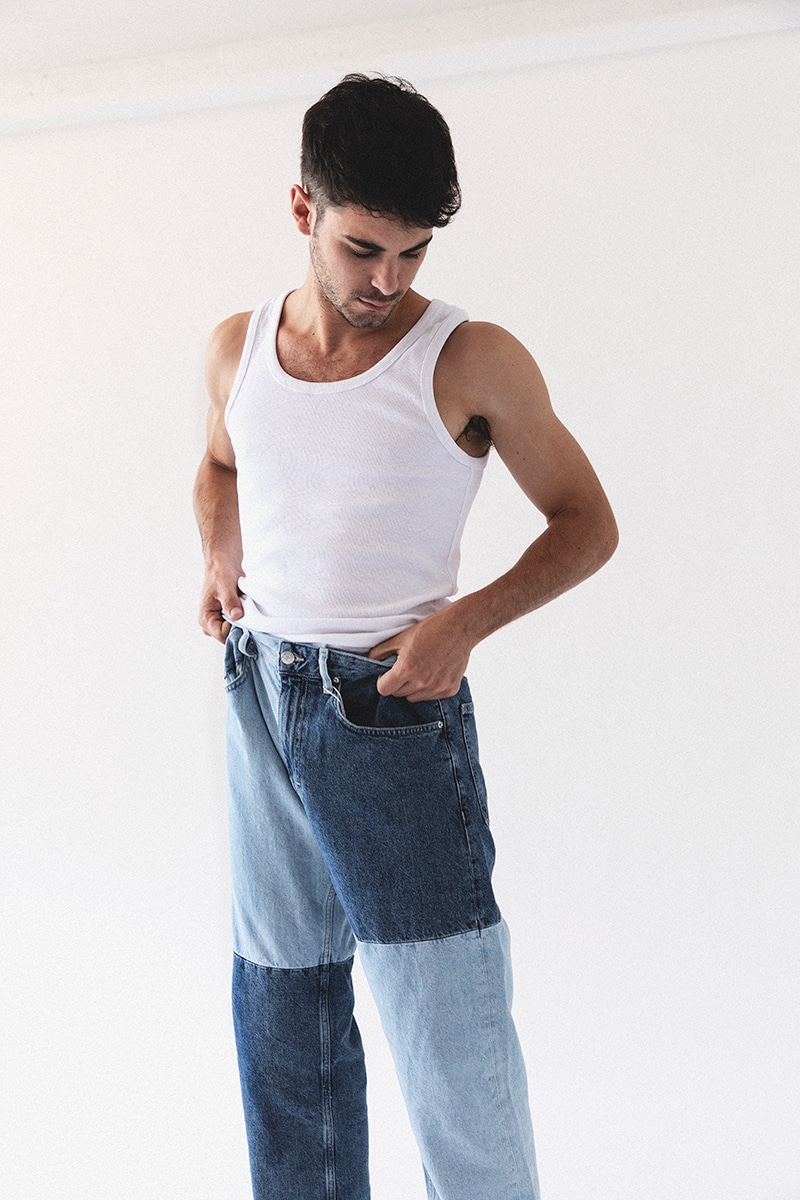 Tshirt Weekday and jeans by Bershka
By the way, in "The Heirs of the Earth" you play the young version of Yon González's character, how has it been for you to share a character with another actor? Have you been able to help each other out?
The truth is that we don't share much rehearsal time or many ideas. We knew each other before and at the beginning, I was obsessed with imitating him, but in the end, with direction, we decided that it was better to give it another approach and trust the narrative of the series. I preferred to act like I didn't know anything about my character's future.
High school, jail or the fourteenth century … in which scenario would you prefer to live?
If the prison was not dangerous, they would let us see what to eat and we would have free time…. Well, maybe I would choose that. The Middle Ages were very wild.
And mentioning an institute… it is impossible not to wonder about the second season of Merlí's spin-off, "Sapere Aude", where your character was absent. Have you been able to see it? What did you think of the end?
I have seen the second season, yes. I have many friends working in that show. The end was quite a gamble. I didn't expect it like that, but I'm just part of the audience, I don't get involved in the creating process.
Do you think there is still hope for fans to see Bruno and Pol together again?
Things would have to change a lot for that to be possible. I am delighted to work with Movistar whenever I can and I will always be fond of Merlin. Still, I think all this matter is quite closed.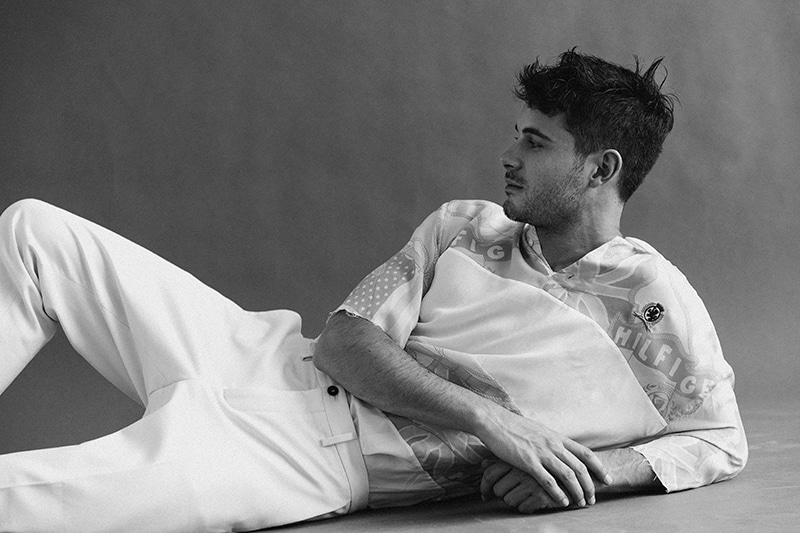 Tshirt Tommy Hilfiger vintage and trousers ZARA
Well, you and Pol didn't end up together!
I know… well, it was already said from the first moment that it was a spin-off about Pol, that our love story didn't need to have a follow-up.
Bruno has been the character that has launched you as an actor on a national and international level since the series is currently broadcast on Netflix. Did you keep something of Bruno after giving him life for several seasons?
Well, a lot of amazing memories. He is a character who helped me to confront many questions about sexuality, identity, love, inner search … I have a hard time differentiating the character from my personality during that time. Many of us working on the show also lived together, Elizabeth Casanovas was my roommate. There were fine lines between reality and fiction that were constantly blurring. A very large family was formed. It was all a great concoction of which only beautiful things remain. Merlin is a series of values ​​that I am very proud to transmit.
How would you have liked the end of your character to be? Would you have liked to slip in the bathroom as that horrible teacher did?
Not such a silly death. I would have liked an ending with the grandmother, I loved that character. I would have liked to get more into their family history or dealing with characters from the first seasons. All that disappeared in the spin-off.
Why was the character of Bruno's mother never explored?
I don't know. She was always abroad.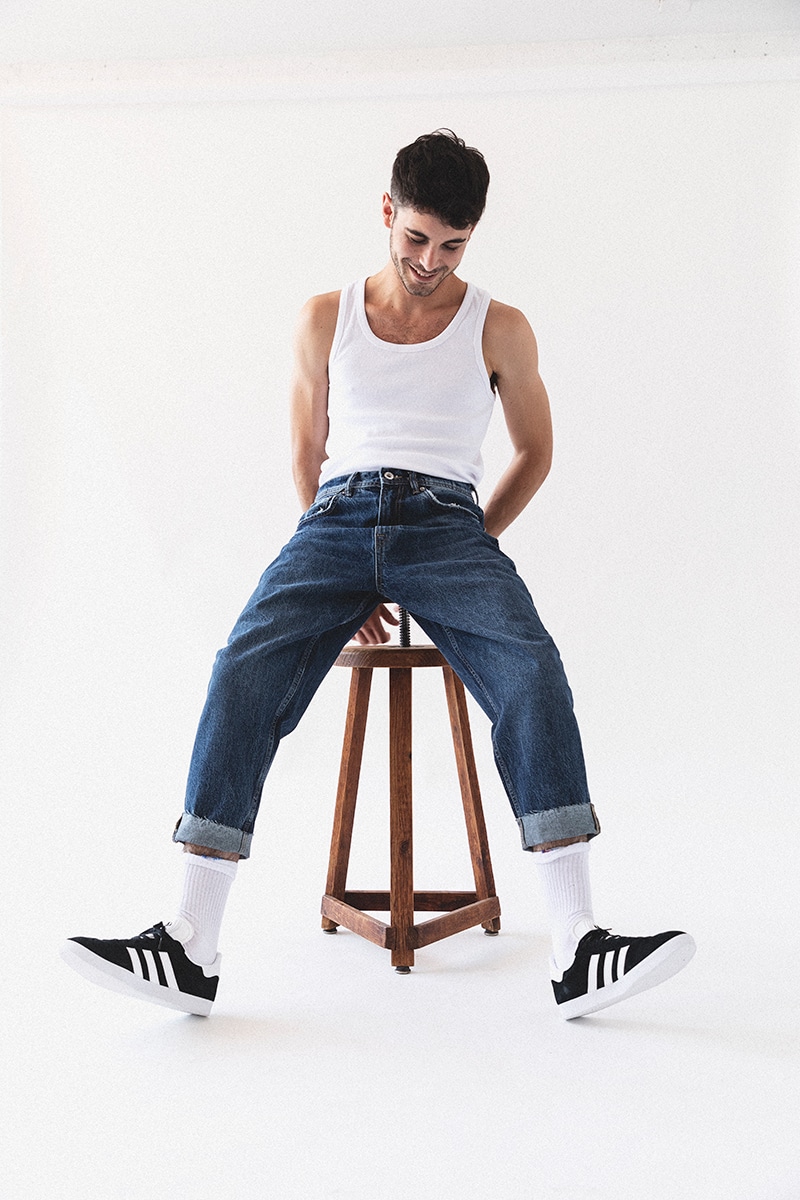 Tshirt by Weekday and jeans by Levi's
I have to admit that the series took a turn when your character shaved his hair.
I proposed that. I liked to think that the character was a prisoner of himself and that he was shaving his hair as a way to highlight that he was lost. They liked the idea and they let me do it. But, now, I wanted to dye myself blonde for the character in "Baruca" but they didn't let me. In the series they never let me change my appearance too much.
And talking about looks, I have to confess that Merlí's costumes were terrible for me …
You are not the first to say so. If I dressed well, I could tell you something, but I have no idea about that. I think they opted for this type of clothing to create a specific environment that generates a certain imagination and also to make us look a little younger. I was eighteen years old, but there were actors over twenty-one years old.
Do you have a WhatsApp group and do you meet?
Yes of course.
By the way, you mentioned that thrillers are not your favorite movie genre. Which would you say it is?
I like drama with touches of comedy, comedy with touches of drama… I enjoy very stereotyped genres but I like auteur cinema that is more difficult to classify into a single genre.
What is your favorite movie?
It depends on the moment. I have many favorite movies, but I would say that the movie that has the perfect formula is "Life is beautiful." It is a film that everyone likes, it brings something good, it has a lot of truth, it is beautiful and at the same time, it is commercial. All of this is achieved in rare occasions.
It is a somewhat classic choice.
There is something in that kind of cinema that I like a lot, I am somewhat nostalgic.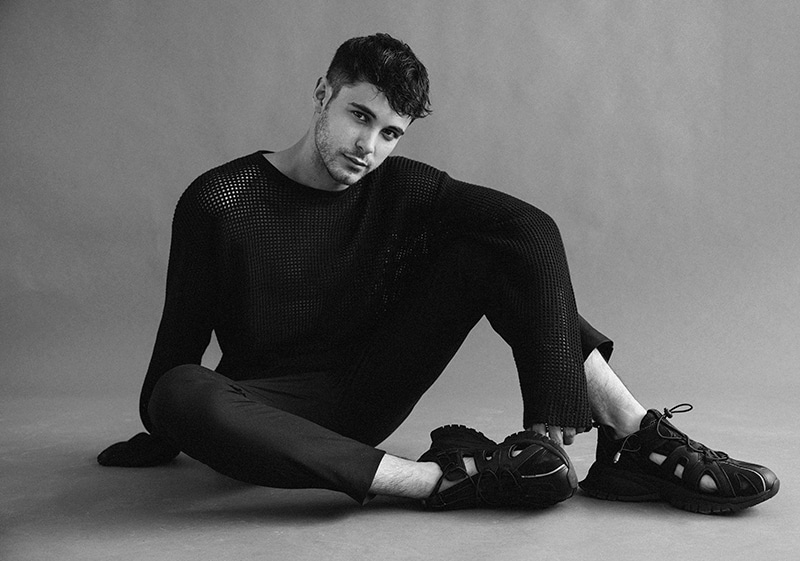 Tshirt by Weekday, trousers and shoes by ZARA
When was the last time you went to the movies and what did you see?
Damn, I don't know if the last thing I saw was Almodóvar's short, "The Human Voice" or a Tarantino revival at the Sala Phenomena, in Barcelona.
Did you like "The Human Voice"?
I didn't understand the format. Going to see a short film at a movie theater is very rare. Anyway, Almodovar did a very elegant cinematic exercise.
Are you from that wide group of actors that if you ask them which director they want to work with, the answer is Almodóvar?
No. I'd like to work with him for sure, but I always say that I prefer to work with people with whom I have already worked and loved them.
You should make a movie with Isabel Coixet, I think you would fit in her universe very well.
I met her at a festival and liked her very much. I don't go through life with the ambition to work with someone, I prefer to see what life has in store for me.
In 2017 you played Zarek in the play "A cada rey su merecido", would you like to get on the tables in the near future?
Yes, maybe. I also do a lot of theater as a designer of sound spaces. I feel theater very closely. I have spent many hours in a theater and I love the whole process behind a play. Indeed I like it more as a technician than as an actor, but if the project is interesting, I would sign up.
Any specific work that you would like to represent?
I like punk plays that flee from the classics.
You are also developing a script with your sister, could you tell us more about that project?
I'm working in several projects and one of them is a script that we are writing called "Parte del mar". The story is about a boy who, while his parents travel to celebrate their wedding anniversary, must take care of his grandmother who is very ill. The grandmother was a sailor and she still owns a boat called "La Paloma", which her grandson uses as a riding place. One day they go to the boat to spend the afternoon and they fall asleep. When the boy wakes up, he finds himself in the middle of the sea because their grandmother wants to travel to her hometown to fulfill a last wish.
The project seems very endearing.
Yes, it is a story that talks about death but detaching it from all bad and dark concepts.
So young and already thinking about death?
If you think of life, you think of death. I perceive the logical meaning of death, since things end, are reborn and do not go away forever. I applied that philosophy with jobs, relationships.
So, are you the one who usually breaks things off?
I don't know. I think in until recently, I was pretty much the kind of person who let things die.
That is a shitty thing to do!
Now I am taking more initiative when it comes to quitting.
Well you're lucky …
Quitting is very hard.
You say that because you are the one who takes the step but not the one receiving the hit.
I have lived both situations and ending things is more difficult but I'm not completely sure.
Just for the surprise, it is much worse to be dumped.
Sure, but when I ended things I was also surprised.
Well, as the famous Canadian professor Avril Lavigne… stein once said "Why'd you have to go and make things so complicated?"
(laughs)
Credits
David Solans @ UNO Models
Photographed by Erion Hegel Kross
Styled by Rita Bassols
Interview by Juan Marti