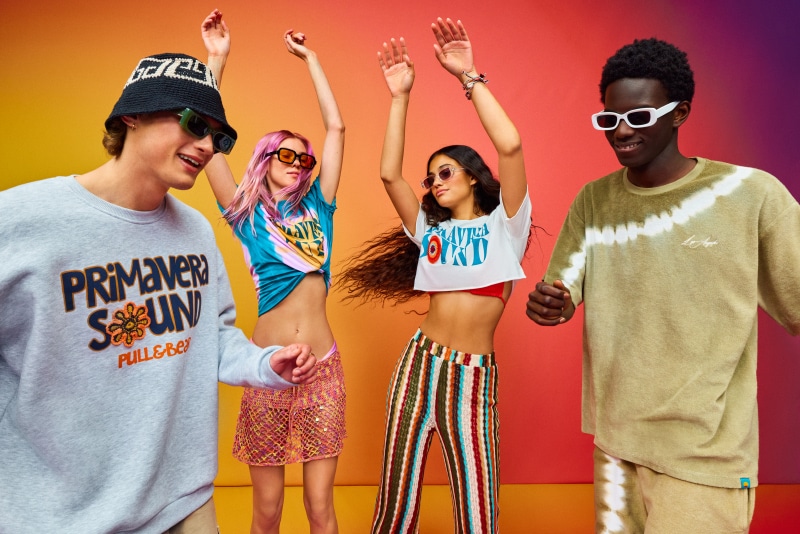 Pull&Bear and Primavera Sound converge to present the exclusive capsule collection titled "The Vision". This collaboration pays homage to the quintessential essentials that every music aficionado and festival enthusiast, especially those captivated by Primavera Sound, ought to embrace.
The collection draws inspiration from mesmerizing sunsets teeming with harmonious melodies and boundless artistic ingenuity. Its core essence lies in the radiant solar sphere, an embodiment of the novel experiential concept, The Vision, which permeates the entire collection. This endeavor serves as a gateway to talent and creativity. Expect to encounter an array of distinguishing features such as crochet craftsmanship, tie-dye prints, multi-textures, and a vibrant color palette reminiscent of the sun's descent.
For men, an array of cool options awaits, including charming t-shirt and vest sets, crochet-adorned shorts, and tie-dye prints that grace t-shirts, exclusively designed to capture the enchantment of sunsets. The collection also boasts linen shirts and sweatshirts, complemented by mid-season jackets adorned with collaboration graphics. To complete the ultimate festival ensemble, discover an array of accessories, such as embroidered caps, crochet bucket hats, and sunglasses that add an extra touch of sun-kissed style.
To immerse yourself fully in this collection, make your way to the Pull&Bear pop-up store situated within The Vision area of the festival. Here, limited edition garments await your arrival, and for those unable to attend the festivities, the collection will also be available online at pullandbear.com.
Check out the collection below: