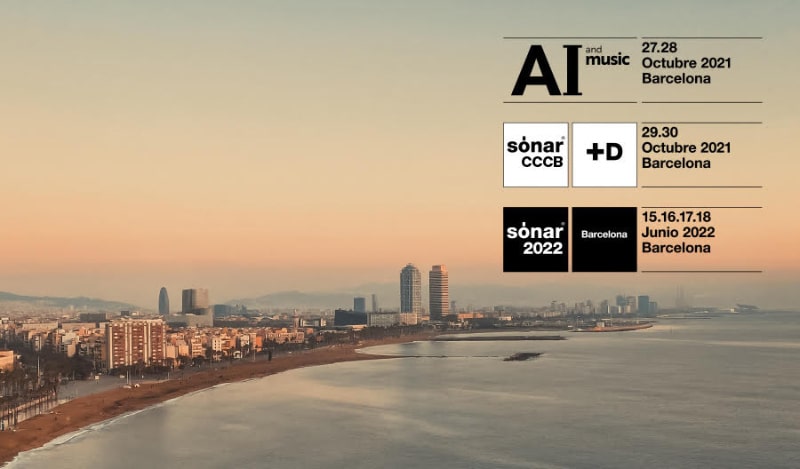 Save the dates! From October 27th to 30th, Sónar will present a special edition at Barcelona's CCCB and a new cycle of immersive shows at IDEAL. Nearly 100 activities, spread between the programs of the new AI and Music S+T+ARTS Festival (October 27th and 28th) and SónarCCCB 2021 (October 29th and 30th). Concerts, lectures, demonstrations, workshops, screenings and audiovisual capsules will fill the spaces of the Centre de Cultura Contemporània de Barcelona on each day, from Thursday 28 to Saturday 30, from 11:00h to 00:00h. All this is in addition to other activities located in different spaces in Barcelona and other European cities.
This experience will be truly hybrid, with both face-to-face and digital events, and an abundance of content and formats designed to encourage cooperation and knowledge exchange between creators, cultural incubators and scientific institutions.
Both festivals will act as a hub, connecting ideas and projects and as a skills-multiplier, to stimulate cultural innovation in the city and the country, as well as expanding its reach internationally.
New to Barcelona, the festival of artificial intelligence and music, organized in collaboration with the Universitat Politècnica de Catalunya (UPC) and betevé, under the S+T+ARTS program of the European Commission will bring together experts, scientists, professionals and artists from around the world to discuss, explore and demonstrate the interaction between humans and technology through an extensive and impactful program of concerts, conferences, demonstrations and hackathons.
More than 21 musical shows integrating artificial intelligence will be presented, most of them produced expressly for the festival, including the unprecedented collaboration between Holly Herndon, Maria Arnal and Tarta Relena or other artistic projects such as Mouse on Mars, Hamill Industries & Kiani del Valle, AWWZ, Nabihah Iqbal and Libby Heaney or Reiko Yamada. On Wednesday night, October 27th, L'Auditori de Barcelona will present, in co-production with Sónar and UPC, the Inaugural Concert of the AI and Music Festival, with the pianist and composer Marco Mezquida premiering the show 'Piano + AI'.
Concerning the SónarCCCB, it will feature 40 shows and DJ sets, from international artists at the forefront of new music including Koreless, Tirzah, Leon Vynehall Live, Space Afrika, Parrenin/Weinrich/Rollet, Object Blue A/V Live, Il Quadro di Troisi, Die Wilde Jagd or DJ Nigga Fox, as well as a wide representation of current national and local talent such as BFlecha, Rakky Ripper or Cora Novoa & The Artifacts, among others.
Tickets for the AI and Music and SónarCCCB 2021 festivals are on sale from today through sonar.es with tickets for Sónar at IDEAL, at idealbarcelona.com