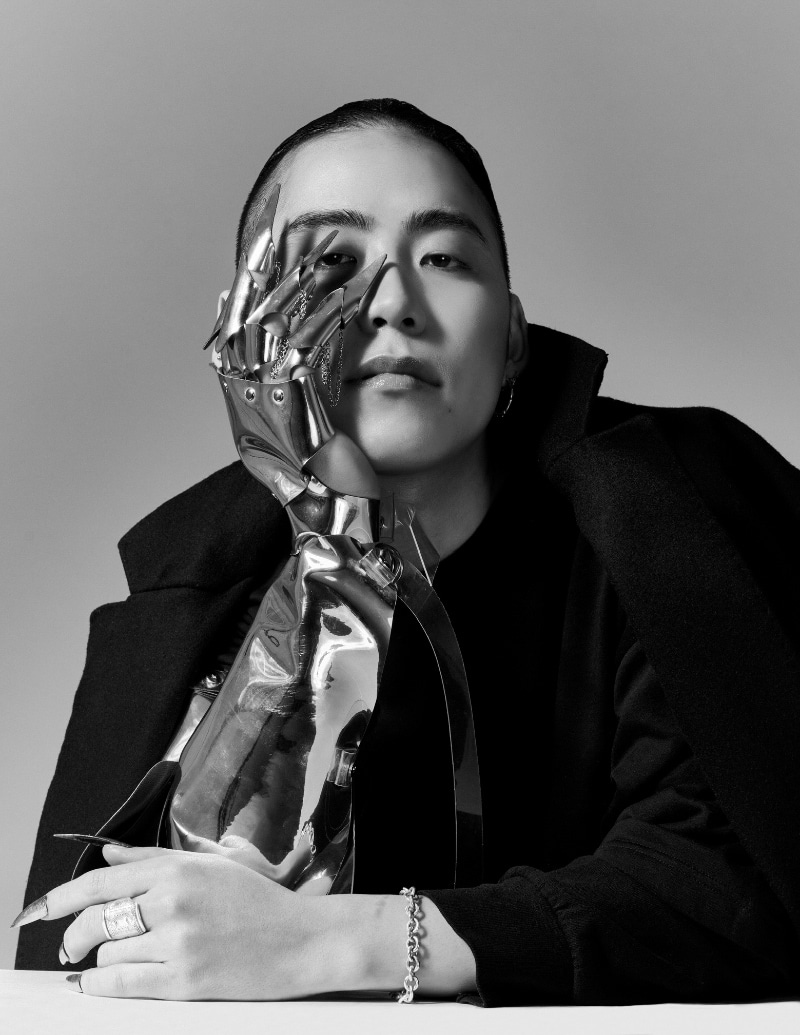 Whilst multi-hyphenate Sho Konishi may have spent the latter portion of his years dressing cultural behemoths such as Beyoncé and Chloe x Halle, it was his introductory SS24 presentation, which saw him both charge onto the NYFW landscape and decisively speak to us about his discernment for creativity. In this pensive conversation, the high-octane Creative Director reflects on the symbolism of death and rebirth, along with its place at the centre of this ambitious chapter. 
Hi Sho, it's a pleasure to meet you, thank you for sitting down with me for Fucking Young!, especially as you debuted at NYFW this season! Before we begin to discuss your armour-orientated silhouettes and the messages which lie beneath them, I'd like to ask you about the personal and professional battles you've faced to reach this moment.
One piece recently came out about my health condition and it mentioned that it was a couple of years ago, but that was only a couple months ago. What happened was unclear, I don't know why I had that health issue, but I felt that I was having a panic attack. I went to see doctors and found a second opinion and today nobody, including myself, knows what happened. Before that experience, I was entirely confident in the energy that I had, I told myself that I could keep working with no sleep for days, and that's usual in this industry, if you're young you have to work hard. If you want more success, you have to work harder and the lack of rest caught up, the assumption is that if you didn't sleep you worked hard. You being unhealthy and tired before the show, means you tried your best. I was doing something for Tokyo Fashion Week for my friend's brand and then I was having these attacks, at that moment I thought 'I don't want to die'. I have multiple different projects, and before that I told people that I didn't mind when I'd die, that was my motto, because I always do my best, and there's no regret.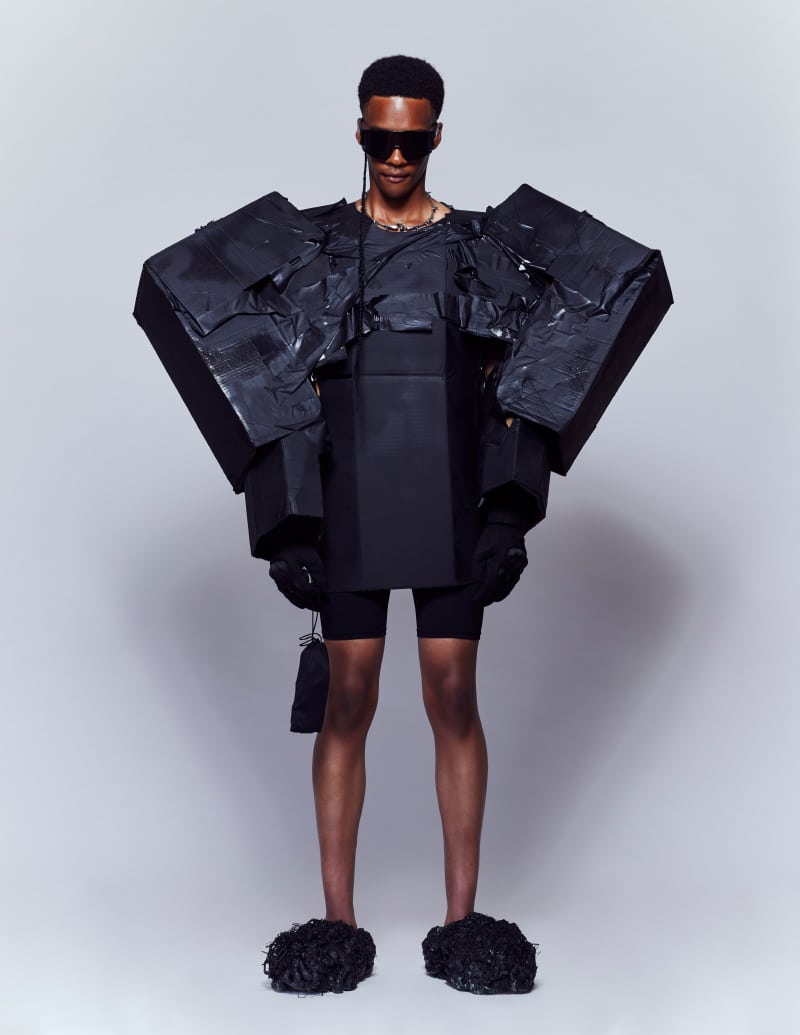 Of course, the human lifespan is punctuated by many adversarial and pragmatic experiences, which you've experienced uniformly, from the opportunities that presented you with the chance to dress cultural warriors such as Beyonce and Chloe x Halle in your creations to the personal well-being concern you endured some months ago. In which ways did you look to reflect on + forge them into this SS24 presentation through your creative process? 
I was a student for nine years, and after graduation, I was lucky that I had the opportunity to dress such amazing figures, Beyoncé was and is the queen whom I always dreamed of dressing, that was one of the biggest ones I had when I moved to the US. And that was last year, it was very much a dream come true. Those journeys have led me to create this collection, dressing up so many amazing talents, that is a collaboration, from my side to the stylists and the stars themselves, we all have ideas and opinions about the project. I was doing it, but it was largely based on clients, not me being myself, of course, I can voice my own opinion but if they don't like it they can say it too, that is the job. Once I dressed Beyoncé I began to think about the next steps for my career and I couldn't dream of someone else to dress up so then those feelings led me to create my form of expression. My SS24 presentation is about myself and that's what it expresses to the world, of course, people see me as the 'Android' creator but that is only part of my creation, it's not everything. For this collection, I didn't have anyone to collaborate with only photographers.
It was purely you then?
Sho Konishi. It was purely me, I was the one person who was making the decisions and that was so different. I saw this as a way for me to express what's important for me, and then what I want to see with others. I also have elements of the 'Android' looks in my collections but it's not solely about it. 'Android' does represent me as a designer, but at the same time, it doesn't represent 100% of my life. I didn't make anything for anyone, I made my collection for myself.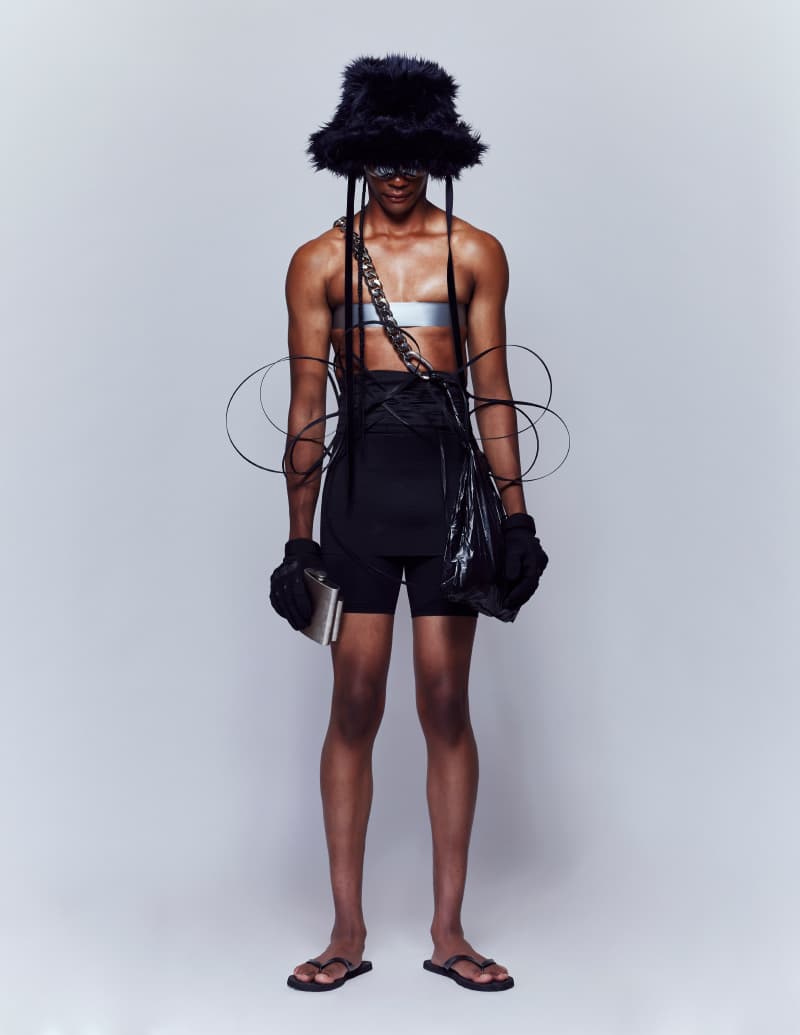 You mentioned the intensive collaboration process you've undergone alongside a plethora of various figures when it concerned dressing the numerous power players you have. Was this process of creating a collection based on your own identity and aspirations almost emancipatory in a way? 
When I graduated from Parsons, I had a runway show which was part of NYFW in 2019 and then after that people were asking about what was next. I didn't want to do it, because I feel like I'm still young. Somehow, it's expected that after graduation fashion students should have a presence and keep showcasing new collections. But I can't afford to make collections and showcase them—I'm a very realistic person, after graduation, I said to myself 'That was a good memory' but I wanted to experience so many different things and then luckily I came across so many opportunities. Somehow, people's expectations became more aligned with this but it was a job, I needed to do it to live. Of course, I used my creativity, but I wasn't being an artist or a fashion designer who expressed himself with each season. I was more creative, I used my talents for my clients and I worked to give them what they asked for. At this moment, I still do care about other's opinions but at the same time I want to say "This is Sho Konishi, this is who I am."
Before this point, I read that you forwent creating a Ready-to-Wear collection, something which was largely determined because of the absence of prospective buyers, and instead opted to perfect your craft through custom-made-to-order endeavours. Did each silhouette up to this point serve as an allegorical idiom which expressed your identity as an originator? How did this display endeavour bring them together into a sentence?
There are so many contradictions about being a designer, especially nowadays. We have our platforms, and we can begin our brands whenever we want, regardless of age or where we are, we can easily use social media to become designers. That is a great possibility for everyone, but at the same time, many designers exist in the world and I feel that we don't need so many. I don't want to be among the masses, I always endeavour to understand the reality and I always consider what I should do.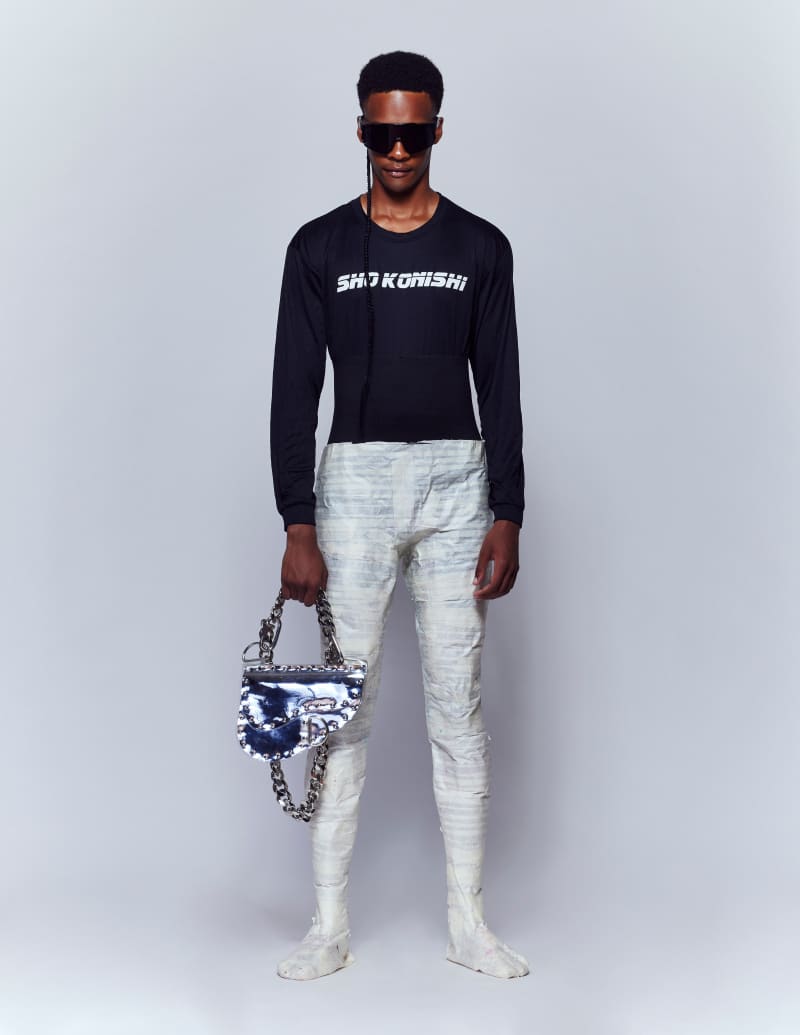 In a past conversation with The Creative Independent, you said "People are asking, 'Do you make women's or men's fashion?" I don't fucking care. I don't care for genders, I don't care about body shapes, I don't care about race, I don't care about the colour of the skin. Whenever I make something, I always dream of dressing someone who has a human body type, but it doesn't need to be a human being. I'm always imagining some imaginary creature who has two arms, two legs." What symbolism do your armoured creations hold in the context of this, do they protect it and perhaps to a smaller degree contradict it too?
What you read sounds very interesting, I completely forgot about what I said! It sounds like I'm crazy! That was during a moment when I didn't want to do a collection, I was more concentrated on making wearable art. Whereas for SS24, I divided between Menswear and Womenswear, so that's also my idea that to be a fashion designer, there has to be a boundary between the former and the latter. Of course, as a creator, I don't care about the borderlines, but I still have respect for the industry too, so this time I made a point of emphasising the difference between Menswear and Womenswear. I wanted to show people my interpretation of the two. Whenever I do projects, I listen to others before I begin, I want to learn the history and the reasoning behind the decisions.
Was it difficult to transcend the expectations that the audience of your brand may have held for SS24 whilst also grounding yourself in them?
I feel that I showcased something that people didn't expect from me, I finished my 25-page look book for the show and I went through it with one of my close friends and we spoke about the ways each look represented me and the response it would receive from people. Sometimes, they would say "It's so you going to the laundry or going to the studio." From a creative side, maybe people expected more than what I had to give, maybe they were expecting me to create gigantic pieces or crazy avant-garde silhouettes. For this collection, I didn't try to entertain people, it's more about establishing myself and showing a different side of my life.
Sho Konishi is brought to life through a belief that design is a corporeal representation of physical existence. Can you tell us more about your philosophy for both life and creativity? How do they intersect?
When I create, I endeavour to embody intangible elements as tangible, If I talk about apparel, it's about design, which I view my SS24 collection as being but at the same time, it also embodies intangible elements. One look is about how I feed and how I eat, it's about my lifestyle, I have snakes, hairless guinea pigs and a dog. People think that my having frozen mice in my fridge is disgusting but that's my life, I love snakes I need to feed them. When I do feed them, it's disgusting and blood is everywhere, but that reality gives me so much inspiration. My philosophy is that beauty requires 30% of purity and innocence which is flowers, maybe fireworks, things that people immediately see as being beautiful. But I do love a different kind of beauty too, such as animals dying or seasons changing and the flowers wilting or people proposing and getting rejected. Those realities are very beautiful too.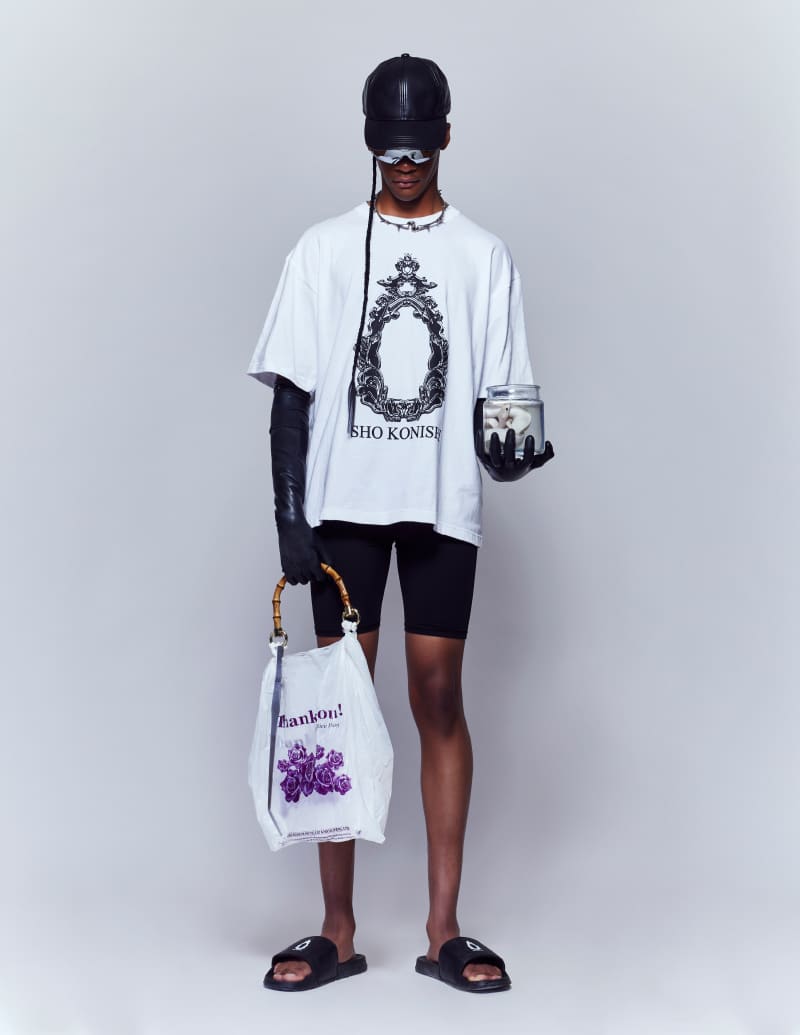 Is there a piece which you believe is a signatory of this presentation?
I know most of the designers are talking about specific materials and techniques. For me it's about having fun, I don't showcase my technique, it's more about styling. I'm going to showcase some of the craftsmanship I have but this collection is more orientated towards nostalgia and futurism, those are both keywords, I love to talk about the future, and the memory is very reflective. For example, Star Wars is the future, but at the same time, it's so old, nostalgia that aura for me was very important to me for this collection. I aimed for people to feel a connection between themselves and me and tap into the notion of the pieces being nostalgic but contemporary in a modern way. I didn't make any patterns by the way, I followed my instincts, and I had so much fun.
Now that you're talking about futurism and Star Wars, which I love by the way. Can you tell me more about 'Android'? Is there a resonance that this approach holds for you, particularly as you built on it with this presentation? 
'Android' is my hit-creation, it was worn at the VMAs and other live performances which were watched by people on TV and then my world expanded. After that people approached me about the design and it became my signature creation. That wasn't my choice to be honest because again stylists asked me to create something and then I designed 'Android'. People always think that the concept came from beyond the future but 'Android' for me was more about lobsters and crabs, those creatures gave me the idea for the silhouette. When I received the offer, I thought that the performers needed to be able to move whilst looking impenetrable and then I decided that I wanted to create something alluring, moveable and in tune with nature. Nature is a very important element within my design process, I come from the countryside, that's why the lobster idea became 'Android.'
Because 'Android' has become so signatory of you, was it a risk to move beyond it? Or did you see this as being a necessary rebirth for your growth further down the line? 
People can see the bridge from 'Android' to what I'm trying to do now because I still had elements of it in this collection, only I styled it differently so that it was more representative of Ready-to-Wear. I don't want to say that 'Android' is solely for the performer, it could be for everyone, especially as everyone was purchasing the pieces for Beyoncé's world tour. I'm seeing people wearing 'Android' in different ways and I appreciate how people incorporate my design into what they're wearing. I feel that it was a risk for me to focus on something else, but at the same time I'm over 'Android', I still love it but at the same time, I don't want people to think that I only make it. I have different skill sets, I have different ideas beyond 'Android.'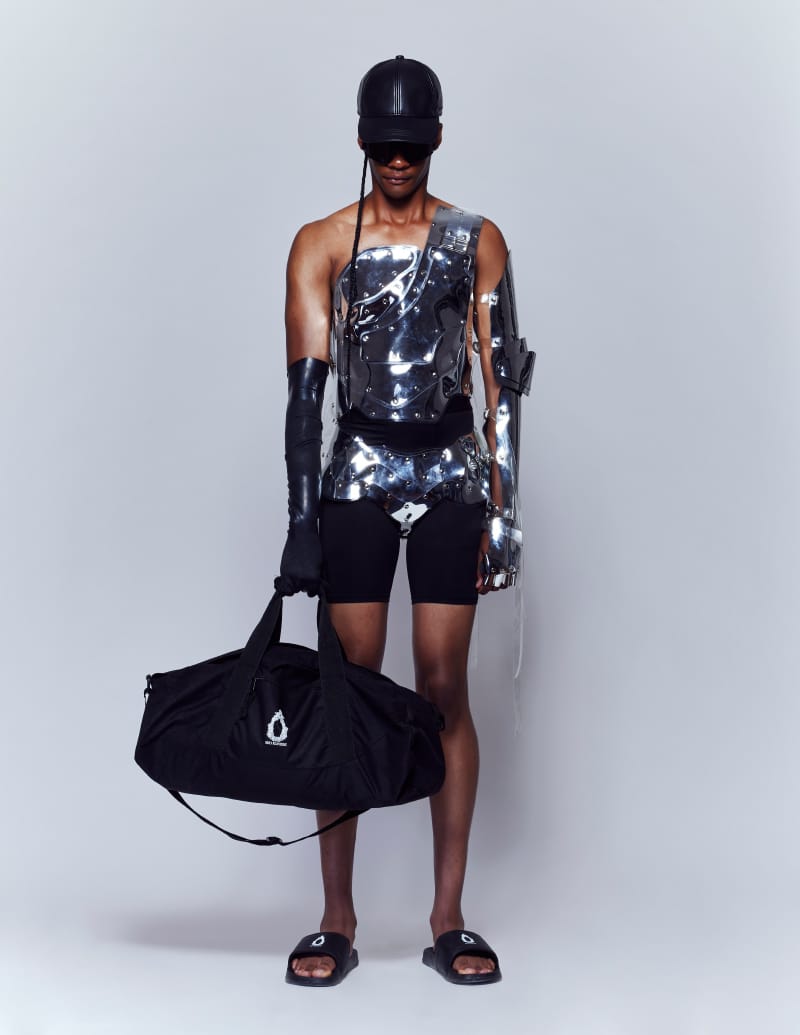 You once expressed that failure is an element of development. Where do you see this presentation as succeeding in building on your identity as an up-and-coming designer whilst also giving you space to grow into this further?
When I was on the official calendar of NYFW, people were messaging me a lot, congratulating me a lot and asking me for interviews and invitations. I received so much attention and that was magical because I hadn't shown any of my work. That made me realise why people wanted to be on the calendar, and why they wanted to showcase their collections because so many people have respect for the designer, I received it and I appreciated it. I strongly feel that I'm ready to create seasonal collections for a long time, I'm having so much fun with my crew and we always talk about projects, I have a great team cheering me on.