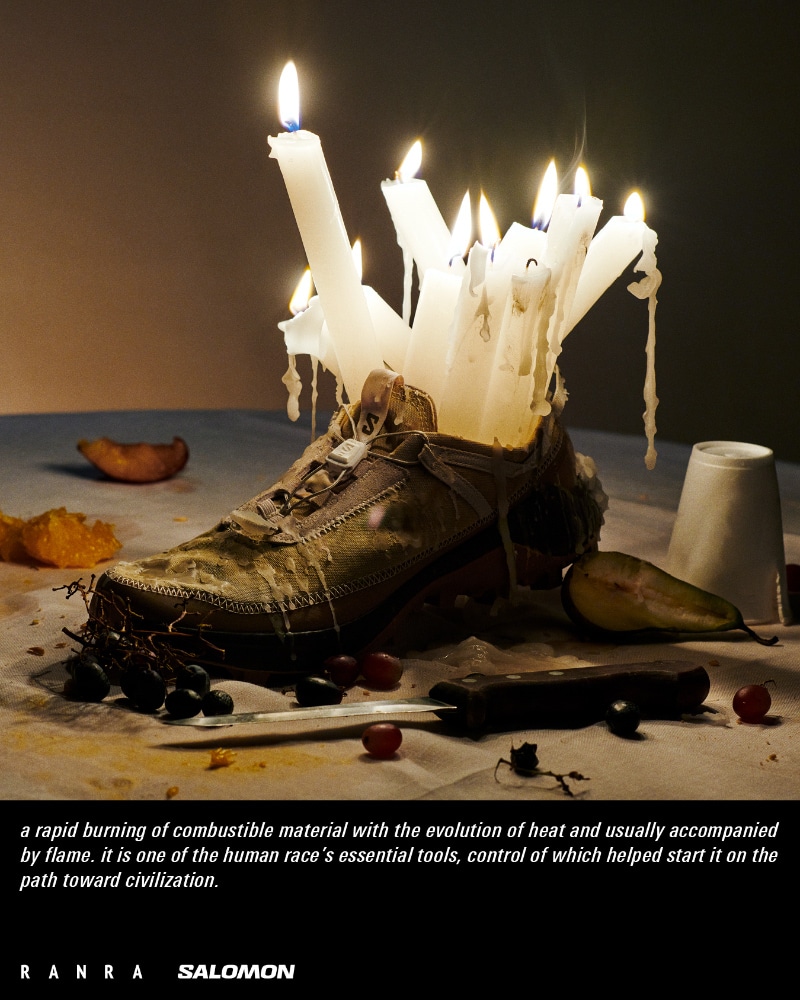 For FW22, RANRA has collaborated with Salomon to implement the brand's approach to natural materials and dye processes within the context of performance footwear.
RANRA has reworked Salomon's Cross Pro model, stripping back conventional production processes to reimagine the shoe with an emphasis on natural material choices and artisanal plant dyeing processes. Natural rubber, cork and leather are combined with water-repellent Ventile cotton canvas to retain the shoe's high-level performance. While the use of glues and adhesives commonly found within performance footwear are removed in favor of construction methods most widely associated with traditional shoemaking. The canvas for the shoe's upper is dyed using Icelandic Elftingar (Equisetum), harvested by hand at Urriðavatn, Iceland. Each plant was hand-picked and prepared through traditional processes. The fabric was then hand-dyed by the design team in small batches to achieve unique variations in shade and texture, a distinct feature of the natural dye process.
The campaign, shot by Theo Sion, presents the shoe in a series of surreal scenarios responding to the elements of Earth, Wind, Fire and Water, a humorous nod to both the shoe's raw materials and the imagery commonly associated with performance footwear.
The launch will also be marked by in-store installations at The Broken Arm (Paris), SKP (Beijing) and Très Bien (London) on Thursday the 3rd of November.
The Salomon Cross Pro for RANRA will be available on 03 Nov 2022 on Salomon e-comm and select retail partners.