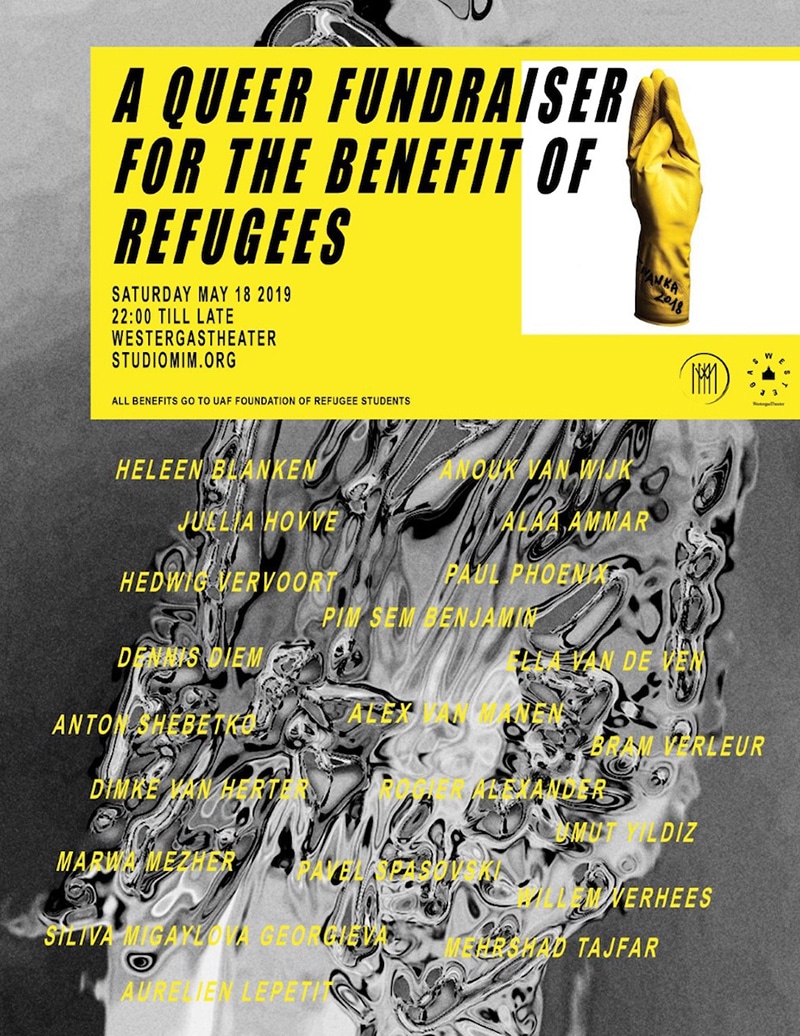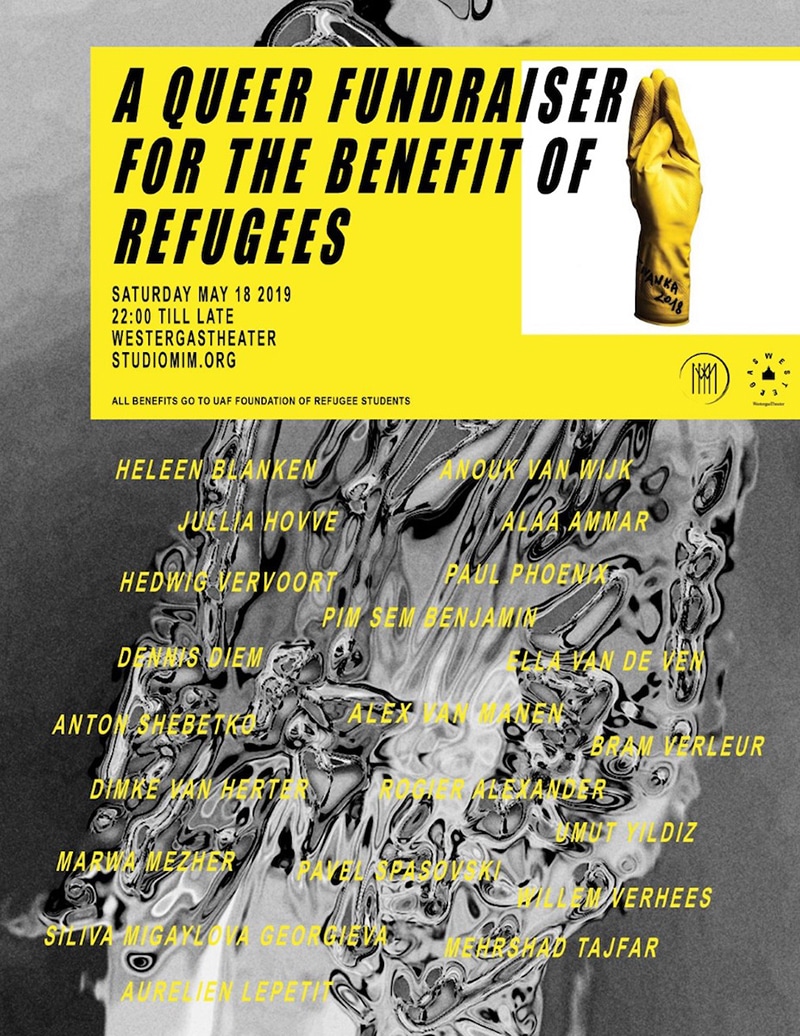 On May 18 Studio MIM is organizing a queer charity evening for the benefit of refugees who came to The Netherlands and are starting their studies in September. Instead of victimizing them and focusing on their sad stories, they would like to cherish and celebrate this moment as a new beginning. Let's help them have a positive and constructive start by providing them with the tools they need to begin their studies, from the heart of the dancefloor!
The first installment of Studio MIM is a night where art, music, and performance come together to raise awareness and financial support for refugees to advance in work and studies:
All proceeds go to UAF, a foundation which provides support for refugees to advance in work and studies.
Studio MIM is supported by Studio Drift, De School, Shelter, Mr. B, Sauna Z and artistic education institutions offering classes and more.
Featuring a diverse mix of work from Damascus, Tehran, Berlin, London, Amsterdam, Argentina and more will be exhibited at the queer fundraiser party hosted by Studio MIM, May 18th at the Westergas Theater in Amsterdam.
This is much more than a party – Many fields of art and walks of life will come together and interact in ways that they normally do not get a chance to. Opera, performance, live music and visual art will interact in a safe space that encourages freedom, expression, curiosity, creation, and play.
Help other people to transform their lives, and build their dreams!
Music by:
LVTL
Ffranzz
Jasper Pol
Abstractive Mind
Handmade DJ Page (Same Bitches)
Exhibition:
Julia Hovve, Heleen Blanken, Anouk van Wijk, Alaa Ammar, Hedwig Vervoort, Paul Phoenix, Dennis Diem, Pim sem Benjamin, Anton Shebetko, Ella van de Ven, Dimke van Herter, Alex van Manen, Marwa Mezher, Bram Verleur, Siliva Migaylova Georgieva, Rogier Alexander, Umut Yildiz, Aurelien Lepetit, Pavel Spasovski, Willem Verhees, Mehrshad Tajfar.
Performance Art :
Frederique Cloister (Dutch national opera and ballet)
Krien Jozeph & Merante Tamar, Daan Visser, Ian Sepheer.
All benefits go to UAF, a foundation for refugee students. This organization helps refugees cover costs for college fees, laptop, books and other essentials that any student needs to get their study going. "I know how hard it is because I once was one of them, I have followed the same journey!" said Mehrshad Tajfar, the brains behind Studio MIM.