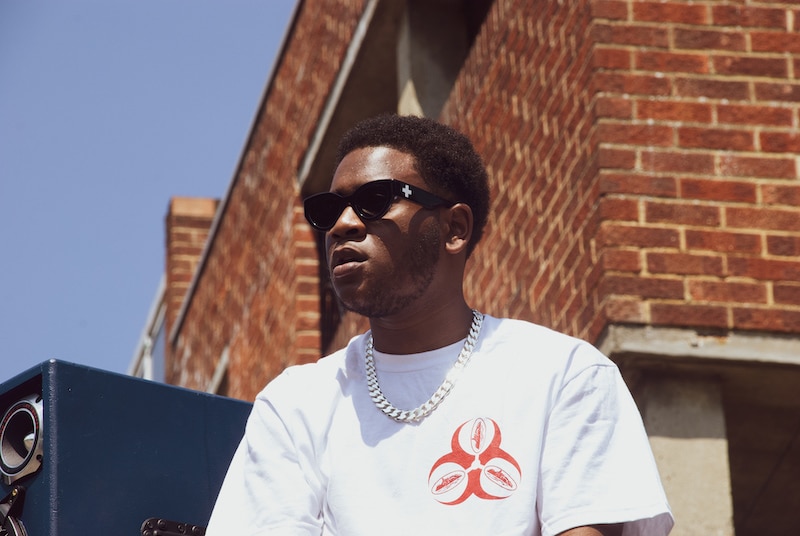 The 21-year-old producer and DJ p-rallel shares his new single and video for 'Soulboy' made in collaboration with Greentea Peng. Taken from his forthcoming EP 'Soundboy' due for release on July 31st. The track is the second to be shared from his impending 6-track EP, following 'Packed Bags' with Louis Culture. Leaning more on the reggae and dub influences of his childhood, he explains, "it felt quite natural making it, Greentea Peng's vocals were exactly what I was looking for and her writing just connected." On an EP that is a self-proclaimed soundtrack to a summer of days chilling & nights partying, he states "If you're into psychedelics or spiritual in any way, you'll have a greater understanding of the song lyrics and it's higher-power meaning."
Tell me a little bit more about your Elevation/Meditation crew, who are the members, what creative fields do you guys move in?
Consists of Finn Foxell, Louis Culture Lord Apex, Xav & Ric Reefer. We're a West London Collective that pushes the idea of Elevation and meditation. Started up around 2014/2015. I was the guy recording everyone's vocals in my bedroom, learning how to mix for them, if they had a live set, I would be the one DJing for them. Not only do we just do music, but we also release merch, throw events, throw parties. 
We pretty much do most of it ourselves. We all agreed that the DIY way is the best way and the most natural way for things to come together. We're not a boy band. Everyone does their thing and we come together as Elevation/Meditation. 
You've been hosting Meditation Sessions over the last couple of weeks, what was the highest point and were they really meditative for your soul?
There is no 'Highest point' with meditation sessions. I'm literally inviting people in the room, virtually to listen to some good music with my close DJ friends. This is me. This is how I am behind cameras, I thought to do these streams to give my audience a bit more of an understanding of who I am in my bedroom or if we were doing a b2b set at my friends house… people can still feel like we are all chilling together in the same room. What is nice is being able to invite my DJ friends and still vibe with them even though COVID-19 has shut down our place of income.   
For those who aren't in the know, could you share your memories about the home recording session with Rejjie Snow and Playboi Carti?
So in 2015 Rejjie snow puts out a tweet saying he needs a studio…. I reply back saying I got a small home setup but you're free to come through and lay what you need (these times I'm still trying to learn my way around Logic Pro X, got the setup I needed, just no experience). So he's like, yeh bless I bring my boy from US "Playboy Carti"… had no idea who the geezer was, the guy had playboi at the start of his name… wasn't really my field of rap at the time… but experience at this point is what I needed.  So he gets here and carti's like "no disrespect but I'm used to big studios" which wasn't much I could do but try my hardest to not make them question if I knew what I was doing…  I didn't…  but what I got to lose. So they recorded a song, still on my hard drive till this day, no I won't release it. 
I think this encounter introduced me to the 'London Scene" because I wanted to find out more, then a couple of months later I ended up recording Milkavelli & Bakar in Lily Allen's Studio… Then the parties started to happen and yeah, now I'm here. 
It was really interesting to read that you're a simulation theory apologist and a gamer, are these two aspects mutually influential?
Not a gamer. Unless you're asking if life's a game. I live in my own world whether I believe it's real or not. It's all been programmed already… that's why things are inevitable. 
Tell me a bit about your new EP 'Soundboy' out July 24th, what were the influences behind it and how long did it take to create? 
Soundboy is almost a tribute to my grandad. He taught my dad everything he knew about music… the same way I would wake up to the house blazing music… my grandad would go out and buy records and sit all his kids down and force the melodies into their brain, which clearly made a habit of my dad to do that same. This project is a result of that. Soundboy defines who I am… I've grown up on music heavy from a wide range of genres and I've almost funneled that into 6 songs.  It's also a reference point for the viewer to understand my direction with music and image. I'm around a lot of inspiring, young creatives that have no idea what they're doing but we're all sticking together because there is this sense of longevity and history-defining moments when we all put our heads together. 
I started this EP while on tour with Lava La rue and Slowthai. Those experiences made me know what I want for myself and learn all the technicalities of it. I don't have a big team like most artists, I'm running my own show here and I don't expect to hit theatres till I've built my own from scratch. It will take people longer to digest the fact of a DJ dropping a project with artists on it… it's not norm but… I am not norm. 
Watch Soulboy below: