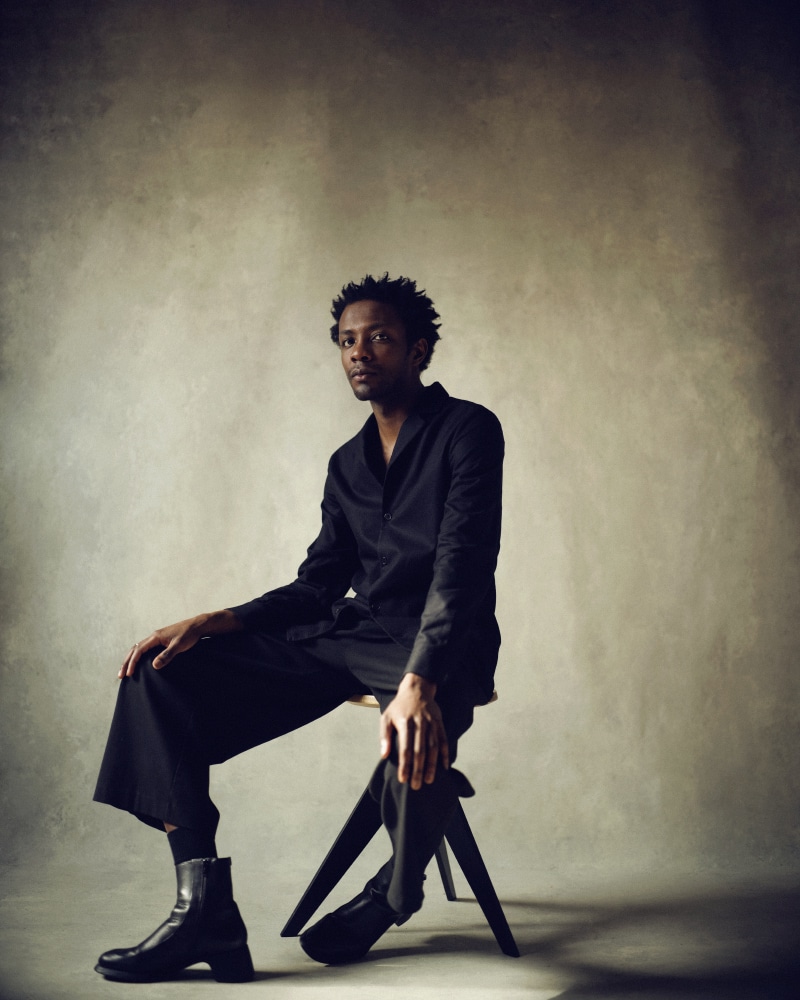 Omari Douglas might be a fresh face on the screen, but his start has been rising on the stage for the past few years. Now, you can see him in a leading role in multi-BAFTA-winning writer, Russell T Davies' (Queer As Folk, A Very English Scandal) brand new 5-part series for Channel 4/HBO Max, IT'S A SIN, the first British TV series to directly address the HIV and AIDS epidemic. The five-episode run will depict a decade of life starting from 1981, during which cases of the virus rapidly increase. It's a poignant story of love, friendship and the highs and lows during this period of time, told through the eyes of three young gay men as they embark on a new life in London. 
While we are living through a pandemic, it's surreal to look back and see how the AIDS pandemic was censored and ignored for nearly a decade.  We caught up with the multi-talented Omari to talk about creative experiences and joy!
Russell T Davies, wrote It's a Sin. What first attracted you to the script?
I knew that a project with Russell at the helm was always going to be significant. He's a titan of his field and his body of work is so iconic. I have such fond memories of watching Cucumber with my flatmates – it was proper event television.
When I read the scripts for It's A Sin for the first time, I just fell in love with the joy and spirit of these characters. It's what brings them together and ignites their amazing friendship. I was so bowled over by their energy just from reading it – that's a testament to the power of Russell's writing.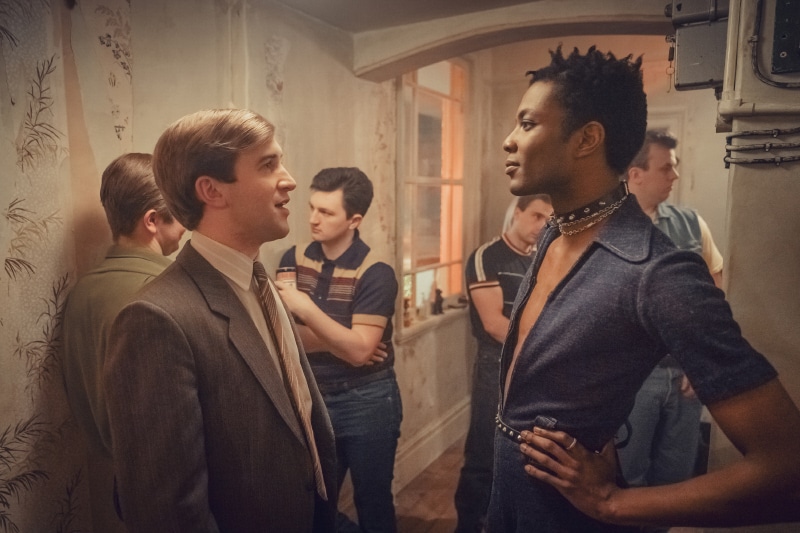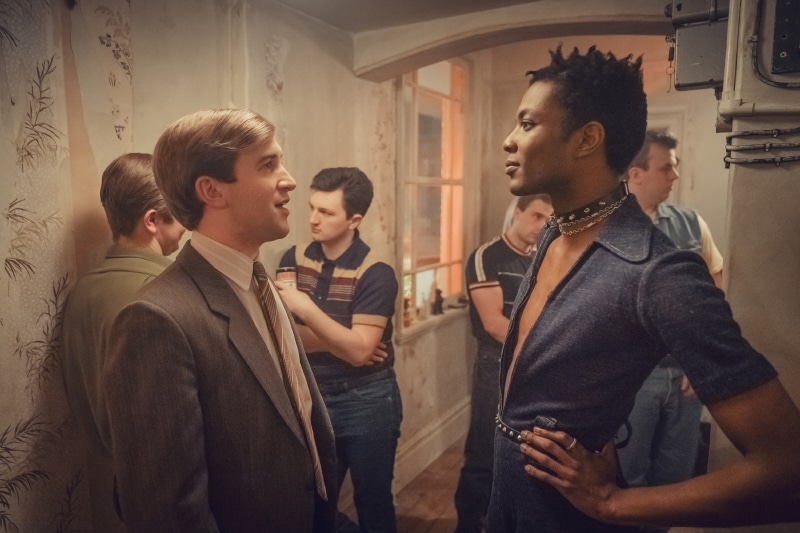 How would you describe your character Roscoe? Did you find him to be a twin flame of some sort?
Roscoe is fearless, bold, and audacious. He's also a bit of a maverick and I love that about him – he's proud of his fabulousness and very happy to not conform with other people's standards. There is an innate ambition in him that keeps him moving – he's constantly running off looking for his next adventure. We're different in a lot of ways but I really connected with his yearning for independence – it reminds me of moving to London when I was 18 and being excited to take charge of my life.
Did you think a lot about the generational differences of playing a character in 80s London?
There were some big things to consider – Britain was pretty bleak back then, in terms of its race relations and also the public perception towards queerness. This didn't take away from playing the joy that our characters experience though. As young people they're keen to live life to the fullest, they're not aware of the adversity they're about to face.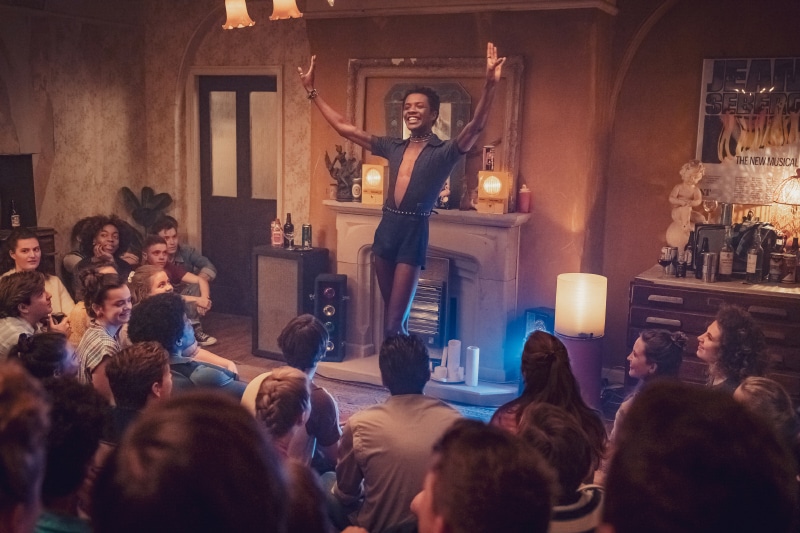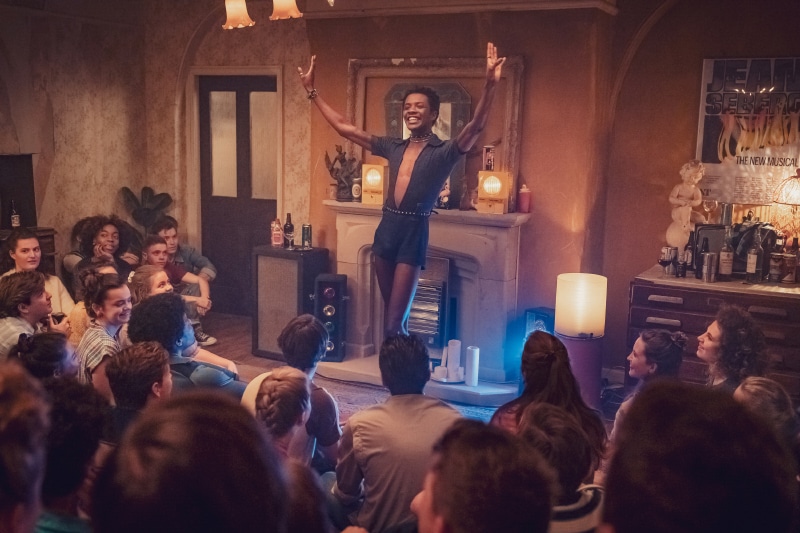 Have your friends and family seen the show? What did they think of it?
We're still a few days away from transmission but the love, support, and excitement from them already has been so, so lovely!
The cast is spectacular! First, there's the ever so iconic Stephen Fry along with Neil Patrick Harris and one of our favorite singers: Olly Alexander! This also marks your first move from theatre to television. How was the mood on set and the overall experience?
It was pure joy! There was so much love for one another, which is obviously important for the story that we're telling but it also meant that I've finished the show with a group of incredible friends for life. The chemistry for the group really wasn't hard to find, I don't think we even thought about it – we all just clicked. It's miraculous when you consider that none of us had read with each other during the audition process! But yes, so much joy on set every day, and as a first timer on a television set, the joy was fuel for me, it was so encouraging. 
Stephen is astonishing! He's just so generous, and warm, and kind. I met him for a tea and a chat the day before we started shooting and of course, it was one of the most fascinating chats I've ever had. It was a gift to listen to his stories and recollections of the time, London, and the epidemic.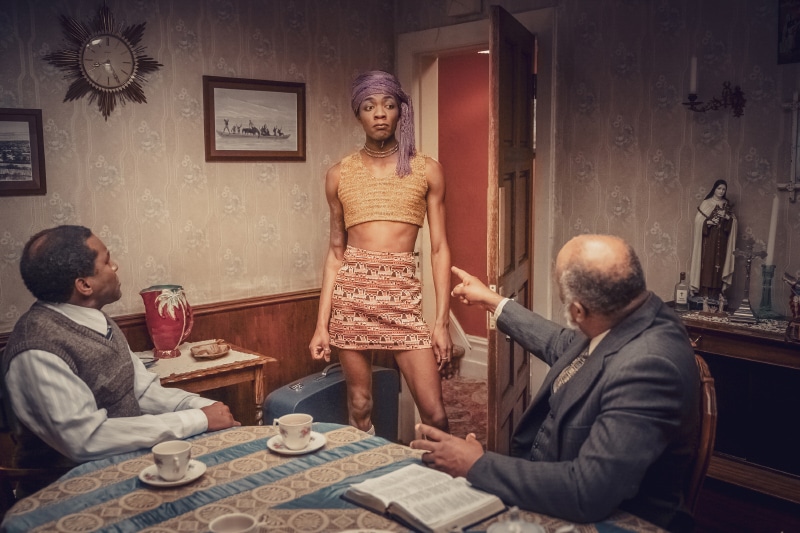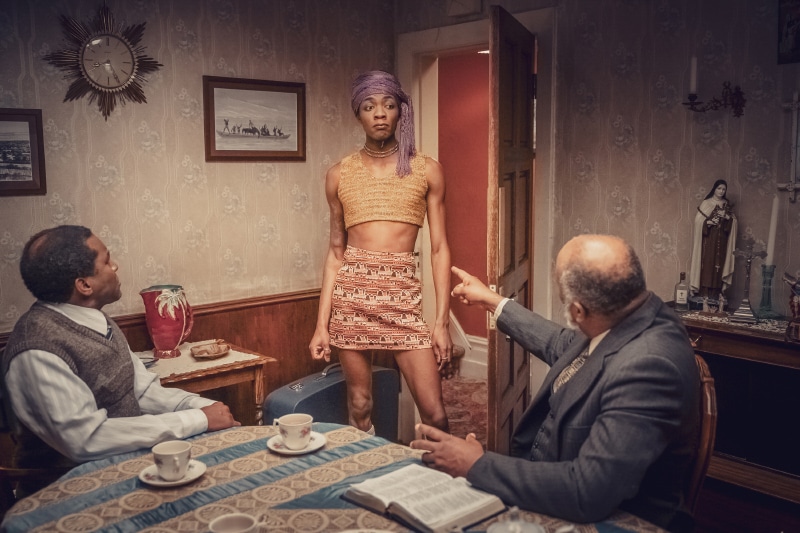 120 BPM was one of my favorite films of the past decade. Not only were the actors incredible, but I love the soundtrack and it was interesting to see a portrayal of the AIDS epidemic in France and how the government censored and minimized the fight against the virus in the early 90s (a decade after It's a Sin takes place). Did you turn to any of the arts to research for the role and if so, what pieces?
I immersed myself in a lot of stuff but something that will really stay with me is a book called The End of Innocence by Simon Garfield. It's quite an epic journal that charts the trajectory of AIDS in Thatcher Britain. It's full of personal accounts – they're all documented as diary entries so you almost feel like you're living through it, day by day. It was a harrowing experience and huge education for me as I'd been so used to the American perspective on AIDS.
We have now been living with AIDS for more than 30 years. At the beginning of Covid19, I actually thought a lot about AIDS. About the early conspiracy theories like "gay cancer" to how so many people died in a short amount of time before we started intensive research and awareness. HIV/AIDS activists have actually known Doctor Fauci before he became a household name this past year. Was there something that you learned about the epidemic that you didn't know before?
It's crazy to me that Margaret Thatcher was so wound up in censorship, fear, and prudishness that she made frequent attempts to block public health messages about the disease from being published. It baffles me to this day!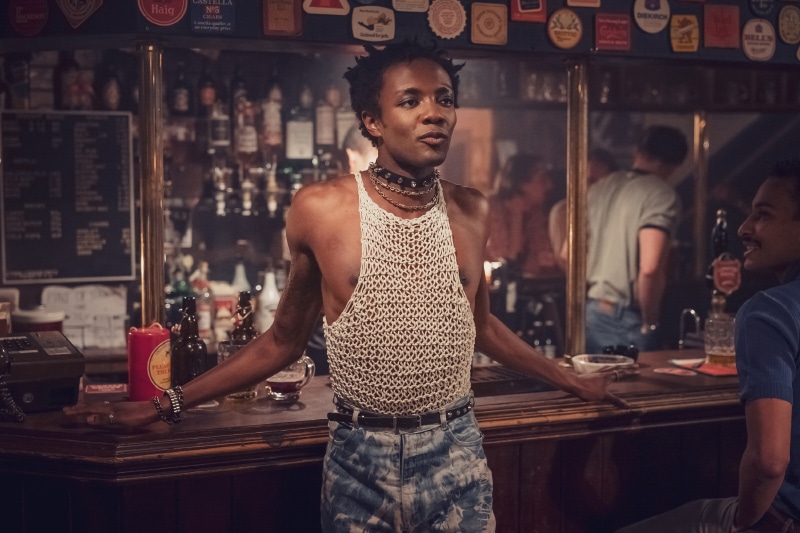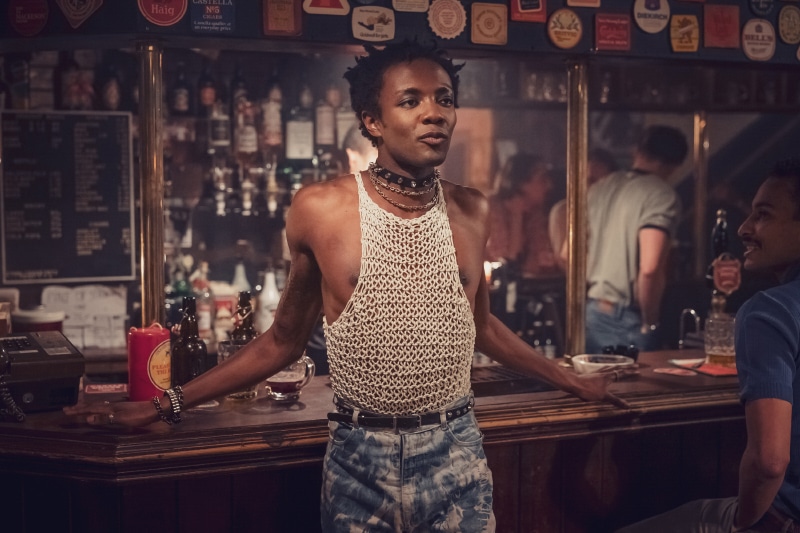 Filming wrapped last January. As someone who is always on the stage and a natural performer, how did you pass this past year? Were you able to explore any other creative talents?
I spent a lot of time trying to make the most of the solitude we all found ourselves in. It was a great time to reflect and reevaluate, but it was also great to read so many books without getting distracted! There's been so much amazing music released in the past year too, which called for a few solo discos.
I was fortunate to have had some creative opportunities appear too. I was due to perform in a new play called Rush at Trafalgar Studios last summer – it was of course canceled but we were commissioned by the BBC to record a virtual script reading, which Rupert Everett joined us for! I did actually get back on stage later in the year for a brief run of a relatively new musical, Romantics Anonymous, at Bristol Old Vic. It was adapted and directed by Emma Rice, a genius theatremaker who I've worked with many times. Thanks to some savvy technology and a brilliant team, we were able to stream a number of live performances worldwide.
Growing up, we naturally associate performers with dressing up. Costumes aside, are you interested in fashion? Do you have any favorite icons, eras, or designers?
I've loved dressing up for as long as I can remember. There's such a timelessness to be found in clothes – I think that's why I have such a fascination for eras gone by. You can literally transport yourself to a past decade that you didn't even live through just by putting on an outfit. There's an incredible Malian photographer called Malick Sidibé, he'd photograph these really dandy and stylish subjects back in the 60s and 70s – his work is definitely a fashion inspiration for me. Looking in my wardrobe, there's a lot of shirts with big collars, lots of flares too – we don't see enough flares these days.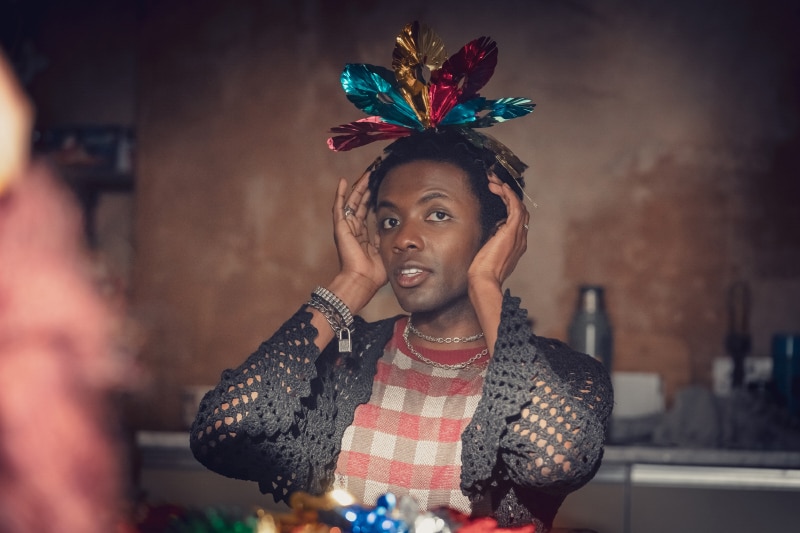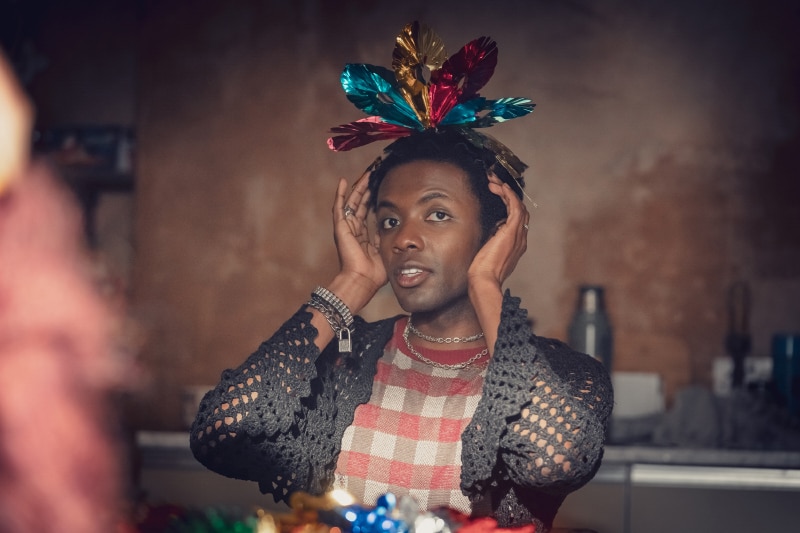 If you could tell any story, on film or stage, fictional or real, what would you like it to be?
I feel like it changes all the time but right now I'm thinking that I would love to play a musician in a biopic – someone like Sly Stone from Sly and the Family Stone. I'd love to embody his coolness – he's such a wonderful performer, has led quite an intriguing life, and was a trailblazing pioneer for soul and funk music. And it would satisfy my obsession with the 70s.
Before we disconnect, what are you most optimistic about?
Getting to hug people again.
IT'S A SIN premieres on Channel 4 in the United Kingdom on 22 January 2021 and will air later in 2021 on HBO Max in the United States.

Portrait by Phil Sharp.