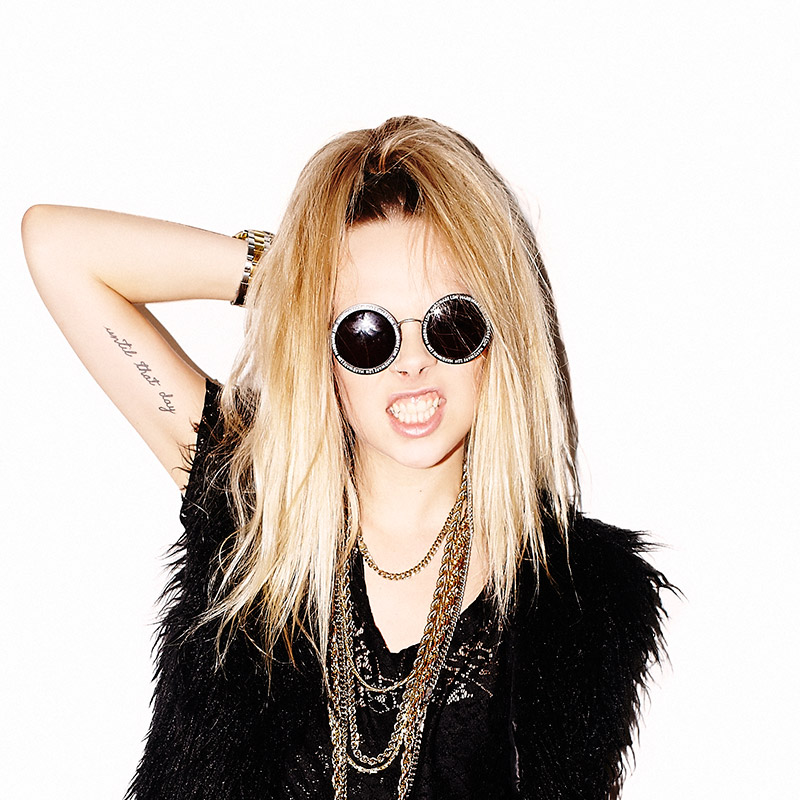 "Yeah, uh huh, you know what it is
Everything I do, I do it big
Yeah, uh huh, screaming that's nothing
What I pulled off the lot, that's stunting
Repping my town when you see me you know everything
Black and yellow
I put it down from the whip to my diamonds, I'm in
Black and yellow".
For introducing the eclectic Jessica Horwell we asked Wiz Khalifa and his Black and Yellow for help. As her friend and fan rapper, for Hardware LDN Jessica gets inspired by both streets and life. The intention is to create something that embodies her vision of fashion. So, the items emerge from the depths of the city's different subcultures: from punks to rockers, from skaters to metal heads.
Founded in 2012 in London, Hardware LDN is more than just a fashion brand. It has rapidly become popular for its edgy, bold and provocative designs which give its wearer an attitude that is synonymous with the street culture. It is a lifestyle label, uniting the young, free and outspoken minds.
 For the F/W 2014-15, Topman has decided to bet on our host's irreverent world and since the 15th of October her PEACE MONEY has officially been on sale both online and in the British giant's stores. The collection has an edgy street feel with classic and sophisticated aspects including its texture, silhouette shape and color… It is like Compton meeting Beverly Hills. Jessica's men are young and cool. Members of a hip-hop crew, they look strong and bold the same as the obtained success.
Fucking Young! – Hello Jessica! Let's go to the point… Who is Jessica Horwell and what is Hardware LDN?
Jessica Horwell – I'm a London girl who loves individuality, I had a vision and that's what I'm trying to create. Hardware LDN isn't just a brand, it's a lifestyle when you buy something you become part of believing in that lifestyle, the young free and outspoken minds.
FY! – Founded in 2012, the Brand catches the street trends while interpreting them in an impudent and eclectic manner. It is London city with its different subcultures – from punks to rockers, to skaters, to the metal heads, to the urbanites – to be the main source of inspiration. What is your relationship with it? To what extent does it influence your life and your work?
JH – I take my inspiration from different subcultures and they influence me in my designs, 90's style is one of my most influential in my past two collections. PEACE MONEY collection in particular the two piece velour tracksuits.
FY! – You always liked to play and experiment with your style, a factor which later became instrumental for the Hardware LDN creation. But today, how much hard is being truly original? What is innovative for you?
JH – There is soooo much talent around I think it can be hard to be original but you can't really think like that you just need to keep your vision strong and if it works it works. Your always going to be influenced by what's happening around you, just make sure it affects you in a positive way to work harder. When I see things that inspire me, I look at them and think how I can make them unique to my brand.
FY! – As we had had emphasized, your clothes are provocative and suitable for a young audience, free and self-confident Who could best embody the soul of the Brand?
JH – I think any younger girl or boy/adult who likes the clothes would best embody the soul of the brand as when you like something you feel good in it. I try to design a range of things that will work for the more self- confident girl sexy provocative pieces and then other pieces for people who like the vibe of my brand but are less daring.
FY! – Staying on the theme, Hardware LDN achieved an immediate success gaining popularity among the more fashionable stars. Cara Delevingne, Rita Ora, Wiz Khalifa, just to name a few. Why does it like so much? What do you think your trump card is?
JH – I guess I'm just making clothing that they like… some of them being friends of mine so that's their way of showing support for my brand which is amazing.
FY! – Music and fashion. In the last year, the Brand has also been leading and promoting several musical events. What does music represent in Jessica's life as a woman and as a designer? How do you make these two worlds that have always been strictly connected interact?
JH – They go hand in hand and support each other which I love. Music artists are muses for many designer and designers help create the persona of the music artist. Many of the most successful music artist aren't just know for their voice but also for their style. I'm a huge fan of music and one of the reasons I started my brand is because of my love for music and the connection between the two.
FY! – Now, let's come to us… Since 15th October, the F/W 2014-15 Collection is available both in the stores and on the Colossus Topman website. How and when was this collaboration born?
JH – I just held a sales day which I put together myself, they attended and placed the order was amazing. It's in store now which is super exciting.
FY! – It is a collection that ranges from clothing to accessories. The name, PEACE MONEY, can't help to arouse curiosity. Would you like to talk about it? What is the most representative item?
JH – The pieces with the graphics are the most representative, this graphic with the Peace sign and dagger was purely to indicate the lack of peace when money is involved.
FY! – Topman is always ready to support emerging talents. In general, how much important is this for a designer at the beginning of the career and how much important is it, or will it be, for you to have had an opportunity like that?
JH – It's an amazing opportunity. I'm so grateful especially as they brought my collection, was so exciting going into Topman to check it out.
FY! – In your life, what couldn't you ever give up?
JH – Buying clothes.
FY! – As usual, our last question. According to Jessica, what is really FUCKING YOUNG!?
JH – My baby bro…. Three months 🙂