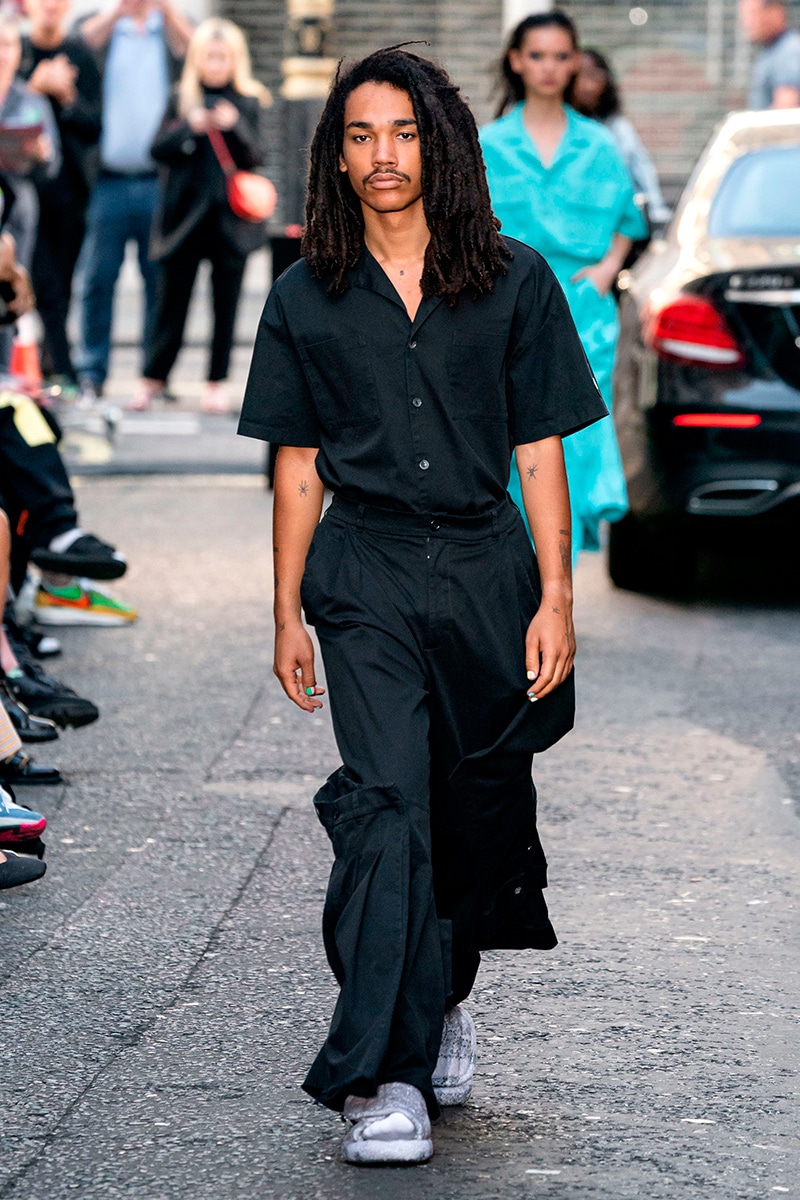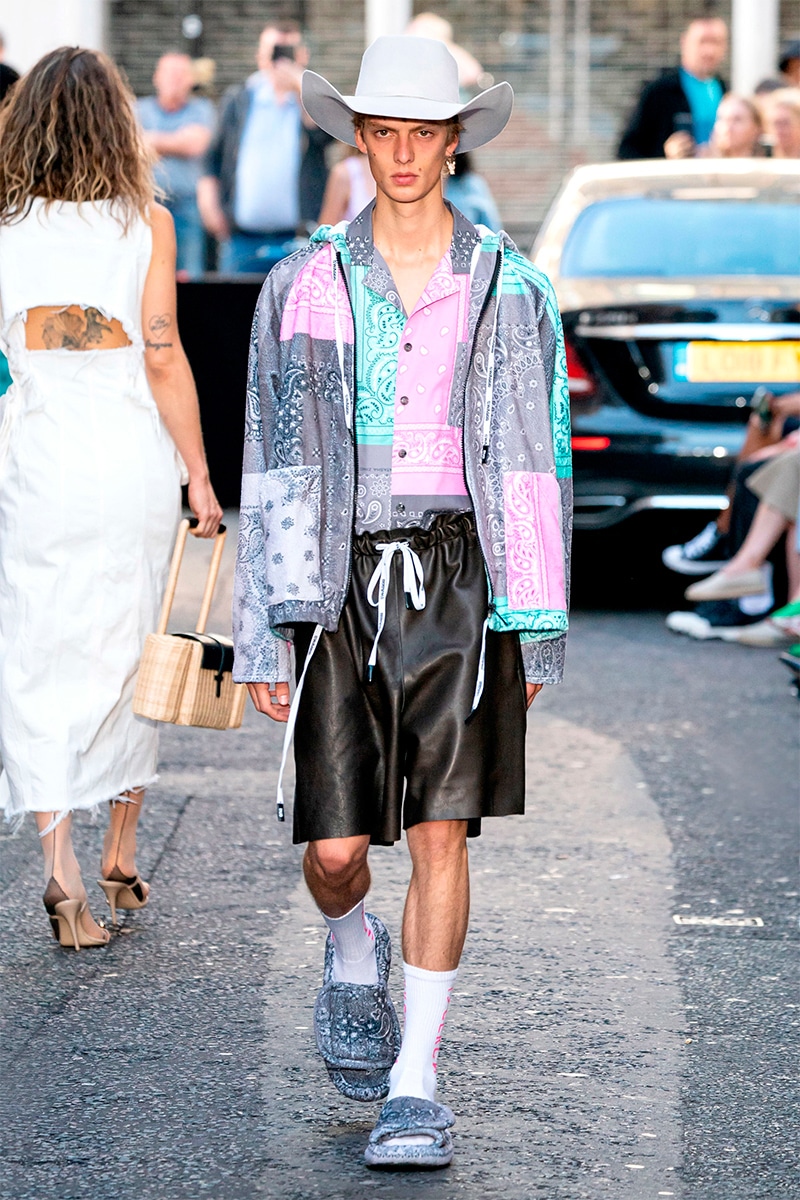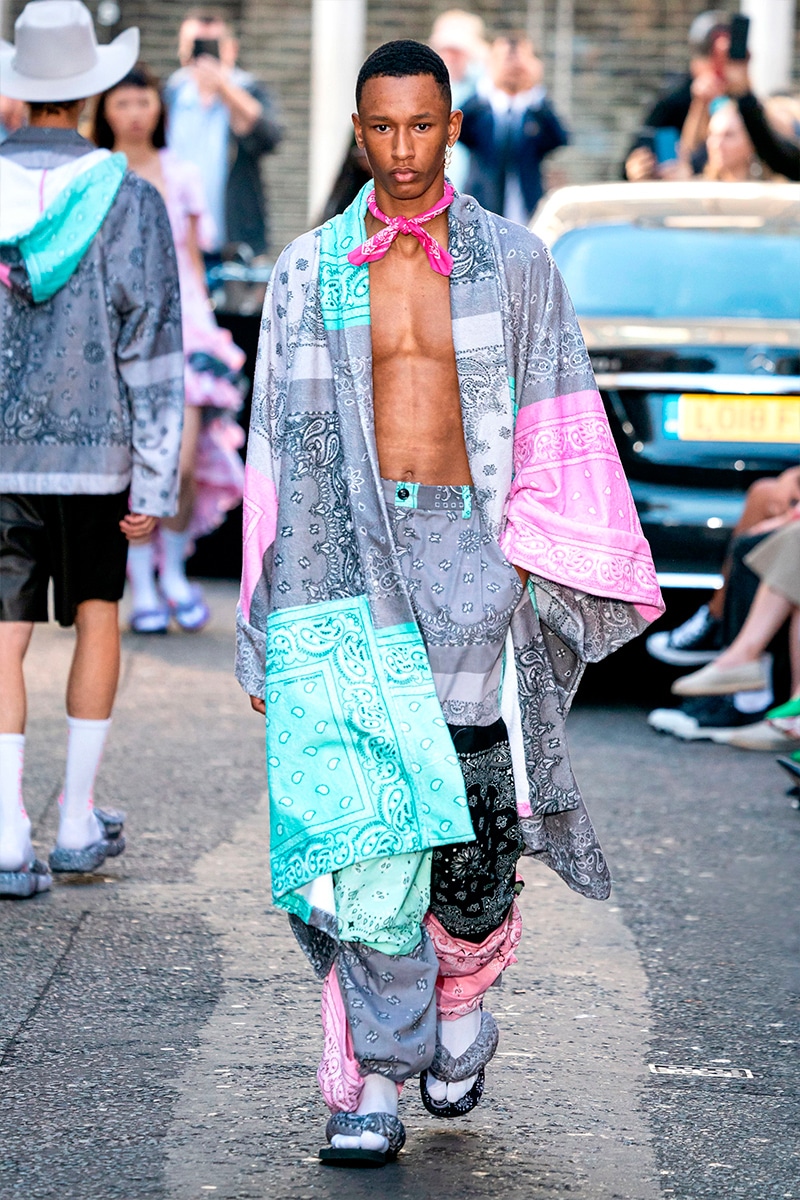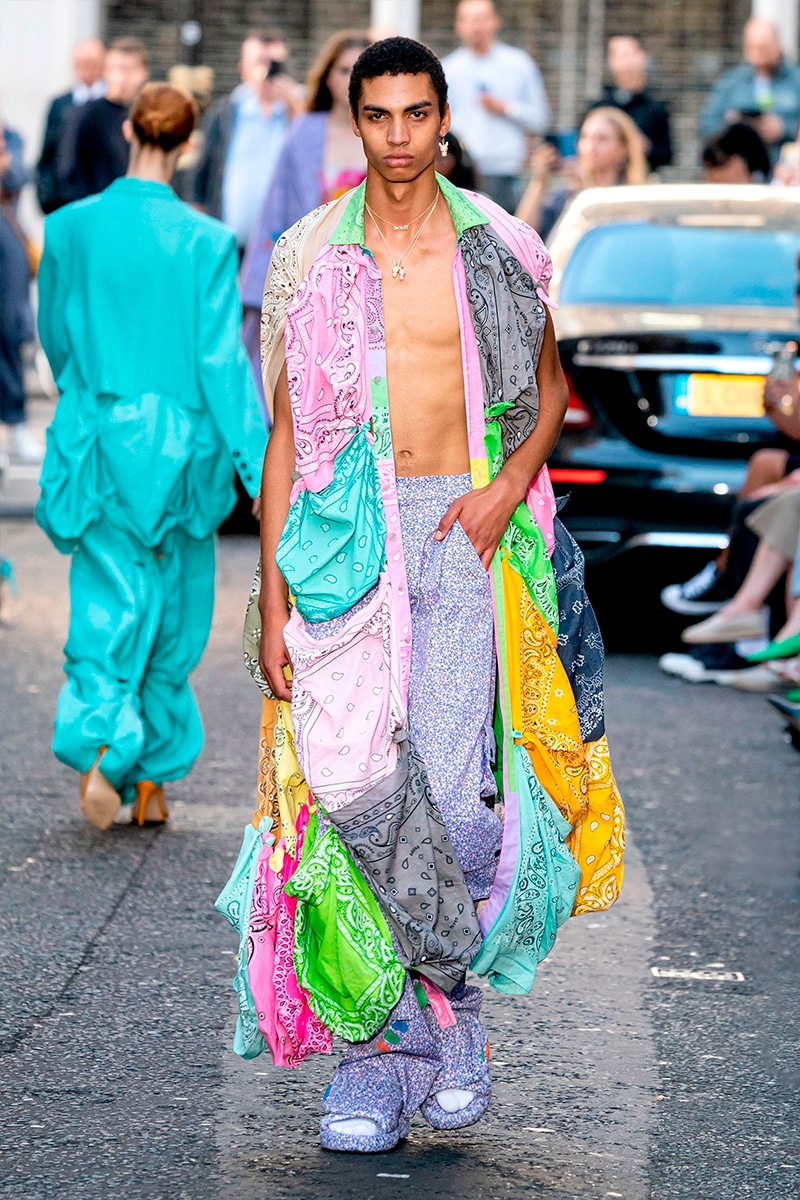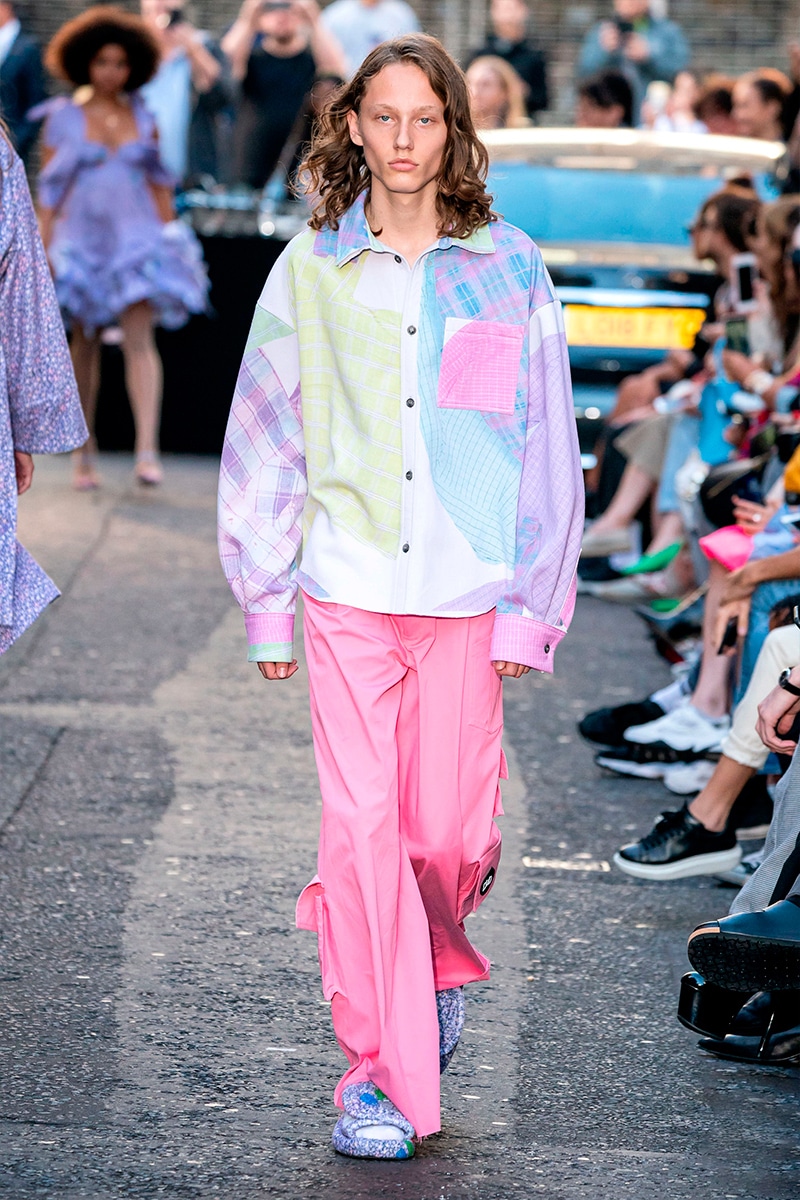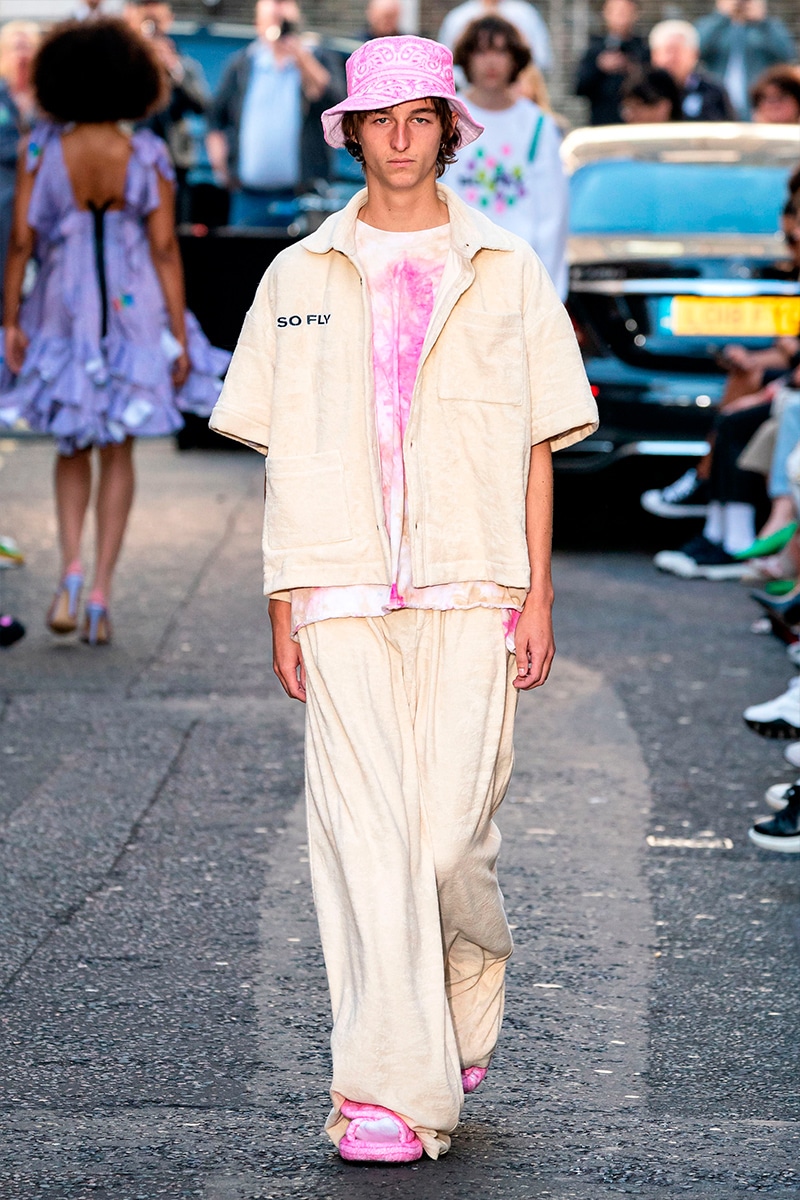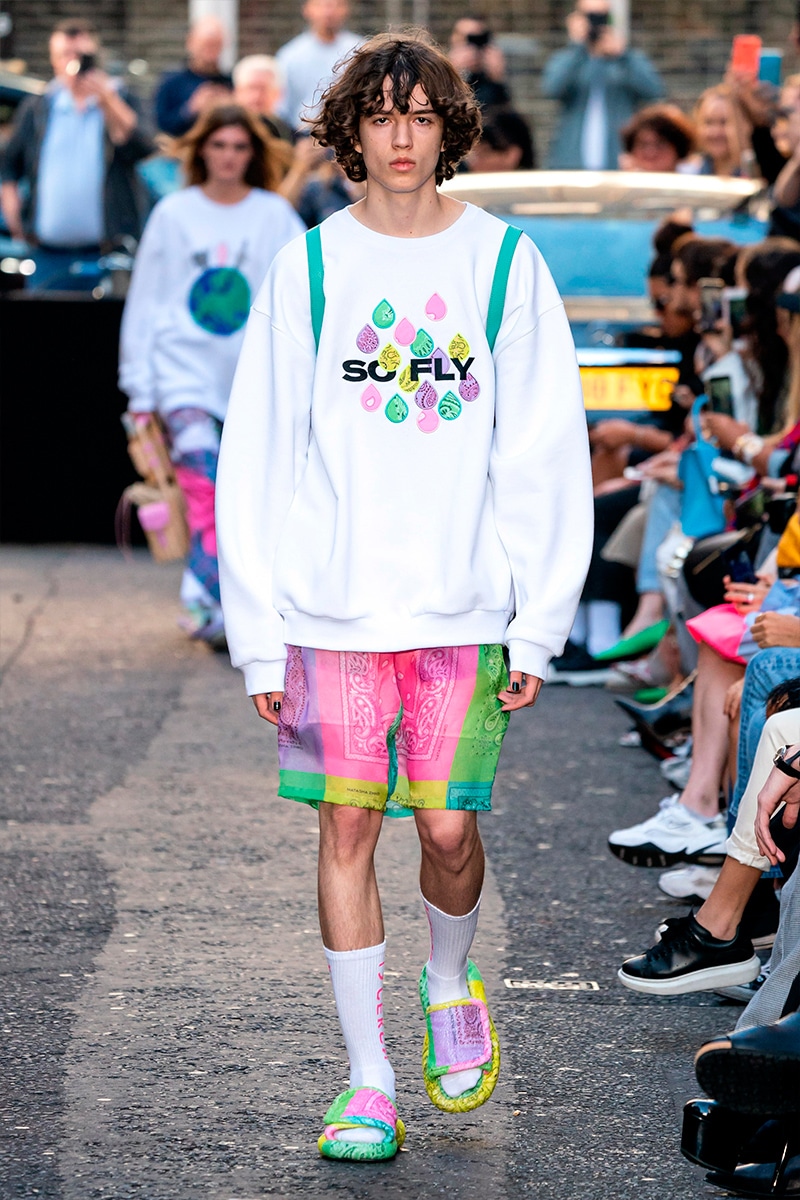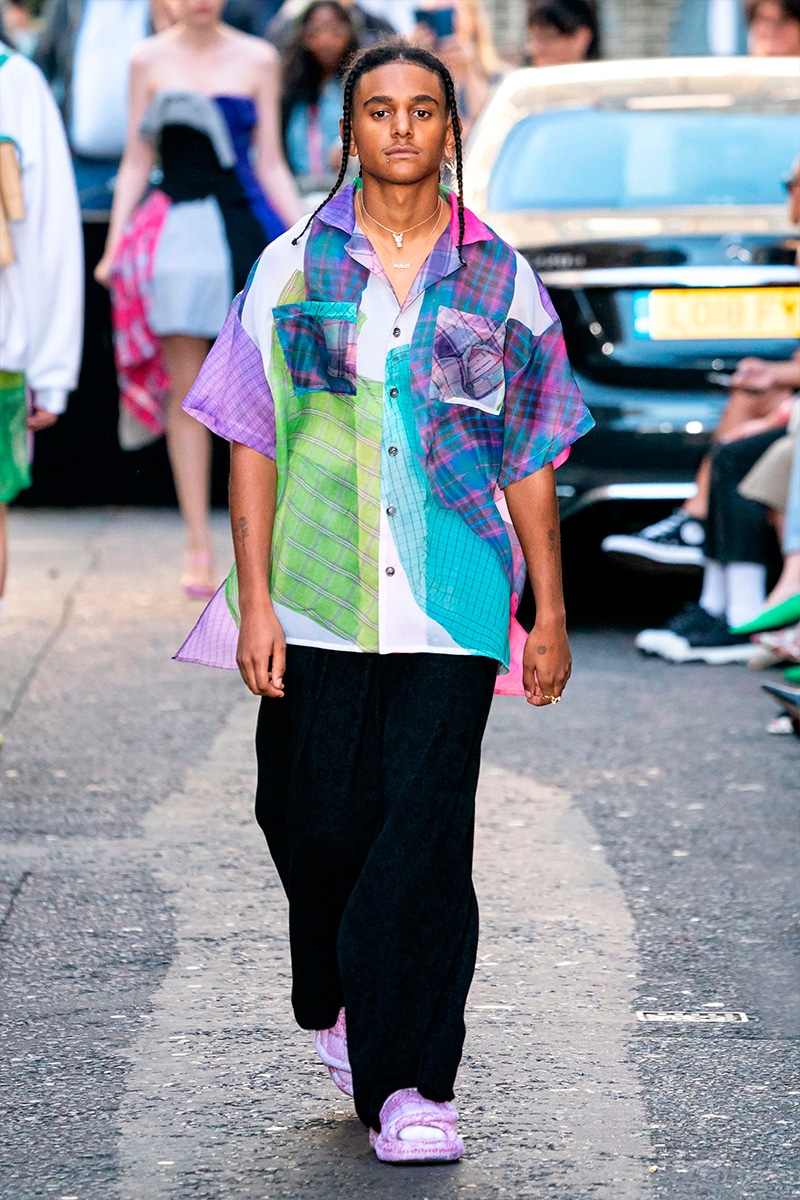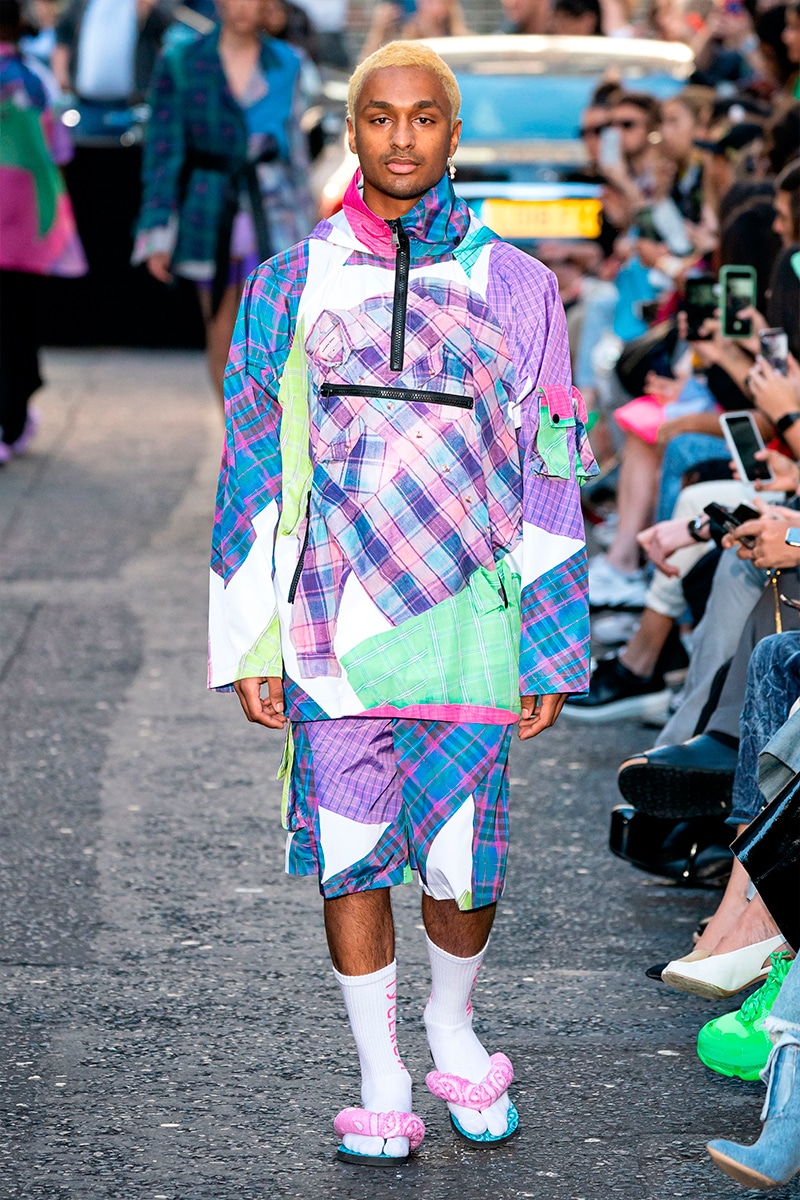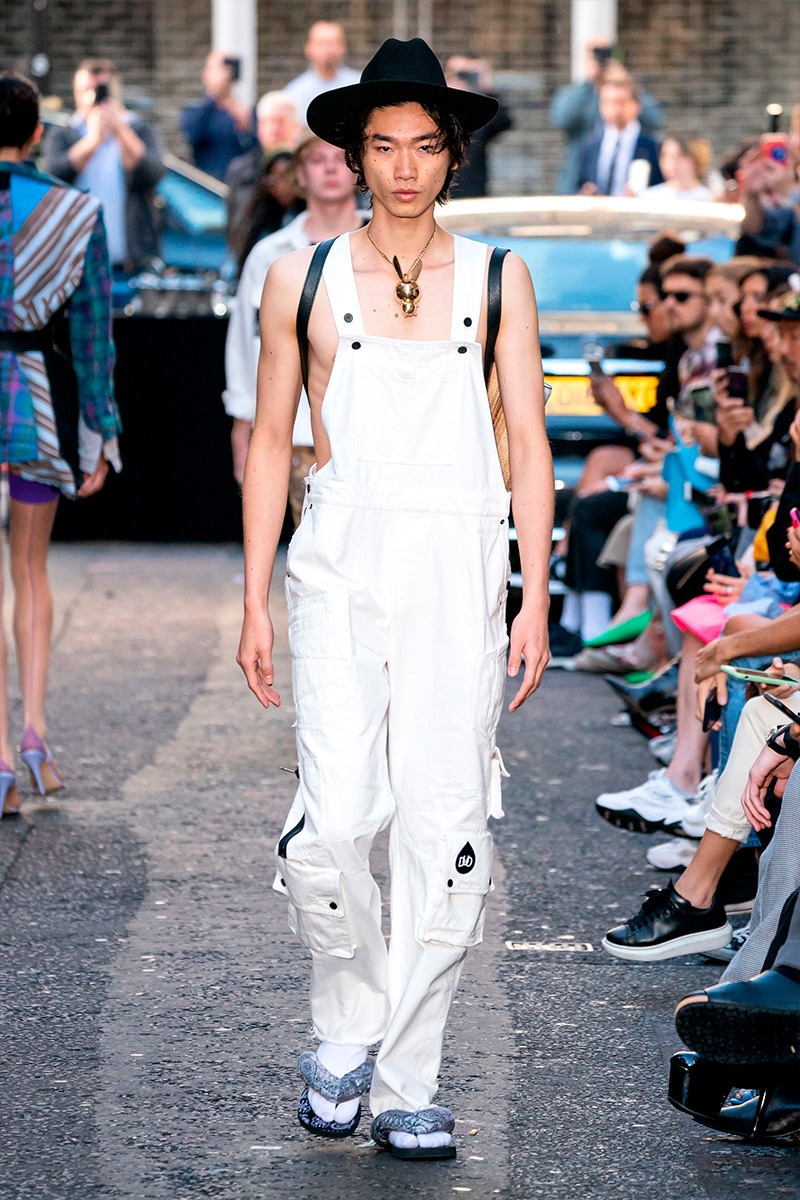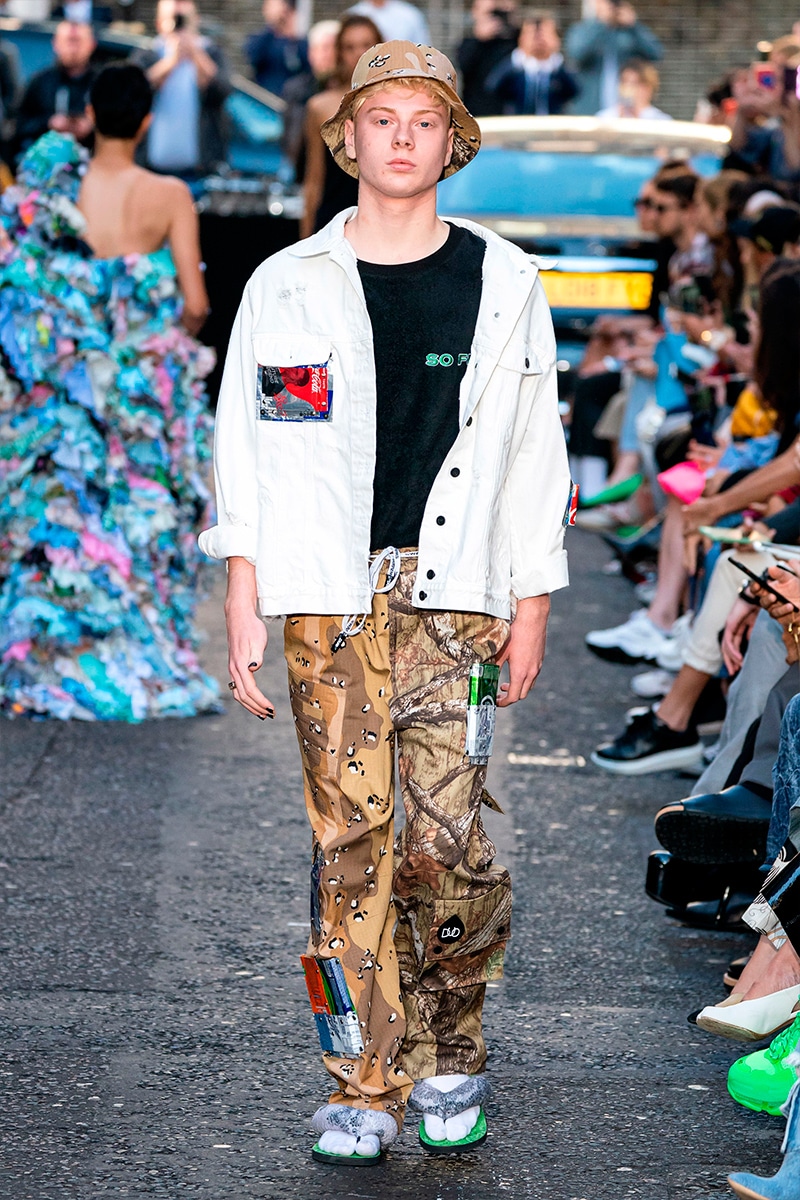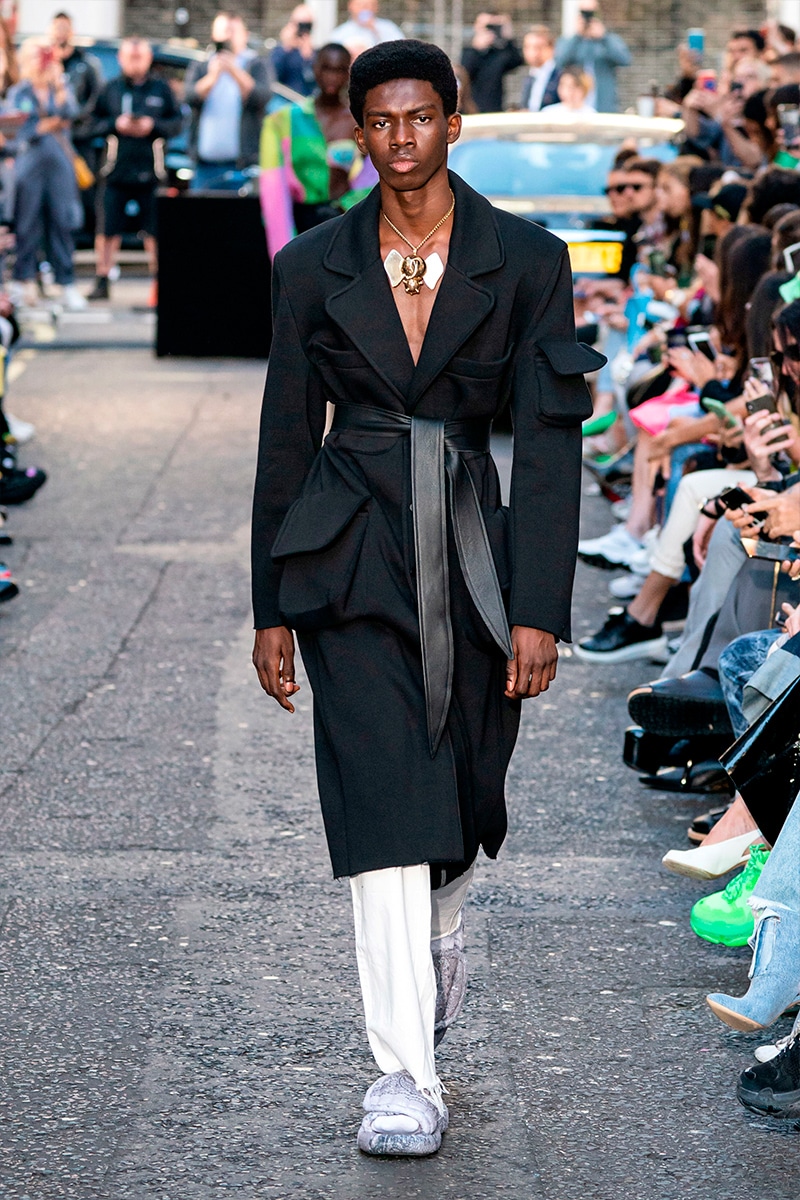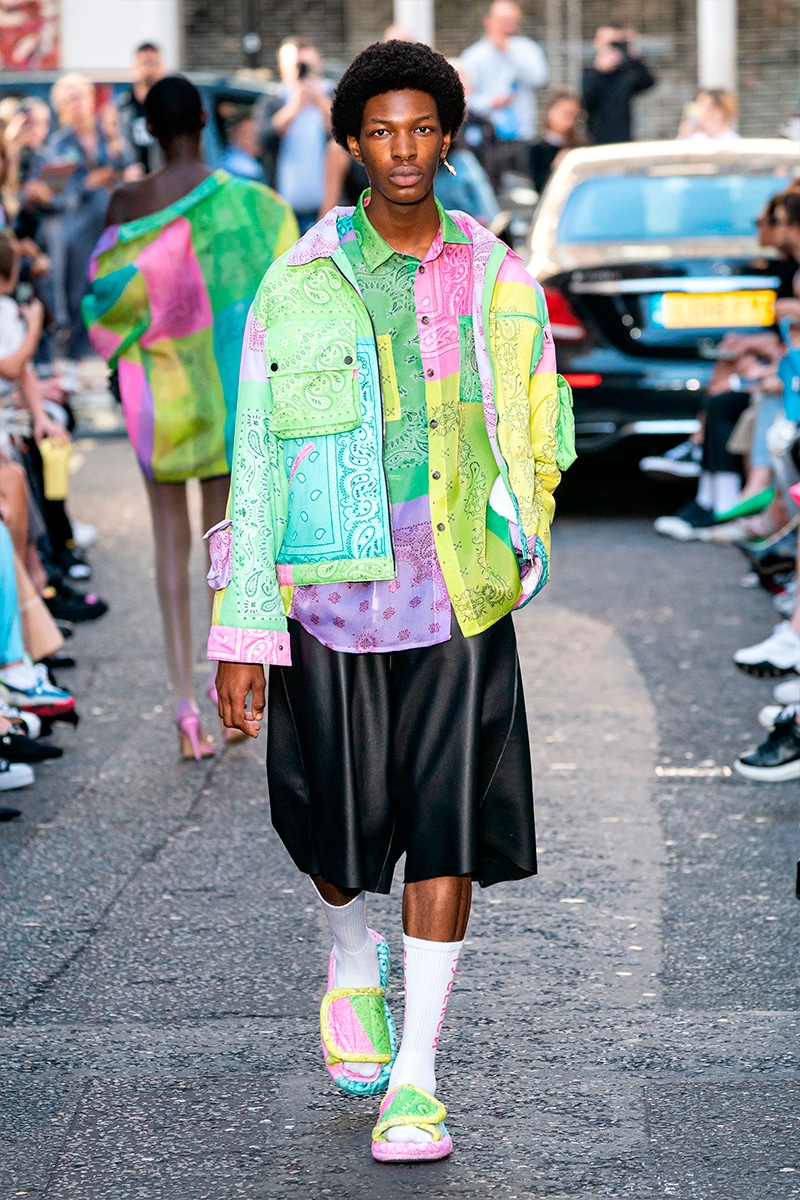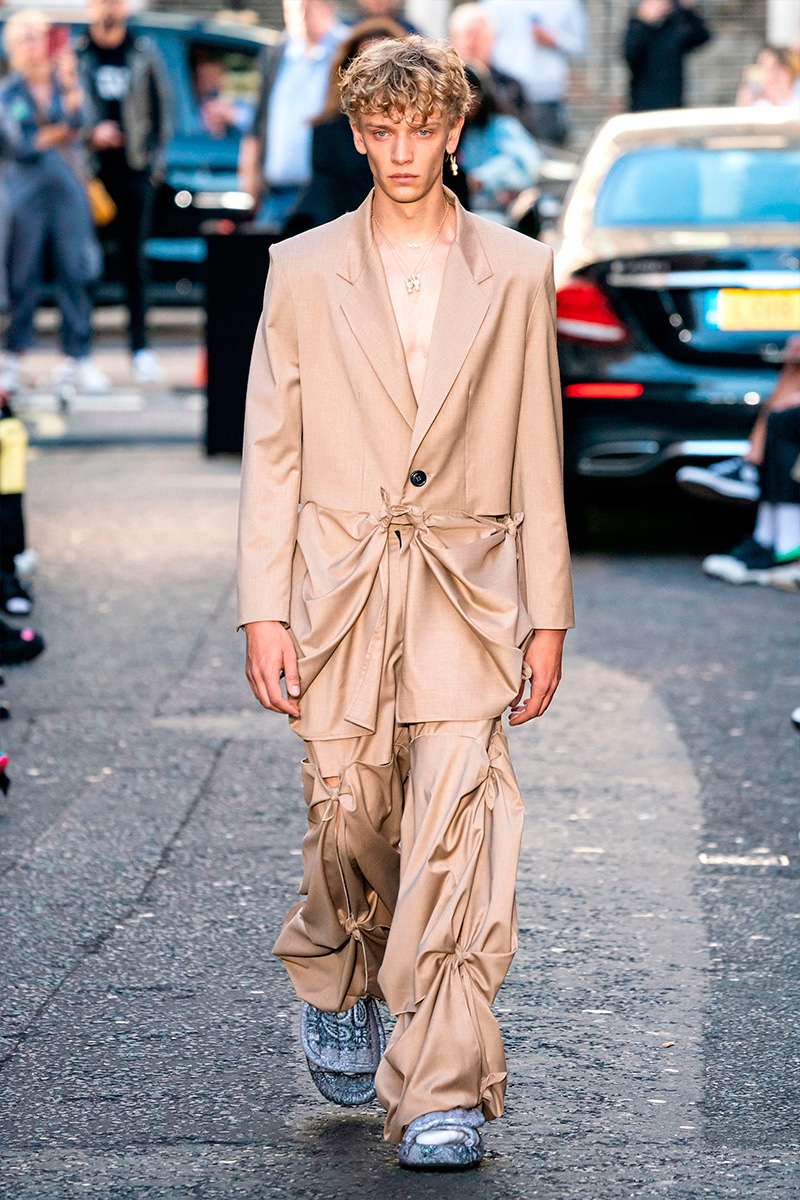 Spring/Summer 2020 finds Natasha Zinko x DUO addressing the urgent issue of sustainability in her both her womenswear and menswear collections. SS20 marks the third outing for the DUO menswear label. Growing in confidence, Natasha and Ivan continue to explore the idea of gender fluidity, with pieces translating across both collections. Rip up the 'rules' and wear what you want, how you want.
This season's unifying message is about taking the old, the discarded and the excess and conjuring up something new and fresh. Multicoloured vintage bandanas, for instance, are given a new lease of life – tied together to become maxi shirtdresses, relaxed shirts, and baggy pants. Piles of second-hand clothes, meanwhile, are deconstructed and then reconstructed as dresses and jackets. Nothing is at it seems: an extravagant, explosive standout dress is created from deadstock fabric gathered in her studio over six years. Even old drink cans are given a second chance, flattened and transformed into pockets. Instead of seeing garbage, Natasha and Ivan see an opportunity.
While the issue of sustainability might be a serious one, as ever Natasha executes it with her signature light touch. A peppy palette of candy pink, lime and lilac are offset with shots of black. There's sky blue linen suiting for women and taupe wool tailoring for men; white denim for both.
Contrast is key, peeps of lace lingerie and sexy suspender belts are offset with tough leather, loose silhouettes underpinned by structured bodices. And comfort is a non-negotiable. Oversized cargo pockets punctuate the collection, adding to a utilitarian, up-for-anything vibe. Natasha and Ivan also revive some of Zinko's own design history: the cute animal motifs of her jewelry designs are now reinterpreted as prints that pop up throughout the collection.
The playful approach continues to accessories. Acidic slides and bucket hats are fashioned from towels. Spiky heels are decorated with adorable gold bunny hardware. Lightweight structured wicker bags and backpacks include pockets for a smartphone and, naturally, a reusable water bottle.
Inspiration for the collection comes from growing up in the Soviet Union and the make-do-and-mend attitude that defined Natasha's own childhood. Wanting to give something back, she has joined forces with local authorities in her hometown of Odessa to establish plastic recycling facilities in the city. For her, sustainability means taking a 360 approach.