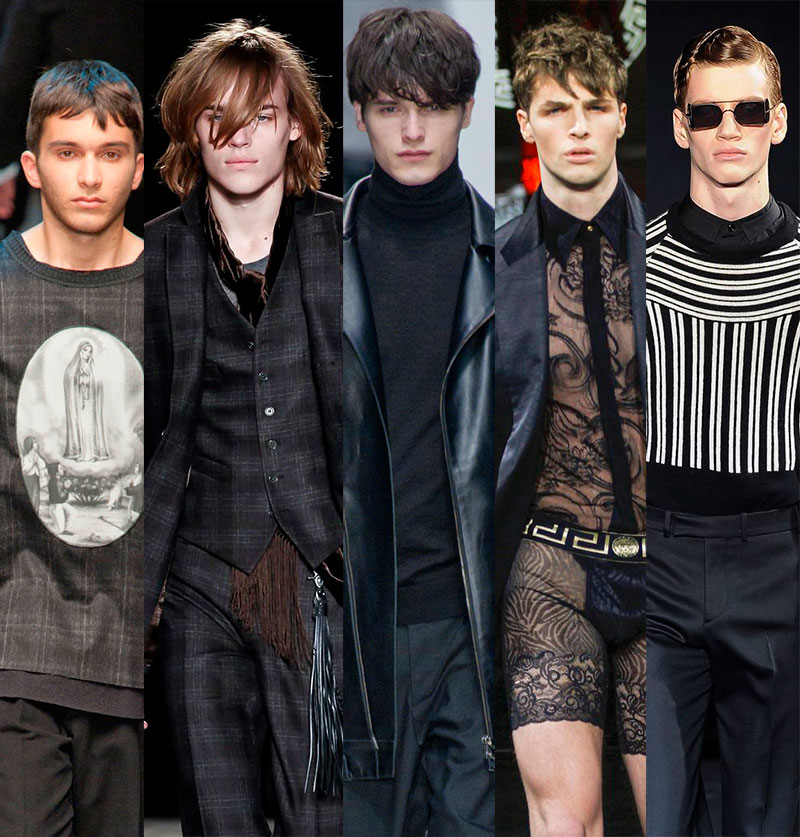 MMFW: the first day. "Hey Joe, where you goin' with that gun of your hand",  in these Hendrix's words the essence of 2013-14 F/W's man… I realized it at the Costume National's fashion show yesterday in the morning… I realized when at JohnVarvatos's yesterday in the afternoon … I realized it at Versace's last night…
"Anger. A global feeling, dissacrating, prelude to change, an energy I feel pulse through today's youth. At the end of 50's this feeling became a shore towards rebellion changing men's costumes and attitudes. From them on progressing through the 60's and 70's, the younger generation repossesses themselves and the world for an instant. I hope it happens again. Soon. Today. Rock and roll!". This way Ennio Capasa explains his inspiration for Costume National … His rocker wears leather biker jackets and jackets also on either skinny or jogging cropped pants. Fabrics are coupled… Fur-effect and cloth, canvas and lame', wool with a retro taste's satin armours. An indispensable accessory is the David Bowie's wide-brim hat while for the foot either Beatle boot socks or  laced low shoes. Colors are ice, black, electric blue… Donatella chooses instead the white, violent, and the shades of blue and gray. It's one yuppies of the 80s, his man… An ambitious, power-hungry young man… He's the American Psycho's Patrick Bateman. He wears tailored cloths and fancy-ties… Double-breasted coats and biker boots…His lucky charm? A fur tail to be hung on the bag…
Varvatos' collection is sophisticated but rough… Solemn hoods and clear cuts cloths…The long coats have washed leather sleeves…Vests are worn with a both sartorial and cool insolence… a perfect man but always authentically elegant…
A dark mood instead for Giuliano Fujiwara and Les Hommes…
Sergio Daricello creates a collection based on the union-contamination between the East and West of the world for the Japanese-Milanese brand.. his man is the son of the globalized society…He combines the Northern Europe's  avant-garde taste with the oriental style, clean and minimalist. The Italian tradition is in the perfect lines while the quirky details tell us of a free, unconventional man…
Tom Notte and Bart Vandebosch's night is deep and mysterious… Long coats and black furs on classic cloths. Military-style jackets and coats… Geometric-print shirts. This man is austere and intriguing, too… Better to stand at attention!
Jil Sander chooses red and checked prints for his young metropolitan man who has just an affectation…. The large cloth or leather removable collar… I want it!
Finally, Stefano Dolce and Domenico Gabbana's collection is a tribute… To their land, Sicily…
To the traditions, the colors, the religiousness… It's an unusual procession – rich, elegant – in which they march flowered or evocatively iconographic prints, oversized volumes and luxurious fabrics, high- waist trousers and scarves used as sacred vestments… I have no doubt… The first day is for them!