The German fashion scene is currently in full swing, especially in the Berlin area. Every day, new designers are emerging and earning themselves a place on the radar of industry professionals and lovers of fashion. Some of them are moving away from what many consider to be Berlin fashion and deciding to explore new terrain.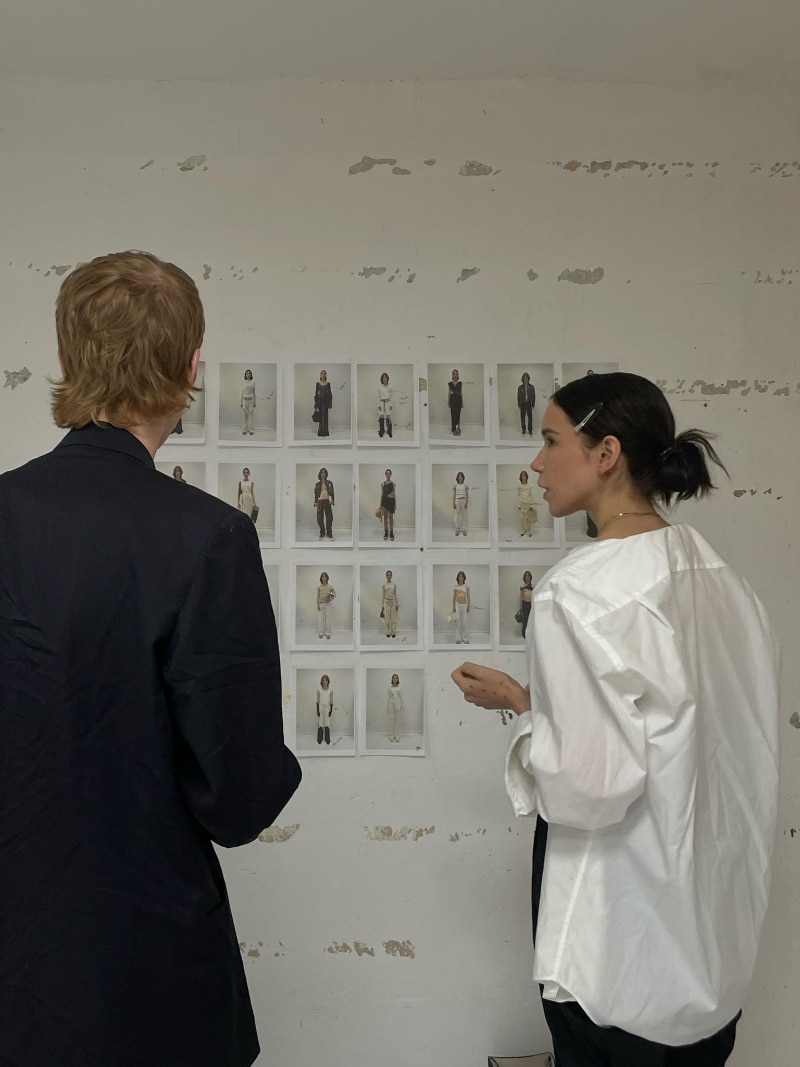 Rosa Marga Dahl, creative director of SF1OG, and founder of the brand together with her business partner Jacob Langemeyer, knows that we are not wrong in what we are saying, as she is one of the designers who is doing the most to make this development a success. As a result of her commitment and initiative, she has become one of the most internationally renowned figures in the city where she is based, Berlin.
For all these reasons and more, we decided to call Rosa to tell us a little more about her and the brand.
Rosa, one of the first questions that came to my mind, as soon as I discovered the brand, was the meaning of SF1OG. Can you explain that to us?
The name is something I thought a lot about when I decided to start this adventure. How to name it was one of the first questions I tackled. I thought about what made sense and what did not. A lot of people tend to call their brands by their names, and I didn't want to fall into the obvious.
I started creating from the living room of my apartment, and I didn't have a studio. So I thought I would use the description of the location of the place where I started this project. It seemed quite authentic and original. One day I received a package from Amazon that said: located in SF1OG. And I thought this was the name.
Many already have your brand on their radar, but for those who don't, how would you define it?
SF1OG is a brand that offers technically made clothing for anyone who wants to wear it. We like to focus on clothes that fit well, regardless of whether they are for men or women, and at the same time are sustainable. Making a positive contribution to the environment is something we care about. We also use materials that tell a story, and that are partly related to the past but at the same time connected to the present.
It's been 4 years since you started this journey. Do you remember how it all came about?
It all came about as a project that I started when I was still at university. At that time I always felt that I lacked creative freedom because we always had very limiting projects. After all, we had a theme and a color scheme, and honestly, I was tired of that. I started doing things that I wanted to do from my living room, and then I began to feel like making my passion into something serious and taking it out into the world.
First I started selling some pieces to my friends, and then a friend I had at school, Jacob, proposed the idea of doing an internship. Today we are business partners, and together we turned a university project into a real business, and we fight every day to make it grow and develop successfully. He takes care of all the business side and I do the creative side. We are a great team and I think it's great that we found each other.
Every start-up requires moments of uncertainty, which in our case disappeared when we held our first show, which received a lot of attention and was covered by the sector's specialized media. Thanks to them, SF1OG was placed on the fashion radar of many.
SF1OG is (partly) based on inspirations from the past. Which decade has inspired you the most?
The decade that has inspired me the most is probably 1900-1910. It's funny because I realised it one day when I was rummaging through my grandmother's wardrobe. I found some old fabrics that caught my attention and I found them very interesting. I don't know why but they take me back in time and make me imagine life at that time.
I remember the time my grandmother gave me some of her clothes and I was so fascinated that I ran home to get my computer and search on eBay for pieces from those years. To my surprise, I found a linen bag from 1910.
Another day, I found a series of postcards from the same year, and I thought: why this year? It's a bit surprising, but yes, because of this series of coincidences, I would say that this is my favorite decade. It seems like a long time ago, but it is not, although it is true that there were different values and beliefs than today. I often remember this time with nostalgia, as I would have liked to have lived it.
What has inspired you recently?
What has inspired me most recently are the materials and stories of the past. We are currently working on a new collection, which has a lot to do with the countryside and the memories I have from my childhood. When I was little I used to ride horses with my grandfather, and this whole era was very inspiring.
Another thing that has inspired me recently is lace. People in my family know what I do, so sometimes they send me parcels with old things, and somehow it helps me to be inspired by them.
Fabrics, craftsmanship, and sustainability are things that you really pay attention to. Do you think society today, in general, values these details? Or do you think they still prefer to buy clothes non-stop? 
I think there is a big percentage of society that likes fast fashion or consuming clothes in that way, but at the same time, I see and realise that there are more people who like to go another way.
When I talk about this topic, sometimes I relate it to the current trend of using analog cameras. Now people are starting to appreciate that old touch and seem to have found a love for the old ways of doing things. It's the same with craftsmanship, whoever loves it and tries it, decides to go for it and never abandons it in life. And if we apply this to clothing, the same thing happens. If you try a well-made garment and become attached to it, it is very difficult to go back to fast fashion.
So, yes, in general, I would say that people value these details.
Do you think fashion is contributing enough to the development of a sustainable world?
Yes. If you think about it and analyse it, sustainability is almost a trend now. Suddenly everyone wants to be part of it, and even the big fast fashion companies have their sustainable lines. I see this in some ways as a positive thing, as it helps to spread the message that this is a really important issue. Every step, no matter how small, counts and helps. Nowadays, most small designers already produce sustainably, and this makes big companies rethink their business.
Your proposal looks different from what people might imagine fashion in Berlin to be. How do you see fashion in your country?
A lot of people tend to imagine Berlin as a dark city with only techno music. It's true that if you think of it, you immediately think of the rave culture, which has a right to be there too, but I don't see it that way. I'm not part of that culture and I don't identify with it. Nowadays, and especially during the last few seasons, many other great designers based in the city have emerged and are offering a unique point of view, such as Sia Arnika.
I like to see how we all work together to develop a new aesthetic and contribute to making everything look different. There is a lot of potential in Berlin and it needs to be exploited.
Your last show was one of the most acclaimed of the last edition of Berlin Fashion Week (BFW). How did you experience it?
It was crazy! Whenever I'm asked this question I always say that day is the most stressful of the whole process. Time flies by and there is no time to eat or drink. Only those who have experienced it know what pre-show nerves are like.
That day I remember I was nervous but at the same time very happy, because I had a good casting team, hair and make-up, and a stylist. We were all in perfect harmony and wanted it to go as well as possible. I was never afraid of anything going wrong, as I trusted every one of them 100%. Working like this was a dream come true and very exciting!
The location of the show was spectacular! Why did you choose this place?
Thank you! Honestly, it was all last minute. It wasn't prepared at all (laughs). We only had four months to organise everything for the show, and although it seems like a long time, it's very little time. During those months, Jacob and I thought we needed a venue that would be as impressive as the previous one, but at the same time special. We started the research and search process, and suddenly Jacob suggested this place, which for those of you who don't know is the Berlin City Hall. We contacted them through a message and they said yes. We went to see the space and automatically thought: "Wow, this is what we were looking for". We discussed our ideas with the team and they didn't have any problems, on the contrary, they were all very nice.
Something that also captivated us about the place, apart from the colors, which matched the collection very well, was the fact that there had never been an exhibition, which was quite important.
We are very happy with the result, everything went perfectly, and the funniest thing of all is that, as I said before, it was super spontaneous and nothing was planned, although it seemed like it was.
If you had the opportunity to move your show to the official calendar of any other fashion week, which one would you choose and why?
I think I would choose Paris. From my point of view, it's the fashion city par excellence and, in some aspects, I think the brand could work quite well there. For example, in terms of fashion shows, the location we chose for our last show is something that could also be found there. Also, I admire the traditional way of doing things in France.
We will be in Paris soon, in a showroom, presenting the brand and our next collection.
Can you tell us something you would like to achieve in the fashion industry?
When I think of goals or dreams, two come to mind. The first would be to have a very big studio, and the second one would be to have a team made up of experts in different fields. For example, I imagine it being made up of a tailor, someone who masters all the craftsmanship, another in charge of draping, and finally a person who knows how to do 3D well. This would make me very happy, as this is what I imagine when I think of a "dream team". Doing all the work one person can sometimes be too much.
You've mentioned 3D a couple of times. You seem very interested in this field…
Yes, it's something difficult but I'd like to try it. Sometimes I imagine how I would approach it and I am aware that it is something that is in full development and that can set you apart from the rest and give you new opportunities. I think it's very interesting to learn and to do, but sometimes it can be unattainable for a young designer because you need a big company to produce it.
And finally, could you tell us something about your next collection?
Let me think about what I can tell you (laughs). In the next collection, there will be a lot of black and white, and also neutral tones. And that's it. The rest I leave to your imagination and you will see it soon at the fashion show we have prepared in Berlin in July. Stay tuned!
Check out the SF1OG backstage, captured in Berlin by Alexánder C. Luque in exclusive for Fucking Young!, below: