"Relax, take it easy
For there is nothing that we can do.
Relax, take it easy
Blame it on me or blame it on you."

Relax, take it easy – Mika, singer
I admit I'm not a fan of Mika but this song insinuates itself in your mind with its easygoing refrain and remains there.
It is an enjoyable, relaxing motif that puts the good mood.
Sheriff & Cherry's philosophy has the same extroverted characteristics. 
Founded in 2004 by Mauro Massarotto as a creative agency, Sheriff & Cherry immediately birthed the character behind the name. Fun-loving, retro-infused and beaming with a graphic love of color: the brand established itself as that friend of yours which, despite the daily trials and tribulations, always seems to be in good mood. Sheriff & Cherry is a sunglasses label. 
Developed in an old Croatian optical factory, the frames instantly stood out from everything else happening in the eyewear world. Vintage silhouettes pimped out with a sense of modernity, created in premium materials with vividly-hued designs featuring organic lenses with 400 UV protection and available in selected stores worldwide.  Now that's a mouthful, we know. But since that very beginning, Sheriff & Cherry became globally synonymous with high-impact frames that, despite their retro inspirations, look perfectly in-tune with the world of today. 
We met Mauro at KASPIA in Paris during the last fashion week and that's what he told us.
Hello Mauro! When and how did your interest in fashion (system) start?
Since I remember I have always been interested in and fascinated by individual style. When I was studying Fine Arts and started designing prints and illustrations for magazines and brands, I understood that fashion was my favorite form of art to express my creativity.
What is Sheriff & Cherry?
It's a joyful and playful lifestyle.
The brand established itself as that friend of yours which, despite the daily trials and tribulations, always seems to be in a good mood. How do you define your style? Who is your top customer? 
I would say it's classical with a twist. The style of S&C is comfortable, bold and colorful. The S&C customer is every person enjoying life, young at heart!
Why did you create an eyewear brand?
I have worked for various different fashion brands in the past, and as a big eyewear collector and fan, I always felt somewhat frustrated about a lack of opportunity to actually design eyewear. So I would jump on this opportunity while consulting an old optical factory in Croatia more than 10 years ago. And I stuck to it ever since.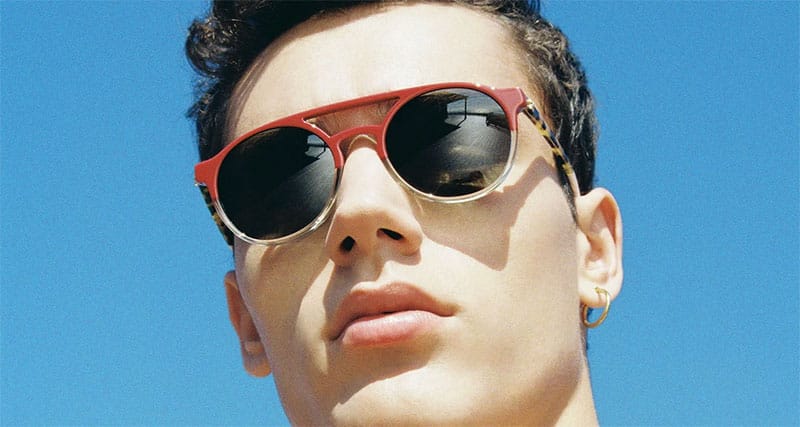 Tell us something about the last collection.
The general idea of our last collection is to bring a sense of holidays into every day, and turn wherever we may be to a faraway destination. They are clothes that provide comfort no matter the journey you may find yourself on. Think terry cloth, animal prints, loose silhouettes, color blocking and symbols of navigation. We are here to take you on a cruise, destination easy life.
What is the key piece? 
Any piece from towel collection, so comfortable and fun.
As a creative director, how do you imagine the future of fashion? 
I believe in a more individualist and personal fashion culture.
As always, our last question… According to you, what is really FUCKING YOUNG!? 
To me, FUCKING YOUNG! means to be FUCKING FREE!