The MAEMUKI Spring 2024 collection marks a new chapter in the DOMINNICO community. Domingo Rodríguez Lázaro, the creative director behind the label, draws inspiration from Japanese culture and urban tribes like the Gyaru and Sweet Lolitas. It's a refreshing take that reflects a diverse and free perspective, combining various trends such as Steam Punk, the Metaverse, craftsmanship, and upcycling with the digital era, Kawaii aesthetics, and sweet color palettes synonymous with the brand.
The collection sets the stage for a provocative interplay between innocence and edginess. It brings together iconic pieces from previous collections while introducing new ones that blend elements of classic lingerie – like pleats, ruffles, ribbons, and lace – with elements more associated with BDSM, such as harnesses, vinyl, heart-shaped buckles, and metallic accents. Recycled denim, leather, fur, and lycra are the main materials in the spotlight here, with a color palette that revolves around milky tones, white, and silver.
We had the opportunity to catch up with Domingo just before his presentation at 080 Barcelona Fashion. Here's what he told us:
How has your background or personal experiences shaped your design perspective?
My background, sexual orientation, and, of course, my family have been crucial in the shaping of my identity. You can rest assured that all of that also helped shape every DOMINNICO collection and its escapist spirit, oneiric worlds, and the representation of the society I would like to live in.
What's the inspiration behind the collection you are presenting during the 080 Barcelona Fashion?
Maemuki Spring 2024 takes us to the next level in DOMINNICO's community.
The Japanese culture and a closer look at urban tribes like Gyaru and Sweet Lolitas work as a bridge to embrace once again their creative universe, from a diverse and carefree point of view where different subjects like Steam Punk, the Metaverse, handcraftship and upcycling co-live with the digital realm, the Kawaii aesthetic and, a very true-to-our-brand, sweet color palette.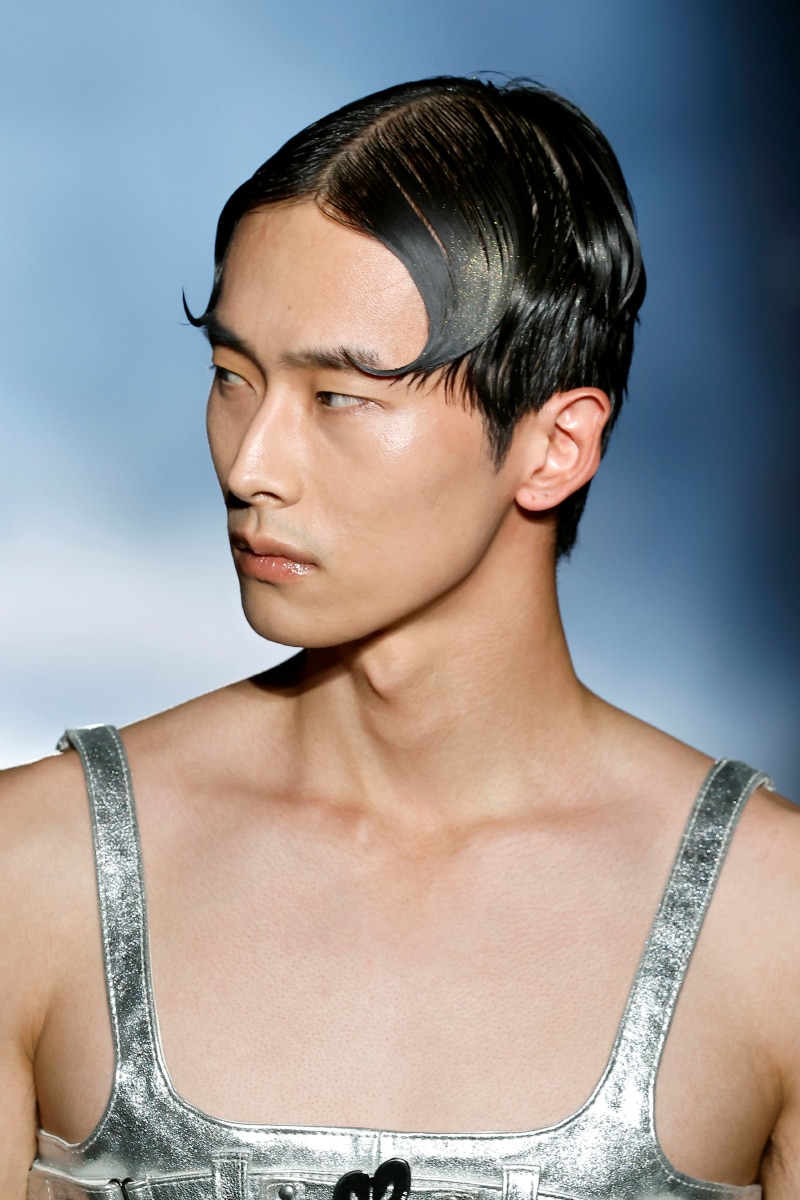 How do you see menswear evolving in the next few years?
I imagine in a couple of years we will see collections more and more fluid and diluted, in terms of garment silhouettes.
Any unexpected challenges you faced in preparing for this show?
We continue on working and exploring the upcycling technique with denim and leather because we firmly believe in the strength of raw materials, and how these can have a second life. This obviously takes double the time of production, when it comes to searching for materials and planning and displaying the patterns.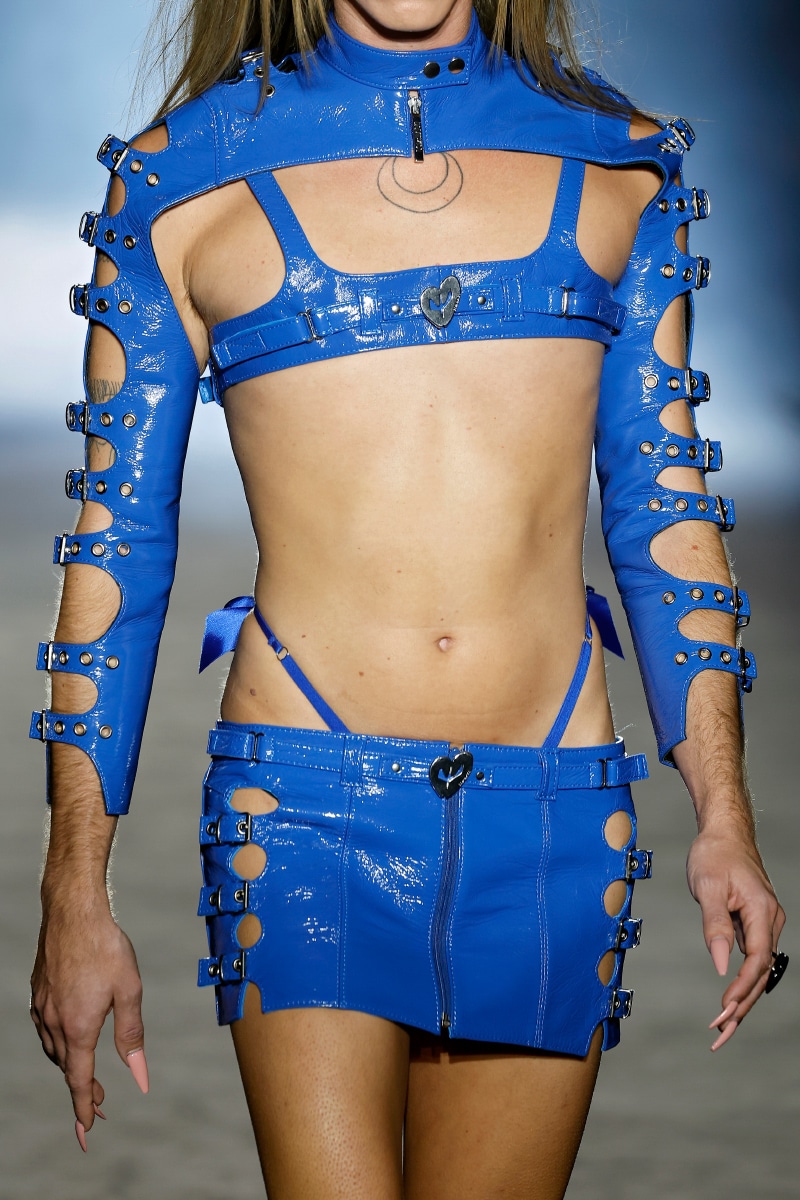 Tell us about one piece in your collection that you're particularly excited about.
Skirts, more like THE skirts. These are looked at in hundreds of perspectives and different options. For this occasion, we introduce pleated, lace, eyelets… and materials and colors.
How do you balance the intersection of art and functionality in your menswear designs?
Our aim is to convey our identity through the color palettes, the themes or inspiration, and silhouettes… taking all of these concepts and translating them into prêt à porter
What kind of man do you envision wearing your designs, and how do they fit into his lifestyle?
DOMINNICO is a brand for people who seek a contemporary look, with no labels or boundaries. The kind of man that wears our garments is someone outgoing, ready to break some rules, and, like myself, that makes fashion their playground.
If you have to create a playlist to define this collection what song(s) would be in there?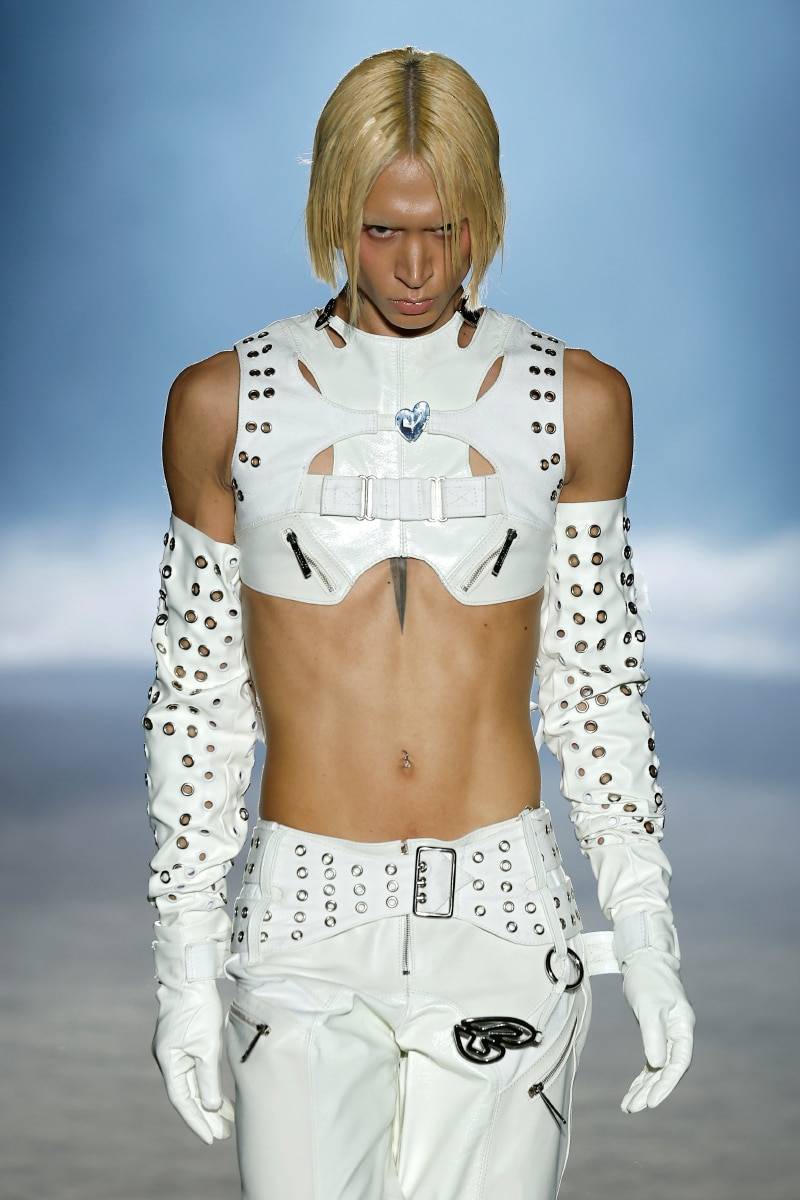 How do you see sustainability playing a role in the future of menswear design?
I think we are living in a time where culture is giving us the tools to invest in better and long-lasting materials and to support alternative authors rather than fast fashion.
For emerging menswear designers, how crucial is participating in fashion weeks like 080 Barcelona Fashion for gaining recognition and exposure in the industry?
We are in a great situation right now on all levels, and undoubtedly, being part of 080 gives us the visibility that we require to reach certain audiences with our collections.
What advice would you give to aspiring menswear designers looking to break into the industry?
Daily hard work and taking a conscious look at what necessities we might have as a society. We must use fashion as a tool for change.
Check out the collection presented during 080 Barcelona Fashion below: