The artist returns with a new single that opens a new era and reminds us of the good run Lynks has had with a magnificent discography and his irreverent and amusing work.
"Relax, sit down for a minute. Yeah, this is my house and I don't want you in it". These are the first two lines of Hey Joe (Relax), the single that Lynks released back in April 2022, and which nicely represents the narrative you'll find in their realm. It's fun, cheeky pop music from a character who even in his most vulnerable moments is very clear about what they wants.
Lynks returns this month with a new single, their first under Heavenly Recordings, indicating that his debut album is just around the corner. Use it or Lose is an excellent commentary on the ageism that, like every capitalist gimmick, permeates every fibre of social construct and has reached the gay community, if such a thing exists anymore. Once again, the visuals are brilliant and showcase their attitude and approach to fashion with their distinctive mask, an intrinsic part of Lynks's identity. As they is electro-singing their story, a robotic voice from what would be a dystopian dubbing of Big Brother rushes the character to make their usable for his age.
The music in the videos features prominently in Lynks' work; some of them are pure artistic performances containing critiques and satires of the capitalist system and focus on perception, reflections on male-male relations and identity in the context of the social digital world.
Songs like Everybody's hot (And I'm not) (Everybody's hot, everybody looks good. I'd slide my finger to the right if I could) or their breakout single This is the Hit (I'm Jaws, I'm a shark in a fish box. I'm a hipster on the loose in a thrift shop. I'm a matriarch in the gift shop. So fuck the patriarchy, get your dicks cut off!) are perfect examples of their hilariously articulate sense of humour as they tackles issues around gay male behaviour and experience, in which appearance and sexual activity are becoming issues that affect men in different ways.
Ver esta publicación en Instagram
"The gay world is obsessed with youth. Which isn't surprising – there just isn't a blueprint of what growing old as a gay man looks like. Like, any film with a gay man over 40 seems to end with them either trapped in a sad, loveless marriage to a woman or dead" the artist explains about their new single in the press release.
Merchant of pure gay chaos. Cult sensation in London's underground music scene, named 'one to watch' by Lauren Laverne, The Guardian, Attitude Magazine, NME, Loud & Quiet, DIY, Time Out, Jack Saunders, Huw Stephens + Elton John. Their legendary live show has graced sold-out venues across the UK, from transforming the main stage of Latitude Festival, a secret set at Reading festival and headlining London's Heaven Nightclub into a pure queer dystopia of electro-punk excess.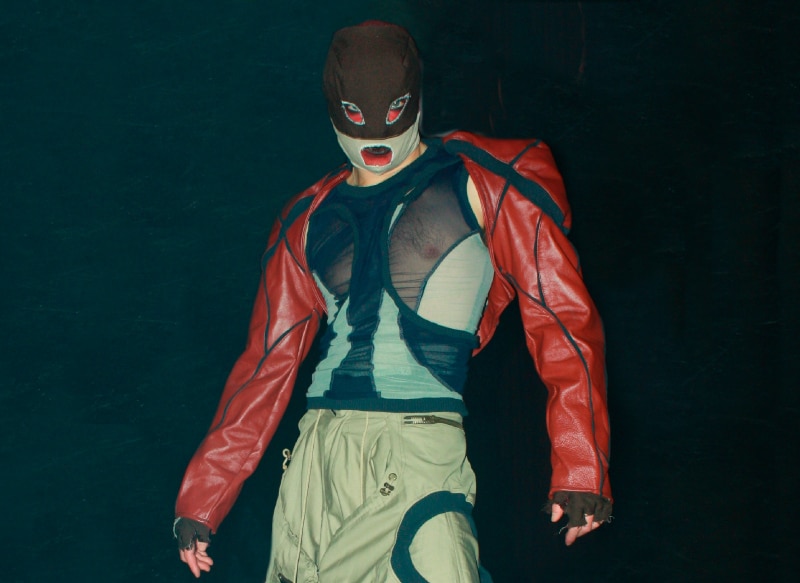 One of the great things about Lynks is their performance in which all their talent and musical universe play a big part. A good example is the video for This is The Hit Live at Lynks' House in which they also collaborates with their old friend Charlie Steen (from the British band Shame). In a very unique way, Lynks is drag while maintaining their more underground factor.
This is the UK's gay counterculture, and we need it now more than ever. The good news is that if you haven't already, it's time to check out their previous EP's MEN, and Smash Hits Vol.1 and 2 to jump in the bandwagon of this festive defiant music. "An unpasteurized shot of electro-punk chaos compressed into the shape of a human man, wrapped up in a gimp mask, creating tiny queer utopias wherever they goes" narrates their official bio, to which we could add that campness and subversion are brought to 21st Century independent pop in an unapologetic way, demonstrating that there is much more to gay pop stars than repeating the safe mainstream formula: this is a manifestation of how pop punk is becoming a real thing with a new form according to new formats and discourses.
We had the chance to talk to them a couple of days after their performance at Brighton Pride. From their new single to their approach to fashion, to how complicated things are right now for LGTBIQ people and being a rebellious and independent gay singer, we talked to them in this interview; a perfect opportunity to get to know them better.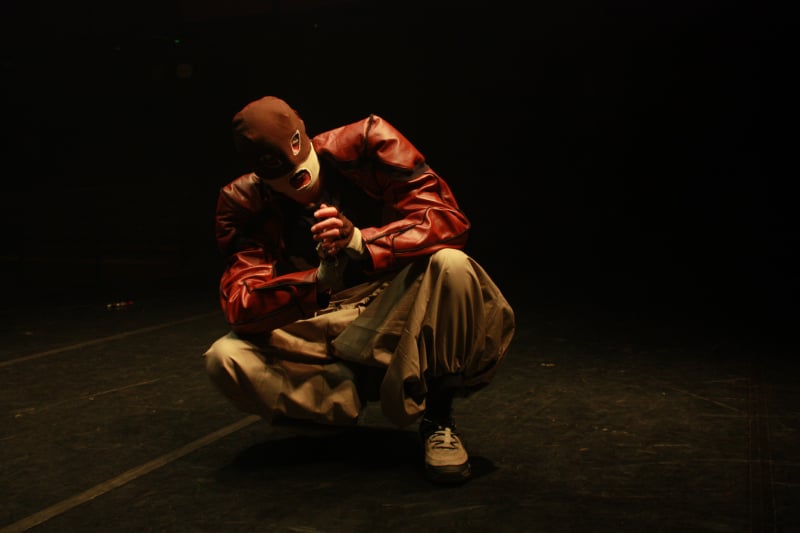 Hi Lynks! Thanks for taking the time to talk to FY! Firstly, how was Pride in Brighton?
Absolutely excellent! I'm used to feeling completely ashamed, so it was nice to feel some pride for a change. Thanks for that Brighton!
I guess you got to sing your new single, Use it or Lose it, how was the crowd's reaction?
Yeah, very nice actually. First time playing it since it's actually been out in the world. It's always a bit impossible getting your head around people listening to the tunes when all you've got to see for it is a bunch of numbers on your Spotify For Artists page. It only feels real when you see real people singing along and realise people have actually committed your horrible filthy lyrics to memory.
The song is a tongue-in-cheek commentary on ageism in the gay community. You talk about your fear of not making the most of your youth now that you're turning 25. Was there a moment when that fear became more present and inspired the song?
It was a slow burn to be honest. I think it all really snapped into place when I got my first solitary forehead wrinkle. I thought OH GOD HERE WE GO. Honestly though, it's not really stressing me out anymore. I feel like I exorcise these kinda negative thoughts when I commit them to a song. And plus, I'm realising more and more that people actually just get hotter and sexier the older they get. And I, personally, am ready to go on that hot sexy journey.
I'm curious why you chose that robot voice for the chorus: "Use it or Lose it". It's very funny, but at the same time it makes me think about alienation, about what the system expects us to do at certain ages, like a warning so we don't waste our lives. But for gay men it seems to have changed in the last few decades; finding a partner was more important in the eyes of capitalism back then and now it seems to be about getting laid as much as you can. I wonder what your opinion is on this.
Ooooh yeah love this take! Yeah, I tried having my own voice doing the chorus, but it felt wrong. I guess in the context of the song's narrative the voice saying "USE IT OR LOSE IT" isn't coming from me. It's a kinda societal pressure. So, I think by using that robot voice it felt more appropriate. It's not coming from anyone in particular – more a general, universal, malevolent message. Plus, it sounds cool.
On the other hand, it seems that mainstream pop has embraced the big gay pop stars and their music. But there is another cliché (which goes hand in hand with ageism within the gay male community) that makes people celebrate normative bodies like Troye Sivan's in Rush but neglect and shame people like Sam Smith's in Unholy. This isn't just coming from "outside"; the importance of physical appearance has become a very toxic issue within male relationships. Do you think this will change in the near future?
Hmmmm… Well, I'm not hugely optimistic, to be honest. Because it hasn't even changed in the straight world, really. Plus size bodies perceived as male are de-sexualised in a big way. Plus-size female bodies too, though it feels as if there's at least a movement trying to aim for the celebration of the plus-size female body; Lizzo comes to mind, of course. I personally can't think of a single mainstream plus-size male who is celebrated as a sexual figure. Which is sad, because plus-size men are hot! Go to a bear bar – it's lit.
I love the (handmade?) mask you're wearing on the cover of the single, it's a very good portrait. What is it made of?
Yes! So, the mask is just a nice tartan I found at a fabric shop, but the hat is from an amazing designer called Digital Scum. Check em out they're amazing. Also props to the photographer Mars Washington – a genius.
Do you remember when and why you decided to have Lynks wear a mask for his performance? Do you custom-make different ones depending on songs, live shows, moods or special events?
It was pretty early on the Lynks' journey. The first few Lynks shows I did a full face of makeup, but I inevitably sweated it off and looked like a sad bedraggled clown by the end. So, one time I did a masked look and not only did it soak up the sweat, but it also gave me a whole new energy as a performer. Total lack of self-consciousness. And I've never gone back since! And yeah, I make new ones for every outfit. I have been known to re-wear them quite a lot though… Chronic outfit repeater over here and not sorry about it! Reuse, reduce, recycle and all that.
I went back to your incredible song and video On Trend which, for me at the time, was one of the sharpest pieces of art about what is now called the 'cost of living' crisis and what the system demands of us for a perfect life. We've been through an unprecedented pandemic that has stopped the world for a while and given us a chance to rethink our society, but we seem to be back to where we were before. How does a musician from the UK who dedicates his life to art deal with this?
Oh lord, yeah, it's all a bit depressing isn't it. I mean, On Trend was more about the sad futility of trying to navigate a fucked-up world with personal change. Which can't be done, really. I don't know… I'm quite pessimistic about the state of the world currently, but the flip side of that is a bit of a fuck-it mentality. The economy is probably gonna completely collapse within our lifetimes, so we might as well live fast and enjoy ourselves as much as we can before then.
I still think one of your best songs is This is the Hit, featuring Charlie Steen. I love the live performance at Lynks' House – how did this song come about and how did the collaboration with Charlie Steen come about?
Ah yes, it's a banger to be fair. Me and Charlie have been friends since we were teenagers, so I just reached out to them during pandemic times and was like "fancy getting on this?" and he was like "sure!". In retrospect, I really put the poor boy through it with the choreography. He nailed it though – honestly some of the most fun I've had in the whole Lynks saga.
How did fashion become a key element of the Lynks' performance? I remember watching the video for Perfect Human Specimen (featuring the amazing Romeo de la Cruz) and thinking that your outfit was inspired by the outfit Lady Gaga wore at the 2010 BRITS when she paid homage to Alexander McQueen. I might get it totally wrong, but somehow some of your style and masks us remind me of McQueen.
YES!!! Wow, well done. Yeah, that was literally the inspo – aiming for McQueen but probably landing more at McDuke or more McBaron. Primark McQueen maybe! I'm a huge McQueen fan. My early makeup was a direct knock-off off the makeup in the Horn of Plenty Dress collection. And a lot of my early looks were me trying (and mostly failing) to give McQueen. He's a legend. Still unmatched.
Who are your favourite designers?
Alongside McQueen, I'm obsessed with a designer called Pissy Pussy from NYC. He actually just did me a couple of masks which I'm in love with. A few more off the top of my head who I'm enjoying currently; Christiana Hadjipapa, Jenn Lee, Maximilian Raynor, Luke Neil, Karina Akopyan.
In terms of drag, Ru Paul's Drag Race has popularised it and made it more mainstream (with editions of the TV show all over the world), do you think this can take away the underground and dissenting element of drag and turn it into something purely aesthetic?
Yeah, I mean it's the ultimate toss-up. I feel quite mixed about it. Drag is inherently transgressive in my eyes. It's transgressing gender norms. So, it's entry into mainstream culture is inevitably gonna dull its bite a little. That being said, would Lynks be getting played on BBC Radio 1 and booked at non-queer festivals in a world where drag race hadn't mainstreamed gender non-conforming performers? Probably not, so I'm very thankful for that. And plus, I'm also just a megafan of the show. If I was ever on Mastermind, it would be my speciality category.
In terms of the choreography, both for your videos and your performances, it seems that you have been working mainly with the same artists and dancers who are also present in your live shows. How important is this part of your work, and how do you normally work with them as a group?
Awh yeah, they're such a huge part of it. All incredibly talented; Kate Crisp, Ella Margolin, Jacquelyn Tepper, Cameron Everitt and until recently Laura Marcus, who's focussing on her own incredible work now. When it comes to choreographing the live show, it's a hugely collaborative process and if it wasn't for them, it would just be me strutting around with a mic and a gimpsuit. Not nearly as entertaining, I reckon.
This is your first single with Heavenly Recordings, I understand it's a new "era" (I feel very old writing this word, gosh), can we expect more material soon and probably your debut album?
It's gonna be a big, hard, 'maybe' on that one!
Right now, there is a horrendous wave of hatred instigated by right-wing parties around the world. I think the pandemic has not just challenged the UK for its own sake, but because of how Brexit may have caused such discourses to spread. And, unfortunately, it seems that women, immigrants and LGTBQI people are their main target. In times like these, your work becomes even more activist than it already was, but I wonder how you are experiencing this situation and if you have been affected by it personally, and professionally.
Yeah, it's pretty gutting to watch. It's quite surreal because I can see all this horrible shit happening, and the cultural conversation regressing, but I've been totally untouched. I'm very lucky. I guess it's just being in the UK arts scene bubble. Like you said earlier, queer artists are getting the most exposure we've ever had. I sometimes worry if it's that exposure that's partially creating the backlash? Like if we all just shut up and went back to being queer behind closed doors the bigots might calm down and ease off. But honestly? I doubt it. Bigots gonna bigot. And a life in the dark isn't a life worth living. I'm proud of what I represent. The only way to tackle prejudice is to humanise the victim to the perpetrator. And I try to represent a very human, warts-and-all queerness with my music.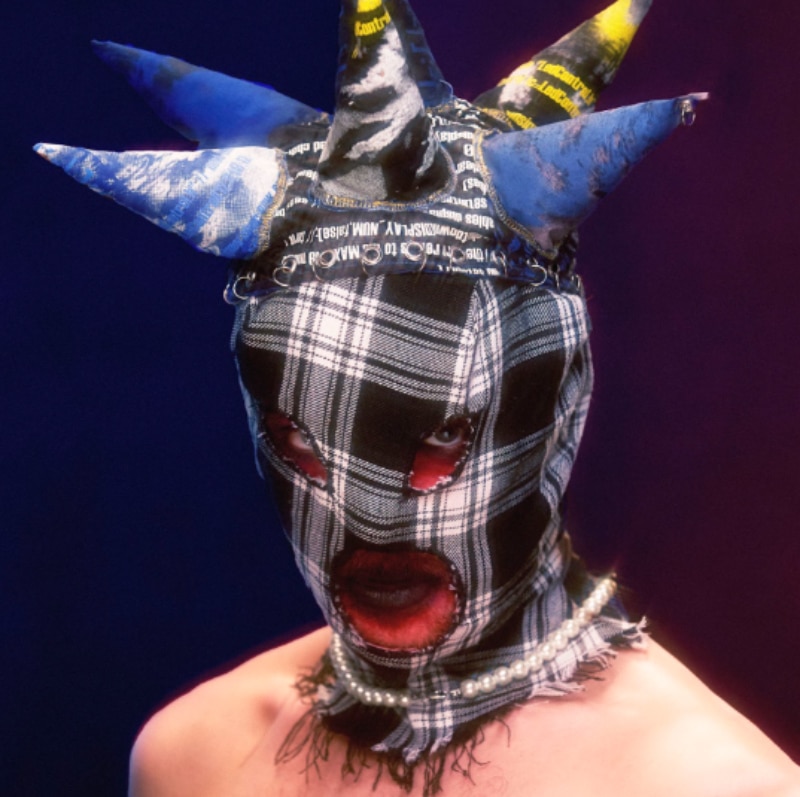 And finally, can you recommend us a book, a film and/or an album that has recently challenged you in any way?
A little trashy, but I just recently watched a film called Fresh. I won't ruin anything about it – recommend people go in blind. But it has a very "fresh" take on the world of online dating. Loved it and was also completely disgusted.
Check out the "all lynks all day" playlist HERE!