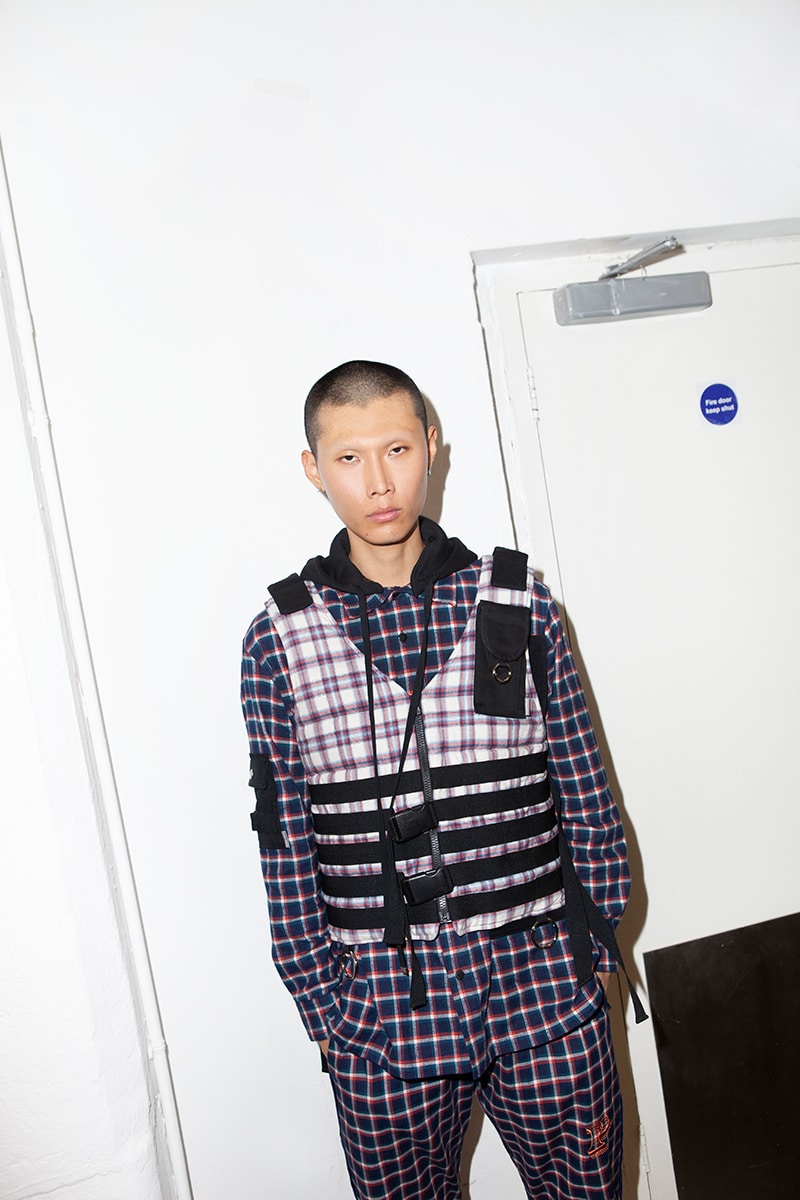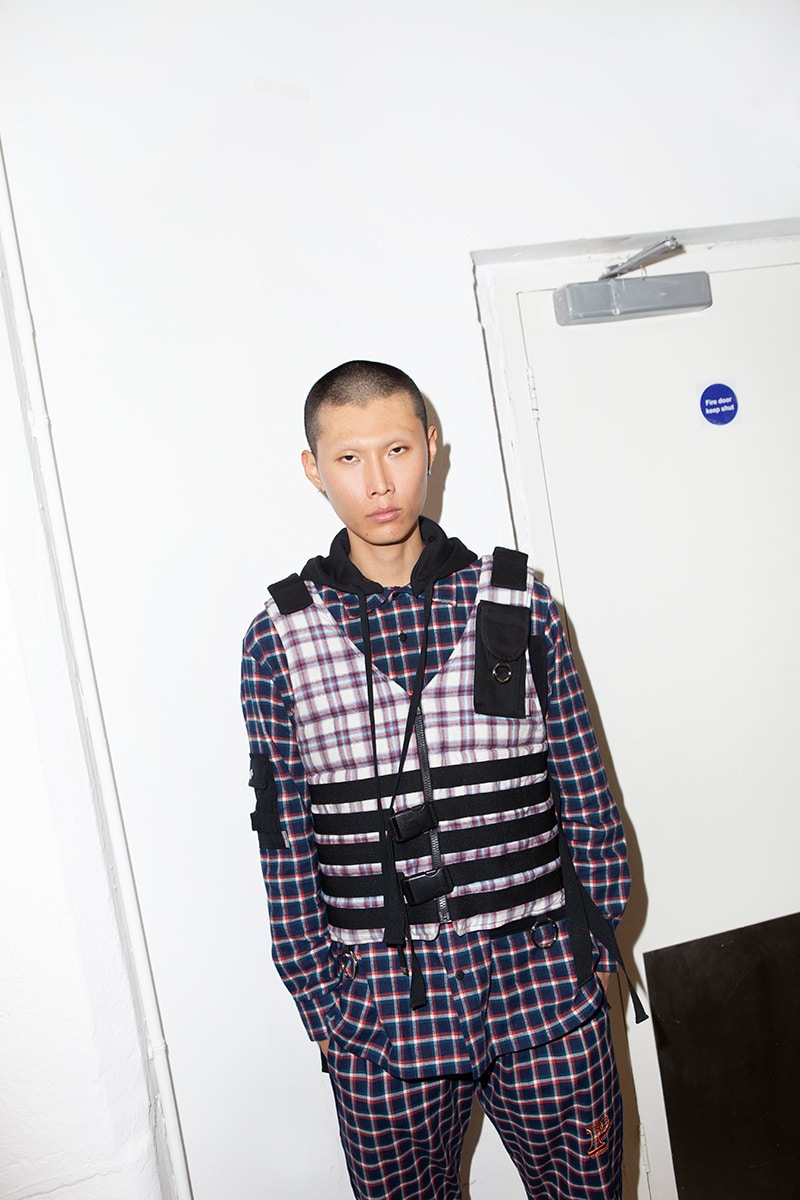 Haoran Li and Siying Qu, the design duo behind New York label Private Policy, bring us up to speed on their FW19 collection inspired by the capitalist ideology that breeds financial accumulation, wage labor and social unrest.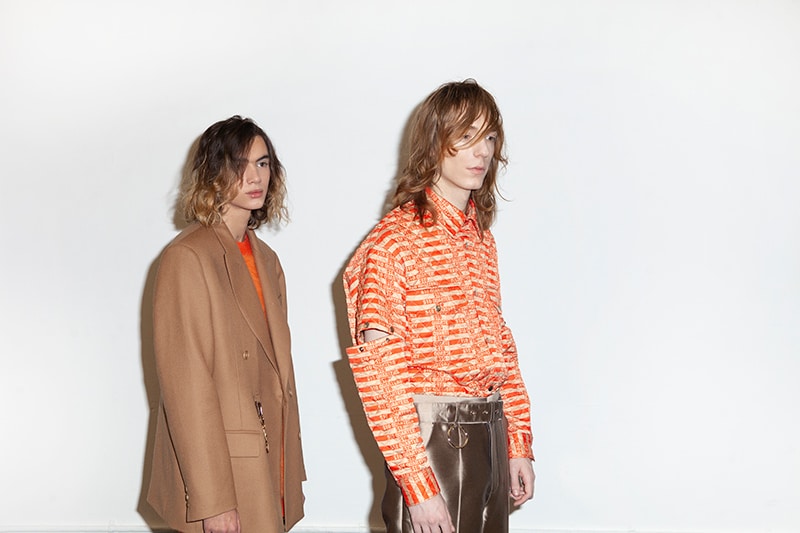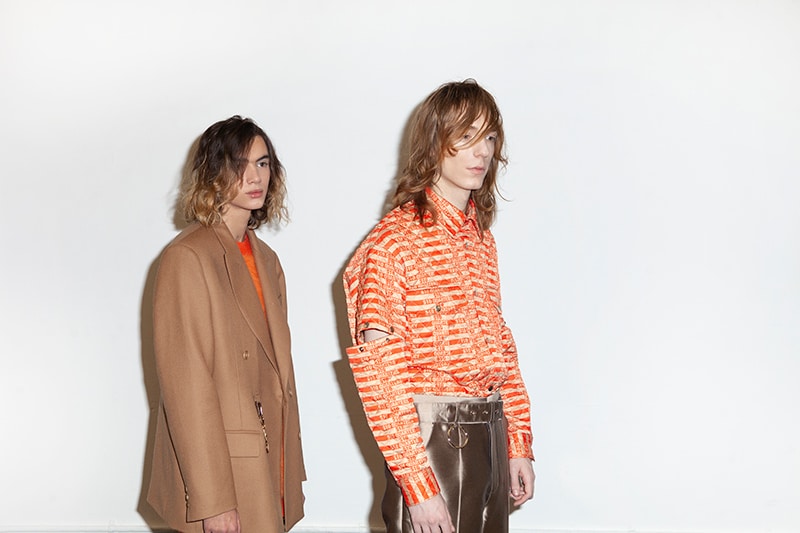 Why did you decide to explore the theme of money vs humanity for FW19?
Each season Private Policy select a political or social issue to talk about that we think is most relevant to prompt discussion amongst the youth. This collection we talk about money, there is much tension economically and politically, as illustrated by media outlets across the world. Everyone is stressed over money, from a brand point of view to a personal point of view, today we even feel very insecure going out without a wallet. So we thought why not talk about it from a different angle, through our lens, and explore different human relations through money. In the show, we tell a story with four main characters, we have robbers, bankers, workers, and the rebel youth, they all have varying views on money. For the bankers, they can't get enough money, they just want more and more, which sometimes creates problems but is also great for the economy boom. We have the walkers, just ordinary people who make money to survive, and we created the rebel youth who are young with progressive thinking, they are sometimes very rebellious against money. Finally, we have the robbers who behold a very extreme perception of money, they rob money that is not theirs, this is a very interesting dynamic because sometimes we are rooting for the robbers to succeed. We find it very interesting and chose to present this in our usual way, we gather everything we have researched and presented the result, starting a discussion with the audience, bringing awareness to the small and large tensions between humans and money.
I think fashion is widely perceived as perpetuating capitalist ideology, encouraging consumerism and upholding the primacy of financial currency, so this is a really interesting, almost ironic display of the tensions between humans and money. How is the socio-political philosophy of the collection translated into the garments?
In terms of fabrications, there is one garment that is made from shredded US dollars. We also drew inspiration from the Qing dynasty and ancient Chinese rule, the wording on Xing dynasty coins literally writes 'catch more money', we thought this was the perfect example of humanity's obsession with money, saying 'get more money' on a coin is just amazing to us. We like to bring a different cultural dynamic, so we have also shredded Saudi Arabian bills, creating a vest made from the bills, it's real money. We want to prompt people to question the real value of this piece of paper which is made of cotton and linen interestingly.
Aside from those already mentioned, what are the key looks in this collection?
The first two looks are very strong. For FW19, we have a strong focus on work-wear and police wear, which we think is representative of the majority of the global population. A lot of the clothing references back to functionality, bringing lots of fun and interesting details to the garments, which we love.
You work very collaboratively with your surrounding community; can you tell me more about the team behind FW19?
We collaborated with a jewelry brand from NY called Martina lee, she made lots of chains for us. We also have another global collaboration with a Chinese brand MMAGPY, they make earrings for us made from dollar signs which are really fun. It is important for us to build a community around the brand, this is where we derive inspiration from, we feel it makes the collection more impactful and dynamic.
Finally, how does FW19 build into the larger narrative of Private Policy?
We are continuing to build on the collection each season to make it increasingly conceptual and more wearable, focusing on pushing both ends. We hope the audience can see how the brand has evolved but can equally see a connection with the very first collections. Conceptually, we are selecting topics that relate to current events. With each collection, we are becoming closer to what we are trying to achieve: building conversation around 'serious' topics in the fashion community with the youth, who are falsely accused of not caring about these things. Because of social media and the prevalence of open conversation, I think the youth care about current affairs more than ever and are demanding change. The brand is about representing this phenomenon.
Take a look below at Private Policy FW19 collection shot by Elliott Morgan, in exclusive for Fucking Young!: