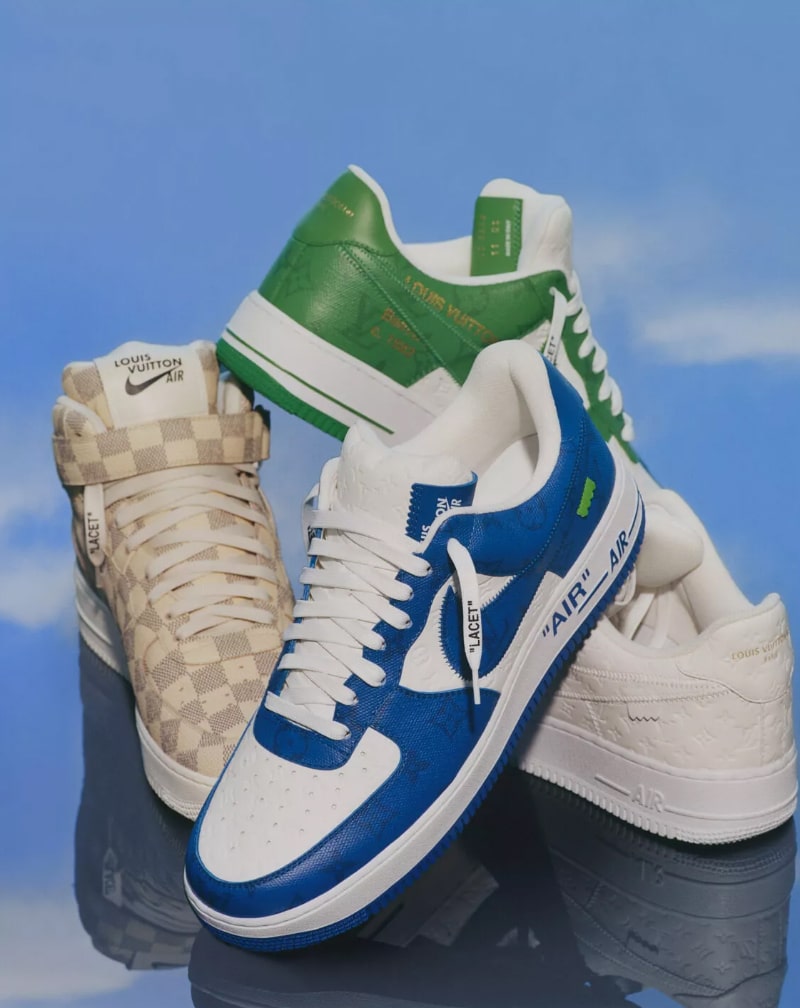 Louis Vuitton announces a series of events around the launch of the Louis Vuitton and Nike "Air Force 1" designed by Virgil Abloh. In June 2022, 9 styles of the shoe, first unveiled at the Spring/Summer 2022 show, will launch globally via digital activation. Selected members of the Maison community will have access to the sale.
Through May 31, all 47 editions of the "Air Force 1" created by Virgil Abloh for the collection will be on public display at Virgil Abloh's Louis Vuitton and Nike "Air Force 1" showcase in New York. The event will coincide with other artistic activations that will take place in the city.
Virgil Abloh's Louis Vuitton and Nike "Air Force 1" exhibition will take place at Greenpoint Terminal Warehouse, in New York until May 31. The exhibition, open to the public, traces the creative dialogue between Nike and Louis Vuitton envisioned by Virgil Abloh for the Spring/Summer 2022 collection before his death in November 2021. The 47 editions of Virgil's "Air Force 1" Nike sneakers Abloh in collaboration with Nike for Louis Vuitton will be exhibited physically and virtually in a series of immersive spaces that reflect the designer's mastery in the fields of creation and presentation. Parallel to the exhibition, a series of installations will take place in New York City and around the world.
The exhibition is a spatial experience based on the dreamlike expressions of Virgil Abloh. As Louis Vuitton Men's Fashion Artistic Director from 2018 to 2021, the designer constantly challenged his audience by imagining a world beyond man-made limitations. Using fashion as a tool for change, he wanted people to reconnect with his childlike attitude and build a culture devoid of preconceived notions of human and material worth. He continually questioned the meaning of "high and low," a discourse that is reflected in every image and design he created at Louis Vuitton. As an haute couture designer born into a street-style community, Virgil Abloh blurred the lines between the two spheres and used his platform to celebrate the historical influence of black subcultures on mainstream fashion. His work was, above all, about humanity and unity.