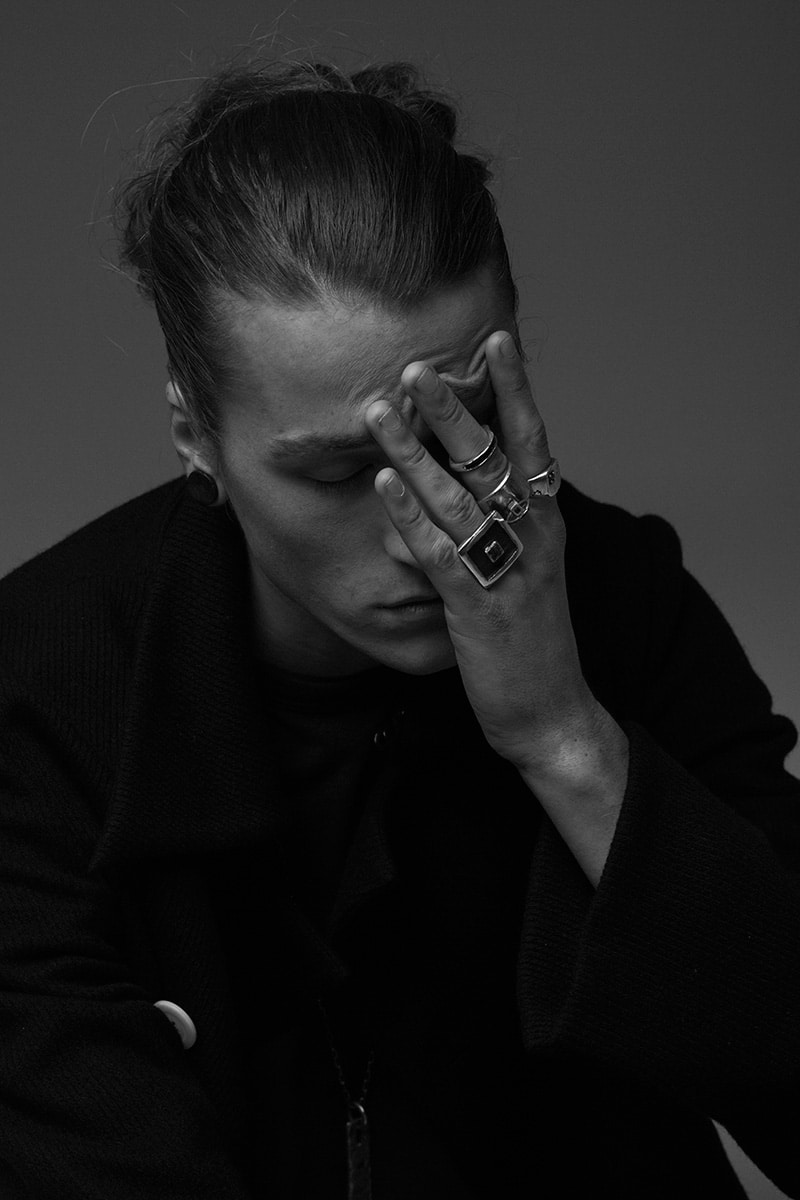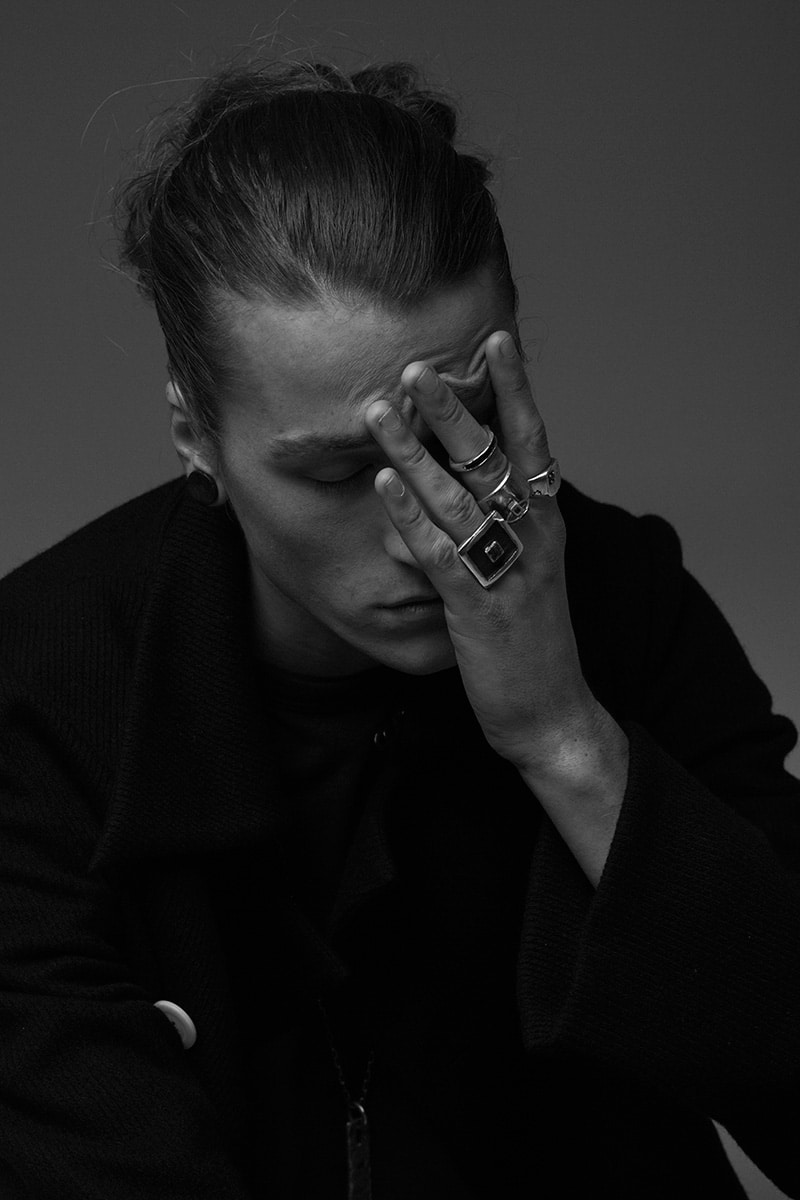 Seriously, when was the last time we actually heard some menswear noise from down-under? Indeed, selections of board-wear, breezy tees or democratic casual offerings, have ventured our way over the past decade. However, it ain't always that easy for true creators in Australia to finally find their way up North. Isolation is a big issue, as is the reversed seasonal shift. However, a place with such stunningly diverse nature, friendly locals and its compelling history to back things up, surely must bring forth some raw talent?
This is precisely why, HENSON, was such a pleasant discovery, during the last Paris menswear season. Manned by partners-in-crime: BRENT ''GOLDIE'' GOLD, and ANDY HENSON, this studio is working on some serious jewelry. No mass production here, but hand-carved, carefully nurtured and discerningly finished singular pieces. Each of them uniquely individual and embossed with the maker's signature. Jewelry can often get a little effeminate, but that is certainly not the case here. Raw selvaged silvers, roughly cut stones, resilient cuffs and hued beads, make for a sturdy, rugged and expressive look. Surely not for the faint-hearted. So, we headed out to meet with Mr. HENSON and Mr. GOLD, to find out what's cooking in their proverbial silver-kitchen.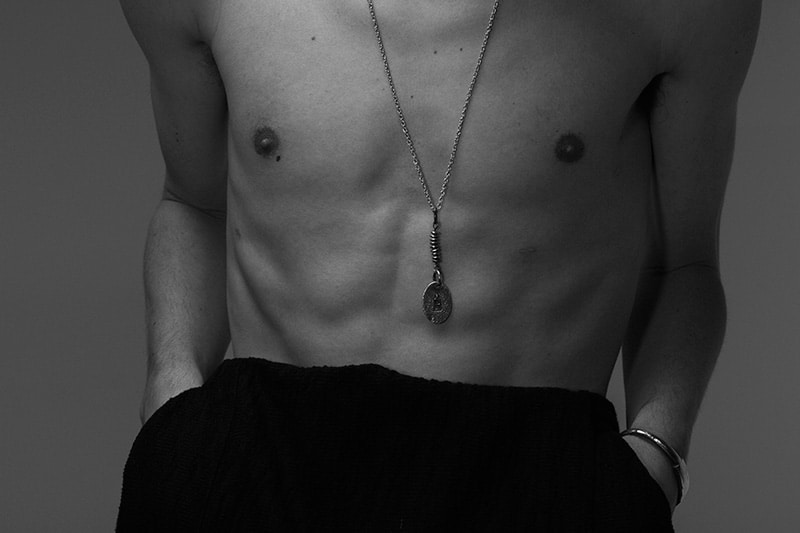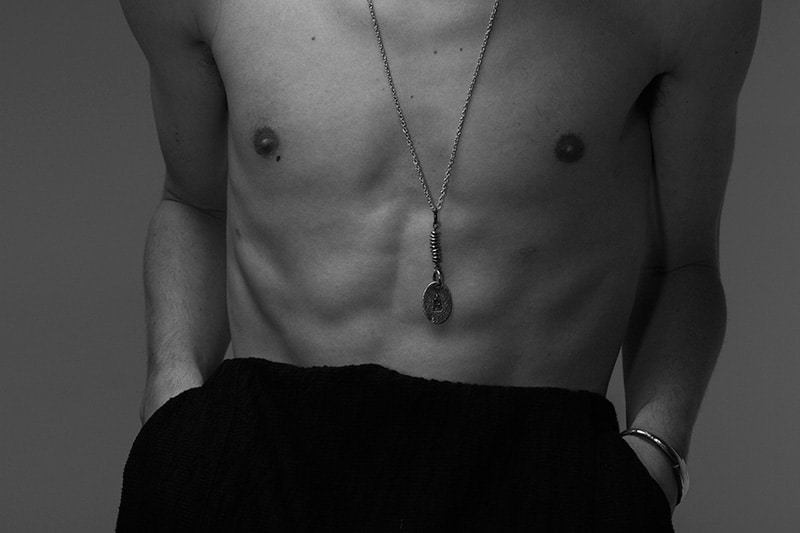 Ground-source. Andy and Goldie, is is always good to kicks things off, with a short introduction. So, what made you set-up shop initially?
Goldie: In the early beginnings, we actually made clothes. This is where we took our first steps as designers. Then one day, we decided to hand-develop, or to be frank to attempt to hand-make, a ring for a little shoot we were going to do. From that moment on, I am not sure why, I knew this was meant for me and the right fit for us. We took the time to learn, self-teach, read and explore, before engaging deeper. As we looked around, we noticed the lack of interesting men's jewelry. There was so little access to this in Australia at the time. So here the dream was born.
From the roots up. To begin with a new venture like this, must have meant you penned down some form of founding manifesto?
Andy: We did, but not in this precise manner. Naturally, we defined our work in order to express what the aesthetics would be like. We are heavily focused on the journey of the materials and the transformation from raw into finished object. Most of our pieces are made completely by hand and involve hours of hand-finishing. We believe that this process should be reflected deeply the work we produce. We want everything we make to feel like it has been touched by hands and not just pushed down a production line.
Isolation. Let us not beat 'round the bush. To be based in Australia, surely must have brought forth some challenges?
Goldie: It goes without saying that we really tackle our work with so much positivity and passion. Of course, if one takes into account cost of travel, the time spent abroad and mixing with the industry in general, these are massive hurdles. There is never an easy fix unless you simply pack things up and move North. However, we would then lose what we have here. The atelier, our workshop, they are special places and we feel truly connected to our surroundings. We feel pretty good here. That being said, without Andy's solid planning skills, the challenges would be even more immense.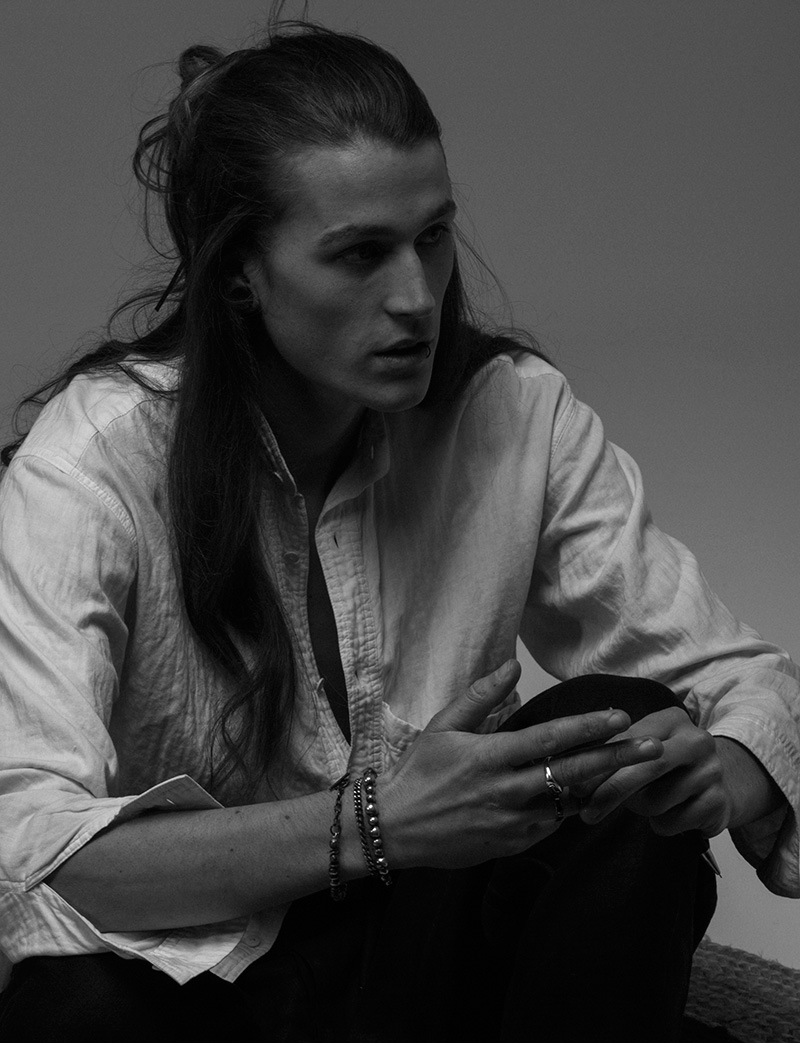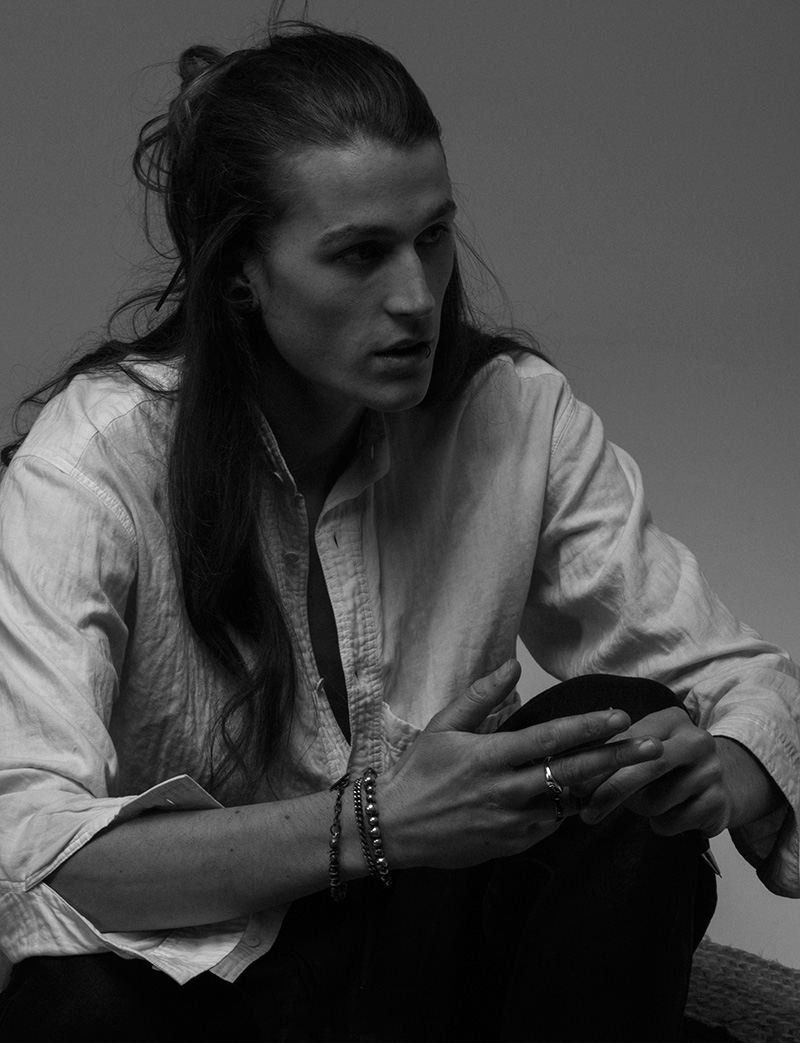 Crafty Crafter. At a deeper glance, the pieces appear to be extremely rich in detail. What is the material process like, do you begin by sketching or…?
Andy: To be honest, we are not big sketchers at all. We usually start with a conversation and dot points around each piece. Maybe a rough line can come from this, as a reference drawing, but ultimately we end up being a little more mathematical with the concepts. The typical ground-rules for a new design might just be as straightforward as: 3mm half round band, 5 x .002ct diamonds, beat to death with a hammer ….. This is how we work, very much technical and letting our hands (touch) guide the base materials.
Encore. Creation in this casually loose manner surely must mean a long process of trial and error. In the end, how do you decide what makes the final cut?
Goldie: After we have finished the creative process, we break everything down into categories; rings, cuffs, necklaces, etcetera. Then we set up several small stories on a display table. This is truly when the conversations begin, stretching over long days and even longer nights. The one thing, I think we have gotten a lot better at over the years, is that we have stopped to try to re-invent the wheel. We simply take our skills and apply them. This increased the natural flow of our process and allowed us to focus. If you still want those impressive stand-out pieces in your collection, you have to realize that these a generally a lot harder to wear. So eventually leaving out such special pieces can be just as hard as creating them in the first place.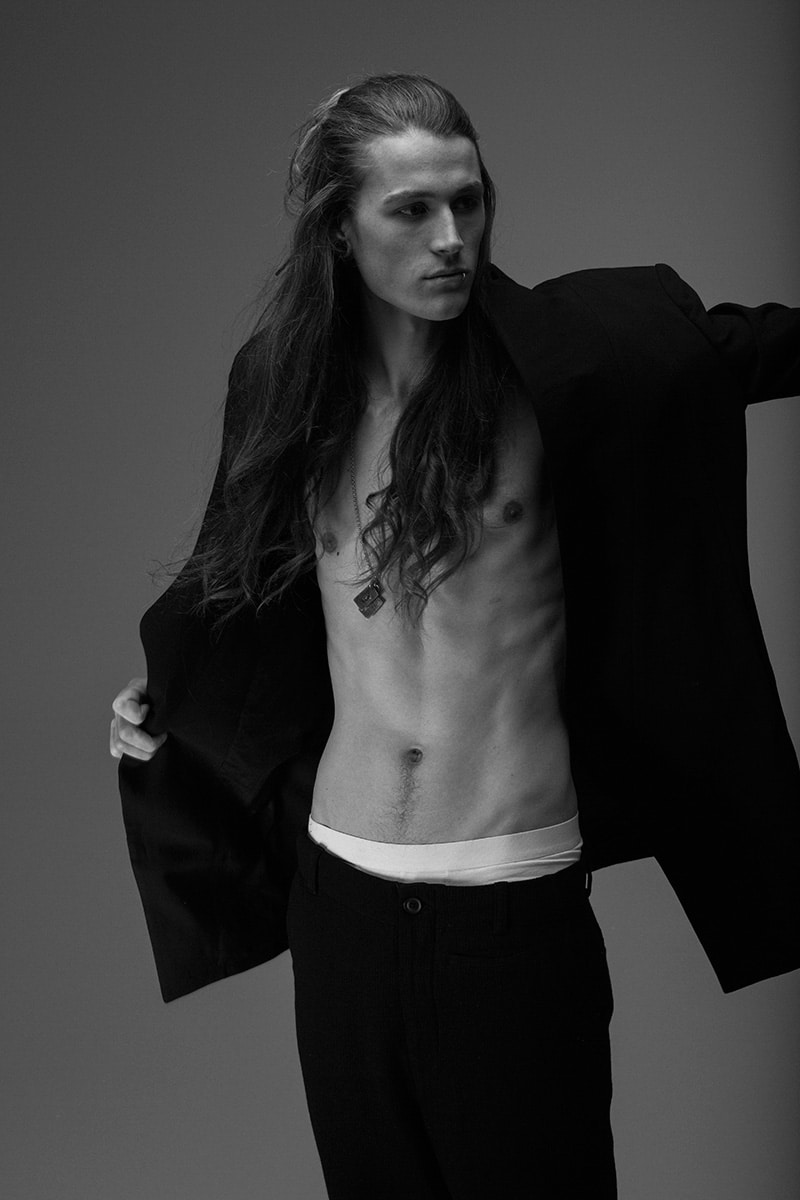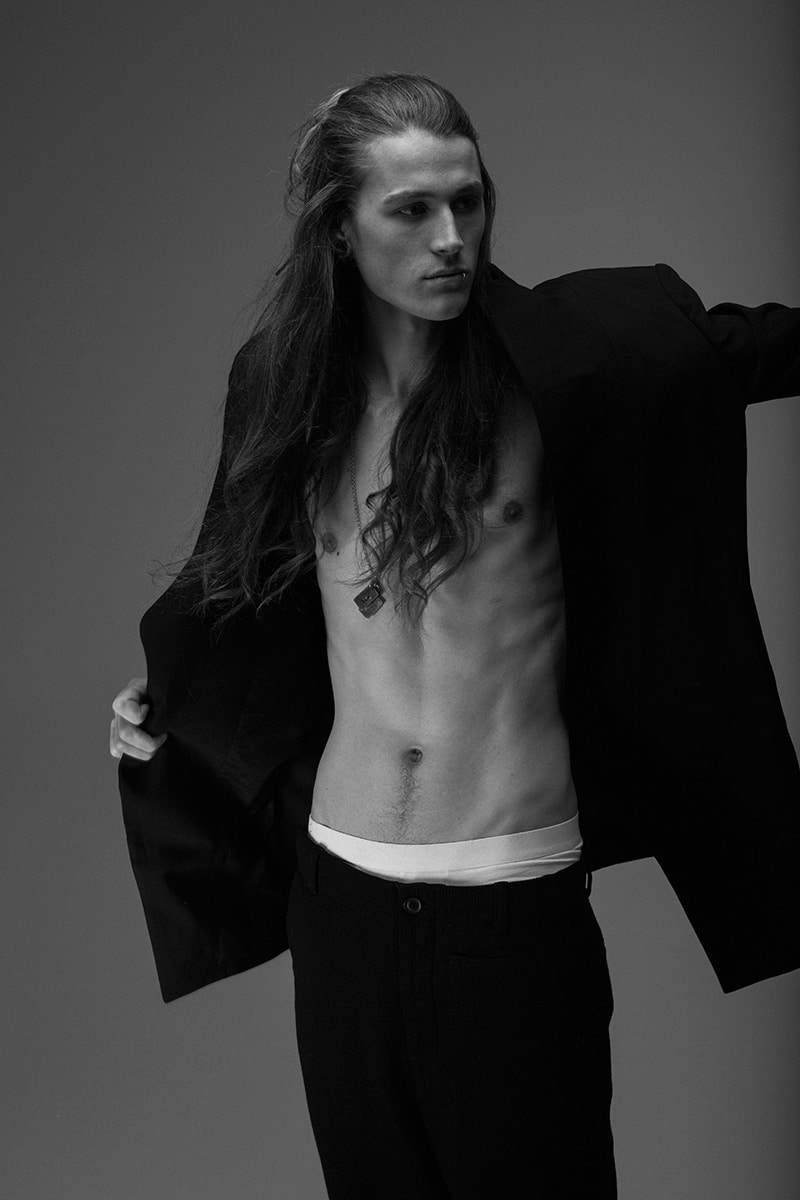 Prehistoria. You do insist on challenges yourselves, as you work with recycled silver and other unique substances. Here, I think of past seasons' Mammoth bone or the black rough diamonds that featured in Paris. What is your thinking here?
Andy: Personally, we think a lot about what makes jewelry interesting and for me it is the story behind it. We are very lucky to travel a lot with our work, so we are always looking for strange objects or hard to find materials to incorporate into our work. We love finding things we have not seen before, like the mammoth and now the raw diamonds, as you mentioned. Such unique finds challenge us as designers as well as they reflecting the journey we are on as people. They mark a connection between past and present. Next to this, they allow us to remember those that came before us. Which is a concept that is very relevant to us. The recycled silver was a natural decision as soon as we worked out how to collect and refine our own. It means we have a greater control over our materials as well as we are more conscious about the environment and the impact we all have on the planet.
Rule-book. According to you, are there any basic rules when it comes to donning jewelry?
Andy: We have always said that it is the jewelry that finds you and not the other way around. So in that sense, I think that any 'rules' that might exist, are most certainly meant to be broken. Jewelry is so personal and close to the body that for me it is more about how it makes you feel, when you wear it, rather than what it looks like to outsiders.
Tongue-in-cheek. Andy, what is Goldie's best character trait? And Goldie, what do you admire most about Andy?
Andy: This would have to be Goldie's ability to see the positive in nearly every situation. This is something something that has kept me motivated and inspired through some pretty tough times.
Goldie: Definitely, his calmness, always trying to work things out through conversation. Andy is not one for screaming or yelling and putting the team under pressure. He is so focussed and never gives up on our dream. Which is remarkable, as the ride has not been easy…haha..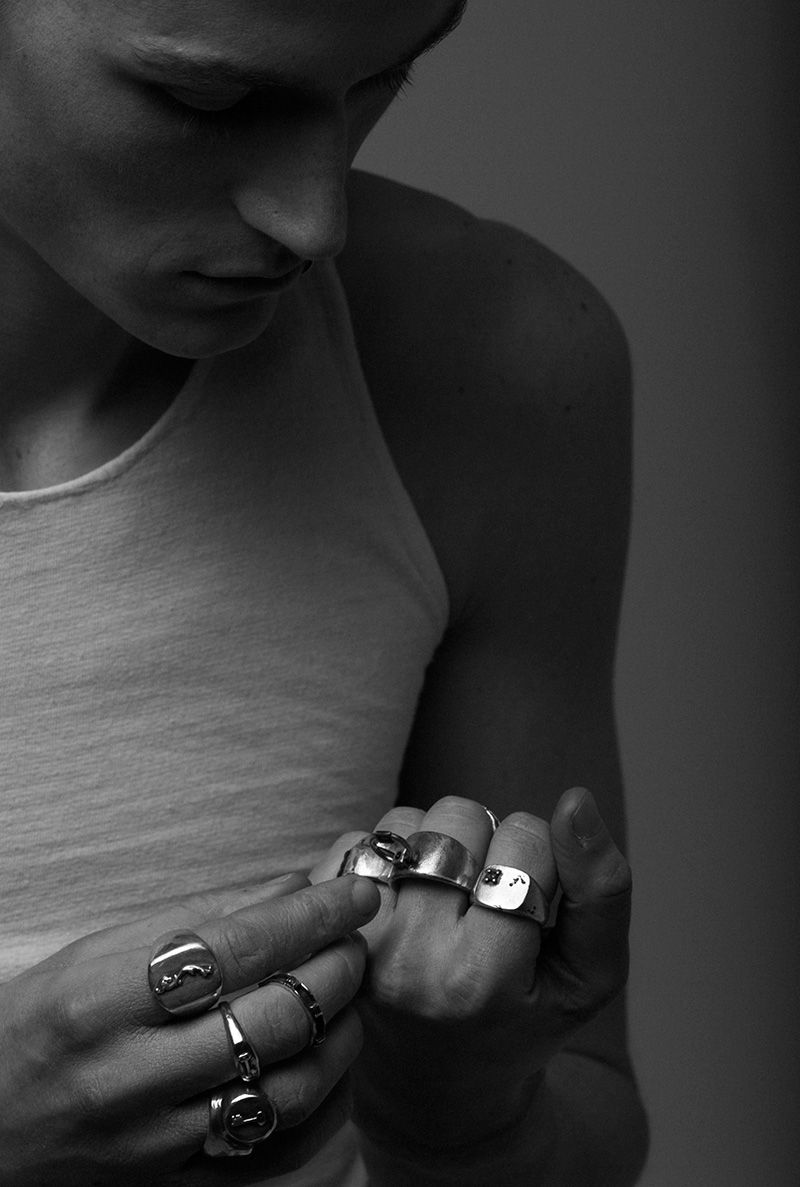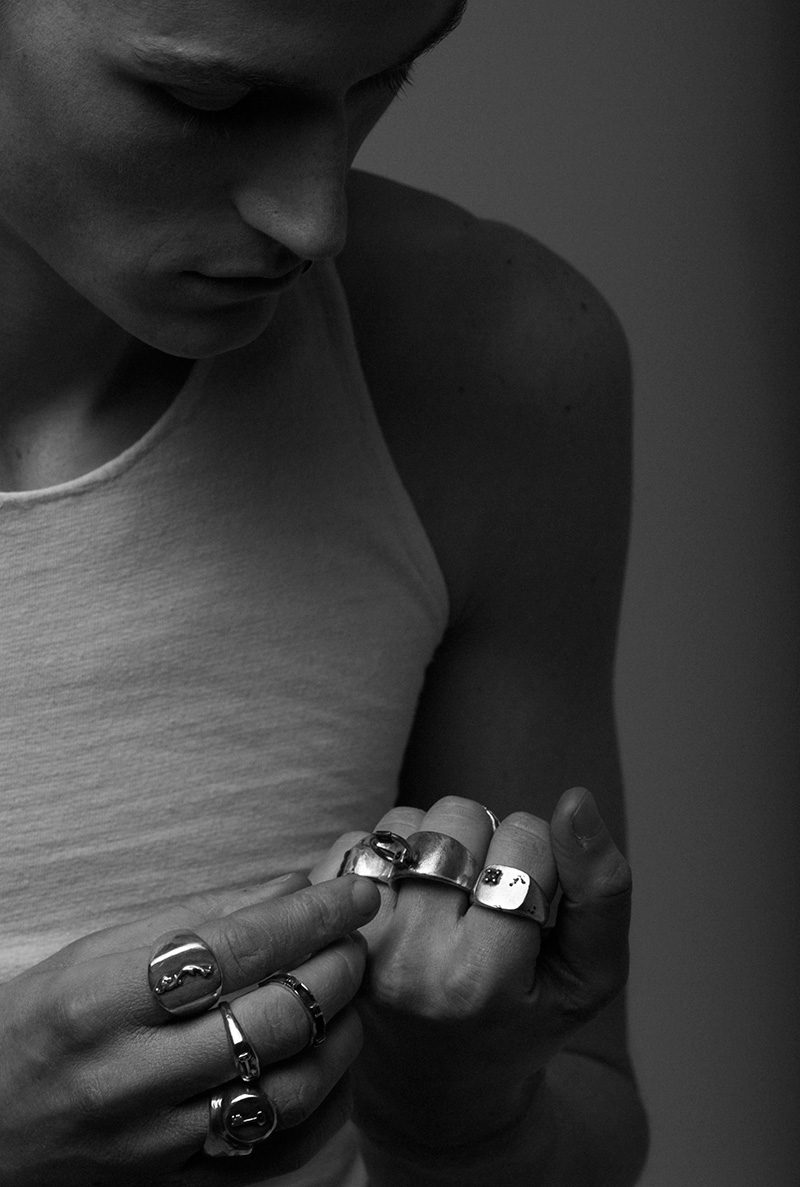 Man-kind. Goldie, what piece of jewelry truly maketh-the-man?
Goldie: For me a beautiful mens signet ring that has family or personal meaning .
Editorial. Visuals, you shot these images especially for us, tell us about the shoot……
Andy: We are very lucky to have such talented friends! I contacted Enrico Kasjan, the photographer and he immediately jumped at the idea to shoot something for you guys. We were really lucky to shoot with Nic Smith while he was back in Australia. He is such a cool guy and really captured the laid back but strong vibe, that we are all about. Some other close friends helped out with Creative Direction and Styling, which as great. The resulting images you see here. We really hope your readers like them!
Ed. Gents, let's have two more jabs to go out with….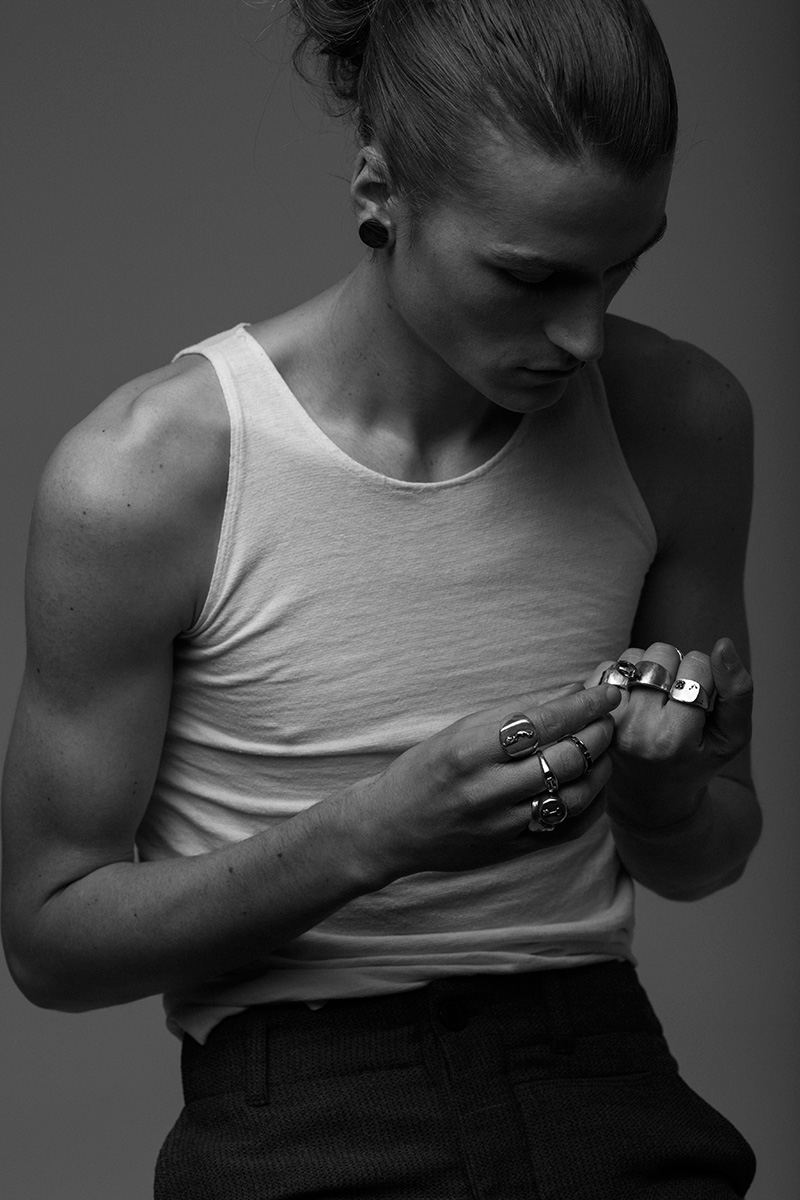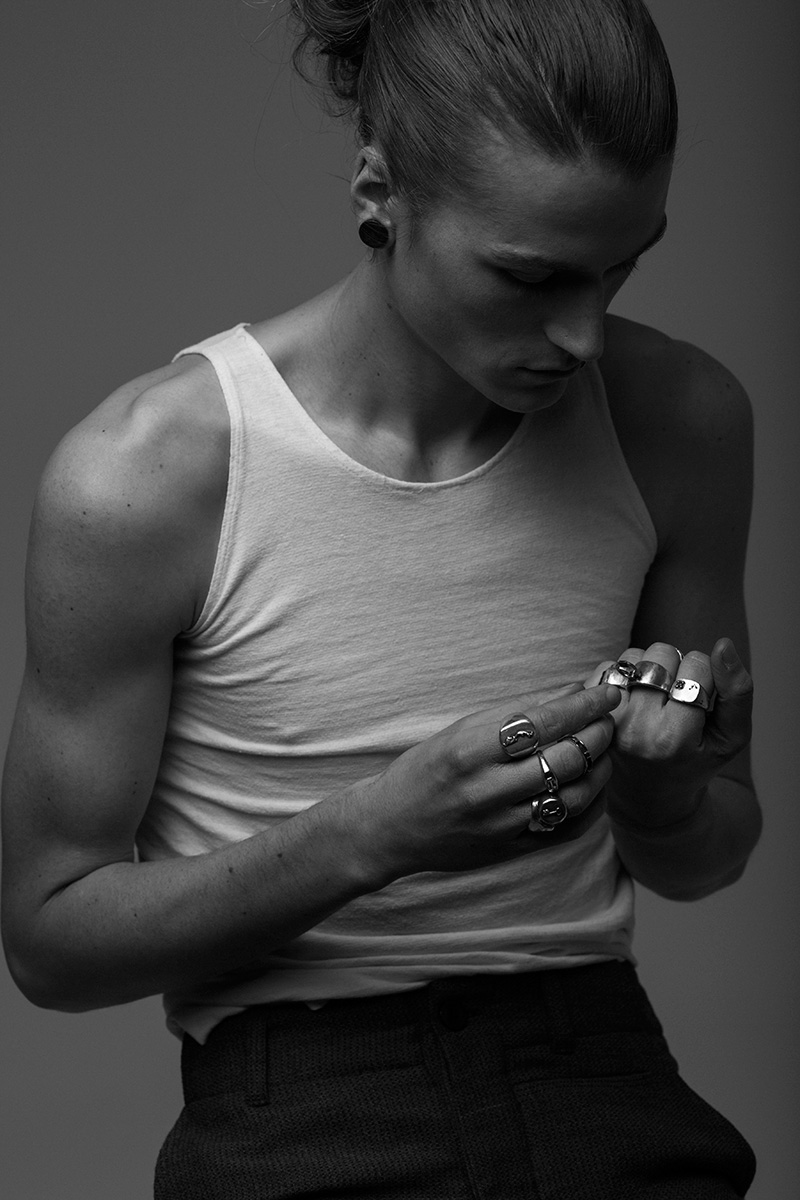 CHIT-CHAT. Andy, as Goldie said, you are partial to a good conversation. What is your view on our ever more disconnected world?
Andy: I feel, that we live in a transitional age. It seems as if we are slowly moving into the digital environment and away from the 'real' world. If this is a positive, we have to see, but to engage and reflect upon this, we surely must!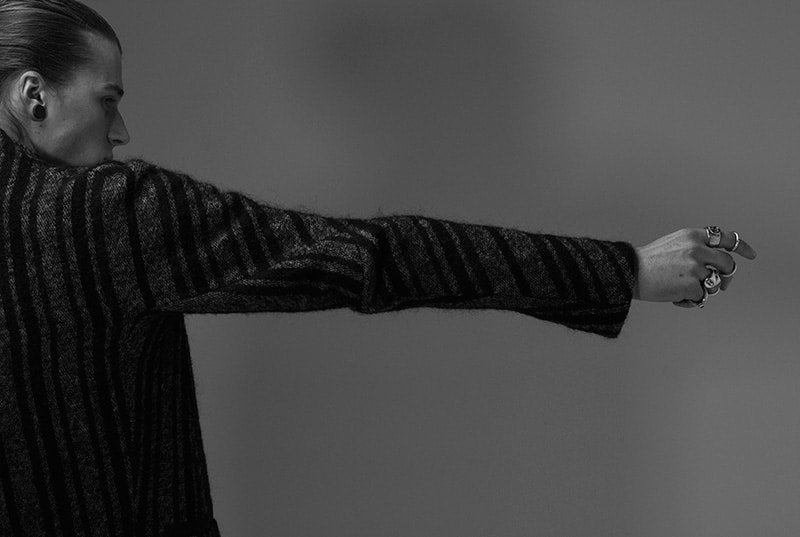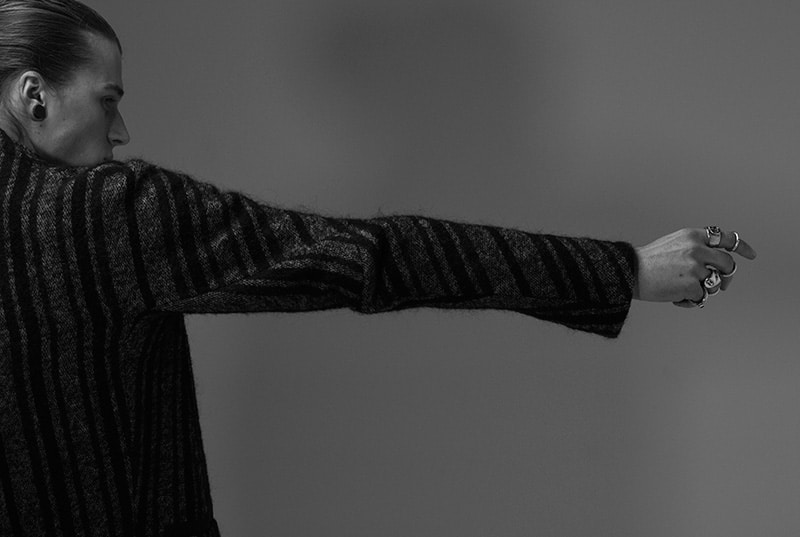 LOVE. Goldie, you once said: ''to make these pieces is a labour of love''. How much of yourself goes into your work?
Goldie: Well, that is a good question….I have my work desk/studio about 5 meters from my main bedroom…So that means my work is always close at hand and I do put a lot in it myself. As a designer, I want people to feel that hands have made their piece. The more life and soul, the more they feel when sporting our work.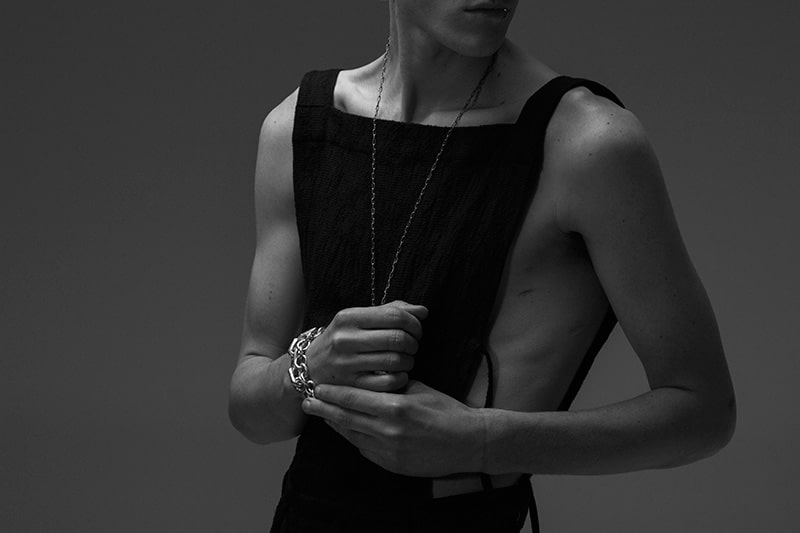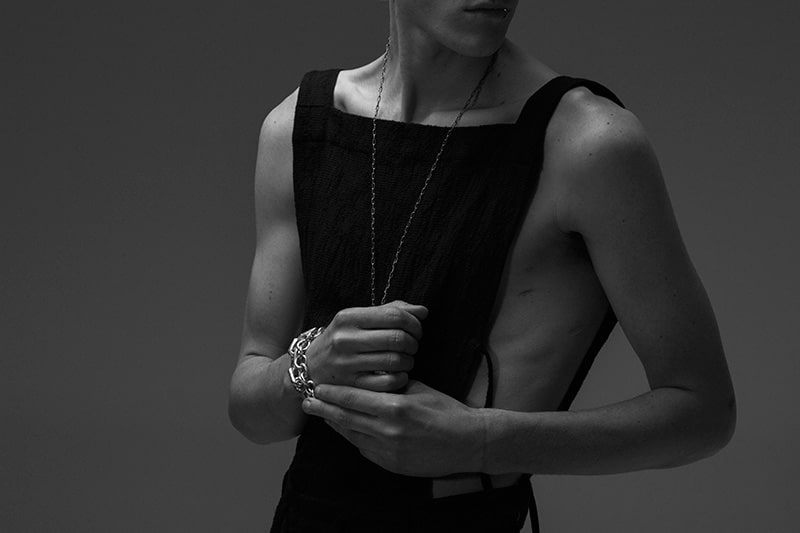 Photography: Enrico Kasjan for Fucking Young!
AD: Rhys Ripper
Styling: Nathan McGuire
MUA: Bec Wilson
Model: Nic Smith @ Chadwicks