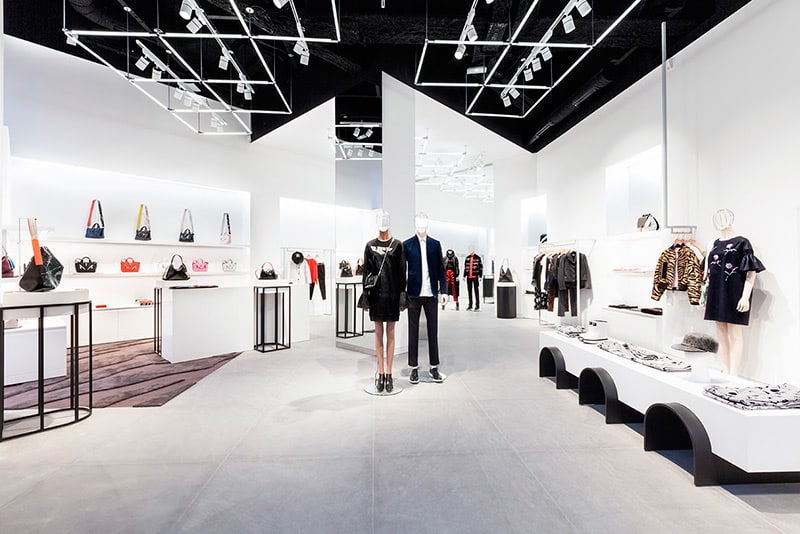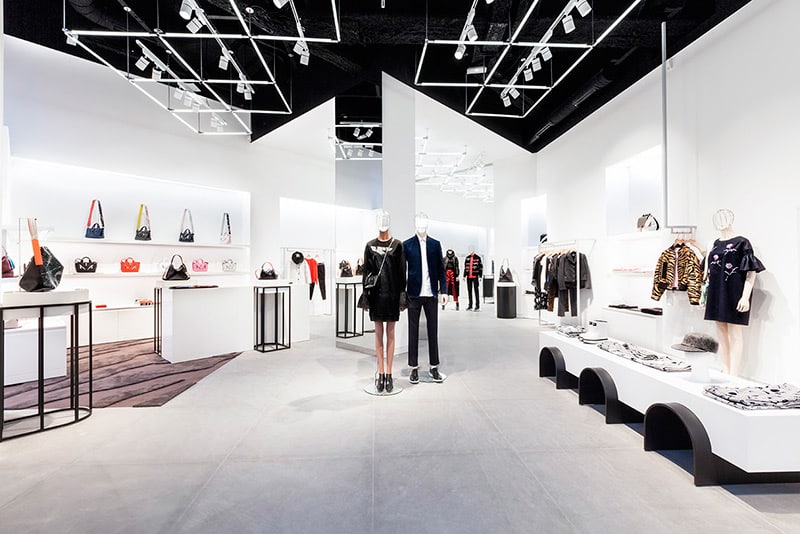 KENZO announced the arrival of a new store in the capital of Spain's Catalonian region, Barcelona.
The new KENZO store is located on one of the city's most prestigious shopping avenues, at Passeig de gracia, 33. The 277m2 store has been fitted with KENZO's latest approach to retail, developed by Creative Directors Carol Lim and Humberto Leon, to showcase the brand's continued ethos of revitalization.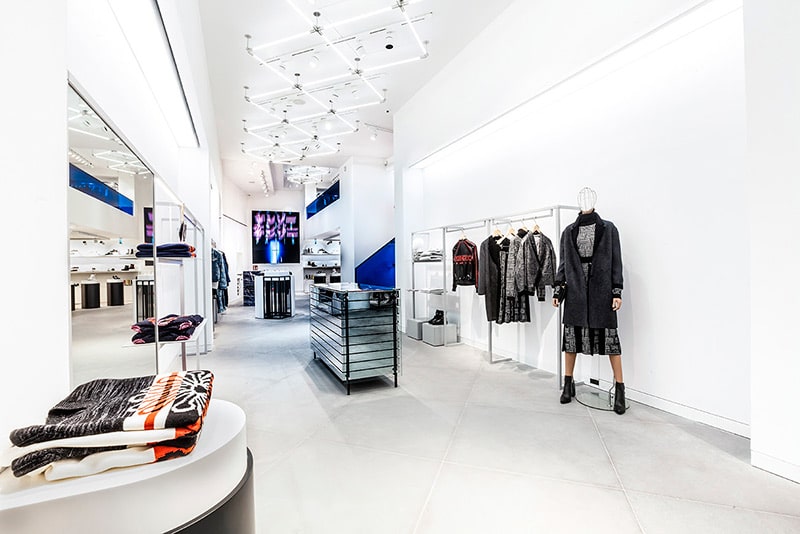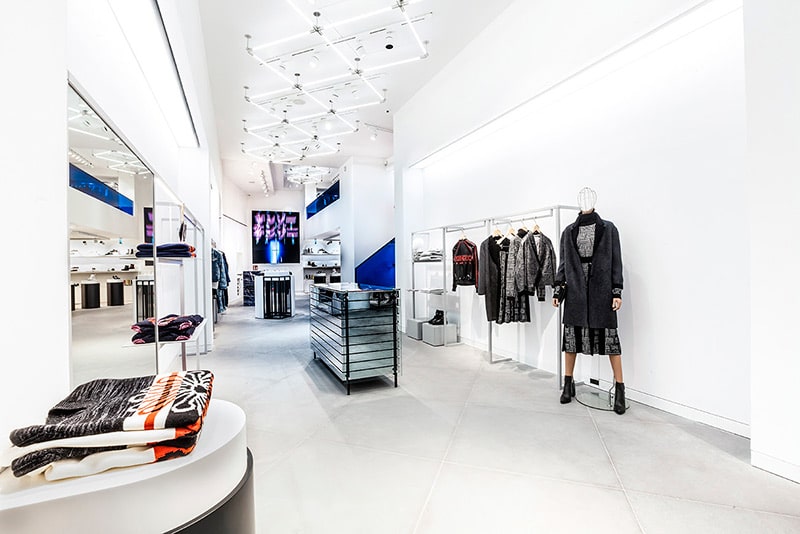 Dedicated to KENZO's collections for women and men, accessories, footwear and leather goods, the store is part of an all-immersive brand experience for customers of the storied French fashion house. Upon moving through the store, the medley of materials and minerals such as concrete, white cement, mirrors and varying tones of marble unexpectedly merge together to create this singular and effortless KENZO shopping experience. Built into monumental white niches, the racks and shelves illuminate the high and original architectural space. Geometric tiger rugs, sporadically placed over the stone flooring and color coded for the different zones, add touches of brightness to compliment the men's and women's offering.
Accessories shelves and hanging structures for garments in anodized aluminum in dark blue or light grey tones provide the perfect contrast to the white textured walls and accentuate each individual piece on display. Grids of fluorescent tube lighting grid hang overhead, custom made for the store add to the geometric feel of the space. The stairwell which divides the ground floor and mezzanine and the monoliths which serve as the cash desk are a deep sodalite. Furnishings include glass tables with steel piping for smaller accessories, black and white low tables and podiums as an interlock of geometrical volumes and sofas in white and blue faux furs.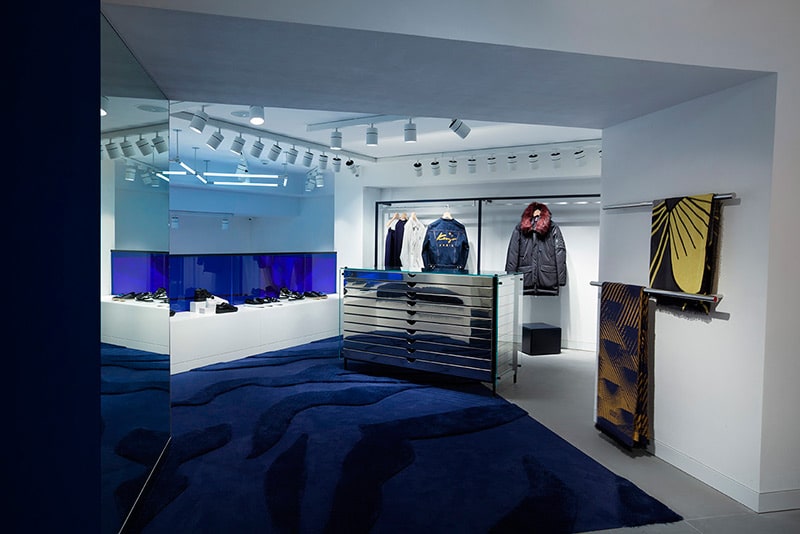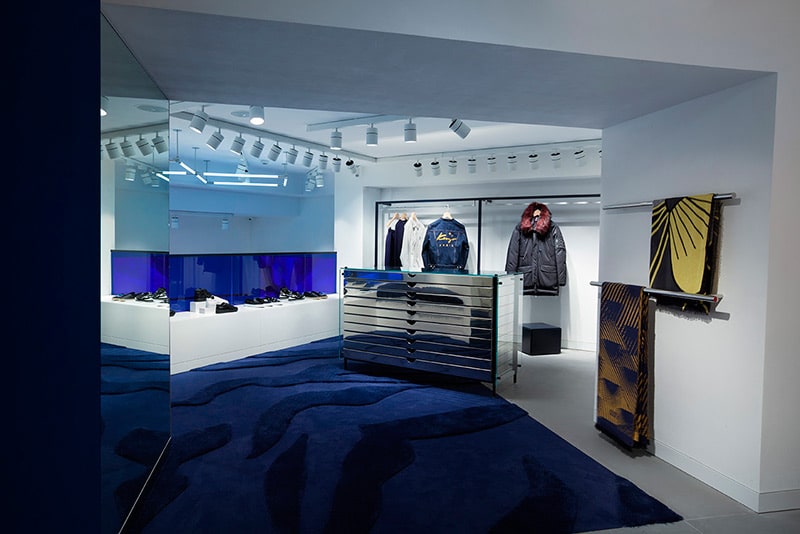 Offering a more engaging shopping experience, electronic screens punctuate the ground floor perspective from the entrance, providing extra digitalized space to present each season's major themes via animation or specially considered fashion films.