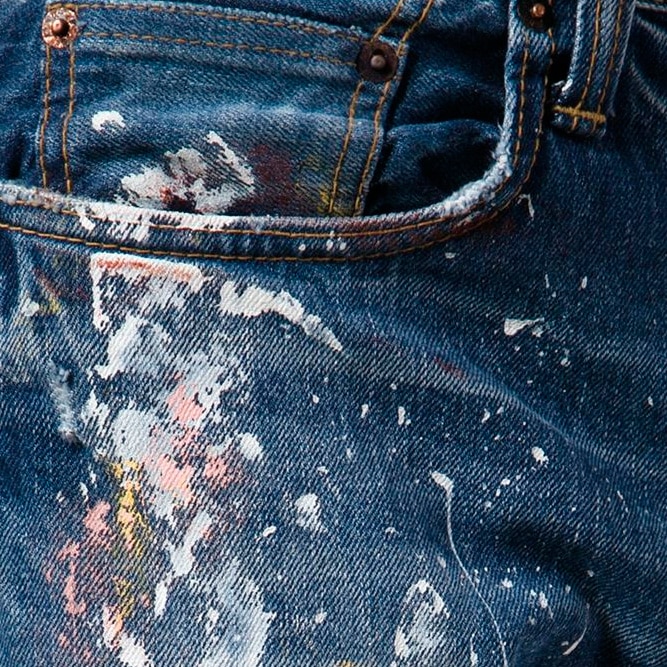 Jeans for Refugees is a Johny Dar project and artistic fundraising initiative dedicated to helping refugees around the world, with all proceeds going to the International Rescue Committee.
One hundred celebrities are participating in the project by donating a pair of their jeans to be painted by Johny Dar, in a refugee camp. Each pair of jeans will be made into an individual art piece consisting of the painted jeans showcased in a glass box, and the 100 art pieces will be exhibited for one week at the Saatchi Gallery in London from the 22nd-28th August 2016. At the end of the exhibition each piece will be auctioned at a special fundraiser auction, and all proceeds raised donated to the IRC initiatives helping millions of refugees worldwide on a daily basis.
Participants from the film, art, fashion and music industries are contributing their jeans to the project, including Albert Hammond Junior, Alicia Vikander, Anna Wintour, Au- drey Tatou, Bella Hadid, Benicio del Toro, Bryan Adams, Camille, Candice Swanepoel, Carl Cox, Carla Bruni, Cat Stevens, Catherine Deneuve, Chanel Iman, Charlotte Church, Christina Ricci, Christine Taylor, Claudia Schiffer, David Cop- perfield, Daniel Bruehl, Daniel Radcliffe, Dannii Minogue, Elle McPherson, Elton John, Emma Watson, Eva Herzigova, Fearne Cotton, Florence Welch, Heather Graham, Iris Berben, Isabelle Adjani, James Norton, Jamie Theakston, Jane Birkin, Jaoquin Phoenix, Jim Broadbent, Julio Iglesias, Karlie Kloss, Kate Moss, Lars von Trier, Lily Allen, Linda Evangelista, Macy Gray, Marianne Faithful, Melanie C, Min- nie Driver, Nicholas Hoult, Nina Hagen, Ozzy Osbourne, Peaches, Pedro Almod- ovar, P!nk, Roger Waters, Ryan Gosling, Sadie Frost, Selah Sue, Sharon Osbourne, Sharon Stone, Sofia Coppola, Tinie Tempah, Tom Waits, Toni Garrn, Tuppence Middleton, Twiggy, Usher, Victoria Beckham, Vivienne Westwood, Woody Allen and many more.