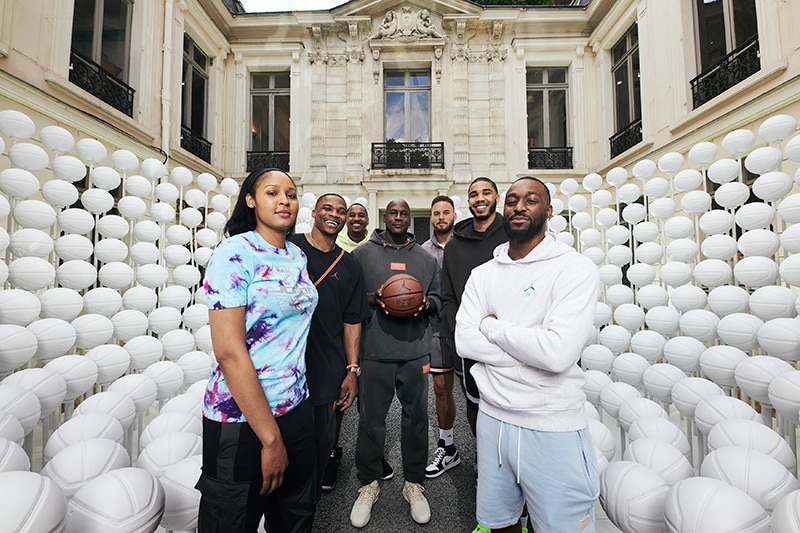 We got a sneak peek of the upcoming Jordan 23 Engineered gear and got to join the announcement by the Jumpman himself during Paris Fashion Week of the latest upcoming star players to join the rooster made up of 50-plus athletes across multiples sports: rookie Rui Hachimura hailing from Japan and Jayson Tatum. The whole Jumpman House set up was a real celebration of heritage and basketball culture. France gets it, they always have, so Paris was the perfect place to launch.
The aesthetic evolves from Jordan Brand's traditional color schemes and graphic blockings, demanding immediate (and unapologetic) attention.
With just two seasons under his belt, Celtic star Jayson Tatum's fans see him as the next franchise player and one of the league's most promising point-guards.
"I'm excited to see what the team will look like next season," he told us during his first trip to Paris and he wanted to see the Eiffel Tour. Lucky for him, that's where the Quai 54 Dunk Contest took place or as our Editor in Chief dubbed it "A Vogue contest for basketball players". Only if vogue contests brought in players from around the world to strut their stuff.
Like all of us, Tatum has loved Jordan brand since his childhood (although I've technologically loved it longer since Tatum was only born in '98).
"Jordan 1s have always been my favorite. Joining the Jordan family means everything and it's an honor going out representing the best player ever."
Before heading over for Quai 54 to see exciting streetball talent, we checked out the upcoming Russel Westbrook collection and caught up with two of dunk contest judges Kemba Walker and my personal crush and Ron Perlman doppelgänger Blake Griffin. Don't worry, the knee is fine, I asked.
Hot off the heels of Parker's retirement, we got to go 1:1 with Kemba and couldn't help but ask how it was playing with the French legend TP!
"It was an honor to play with him, he taught me so much in a short period of time and helped me look at the game in a different way. He's an overall great person."
So many great things to say, but we are in Paris. When Jordan first came over for an exhibition game in '85, not only did the love of the game hit French youth but soon to follow was all of the surrounding cultures. So how does All-Star Kemba a self-confessed Future fan rate Tony's flow?
"It's dope! We listen to music before we shoot around in the morning. He was kind of tired listening to American music and put his stuff on. It was fun!"
And in case you are wondering, Kemba considers Charlotte home with no plans of moving and his favorite kicks are a white Jordan 12.
This was also our first time to catch up with Griffin since he moved to the Pistons where he had one of his best seasons yet.
"I really like Detroit, Michigan, our Franchise, and our fans. As a team, we are just laying the foundation to get the franchise back to where the fans are used to being. It's really cool being part of a team that has won three championships before. It's been a really cool transition for me."
You can catch Griffin on the court in the Jordan Superfly, so what does he like most?
"It has changed a lot over the years but the one thing I've always liked most is that gave me as a 6'10 250lbs player a lot of support but also didn't weigh me down. When I'm not on the court, I wear a lot of 1s, 4s, 11s, and a lot of the new stuff like the 23 Engineered stuff that just came out. I mix everything up!"
Jordan brand is known to mix things up stylistically at the moment while, strict nostalgia gets a modern twist in the Rivals Collection, which celebrates MJ's historic 1991 playoff run.
Here are some of our favorite pieces from the collection due to drop in July.