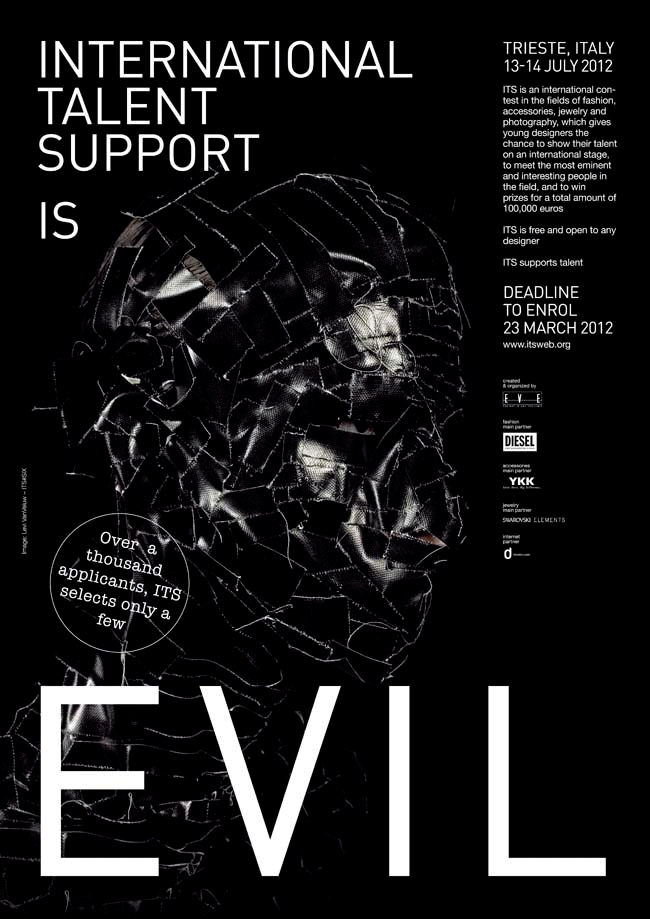 International Talent Support, the creative platform conceived and developed by the EVE agency dedicated to the scouting and support of young creative talents from all over the world, is following ITS path, culminating in the ITS 2012 final event, two days entirely committed to international talent and creativity, scheduled in Trieste for July 13 and 14.
The platform will consist of three areas: ITS FASHION, ITS ACCESSORIES and ITS JEWELRY.

The ITS FASHION jury was composed by: Sara Maino (fashion editor Vogue Italia and Vogue.it), Deanna Ferretti (Maglificio Miss Deanna, Modateca), Valentina Maggi (Director of Design Practice Floriane de St Pierre), Kat Nadj (UK HR Manager, PPR Luxury Group, Gucci Group Services LTD), Vladimiro Baldin (Creative Center Coordinator DIESEL) and Caterina Salvador (fashion coordinator COIN group), alongside EVE/ITS founder and director Barbara Franchin.
The jurors for ITS ACCESSORIES were: Kei Kagami (fashion designer and consultant for YKK), Marco Grandi (YKK commercial director), Elisabetta Barracchia (Vogue Accessori / Gioiello), Isabella Zegrini (Christian Dior Haute Couture Accessories) and Barbara Franchin (EVE/ITS founder and director), together with some representatives from YKK Innovation Team.
Finally, the ITS JEWELRY finalists were chosen by Ute Schumacher (Swarovski Trend & Design Dept. Director).
70% of the enrolled collections were womenswear, with a great increase in projects from China. McQueen remains the favourite designer, followed by Maison Martin Margiela and Balenciaga. Vogue leads the favourite magazines, followed by Collezioni, Dazed and Confused and i-D. The strongest trend was the use of white, mostly employed as an actual concept in juxtaposition with black, marking the need for a choice among the two. The only other constant elements were the shades ranging from green to blue. The phoenix is back as a symbol of a spiritual rebirth, to be carried out with the help of a strong woman that has now a clear idea of her role. Another feature was the great use of crochet, of metal (especially gold), ropes and pearls, including a special attention to 3D techniques. Also interesting was the attention to the theme of mental disease and covered faces, this time seen from a religion-inspired point of view.
Each finalist of the three contest areas will provide an item for the ITS CREATIVE ARCHIVE, the protected reserve for talent that ITS has built and enriched throughout the years, located in the restyled attic of its headquarters. Such collection preserves and showcases almost 10,000 portfolios, 160 outfits, over 80 accessories and jewelry pieces and over 630 photography projects. A true international archive guarding memory and talent, constantly evolving and transforming.
ITS 2012 announces a new collaboration with Avery Dennison Retail Branding and Information Solutions, a global leader in integrated apparel branding solutions, as a 2012 Fashion Partner challenging the finalists with a special apparel branding project as part of their Collections.
Develon also this year is our internet partner, while D-la Repubblica, Il Piccolo and Vogue.it/Vogue Talents are the official media partners of ITS 2012. Design42day.com is our web media partner. ITS 2012 will also share a brand new project with MTV ITALY. During the week of the final event MTV News will broadcast five episodes focused on five finalists from previous ITS editions…Another way to tell some of the innumerable stories that together make the great story of ITS Family History.
See you in Trieste on July 13 and 14, for a two-day immersion in pure talent, with over 100,00 Euros in prizes up for grabs! ITS 2012 will ask its guests to take sides, express their opinion. choose between Good and Evil
ITS 2012 is created and organized by EVE. DIESEL was the first brand to support the project and is the main partner of ITS FASHION. YKK is the main partner of ITS ACCESSORIES. SWAROVSKI ELEMENTS is the main partner of ITS JEWELRY. Avery Dennison is partner of the fashion area. Modamont is the sponsor of the accessories area. Develon is our internet partner. The City of Trieste, the Regione FVG and CCIAA of Trieste support the event.