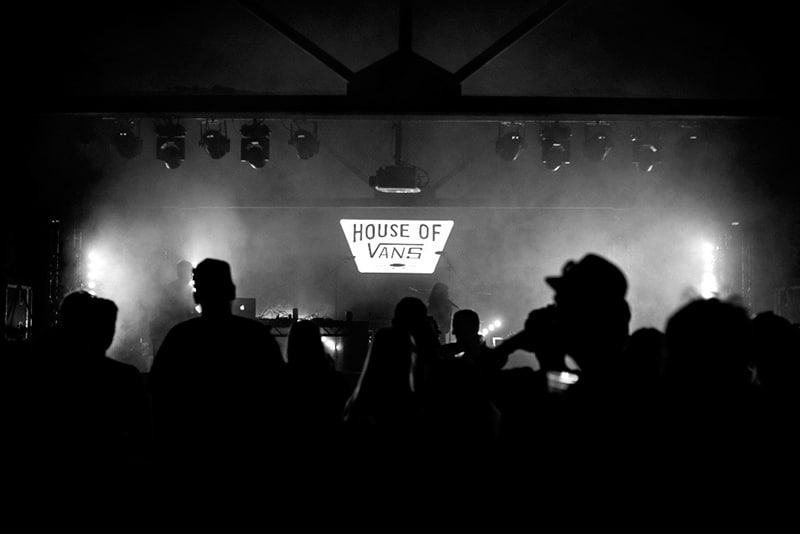 Vans, the original skateboarding brand, and advocate for creative expression presents House of Vans Barcelona, a 4-day immersive experience that brings Vans' "Off The Wall" spirit to life. Beginning 25th September and working closely with local creatives and partners, the event will showcase the best of Barcelona's culture through an array of carefully selected programming made free to the public.
Programming highlights include:
LIVE MUSICAL PERFORMANCES
From Wednesday to Saturday House of Vans will welcome the best in local and global musicians to the stage including beat aficionado & Friday's unmissable headliner Kaytranada with support from local rap superstar Hard GZ. On Wednesday night House of Vans Sessions, showcasing the best in up and coming talent and a regular monthly occurrence at permanent House of Vans locations will present the finest emerging talent the city has to offer, including headline act The Parrots with support from Los Nastys and Go Cactus. On Saturday Flea Market BCN curate 4 semi-acoustic live acts for the stage and to round off the weekend, Nasty Mondays take over the venue with their infamous club night. Primavera Radio will broadcast live from the venue throughout.
OPEN SKATE SESSIONS
House of Vans wouldn't be whole without skateboarding, and the venue will feature a unique purpose-built indoor skatepark. Partnering with legendary skateboarding magazine Dogway on Wednesday, the team will host a warm-up session to launch proceedings. Alongside a Cash for Tricks contest hosted by Sour Skateboards, Skateboarding legend Tony Alva will also make a special guest appearance on Saturday. Open Skate sessions with Al Carrer Store will also be available for the duration of the weekend for local schools and the community to get on board and learn to skate or finesse their technique.
BLACK RAINBOWS LEGENDARY ARTEFACT DISPLAY
The BLACK RAINBOWS installation celebrates the history of the first skateboarding shoe, the Era. Vans has partnered with Dogtown legend Jeff Ho, famed owner of the Zephyr Surf Shop and Jim Muir, original Z-Boy and skate Hall of Fame inductee, to bring forward an authentic depiction of the birth of a cultural icon through a collection of photos and artifacts. Nasty Monday's Soren Manzoni who can add skateboarder and vintage collector to his roster of talents has curated a selection of early 80s era skateboards to add a taste of Barcelona.
COMMUNITY MARKET
Guests to the House of Vans will also see some of the city's most creative talents with a Community Market hosting the likes of Mixfactory, Beautiful Lady Tattoo Parlour, Heyshop, Montana Gallery, Sour Skateboards, Rufus Skate Shop, Barberia Oso Pardo, Miss Kleckley and Flea Market BCN where they can showcase their artistic ingenuity. Attendees can expect flash tattooing, ceramics and much much more.
POP-UP FOOD AND DRINKS
Partnering with Betty Ford's, a favorite among skateboarders and residents alike, a pop-up version of the bar will serve up its signature cocktails throughout the weekend. In addition, popular food & drink trucks The Fish and Chips Shop, Nomad Coffee, Warike Project, and Delgin Go Tessen will provide delicious street food and refreshments.
House of Vans Barcelona at Utopia, Carrer de Cristóbal de Moura, 126, 08019 Barcelona will be free and open to the public, 25th – 28th September. To RSVP and learn more information please visit www.vans.es/houseofvansbarcelona