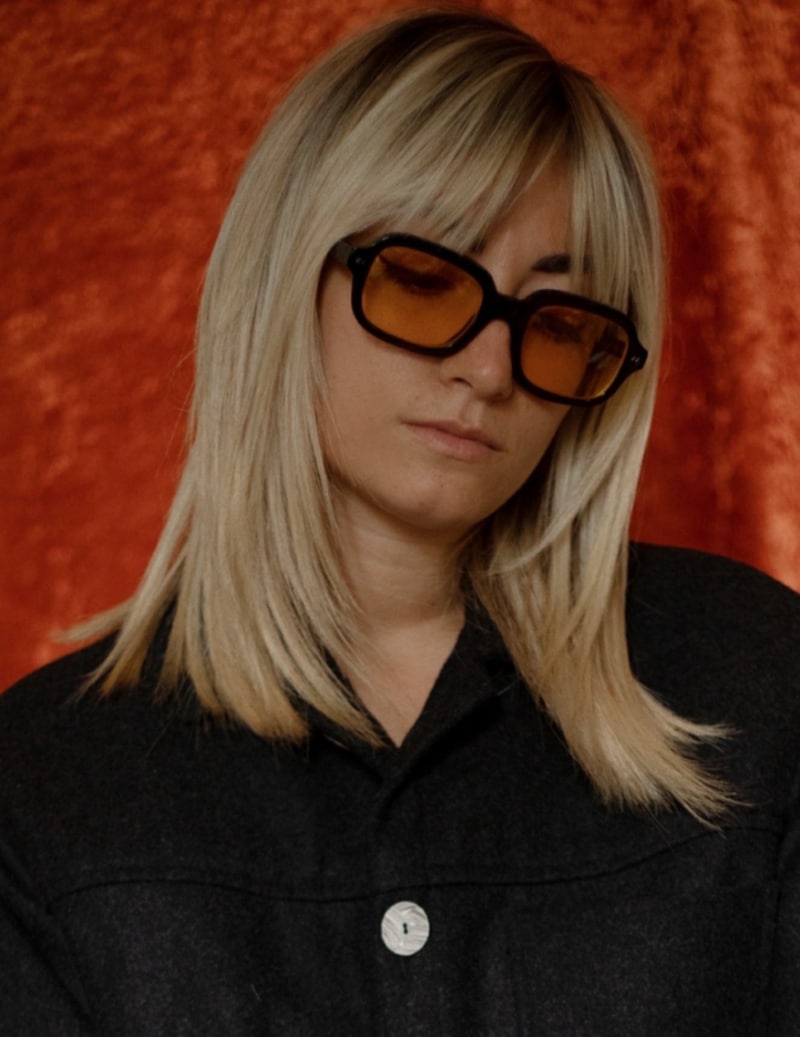 I know hundreds of men designing womenswear, but when it comes to women designing menswear, I can count them on both hands. I first became familiar with Gunther when their FW20 collection "No Sleep in Tokyo" caught my attention, followed by spotting various pieces on a variation of faces from Buck player Axel Toupane, Dadju to Offset. I didn't know that the designer was a woman until just this past season. I caught up with Naomi in Paris, two women in men's fashion from two different sides of the world, but that's just a personal antidote. With a commitment to ethical fashion and made in France, Gunther is showing how it can be done!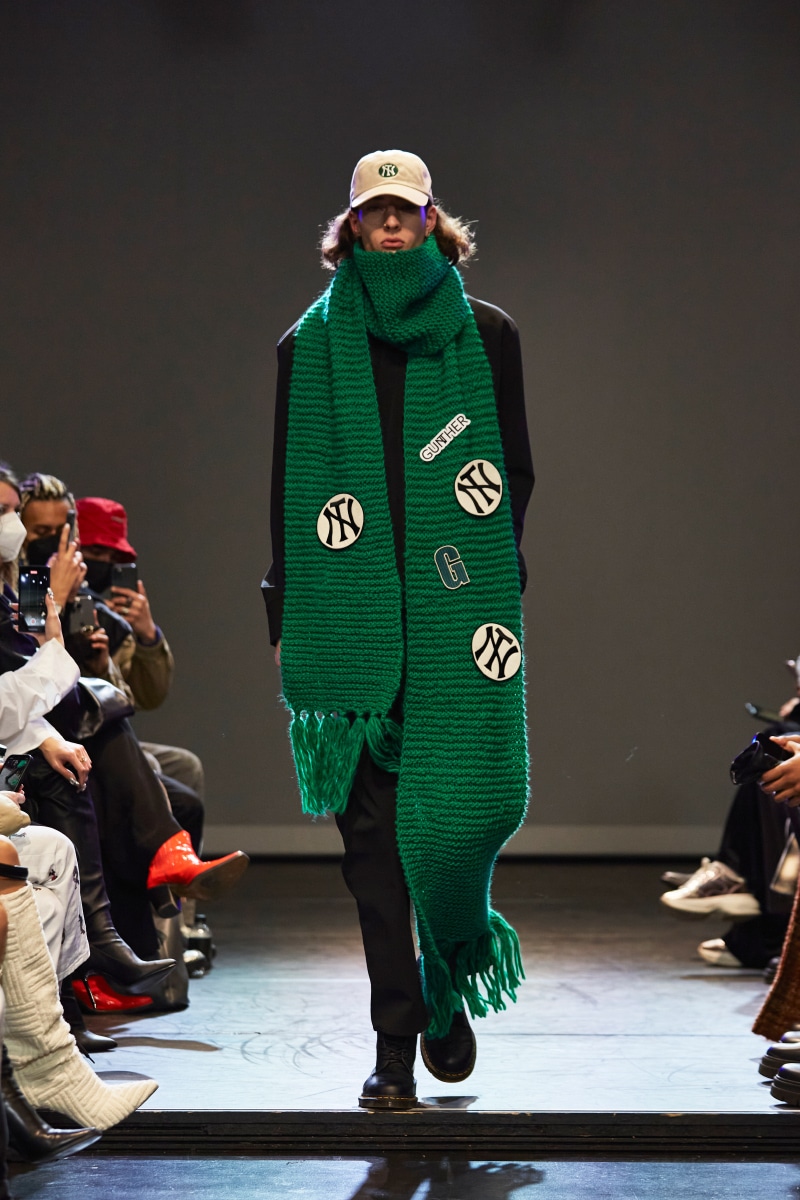 Let's start at the beginning. I know you are French, but are you Parisian?
Yes.
You studied at Parsons in New York. Why did you go from the fashion capital of Paris to the other side of the pond?
It was always my dream to live in New York. I knew Paris my whole life and the fashion scene here, so I really wanted to discover something else. I did the first year at the Paris campus to get used to the language before I moved. I can say that New York is my favorite city in the world. When you go there, there is this feeling that everything is possible. I found the energy to be the most inspiring. I wanted to merge my knowledge of the French scene with something more modern, urban.
Usually, you hear people wanting to move to Paris and not the other way around.
I felt that in New York, in general, menswear was more interesting and more developed. It was the time of the streetwear renewal, especially in the Virgil era, rap culture, everything happened there, while in Paris it was developing slower. I love the details and craftsmanship in France, but I wanted to combine that with another aesthetic.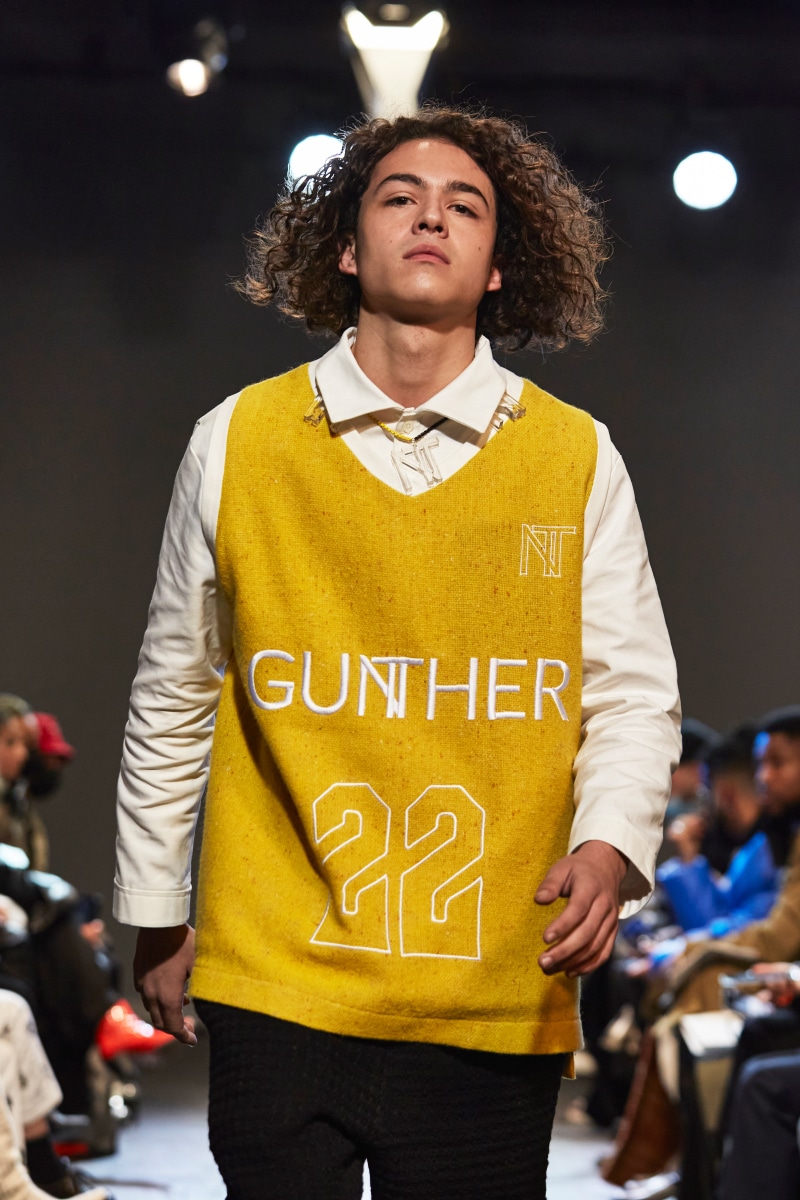 Were you always interested in streetwear? Now Parisians talk about it, but it could also be the generation.
Honestly, when I moved to New York, I didn't really know streetwear. It wasn't just a discovery of streetwear and sneakers, it was more like the energy of combining clothes together, playing with size, new shapes. I was always interested in designers like Raf Simons and Margiela and their play on shape, but I wasn't aware of it in streetwear. I take inspiration more from the actual shape of wearing clothes than sportswear.
We are both in menswear and I know very few women who design menswear. How did you decide to take that direction?
In my last year at Parsons, I had to choose a program: Womenswear, Menswear, or Unisex. My first idea was unisex and for some reason the class was full. I then preferred to go to menswear because everyone going into women's wanted to do more dresses which just wasn't my style. Once I got into the class, I was really inspired on how to put my feminine touch into menswear.
Ver esta publicación en Instagram
How did you go from graduating in 2019 to launching your brand?
I moved back to Paris because I wanted to be home. My first plan was to intern and I had my graduate collection so I decided to shoot it, build a website, show my designs, and see if it interested anyone. I had a friend that contacted me on Instagram and asked for some pieces to borrow. I told him it wasn't like real brand, just my stuff from school, and basically gave him my suitcase with the whole collection and said "use whatever you want". He was styling Offset, I didn't expect him to wear any of my stuff and then he was wearing my pants during Fashion Week. He actually tagged the brand, but the brand hadn't even been launched, it was just a blank page with like two posts at that time saying "coming soon" just for fun. Instantly I got thousand of messages from people wanting to buy the pants.
Did the pants go into production?
I bought the fabric when I lived in New York, so I had no idea how to get it and if there was any left. I called the store and they had just few meters left, I told them to send everything! Offset kept the pants, so I didn't have my sample anymore, once I made a new one, it made sense to launch the brand since people were asking for it. I started with producing only six pants.
I guess those six pants are like a special club now.
Exactly! The "Offset Pants". Then it became a signature shape. This story pushed me to launch the brand, but I was scared, at school they always told us we had to intern first, don't launch your brand directly. I knew I needed to work for someone, but at the same time I wanted to keep my ideas and be involved in all of the process. When you work for someone else you can't necessarily to that.
Ver esta publicación en Instagram
Offset isn't the rapper to sport your pieces, I've also seen pieces on Jokair and Damso. You launched it with organic growth and off of a gut feeling, and then Covid19 happened.
It was complicated but we had put some systems like preorder on the website which also allowed us to have a more sustainable process. We didn't lose money, but it was quiet and our collections were a bit smaller, but we kept in touch with our community online through videos and fashion films. We adjusted our way of working, but never stopped because we didn't have the usual fashion systems where you overproduce.
Ver esta publicación en Instagram
In addition to the pre-order, everything is made France, is that part of your sustainable model?
Yes, it was always important to me because I wanted to be close to the people making the pieces and it's also important to have flexible ateliers. We have customers who want a custom-made piece and come directly to the office and choose the fabric together. It makes a huge difference when artisans are next to you since the start of the process, it is part of the slow fashion ethos.
Going over your e-shop, the prices are a real sweet spot, reasonably priced for what it is, was that intentional?
Because my pieces are really between streetwear and couture/handmade, I really wanted something in the middle where I'm offering my customers the couture approach like custom-made. At the same time it feels like a luxury piece for the customer, but something you can wear everyday.
Luxury is also less waste!
And we work with lots of deadstock that come from luxury brands like Lanvin and Louis Vuitton. At the beginning of the process, we tell the clients where the fabrics are sourced and to come to the atelier, touch, and try it.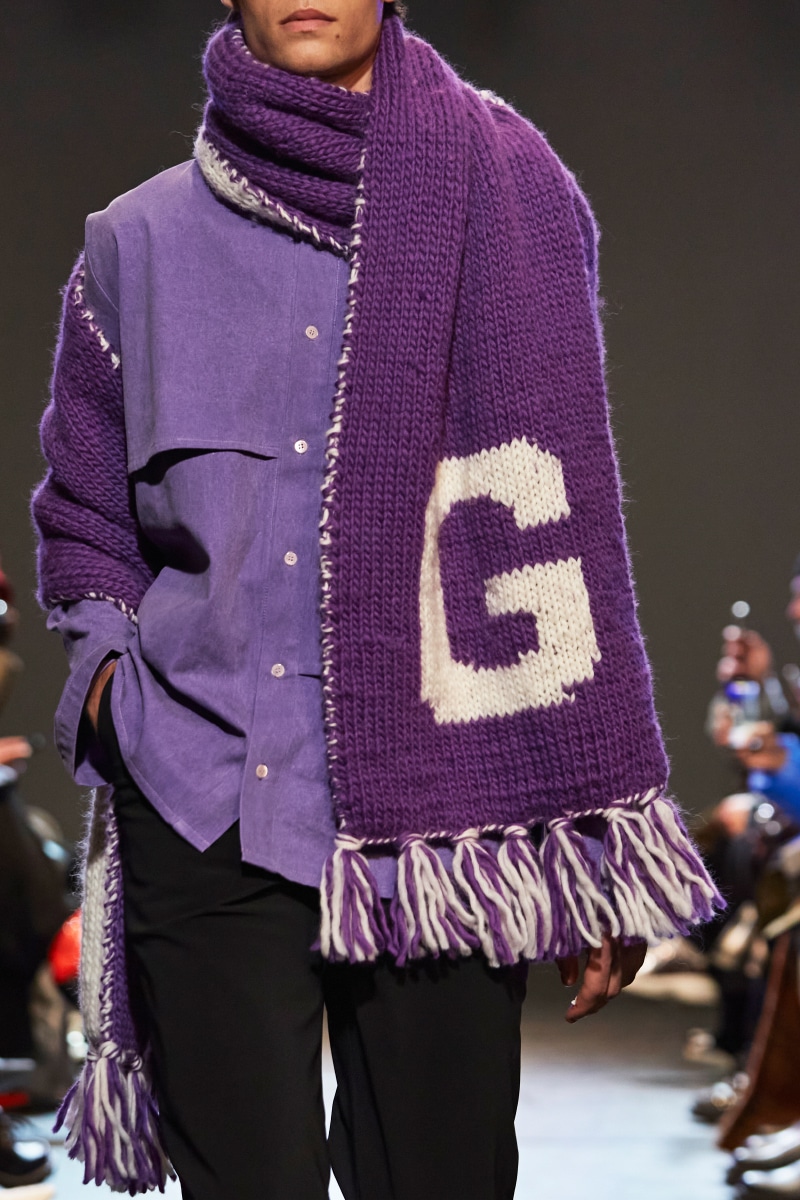 Sounds like you interact with your clients a lot. What are they like?
I know the repeat customers, but sometimes there are surprises, especially at pop-ups, where we never know what type of age, or gender. One time a couple of grandparents in their 70s wanted a sweater, I never knew they would be my clients! I feel like the common thread in my clients is that they want to stand out in my clothes, but in different fields, and then there are people who are more classic and want a classic shirt coming from fields like finance, but they still feel that they are standing out. So my clients are really diverse! I design for people who want to be comfortable in their clothing and are active in general. Comfort and quality are my priority even when dressing myself, this guides all my shapes. And of course playful!
Are there other women in your atelier?
It's mostly women! We are women that challenge menswear with our vision but at the same time it's nothing feminine or breaking the codes of menswear. There is a certain heritage you find in our cardigans or tailored pieces, maybe we are fancier like mixing French DJs and American Rappers at our show. It's just me mashing up the two worlds!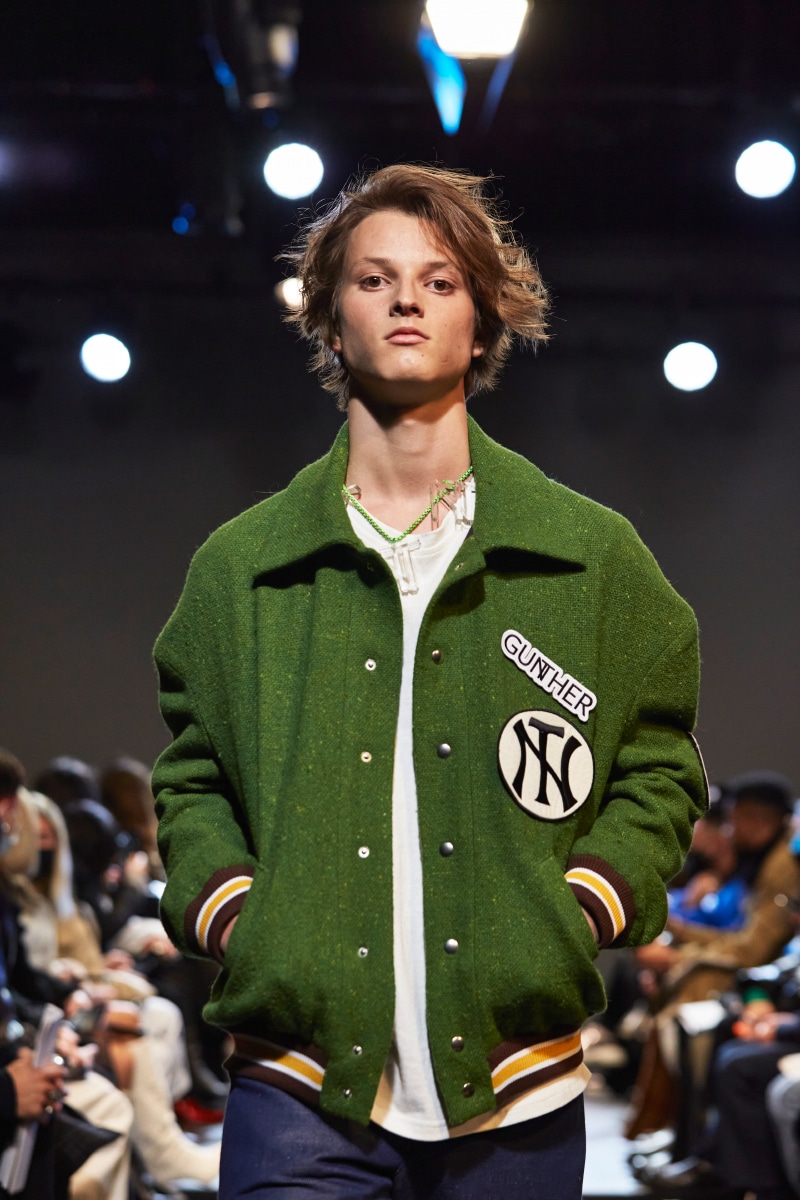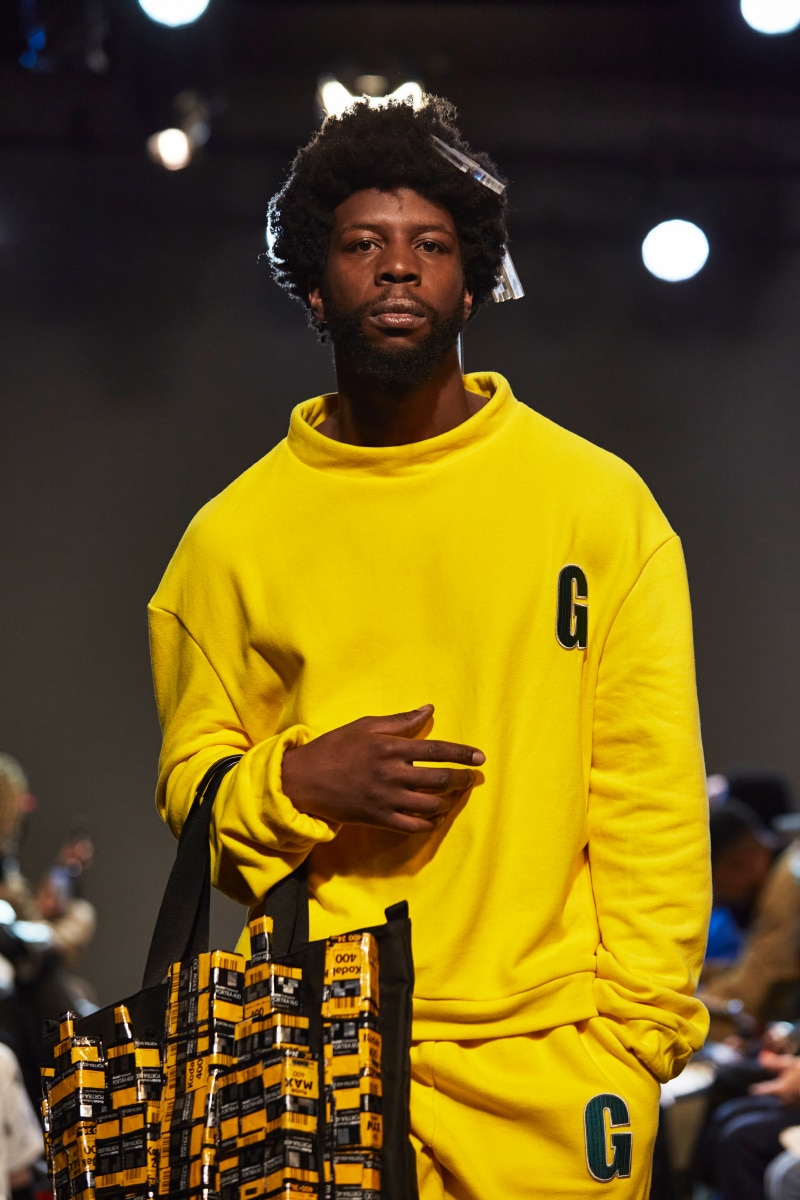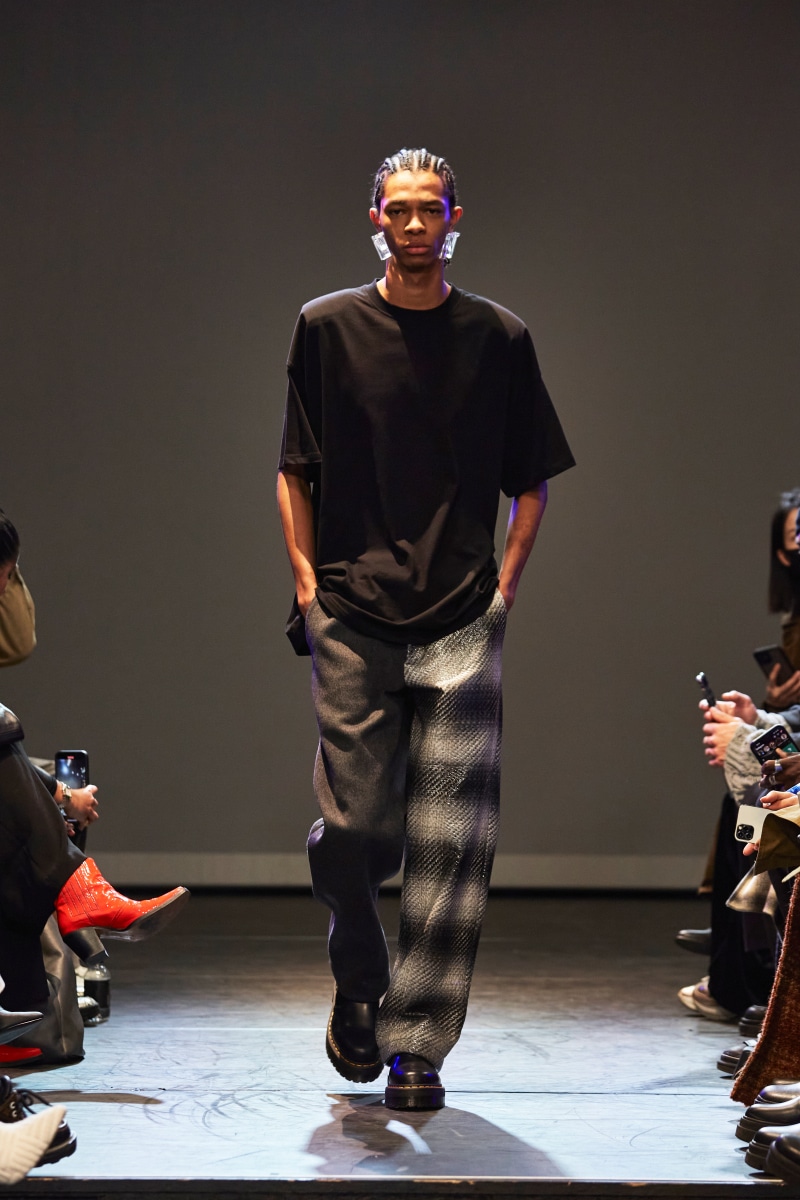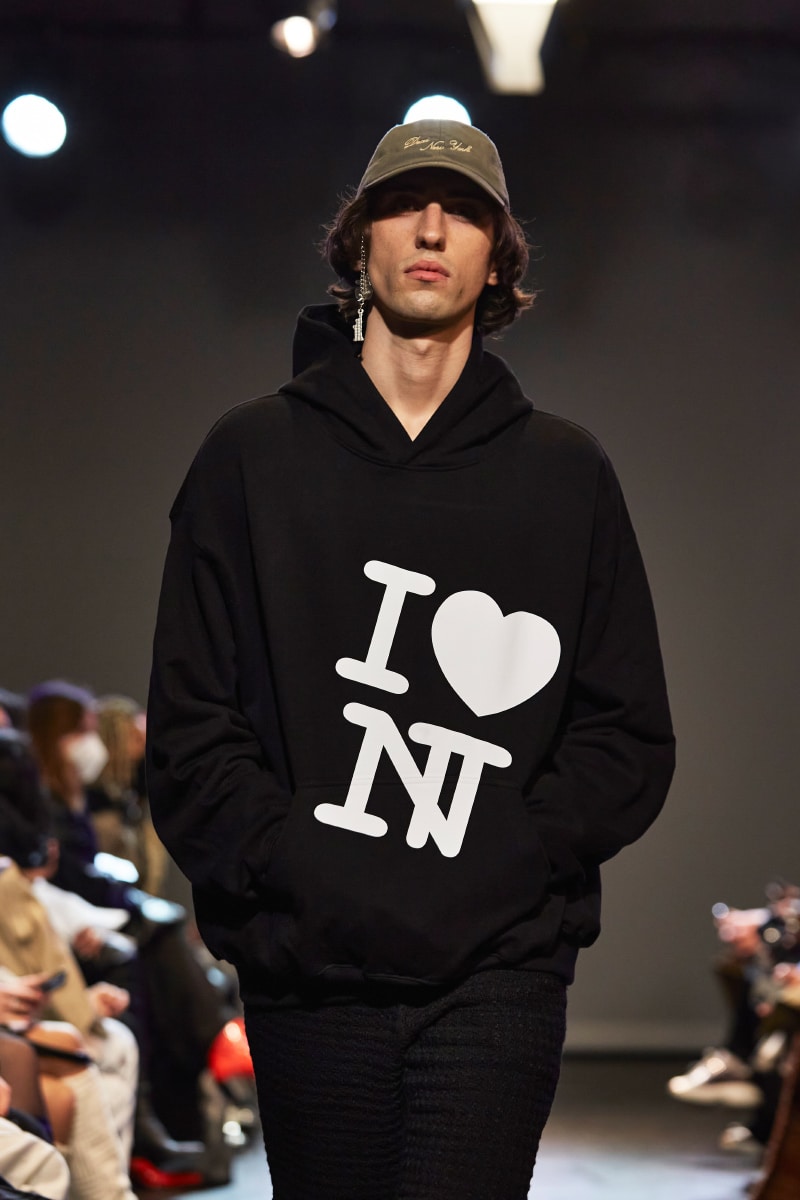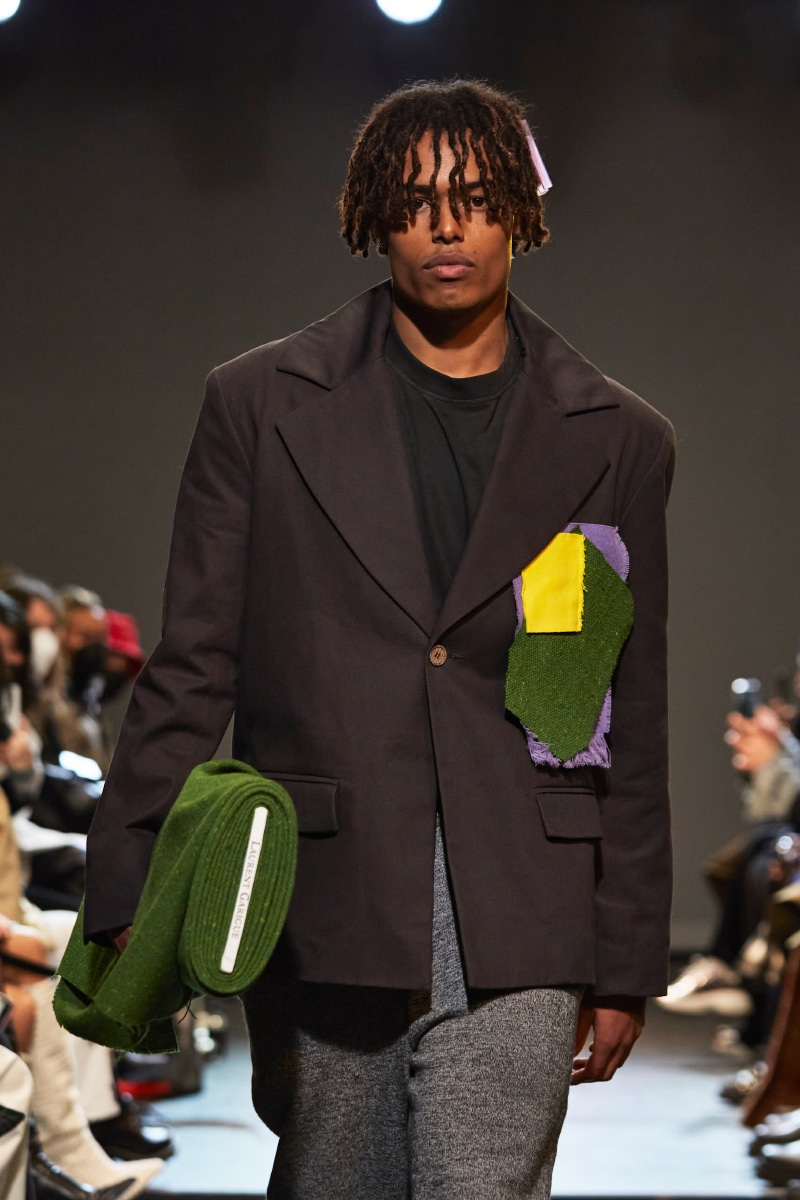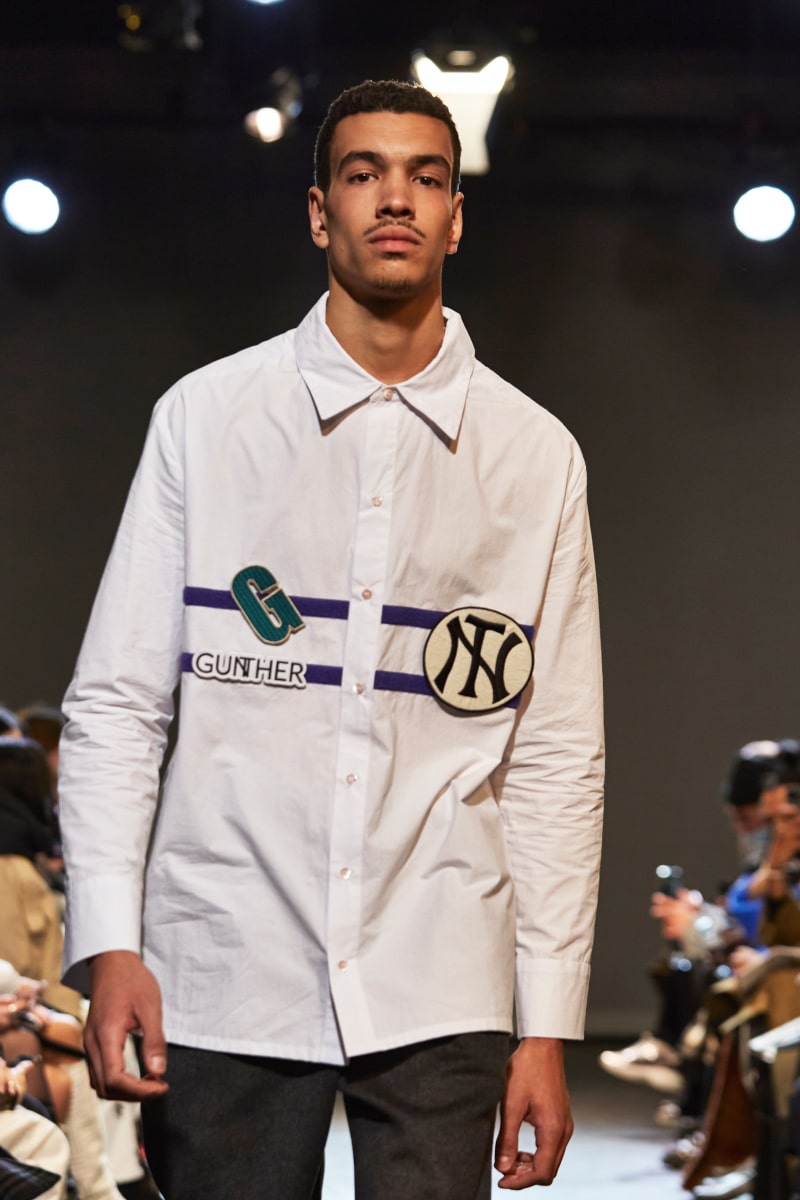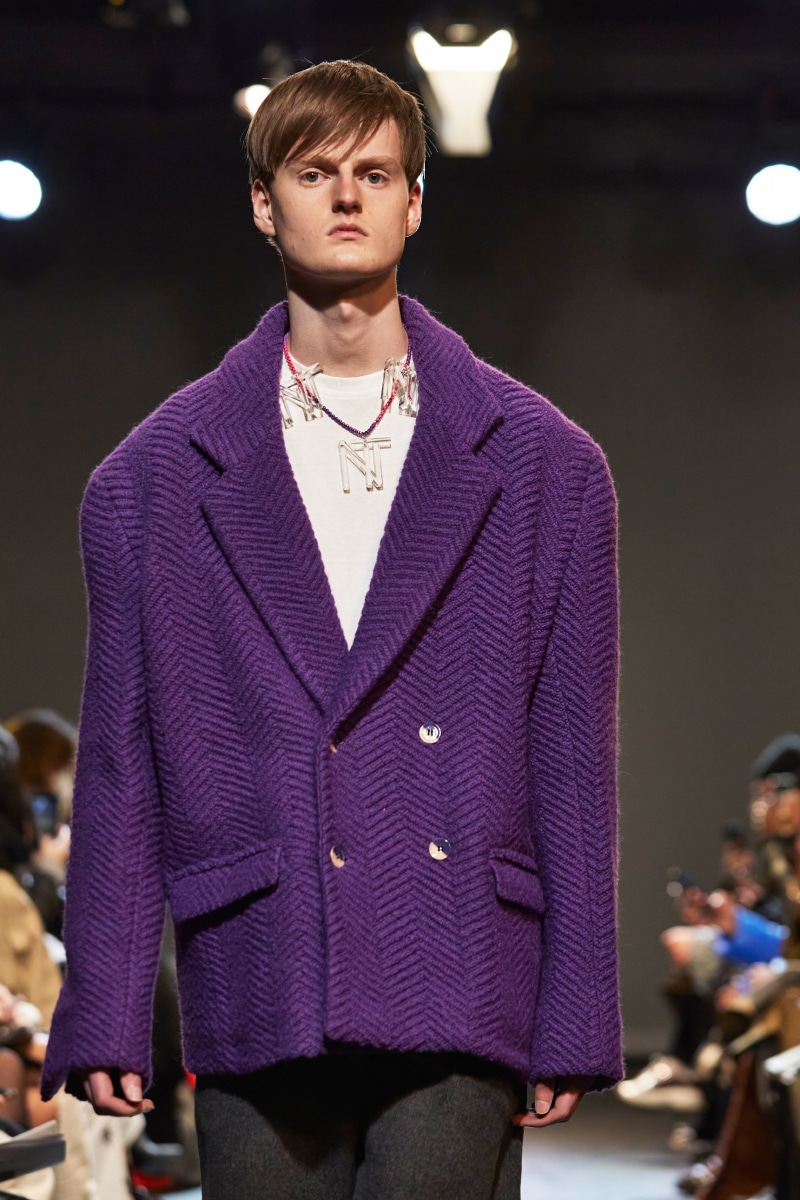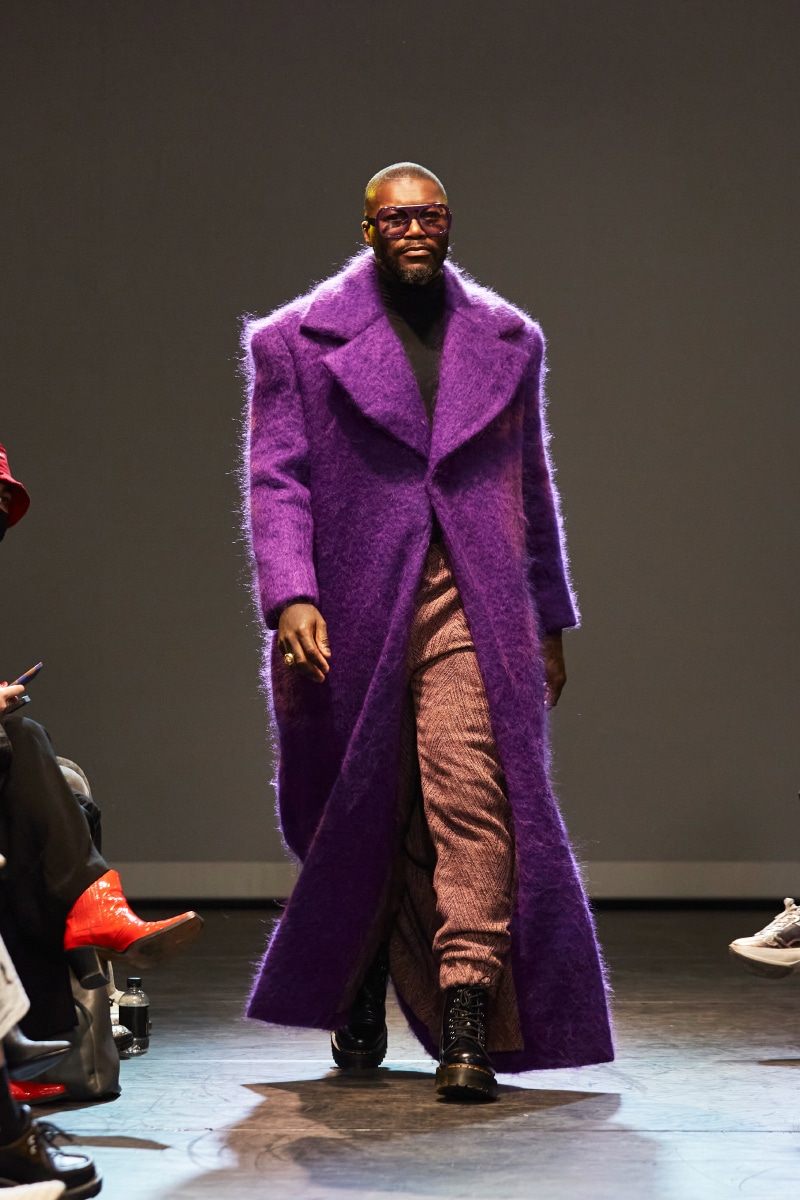 Runway images from Gunther FW22
Stay tuned for Gunther SS23 at TRANOÏ MEN 23-26 June 2022
PALAIS DE TOKYO