This article and interview are part of our "OLYMPIC" issue. Available HERE!
Back in 2012, my basketball-loving (non-fashion) boyfriend thought it was important news to tell me that Dwayne Wade signed a deal with Li-Ning, as if big changes were coming to both the court and fashion. In my Parisian fashion bubble, the news went in through one ear and out the other. Fast forward to 2018 and word during Paris Fashion Week was that Li Ning is the brand you need to know. At which point, my now-husband informed me that "everyone knows that". Yes, fashion can be late to the game.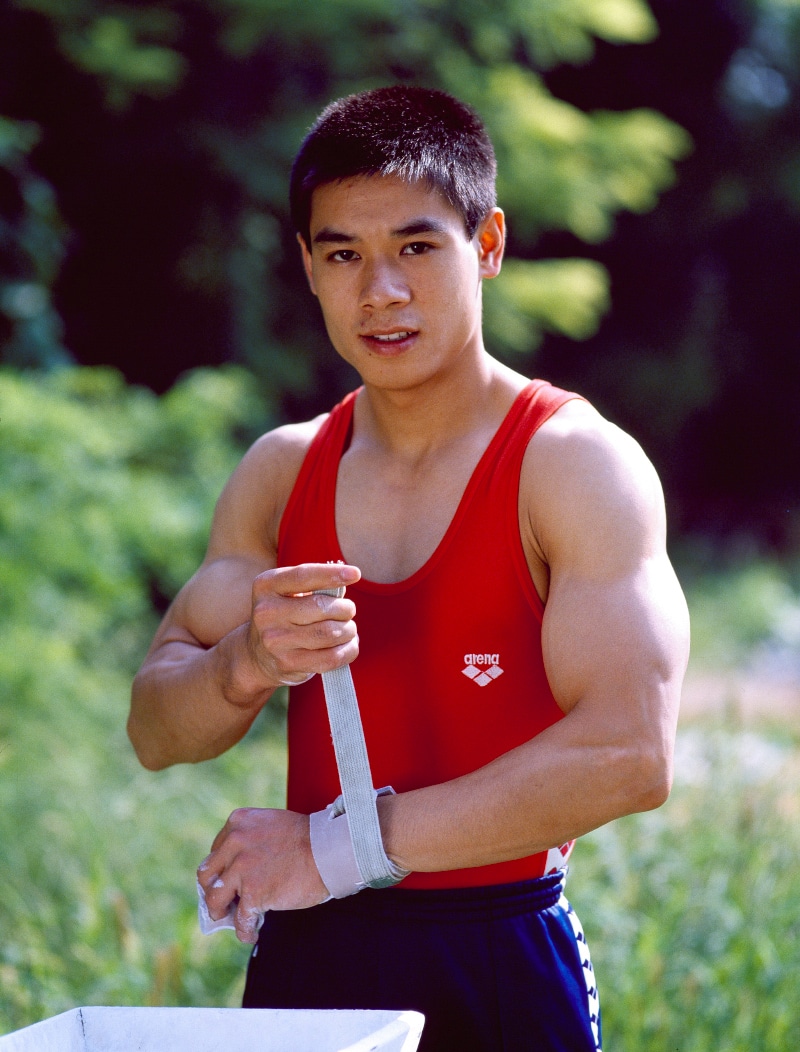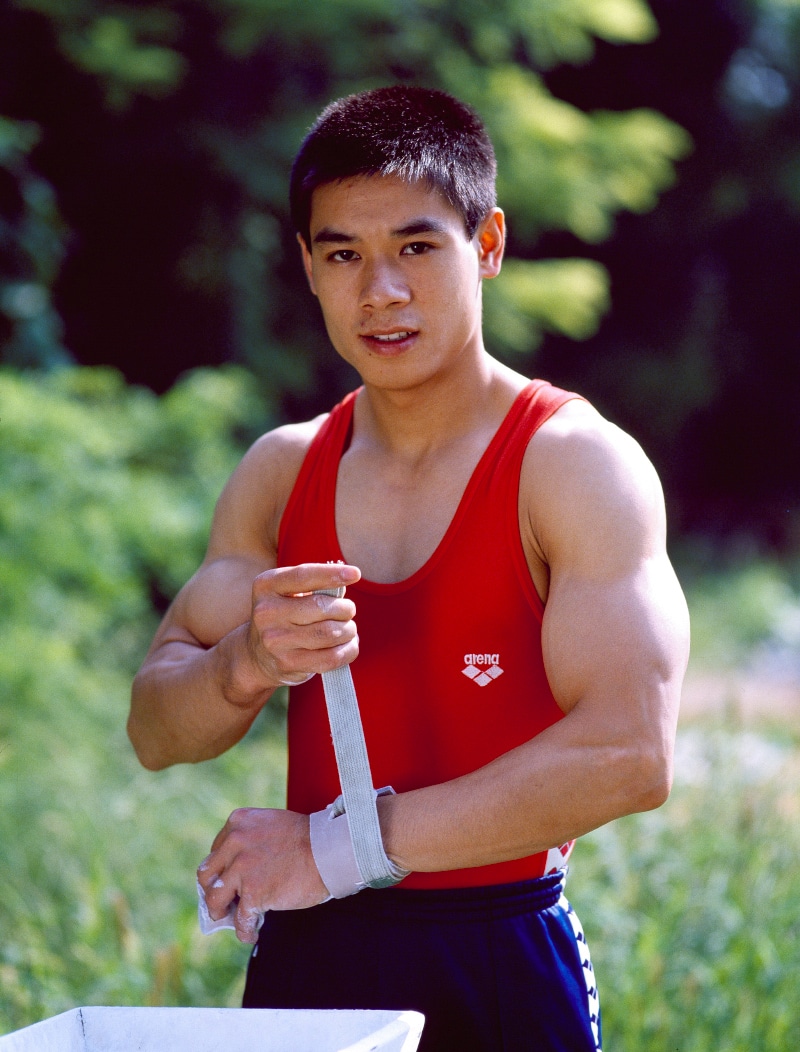 Mr. Li Ning
The exclusive luxury fashion world was somewhat in their own bubble, not aware of the potential in the $35 billion dollar sportswear market China has and Li Ning's aim of becoming the world's leading sportswear brand. It was not an overnight success. More than 25 years have been spent on continuing to improve their product offerings, to provide professional protection to athletes in training and competition while simultaneously enhancing their performance, before even considering the high-stakes of the premium fashion market.
While editors and buyers were busy starting their research on the brand following their Paris Fashion Week debut, I sent an email to my (non-fashion) uncle Sun Yongsheng asking if he's heard of the brand. In a world where the explosion of athletic-to-street-wear was largely due to the American hip-hop community in the mid-'80s, what cultural link do the Chinese have to their own? He immediately replied: "Deng Xiaoping, the paramount Chinese leader, opened up China in the late 1970s, and the Chinese people were suddenly able to see what the world was like, and were eager to pick up what they had missed from the many years of isolation under Mao. Clothing of course was among the very first. China also needed people like Li Ning,  the 'Prince of Gymnastics', to boost the country's moral and Olympians fit well into the job, since the government wanted to enhance not just people's intellectual capabilities, but also physical capabilities (they wanted people to be healthy and strong, so they promoted sports). With the highlights of Chinese Olympians winning gold medals in the media came the fever of wearing sportswear in public schools and colleges among young people. 
I was an assistant professor at Inner Mongolia Teacher's University in the early 1980s, and witnessed the sportswear boom. People didn't just wear them while doing sports and exercising, young people wear them as regular clothes when they go about doing their things in life. I think all athletic wear and the Chinese Olympic medal gear had to be imported at the time, since there was no sportswear in China, but suddenly all kinds of sportswear came into being, and Li Ning launched the brand which became the Chinese native. You can easily compare him to Michael Jordan."
When the runway division was first established in 2017, it was initially available only in China through luxury department stores and niche streetwear retailers, before staging their first runway show. Brand consultant Liad Krispin understood the authentic Chinese aesthetic that made it a household name in China and in the USA, largely due to being seen on NBA courts and looked at how to present it as a global fashion style. It's just a matter of time until it becomes a world-wide household name and is known in all sports, along with the nostalgic trend Gen-Z can't get enough of.
However, in the fashion world, nothing creates validation like being stocked at British multi-brand luxury boutique Browns, known more for being the first to stock Alexander McQueen and John Galliano than sportswear. "And then came Li-Ning. In a world of over-the-top sneakers and crazy prices, they've been a breath of fresh air and enlightened us to a world of design over desire. The Chinese sports behemoth had been busy concepting totally new ideas for sole units and sneaker construction and the timing couldn't have been more perfect. The world of sneakers was polarising in different directions, plain white and simple in one corner, and big, colorful, and exaggerated in the other. Li-Ning's style drives a clear path straight through the middle of that ideology", according to Thom Scherdel, menswear buyer at Browns.
I talked with the 'Prince of Gymnastics' himself –  Li Ning, who is now just as known as a successful entrepreneur who had a vision.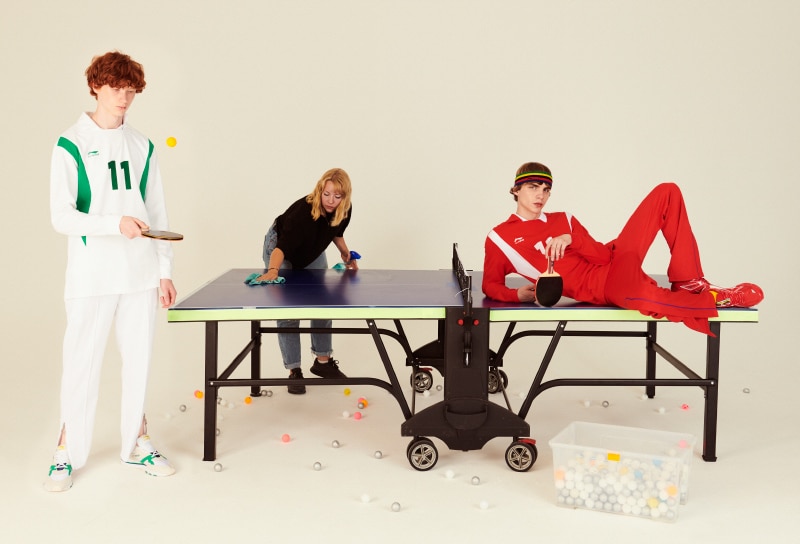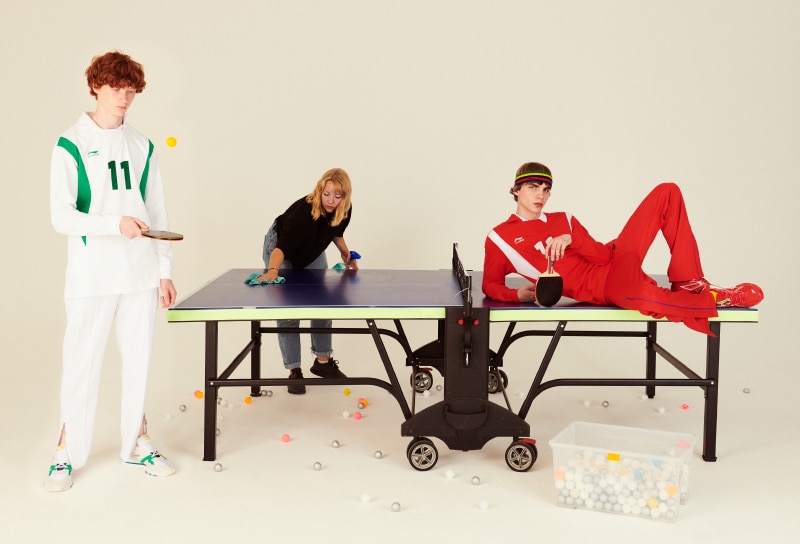 Li Ning, in 1984, you won six medals at the summer Olympic games in Los Angeles. Perhaps you didn't imagine building a strong athleisure wear company back then? Tell us about the will and determination it took to get on the winning podium and how it felt.
One of our guiding principles at Li-Ning is the thought that anything is possible.  This is a testament to my career as a professional gymnast and now a CEO of a professional sportswear brand.  I can say that anything truly is possible.
Of course, how I got here, and specifically to the Olympic medal podium, took years of rigorous, disciplined training and mastering of technique. It was not overnight nor without its challenges, but it was also not without its rewards.
As far as will and determination to succeed later with my own brand, we've achieved strong recognition on both domestic and international markets, but still have much to do in terms of becoming the world's leading professional sportswear brand. 
How did gymnastics enter your life and what does it mean to be a gymnast in China?
Having been involved in sports and passionate about it since I was very young, I first began practicing gymnastics at the age of six. In 1971, I became a member of my hometown Guangxi's team, and was later selected by the national gymnastics team in 1980.
You have successfully made the transition from Olympian to entrepreneur, legendary in both fields. Take us back to 1990, what inspired you to start the brand?
Initially, my hope was to simply provide Chinese athletes with a nationally-made, domestically-designed brand to wear on the world stage of the Olympics.  That was very important to me.  But the response to that first milestone was so warmly and enthusiastically received . . . it was incredibly humbling.   
It also showed me the great potential before us; that we could continue to grow beyond that first step and expand the brand's vision and scope, pushing into other categories and directions that I'm not sure I even considered originally. To that point, we designed our first sneaker, the 001, the following year, in 1991. And now, here we are, 30 years later!
To this day, everything we do at Li-Ning is informed by that first ambition of both crafting and creating products domestically in China.  Building on this, we also aim to authentically showcase different aspects of Chinese culture and heritage through our work. Because of this, throughout our three decades, I'd like to think we helped pioneer a shift in perception that superior goods are not only 'Made in China' but are also 'Designed in China', establishing the country as not only a manufacturing leader but a design and innovation one as well.
You had no prior background in design or business, so how did you face those challenges, and were they as difficult as preparing for something like the Olympics? How do they compare?
You are correct in saying that I had no formal training in either business nor design when I decided to start my company. This is true. But, as I previously mentioned, my original vision for Li-Ning was to simply offer Chinese athletes nationally-made, domestically-designed apparel to wear on the world stage of the Olympics.  So although, at the time, I was less familiar with many aspects of the apparel industry, I was, however, fully immersed in the world of sport, having trained and competed professionally — including at the Olympic level for years.
Along with that experience came years of first-hand, athlete knowledge and insights — my own! This included experience of using different types of gear and uniforms. . . and through that, different silhouettes and even fabrics, finding out which ones provided superior comfort and freedom to move, which offered optimal performance attributes and so on. Because of this, I didn't have to work to get inside the mind of an athlete, I was that athlete!  All of which fueled my entrepreneurial drive and, I'd like to think, helped make me a more informed designer, one equipped with a more considered approach to product development that is rooted in actual, on-court experience.
As for challenges early on, let's just say that teamwork is as important in business as it is in sport.  And although there was much I was able to bring to the table in those first years, I quickly learned how important it was to find the right talent to not only complement my own skills but to also help provide expertise in other areas where my experience was still new and growing.  As with training for the Olympics — or any sport milestone — running a business, especially when first starting out, requires a lot of hard work, determination, passion and discipline. Coupled with this, business and sport are both extremely competitive pursuits, so I suppose they share that in common as well!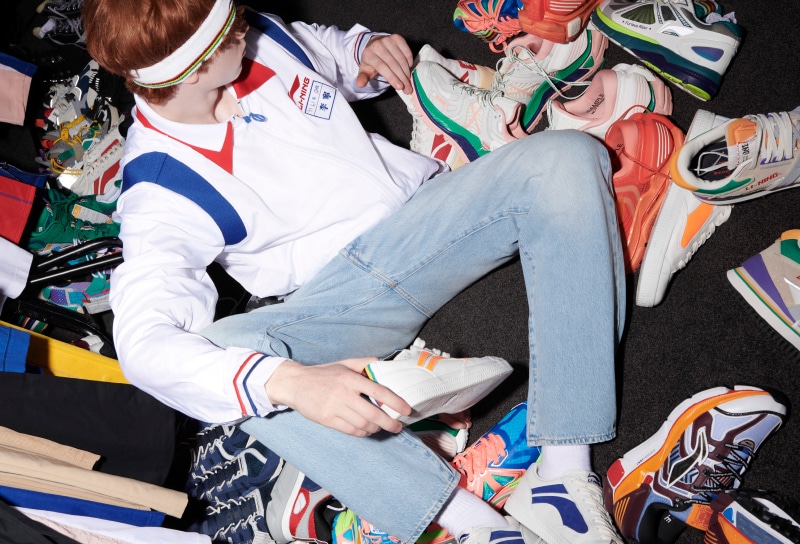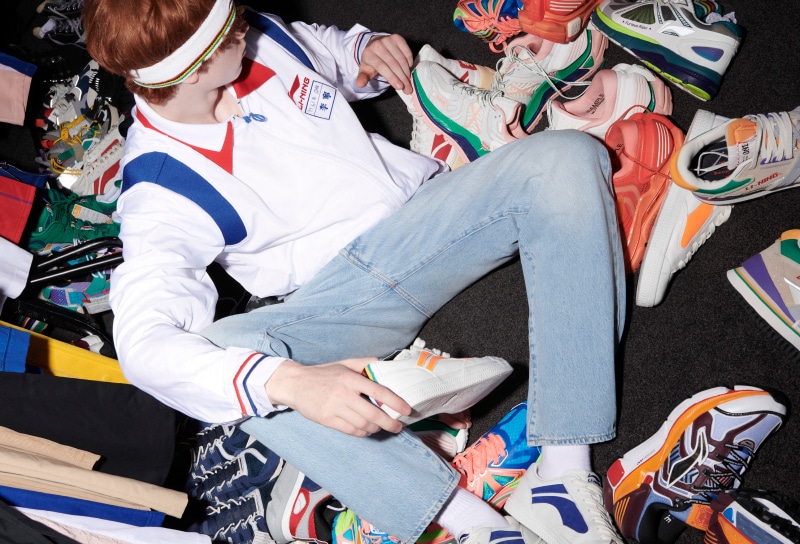 Fast forward to the 2008 Beijing Olympics, how did it feel to light the cauldron and how have the games changed since winning six medals at the 1984 Summer Olympics?
My experience at the 2008 Beijing Summer Olympics was completely different from the 1984 games, or any other Olympics I've attended for that matter. The expectations and pressures I felt in 1984 helped inspire me to win, and I very much enjoyed the games and competition. By comparison, my mission in 2008 was to successfully complete the torch-lighting and help commemorate the very special moment of having the games staged in my home country for the first time, sharing this experience with a vast audience of my fellow countrymen. It was not only for myself but also for my country, and I was determined to ensure it succeeded.
The 2008 Beijing Olympics created an amazing energy and sense of Chinese pride that could be felt throughout the Olympic stadium and far, far beyond.  It spread nationwide!  As massive and global as the Olympics are, because of this special energy, the 2008's summer games felt so much more intimate to me, more so than other Olympics I've had the pleasure to attend or compete in.
Adding to this, I had the extraordinary opportunity to light the torch during the opening ceremony, an honour that was at once so exciting and incredibly humbling.  It is not lost on me how few athletes get the chance to represent their country in this way and I feel a deep sense of pride in having had the chance to do so on behalf of China. Sometimes, I don't believe it actually happened! It feels all the more surreal that the pair of Torch Runner running shoes I wore while approaching and lighting the cauldron are now housed in the Olympic Museum as a celebratory milestone from these very special games.
The love affair between basketball and China goes back more than 100 years, predating many European countries. China sent a full delegation to the Olympic Games when it first became a sport in 1936. People have naturally associated you with gymnastics . . . at what point did you decide to play an active role in basketball, not only at home but abroad, including the NBA?
As Li-Ning has grown in size over the last 30 years, we have diversified our product offering, expanding far beyond our humble beginnings to introduce new collections, assortments and styles to suit the many needs of an ever-expanding consumer base.  Sometimes it amazes me just how far we have come!   
Given China's passion for basketball, the launch of Li-Ning Basketball was a logical and natural next step in the company's evolution.  This has led to the signing of many professional players, both in China but also internationally, including former professional NBA player Dwyane Wade, Portland Trailblazer CJ McCollum and our latest Way-of-Wade ambassador, D'Angelo Russell of the Minnesota Timberwolves.
Today, along with basketball, which is our core, the sport performance categories include running, badminton, and training. Additionally, Li-Ning has teams dedicated to lifestyle and streetwear products –  collaborative styles co-developed with outside design partners and our recently-launched runway division which made its global retail introduction during the A/W 19 season.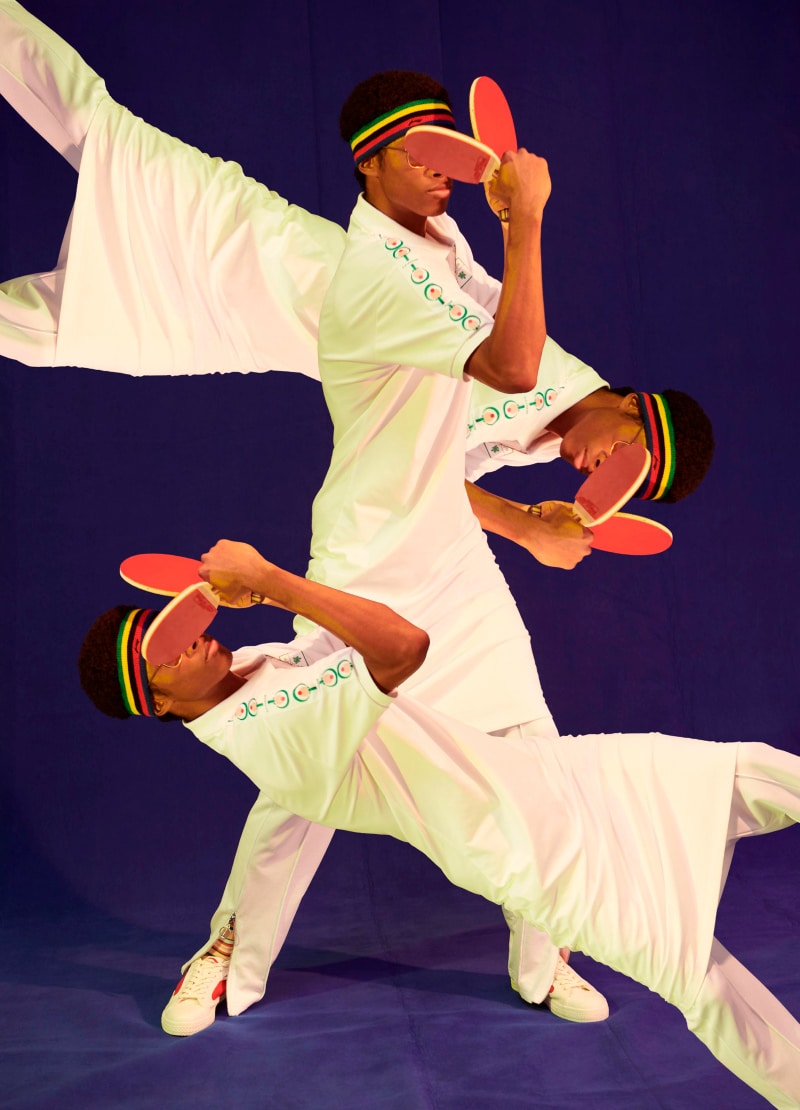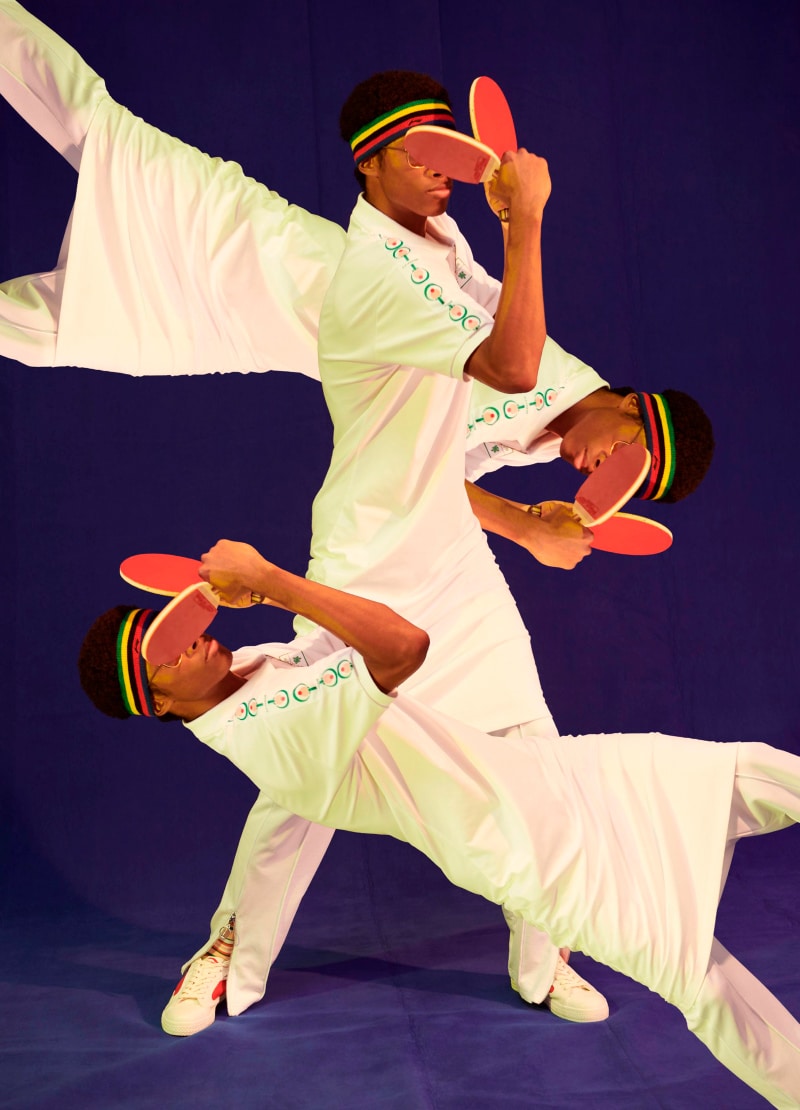 In 2008, Li-Ning also became a household name having sponsored the Chinese national teams of gymnastics, table tennis, archery, and diving, along with sponsoring the Spanish basketball team and the Argentine and Swedish Olympics teams. What role will it play in the 2020 Olympics?
Li-Ning is strongly committed to facilitating the development of sports in China and supporting the country's success at the Olympic Games. As such, we have continuously supported China's "Gold Medal Winning Dream Teams", namely the diving, shooting, table tennis and badminton national teams. At the Rio 2016 Olympic Games, the four national teams won 14 gold medals, four silver medals and five bronze medals. We are very much looking forward to seeing them participate in the 2020 Summer Olympics.
We have also been sponsoring top international teams to promote the spirit of sports at the Olympic Games, such as the International Table Tennis Federation, the Indian Olympic Association, the Mexican Olympic Committee, the Hungarian Skating Association, the Canadian Association of Snowboard Instructors, the Indonesian National Badminton Team, the Singapore Badminton Association and the Vietnam National Track and Field Team.
With our main focus on the domestic market, we aim to continue expanding our presence and enhancing the Li-Ning-style value experience on the international market step by step. To help do so, we are not only sponsoring top international teams and events, but also further exploring global markets by entering into popular multi-brand boutiques such as Kith, SSense, Philip Browne, and developing cross-border collaborations with X-Large, OG Slick, Neil Barrett and Stefano Pilati's vision for Random Identities.
How has the brand managed to transcend the Chinese market to abroad since 2008?
We are leveraging the introduction of our premium men's and women's runway collection to bring the brand's vision a unique perspective that unites the culture of sport and street with a traditional and authentic Chinese aesthetic to a larger, global audience.    
With these early successes, we decided to introduce Li-Ning Runway to an international retail audience, starting first with a select number of elevated accounts to emphasize the product's premium nature.  The A/W 2019 assortment served as the collection's global retail debut, with stockists including SSENSE, KITH, Selfridges; and Oki-Ni to name only a few. Looking ahead, we will continue to strategically utilize the brand's premium collection as part of our ongoing global expansion—including the addition of two new retailers for 2020: Browns and Slam Jam Socialism. 
We will also leverage our roster of global athlete and lifestyle partners, including our latest collaborative alliances with Jackie Chan, the Centre Pompidou museum,  menswear designer Neil Barrett and Stefano Pilati's newest fashion venture, Random Identities, as tools for building the business in China but also far beyond, as we continue to bring the Li-Ning vision to a worldwide, international audience. 
The brand is celebrating its 30th anniversary this year. How have consumers changed since the beginning?
We are addressing the needs of a much more diverse and varied audience than I could have ever predicted back in 1990.  Just look at how the worlds of sport, street and style have all intersected— that has created both a new aesthetic, but also a whole new level of demand that was not a factor when Li-Ning was founded.   
Despite shifts in the customer or the fashion landscape, we remain committed to providing the most forward-thinking products, experiences, partnerships, and services to our fans.  Further to this, every Li-Ning style is designed with the genes and insights of an athlete – my own.
What makes us even more unique is how we use our first-hand knowledge of sport, pair it with the culture of the street and combine them both with a traditional, authentic Chinese aesthetic.  As a result, each Li-Ning piece unites elements of Chinese heritage with global, worldwide appeal.  This is both our mission and point of distinction, and an approach we have perfected throughout the past 30 years.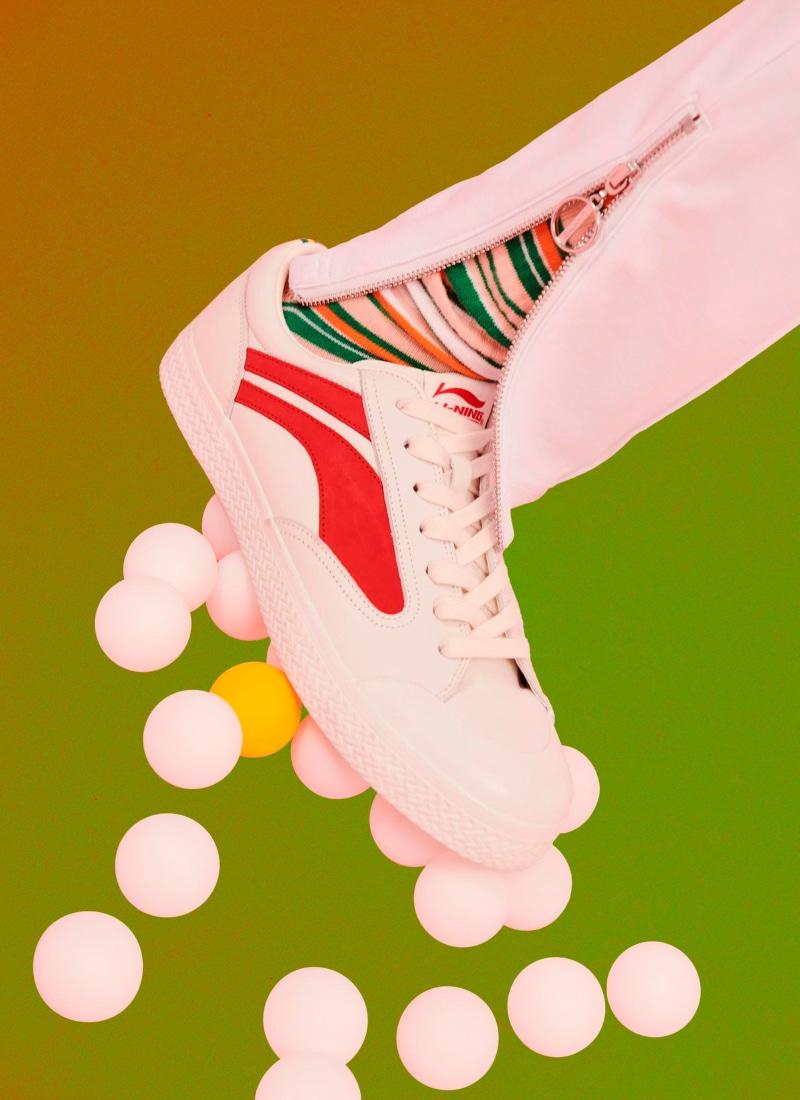 What does 'Made in China' mean today?
For us at Li-Ning, it is important that 'Designed in China' be as much of the focus and the conversation as 'Made in China'. Throughout our three decades, I'd like to think we helped pioneer a shift in perception that superior, quality goods are not only 'Made in China'  but are also 'Designed in China', establishing the country as not only a manufacturing leader—but also a design, and innovation one as well.
What challenges do you face and what are you trying to work on to lower the environmental impact with such a large commercial brand? Have certain goals been set up?
We believe industry development must be environmentally friendly and sustainable to ultimately benefit people. In 2011, we cooperated with five brands including Adidas, C&A, H&M, Nike, and Puma to establish the Zero Discharge of Hazardous Chemicals (ZDHC) initiative. Through ZDHC, we have been working with 30 contracted brands and 153 alliance members to achieve the ultimate goal of zero discharge of the industry's hazardous chemicals.
As the only Chinese brand which is part of the ZDHC, Li-Ning participated in the formulation of the first manufacturing restricted substance list (MRSL) for the clothing and footwear industries – published by the ZDHC – to control hazardous chemicals released into the environment in manufacturing or other related processes, making a positive contribution to achieving the goal of zero discharge of hazardous chemicals.
We have also been promoting the importance of protecting the environment through our products. Last year, we launched a cross-border sportswear collaboration together with Upanda. From design, to materials to marketing, we make the best possible use of leading sustainable development ideas and actions in the hope that our consumers will be influenced to care even more about the environment. 
Tell us about the Li-Ning headquarters in Beijing, I heard that everyone is encouraged to do sports. What can we find?
The company's HQ campus first opened in 2007. We aimed to foster and create a strong sports environment throughout the entire campus, since athletics are at the heart of our brand identity. As such, sporting elements have been integrated throughout. For example, we provide venues for playing various professional sports, including basketball, badminton, swimming, football, volleyball, and tennis, among others. This allows our employees to enjoy their favourite athletic pursuits during their free time. We strongly believe that providing such a relaxing and enjoyable working environment plays an important role in inspiring everyone in the company to further explore and develop their potential and diverse skill sets.
You have forever been dubbed the 'Prince of Gymnastics', but what other sports and hobbies do you enjoy in your free time?
Personally, I very much enjoy playing golf, biking, hiking, and boxing to keep myself fit and healthy.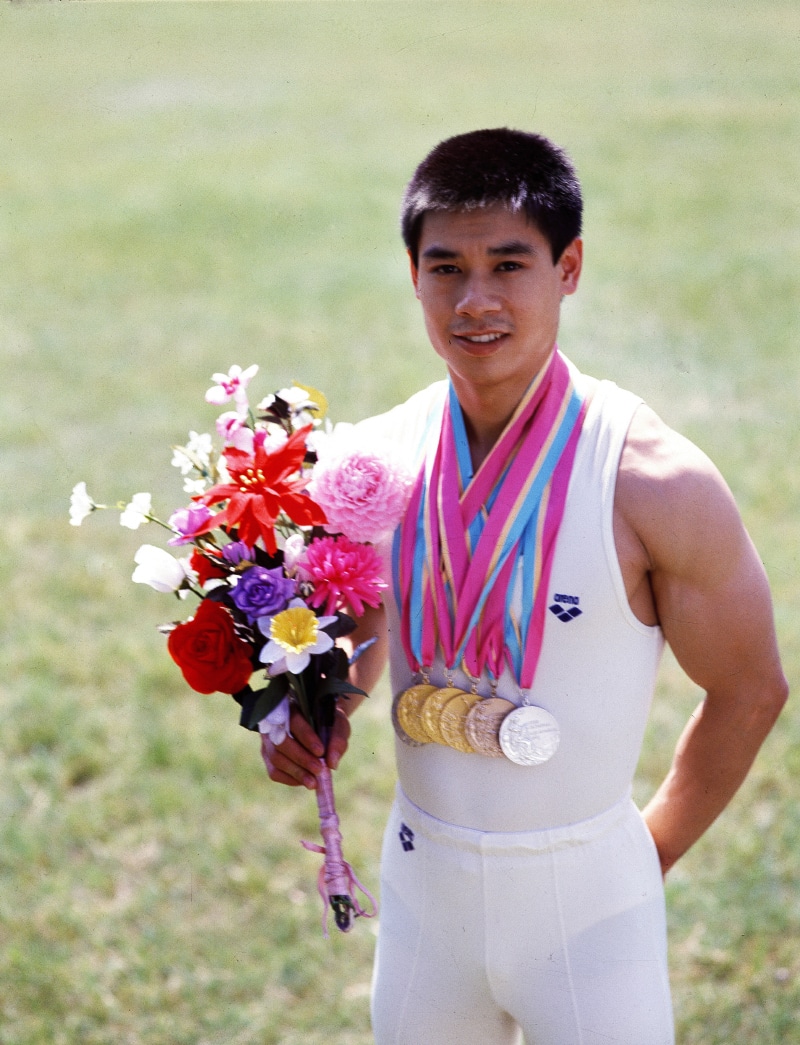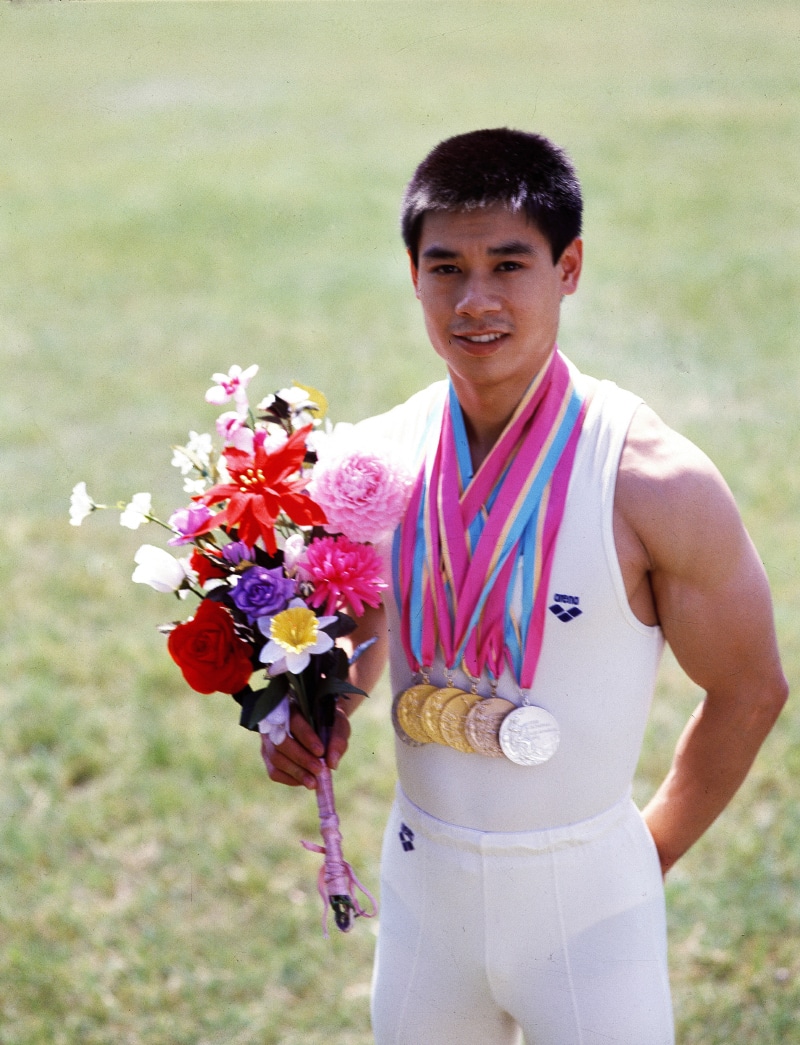 Get your copy of Fucking Young! "OLYMPIC" issue HERE!