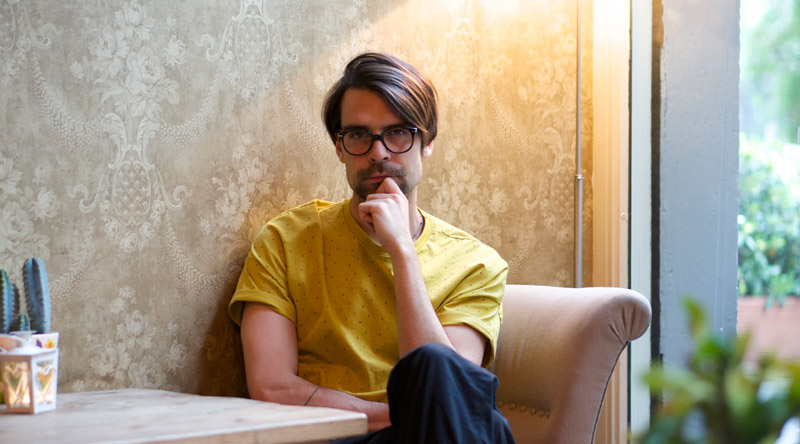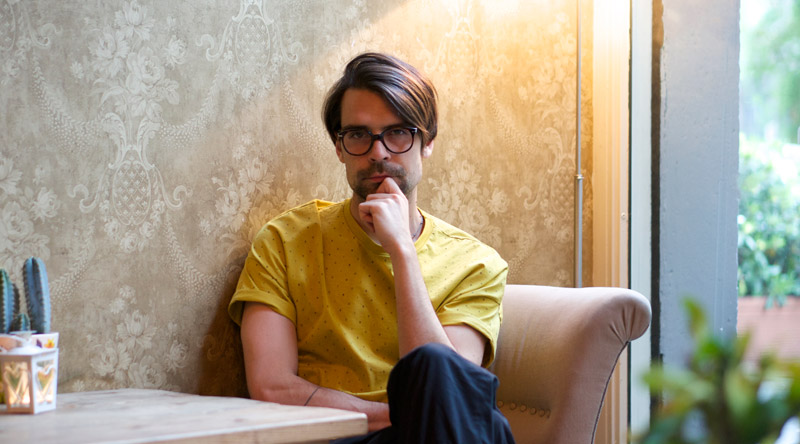 "I'm obsessed with socks. I even wear them in bed!" – Odette Annable
Also Jure Stropnik, at some point of his life, must have felt obsessed with socks. Perhaps, it is because of this that in 2013 he founds IURI, a brand – initially of socks, for the note – that combines a minimal with a modern twist and that is inspired by architecture, art and social cultures worldwide.
Joking aside, the brand quickly becomes popular in the market thanks to an innovative approach and an identity characterized by strong colors and precise geometries. The first campaign is a success, followed by many others. Today IURI has expanded its production to hats – from one extremity to the other! – but his creator already dreams of the collection that will tread the runway… we hope soon.
Fucking Young! – Hi Jure! Let's start from your beginning… How did you approach the fashion world and why the choice to focus on typically masculine accessories as the socks?
Jure Stropnik – Initially I had been working for about six years in the field of merchandising. My first experience in fashion was at Selfridges in London. I had studied Business and Economics but in 2008 – a tough year – I decided to move to Milan for a Master's degree at Marangoni. I stayed in Italy gaining experience first at Ermenegildo Zegna, later at Antonio Marras and finally at Slowear.
Why accessories? It happened by chance. I've always wanted my own brand. Shoes are a very complex product, I told myself. So, why not socks? I did a little market research and I realized there was a deficiency in this field: many make them but few are real specialists.
FY! – Which is the difference between your socks and the others' and which the feature making them recognizable?
JS – There are few brands that can boast a strong identity. That's what we intended to do by creating a product that did not exist before. We have built our identity on strong colors, the color-block and the geometries.
FY! – And why the geometries, that indeed characterize your overall work?
JS – It is something personal, I like the Nordic more minimal style. The intention, again, was to create a product that did not exist on the market.
F.Y! – Some models are classier…
JS – Yes, the aim was to focus on the materials' quality and presentation, giving the stockings an added value.
FY! –  Well. Let's speak about the first campaign.
JS – The idea was just to give strong inputs immediately. I had never seen before a brand doing a big campaign for stock, it was not considered important. The mood was the one between Guy Bourdin and Tom Ford of Gucci in the '90s. I set up the project along with a friend of mine, a good Filipino-Canadian photographer. It was a great success and although it was the first campaign we were published in a lot of magazines.
FY! – Did your choice to be in Milan and create a brand based in the city just come from the fact that you started your work experience here or is it a choice that goes beyond this?
JS – It is mainly because I was already in Milan. The brand does not have a proper Italian mood despite being made in Italy. There's a Parisian and Nordic inspiration.
FY! – However, how important is today for a brand to be and stay a "made in Italy" production?
JS – It still adds value. Unfortunately, due to the increasingly difficult market situation, more than at the quality, people  look at the price… But I am convinced that in the long-term, quality will continue to emerge, especially in Italy.
FY! – As for the Asian market, is the made in Italy still an added value?
JS – Yes, it is. Especially if we deal with a young brand because I think few are those who make a totally made in Italy product.
FY! – They are especially the young brands, the independent ones that still do that…
JS – Yes… I think so, both in terms of quality and in terms of flexibility toward the production here in Italy; We have a manufacturer who really comes to meet us, especially with the amounts. We produce in Italy and we use made ​​in Italy yarns. This is obviously reflected in the final price.
FY! – How difficult is to produce in Italy?
JS – As for the production, we have faced no problem so far. But yes, it is very complex to find the right manufacturer who comes to you, it is not so easy. The first thing for a young brand are the "minimums". Luckily we found producers who invest and believe in a long-term growth.
FY! – After socks, hats. Was it a natural evolution? Why this choice?
JS –From one extremity to the other…
FY! – From head to foot… in fact, from foot to head
JS – The comparison with the stock is difficult. Make the brand stand out with an accessory that you see but not so much, especially for a product-basement, is not easy. So…why hats? Personally, I 've always liked them. Apart from that, you should take into consideration that the related market is growing right now. This type of hat – another super minimal product – did not exist, although it looks like something perhaps trivial. We have maintained the socks' fil rouge by bringing it to the hat: geometries, constructions, clear lines, strong colors, contrasting bi-colors.
FY! – Is the IURI  product a seasonal one?
JS – No. We have always done the opposite, for example by first launching the product and then looking for the distribution. Both with the socks and the accessories we work with continuous products. The idea is just the one of transforming our socks and hats into icon-products. In the course of the year we do and we will do several launches in the typical IURI's way with flash-collections.
FY! – You have also created and showed a very reduced capsule…
JS – Yes, sweatshirts sand t-shirts declined in different prints. We understand that people like the brand, in Italy it is strong. Why do not make it a real brand then? A brand that one day, I say one day, might be on the runaway. The focus remains on accessories. The idea was just to create a product that was a junction between socks and hats, not trivial but not even too strong. Ours is a contemporary street-style, always minimal.
FY! – Do you expect to put them into production?
JS – We have just launched the first IURI t-shirts and we will definitely go on cause they'll be continuous products. Together with the accessories we would like to make small additions from flash collections. In short, work in a fast-fashion mode with quality products: create, launch, promote.
FY! – Any point of reference or inspirational source for the style?
JS – The inspiration is a bit everywhere, from the artistic and architectural world to everyday life. Today we are bombarded by information. You need to be very concentrated. There is much, too much, especially in the digital world. We have to stay focused on what is our identity. As I said, I do not have a precise inspiration. It's a whole made of what I did, what I personally like and what intrigues me.
FY! – There is an e-commerce and anything can be bought online. In your opinion,  is this the natural evolution of the way people buy fashion or is it still important to have a physical store to which the customers can turn to? 
JS – I believe that having a permanent store, a retail, is still the most important thing for a brand. The product can be seen, touched. With a physical store you are able to represent the image of the product in the best way. It is also true that the online is becoming more and more important and that social got a crucial role in our lives but the retail is still the future.
FY! – Today, however, there must be a balance between the media/online and the traditional retail…
JS – I think that the online store should reflect what is offline, especially in terms of communication. They have to go at the same pace.
FY! – What cannot lack in your life?
JS – Friends.
FY! – As usual, our last question… For you, what is really FUCKING YOUNG!?
JS – The name itself is really fucking cool cause it's modern, different, young. Really young.