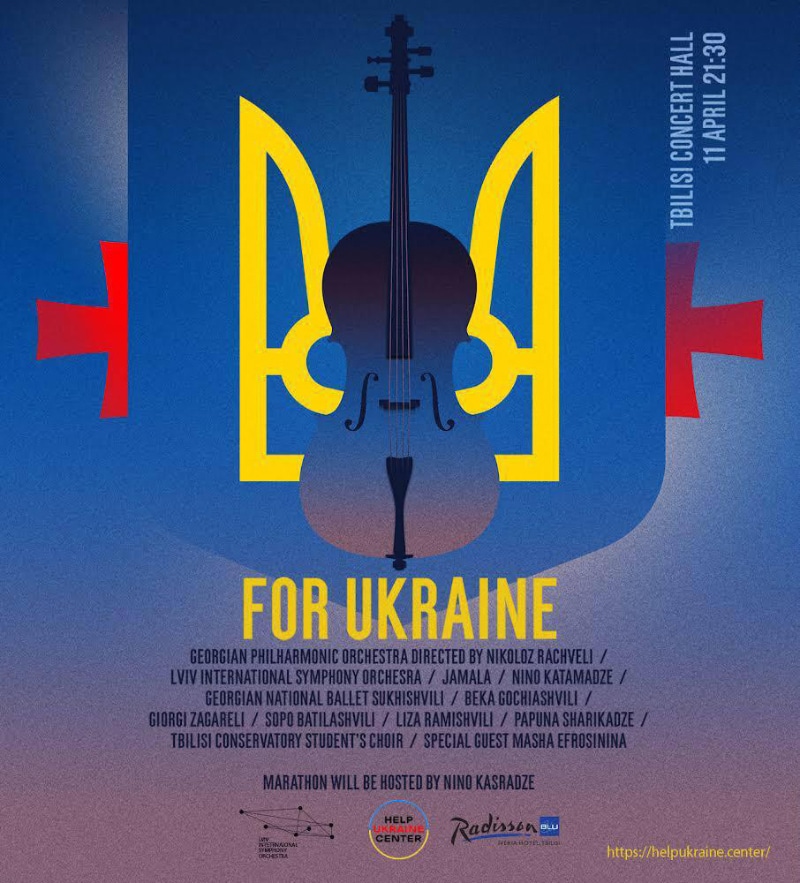 Starting from the 24th of February 2022, the Russian-Ukrainian war has joined all the civilized world in one common fight — the fight for freedom, democracy, independence, and peace. The people of Georgia, as a people who passed through the war with Russia in 2008 and lost hundreds of their people, share deeply the pain of all Ukrainians and support them in every possible way.
In order to support the Ukrainian people, an event will be hosted in Tbilisi by Nino Kasradze and Valeriya Guzema, and will count with artists that will speak in the universal language: music.
"Today the world is united for Ukraine. The fight against Russia's aggression and atrocities carried out in Ukraine is a fight for our future, the future of the free world. We Georgians are very conscious of what is a strike. 20% of Georgia is occupied by Russia. We stand with Ukraine and invite you to unite our efforts on April 11th at the «For Ukraine» charity marathon that will be held in Tbilisi Concert Hall."
The artists, who will take part in the concert are: Lviv International Symphony Orchestra (only women represent the orchestra, men are fighting the war), Jamala (Ukrainian Crimean Tatar performer who won Eurovision Song Contest for Ukraine in 2016), Georgian Philharmonic Orchestra directed by Nikoloz Rachveli, Georgian National Ballet Sukhishvili, Nino Katamadze, jazz pianists Beka Gochiashvili and Papuna Sharikadze, violinist Giorgi Zagareli, singer Sofo Batilashvili, violoncellist Lizi Ramishvili, Tbilisi Conservatoire Student's Choir. Special guest of the evening — Masha Efrosinina (Ukrainian television host and media personality, the United Nations Population Fund Goodwill Ambassador since 2018).
And rephrasing Ayn Rand, the world that Ukrainian people want for their children can be won, it exists, it is real, it is possible, it is theirs.
The fundraising during the charity will be accumulated at HELPUKRAINE.CENTER – a volunteer storage center, where humanitarian and medical aid can be sent from all over the world.