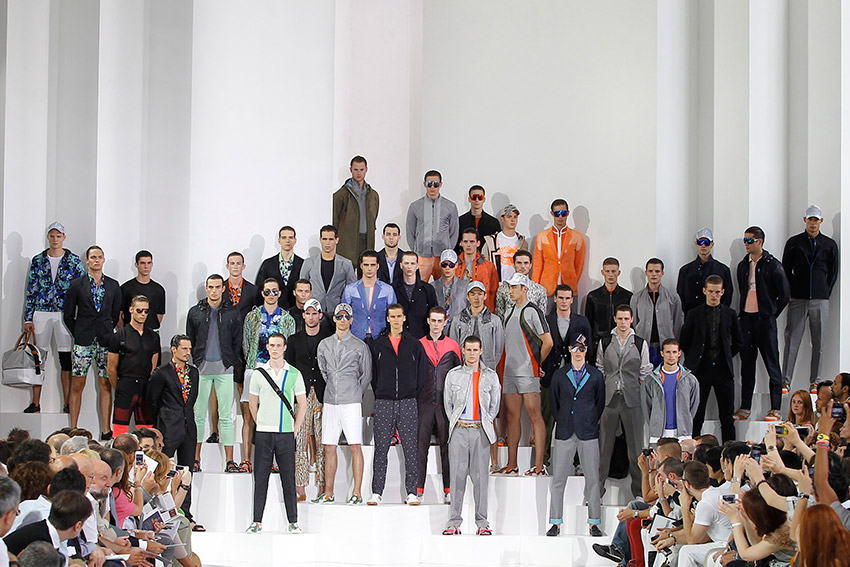 What have Back to the Future and Gustave Courbet's nineteenth-century-paintings in common? Simple…
The Bikkembergs' 2013 S/S Collection!
Hamish Morrow imagines his man this way… Pure aerodynamics and the warmth of the realistic paintings… Cold technology and hot, enchanting colors…. All these things are mixed, blended, assembled together! Between past and present, the young Marty McFly gets out of his legendary DeLorean and becomes the unwilling protagonist on the Milanese runaway…
He has turned himself… The easygoing American kid has given way to an elegantly sporty youth…
He does not flaunt his physicality but displays it through transparencies just thought to highlight both the sartorial structure of the clothes and his impeccable shape. He wears brushed aluminum with nylon jackets, and likes to wear garments in jersey, which are comfortable and sophisticated at the same time. Graphic designs and brightly coloured floral prints emphasize the concept of aesthetic realism…
On the one hand the focus is on ergonomic items, which draw the body's lines while exalting them; on the other hand wide
volumes are pursued. An entirely new focus that explores the oversize, another extreme fit. Oversize that along with transparency – metaphor for a research which not only looks at the sporty world but goes beyond the surface to explore its real essence – becomes the whole collection's leitmotiv.
In the evening, he is in black, always. In the daytime he gives vent to imagination… The bright orange alternates with the optical white, the sand with the mint-green… the mélange grey enhances the electric blue.
So, sharp colors even for the refined python patterns, and unexpected fluorescent touches on the footwear heels…. Audacious!
"Marty, you've gotta come back with me," said Dr. Emmett Brown. "But where?" asked Marty… "Back to the future!", what else? It's him… Just Bikkembergs' man!
See Bikkembergs Spring/Summer 2013 collection here!