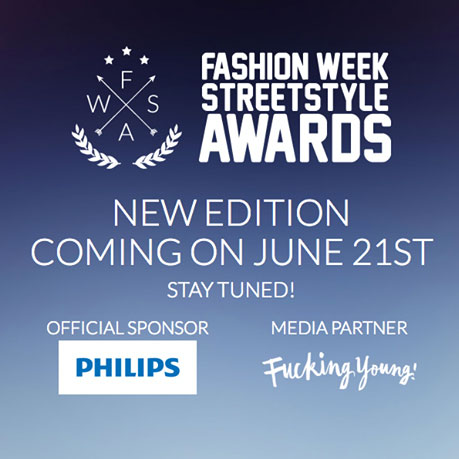 During the last Milan Fashion week nss, an innovative web social media factory, has launched its latest project: Fashion Week streetstyle awards, which are established in the web world right now. In fact the initiative, a sort of competition among the best street style taken during the London and above all Milan mens fashion week, has kidnapped literally the attention of experts, opinion leaders, bloggers and fashion victim who are challenged to like and tweet shots to take home the coveted prize. The result was a race full of drama and suspense, decided only by last click.
Once time Mens fashion week was archived nss team is proud to present the new edition dedicated to mens fashion week sponsored by Philips, a leader in improving the lives of the people, which will be associated with two exclusive prizes: the Face Style Award, the most interesting and original face, and the Beauty Prize, the female beauty in all its shades, sophisticated but at the same time simple and spontaneous. The two Philips awards will be associated to two products that will pay homage to the two winners: the SensoTouch 3D shaver styler, the most powerful and the cutting-edge Philips one, which is able to adapt gently to each face, and Visapure, a new system for face woman cleaning ten times more effective than the manual one.
All this will be always accompanied by the other awards that have characterized the last edition: the Best Male Prize, the Detail Prize, the Social Prize, which will reward the street style that reaches the largest number of approvals through the most popular social networks (twitter facebook and all), the Best streetstyle Photographer and for this new edition the Jury Prize will be awarded by FUCKING YOUNG editors!
Joining is really simple, we will select the best streetstyle and once uploaded to the website, everyone will be able to vote for their favorite one. In addition, the voters, once they accept it, during the log in to the contest, can be chosen to test five products by Philips, one more reason to take part in the initiative and choose the best one.
Strict selection and cool hunting ruthless, FWSA this time is so strict… originate, don't imitate!