London based artist Dom Sebastian collaborates with Bimba y Lola to create out of his own peculiar, wild and wonderful world a reinterpretation of the SS20 Collection #thisisHOT

Dom is a mix of a fashion designer and an artist and his work transverses a variety of practices, bringing them together in ways that are unique. He initially studied graphic design at Central Saint Martins before transferring to textile design and it is shown in his creations. We talk with him: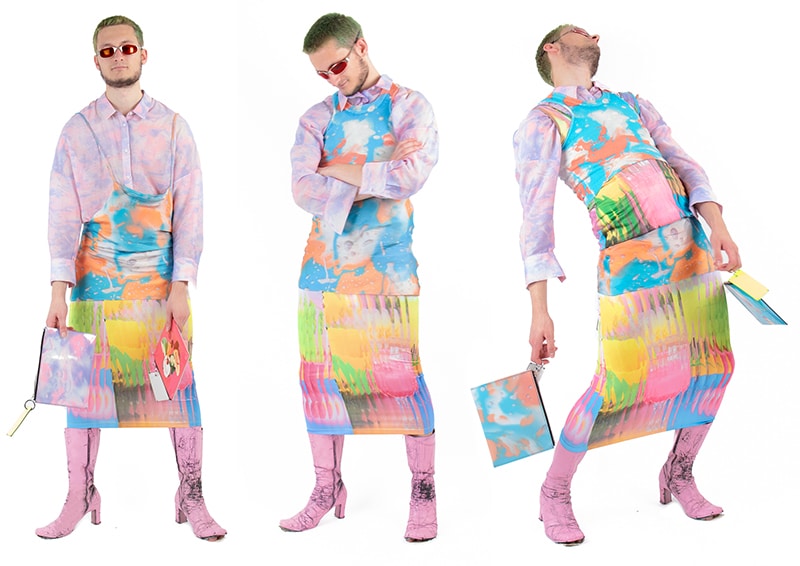 Photos by Dom Sebastian and Fraser Maximilian. Dom is wearing Dom Sebastian x Bimba Y Lola
Congratulations Dom, your 90's inspired universe is a vibrantly-fruitful blast. Are you proud of it?
Thanks! I like to think that I take inspiration from all eras, 60s onwards, even if it's not direct or obvious, there are subtle hints toward lots of different time periods… I see my work as a kind of controlled chaos; a fusion.
I'm happy with the world I've created. On the other hand… I'm never fully satisfied with anything… like nothing is ever enough, I hate that about myself. But I sometimes take a step back and think, ok, you know what, this is a body of work, this is good. And just look over everything as a whole and admire it. It's hard to describe everything in words as I'm fully visual, I really prefer to express myself through imagery above anything else.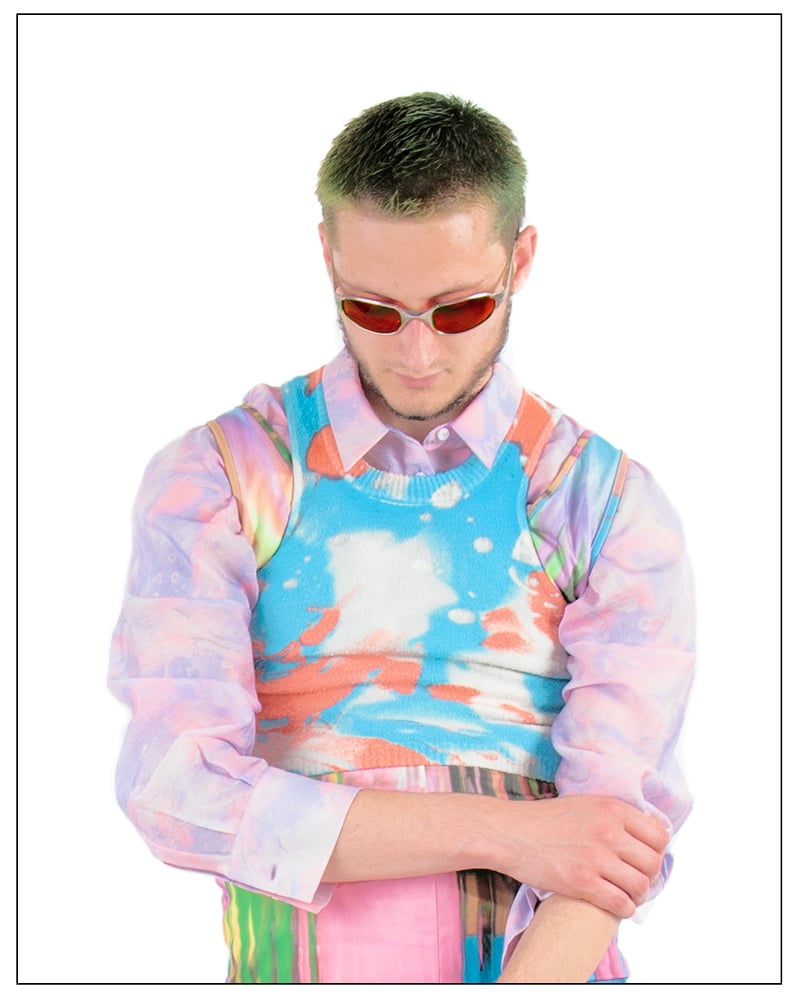 Where would you say your core influences derive from?
The subversion of everyday life is something I think about, as well as horror.  Polar opposites, Anything extreme…things that cross the line or go too far.
As much as I like beautiful things, I'm also captivated by the 'dark side of humanity'… I can't help but read about awful things. I think this comes through a bit in the work, there are the two sides, the 'pretty' imagery and then there's the darker and uglier flip side, but it's still presented through the same lens. It feels like there's more than meets the eye… something darker bubbling under the surface.
However overall, one of the driving forces behind me making all of this work is the desire to achieve a sense of peace… and I think it's reflected in the work. I want my work to be like a visual tranquilizer. If people find my work calming; or if it brings them some kind of peace, to hear that would make me very happy.
Horror cinema is one of my main inspirations… I love the New French Extremity movement and a lot of mid-2000s horror. There was a lot of excess to that era of horror – there was almost a camp-ness to it that I like.
Boards of Canada have really inspired me, their music is so beautiful,  and there's a real ominous tone to it that I like. I think when I'm making work, I'm trying to create images that have the feel of music to them; like, it invokes that sense. I can't disconnect imagery from sound.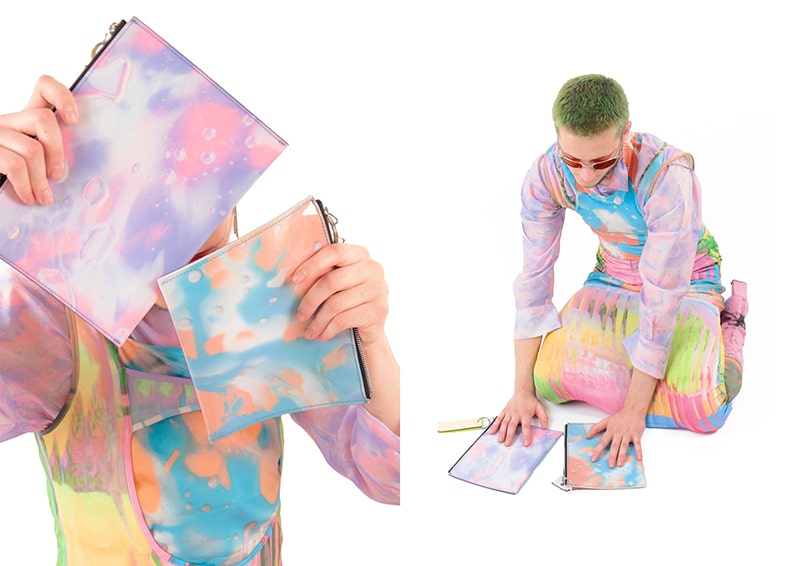 Your recent collaboration with Bimba Y Lola is dripping in patterns and playful notions of modern tailoring. How did that evolve?
When I was developing all of the prints, I wanted to try out some new ideas. It started with a more intense colour scheme, very flame-like, and then after the feedback I was asked to go in a more pastel direction, so I just went in headfirst and created a full-on pastel universe. I was trying to capture this sensual tactility in the prints – to capture and evoke this mixture of the senses; summer warmth, the sweet taste of juice, the coolness of ice, the feeling of water splashing the body… and have that come through in the imagery.
What would you say the hardest part of the process was?
But overall this process went really smoothly and naturally… as I mentioned the adjustment of the atmosphere was quite dramatic after the first proposal and tests, that was the main challenge. I had to look at it from a completely different angle. But I think working by instinct always brings out the best. In general, the hardest part is within myself, with what feels like a constant battle with overthinking. I'm a perfectionist, and I get this specific feeling when something is 'right'… it's like no other feeling and everything has to live up to that.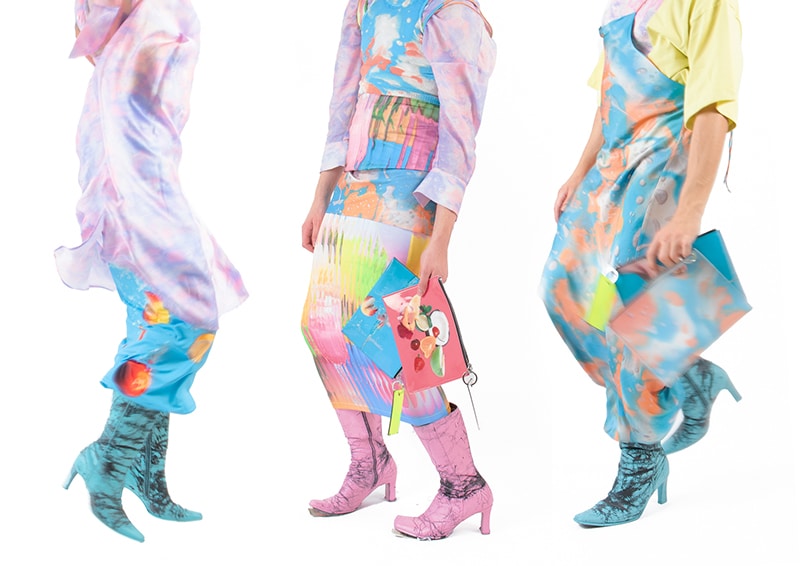 What message are you trying to convey through your latest collection?
Ambiguity, beauty, subversion, chaos, peace, tactility, sensuality, confusion, everyday extremes… I find it difficult to be explicit when talking about my work because sometimes trying to explain it can take away from the work. I want it to speak for itself.
Honestly, everything I do is intuitive… I just try to follow my instincts, and really I'm still trying to work out the meaning of everything. I know that I want to create a true mix of fashion and art without compromise. I want to bring textile and print design to the forefront of everything. So through the textiles, I'm trying to achieve a feeling of heightened senses, When you look at the prints, I want you to feel stimulated.
How has the modern crisis impacted your thought process and production?
Well, it put the development of my next collection on pause since March, since I couldn't have my colleagues come to the studio to work… I was originally planning on releasing it around October, however, we just realized that it comes out when it comes out…does it matter? The traditional 'seasons' don't seem to have much meaning anymore.  In terms of production, everything I make is a very limited edition, and I like that.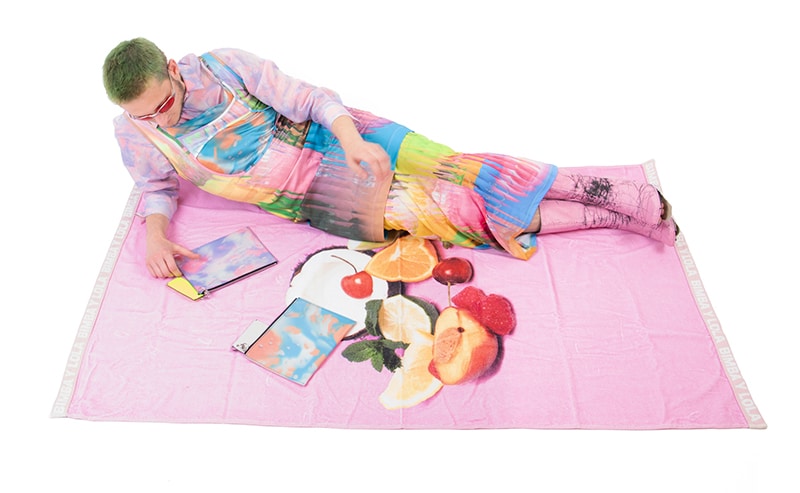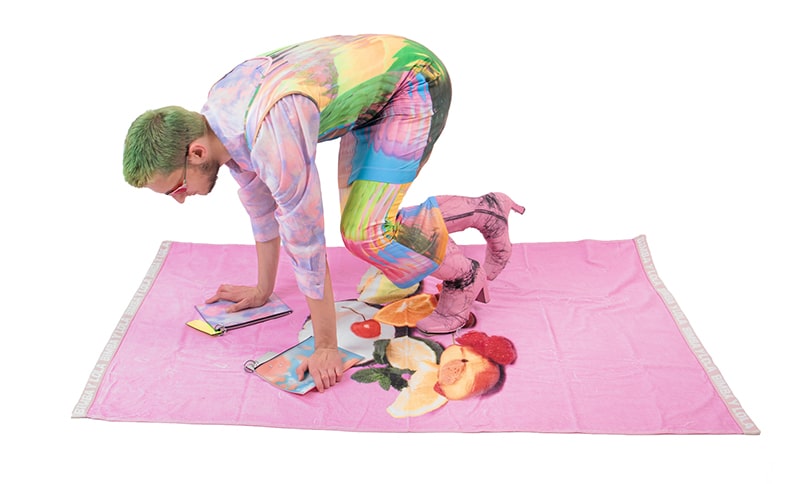 Has it been challenging to stay adamant to sustainability?
I have always thought the pace of the industry has not been sustainable. I haven't really been a part of the carousel of the fashion schedule, except for one show I did last year, and I'm not sure that it really works for me right now due to the speed. I'm currently working on a recycled/remixed line, where all of the pieces are made from unused samples, offcuts, etc.. this way we can reduce the need to make new things, whilst building on previous ideas and collections.
When you approach the making side, would you say your design vision weaponizes the gender lines between womanhood and manhood?
I think about the clothes that I make in a totally universal way and I actually think the vision more disregards it than weaponizes it. This is part of the vision for total ambiguity.
What's next in the pipeline?
The launch of my online store and the current collection (which was intended as SS20, however, I think I might just rename it to '2020'), an in-store installation at 50m in London, they kindly let me keep all of the large sculptures from my show there whilst I get my installation ready.  I want to get back into video and make some films. I want to get a bit more intense with some of the themes I'm exploring. And hopefully some more exciting collaborations.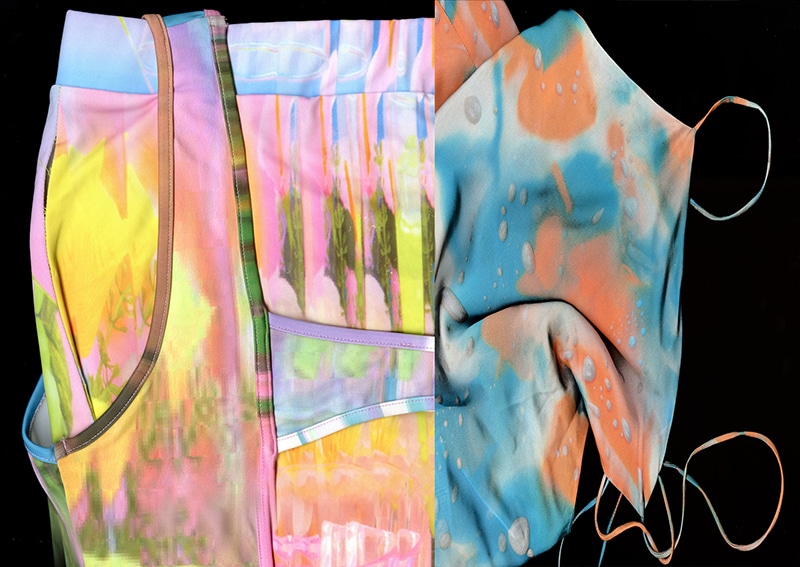 Photos by Dom Sebastian and Fraser Maximilian. Dom is wearing Dom Sebastian x Bimba Y Lola
Discover the collaboration BIMBA Y LOLA x DOM SEBASTIAN at www.bimbaylola.com