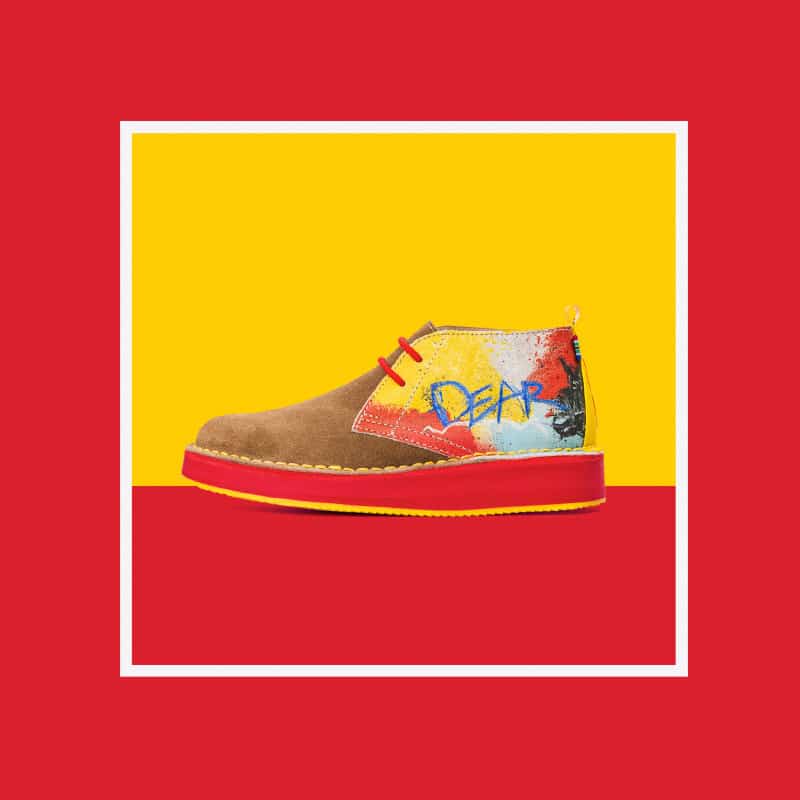 2022 looks set to be full of collaborations too. So far this year we have already seen how Adidas and Gucci have presented their project together during the last edition of the Milan Fashion Week (MFW) or how Supreme and Burberry have once again brought together the world of streetwear and luxury.
One of the most surprising partnerships we've seen in recent days has been between the world's leading express logistics provider DHL Express, and South African footwear company Veldskoen. The two have jointly created and designed a limited-edition shoe to showcase Africa's creative and commercial excellence. The artwork featured on the shoe was created by African artist, Reggie Khumalo.
The shoe was unveiled on 17 March at a gallery in London's Mayfair district at a beautiful event where guests were treated to an exclusive screening of a beautiful and moving short film of a young boy narrating a letter entitled "Dear Everyone". Once it was played, the party started with an amazing DJ set by the music and art collective "Last Night in Paris".
What can we tell you about the collab?
Well, this is a limited edition, as only 365 pairs of shoes will be produced, categorized as haute couture, handmade in a sustainable way and sold through a raffle system, which was launched during the presentation event. They are characterized by a modern take on an iconic South African shoe and a touch of color on the soles and laces.
As a curiosity, each pair of DHL x Veldskoen "Dear Everyone" shoes goes through a process in which 66 pairs of hands make the shoe in Durban (South Africa).
The cost of them is $300 USD or £230 GBP.