"It is good to love many things, for therein lies the true strength, and whosoever loves much performs much, and can accomplish much, and what is done in love is well done."

(Vincent Van Gogh, artist)
And Cosmo Jarvis loves art, in all its forms.
Armenian descendant, American born, English by adoption Cosmo is a musician, actor, and filmmaker.
It is in 2012 that he made his first appearance in cinema with THE NAUGHTY ROOM, a movie that Cosmo also wrote, directed and edited. Critically acclaimed, it was this film that caught the attention of the industry and Screen International. Most Promising Newcomer nominee at the BIFAs for his magnetic portrayal of Sebastian in LADY MACBETH, our Boy is today one of the most interesting names in the international cine-panorama.
In theatre, he gave a standout performance at the Almeida Theatre in the adaptation of the cult classic 1960's CBS Television Series THE TWILIGHT ZONE, directed by Richard Jones.
Recently, he took the lead CALM WITH HORSES with Barry Keoghan and Niamh Algar which received a fantastic response at Toronto Film Festival where it had its world premiere. Cosmo's performance has been critically acclaimed, again.
We met him some weeks ago to speak about his life, his career, his future and that's what he told us.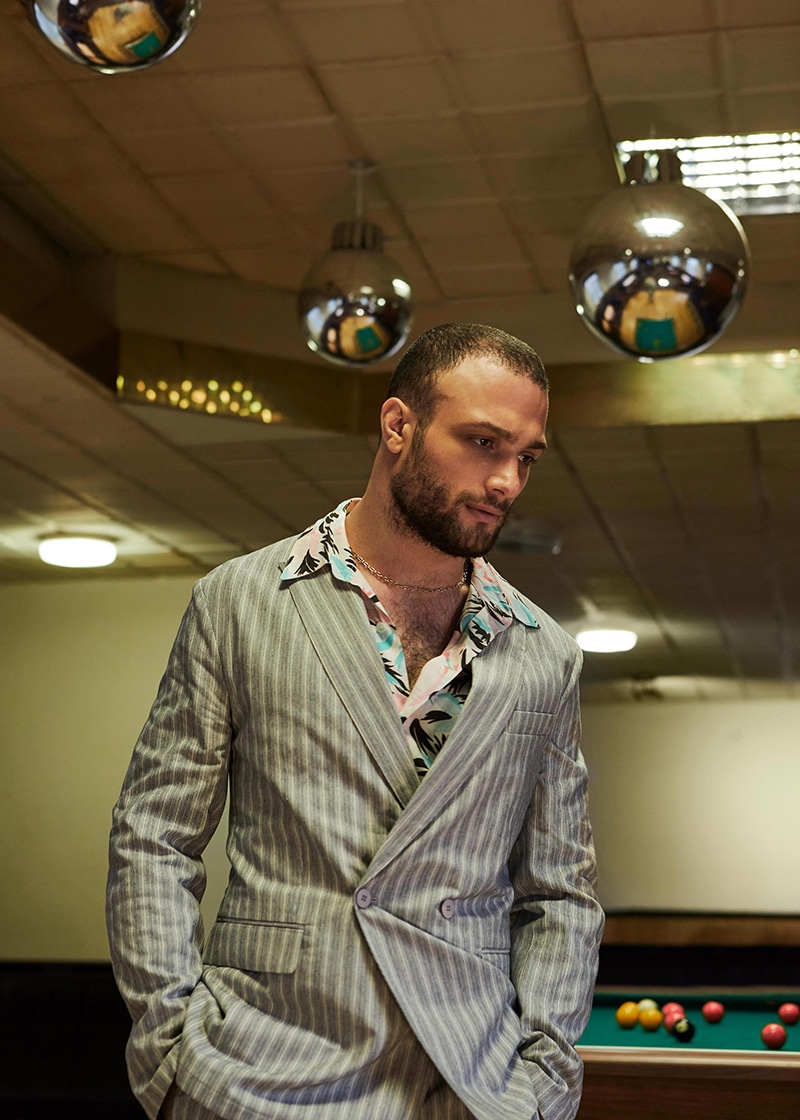 Hello Cosmo! Using three adjectives, tell us something about you?
Hard-boiled, over-easy, dishwasher-safe
How and when was the passion for singing and acting born?
I guess I was very young, much younger than I can remember ever being. Soon as I was out the womb I was smothered in music. I heard Camille Saint-Sean's Aquarium on TV once. It blew my mind. Also, got plenty of Ian Drury, Stranglers, Beatles, Stones, Grateful Dead, Tom Waits and Tone Loc from my parents and then I saw Amedeus and then the original Star Wars around age 4. I always knew I wasn't good for much else really. The idea of exploring methods, techniques, and avenues of creation was something I obsessed about from a young age. 
THE NAUGHTY ROOM is your first movie: you were producer, director, and protagonist. How was that experience?
Hellish. But it was great learning. Looking back it's mental we pulled it off. It was hugely stressful and everybody's health deteriorated severely during the production due to crazy hours, high hopes, no money and totally guérilla methods of capture. Dave Egan and Tom Hannaford my mates who were in the movie both tolerated my wrath and everybody's hard work amounted to BBC four showing it which we all thought was mental. Learned much since then but it was a start in the industry for me and my brother Fletch who was our production designer.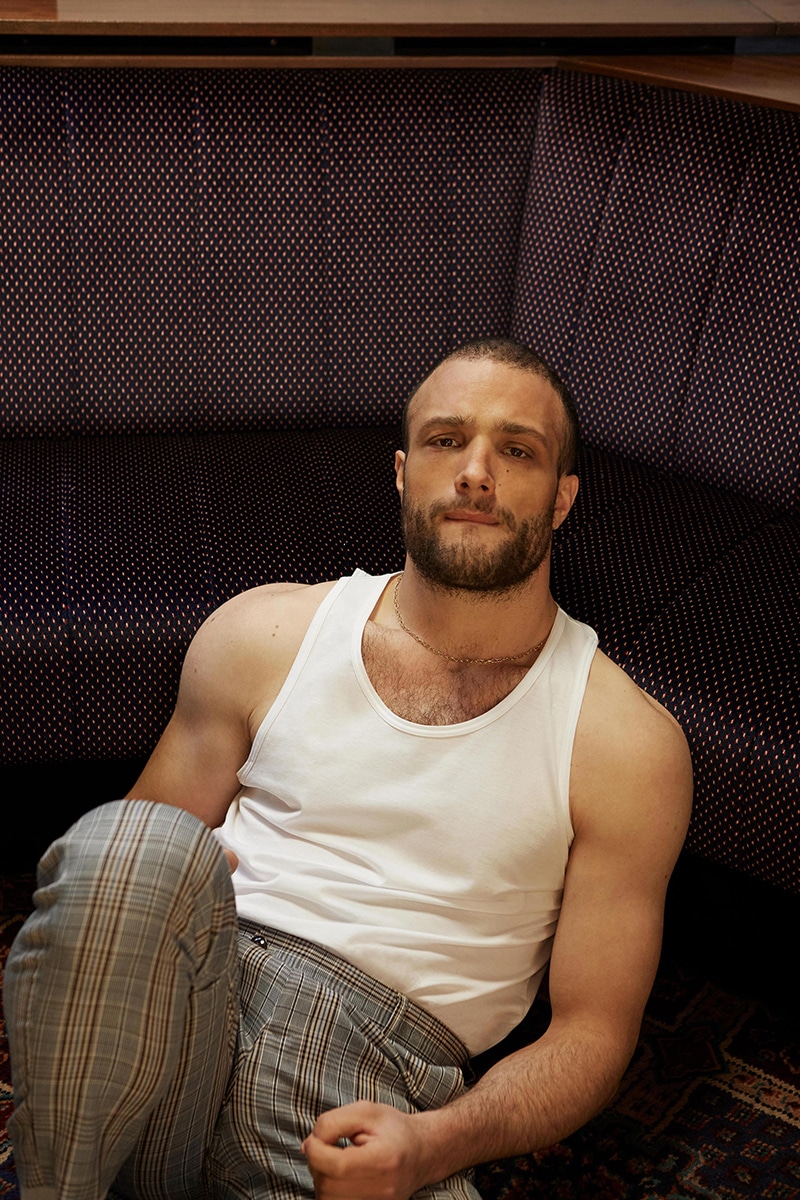 In 2016, you nominee at the BIFAs for the magnetic portrayal of Sebastian in LADY MACBETH. How did you react to the transversal critic (and public) consensus?
I mean I was just glad to be employed more than anything. It was amazing to be a part of and William, Alice and Ari's combined efforts. I learned a lot on that job and I was very proud seeing my colleagues Florence and Naomi go on to tear the industry a new one after all their hard work. It was a crazy time, I was pleased people found so much chewable, splittable and digestible meat on the Lady Macbeth bone. I was just very proud of the whole team, we really had an awesome crew there and I learned a great deal from them. I also went on to work with our gripRenni Borthwick later on another job which was cool. Yeah, it's just sick to be involved in something that seems to rouse the side of people that wants to look for the meaning in said thing.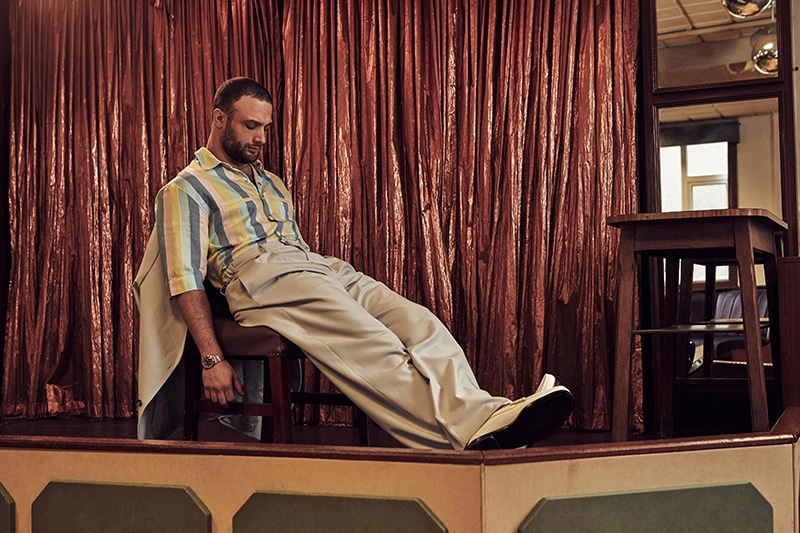 CALM WITH HORSES is your latest effort. You played alongside  Barry Keoghan and Niamh Algar and the movie received a fantastic response at Toronto Film Festival where it had its world premiere. Tell us something more about it and your character
It's a film about loyalty and family. I play Douglas Armstrong, a man who does violence on victims named by his superiors and adopted family, the Devers. Arm also loves his son, Jack, but being an objectively competent father to his apparently autistic does not come as easy to him as being an attack dog does. Arm is a man who sees now and not yesterday or tomorrow, he's not someone who thinks about the nature of existence. Throughout the narrative he falls faster and deeper into the murkiness of the Devers orders all the while trying and failing to also redeem himself as a decent human being, partner and father. Arm represents those of us struggling to understand the things in life which are truly worthy of our toil.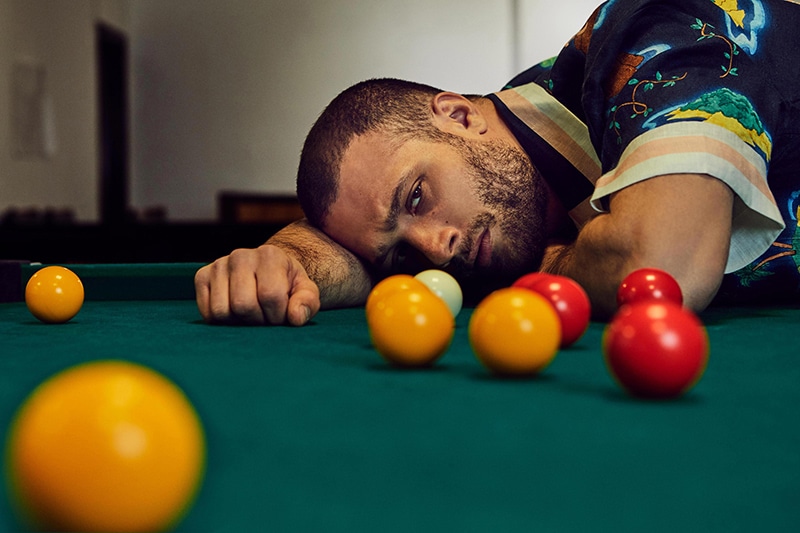 Why should we watch it?
Because its a story you'll relate to in quite a human capacity. Because it's a comedy and tragedy thrive equally. Because I reckon there's a chance it may take you home and far away simultaneously. 
TV and theatre another great passion. You played in several series including PEAKY BLINDERS. In theatre, you gave a standout performance at the Almeida Theatre in the adaptation of the cult classic 1960's CBS Television Series THE TWILIGHT ZONE, directed by Richard Jones. How do you separate the three 'souls' of acting: cinema, TV, and theatre?
I'm still learning about different applications for different arenas. Obviously, it depends on the schedule. Theatre though is more normal for me. Like 9-5 you know. Sometimes that's nice. In life. I dunno. I'm just kinda taking it slow and looking for interesting characters and assignments. Every job is different.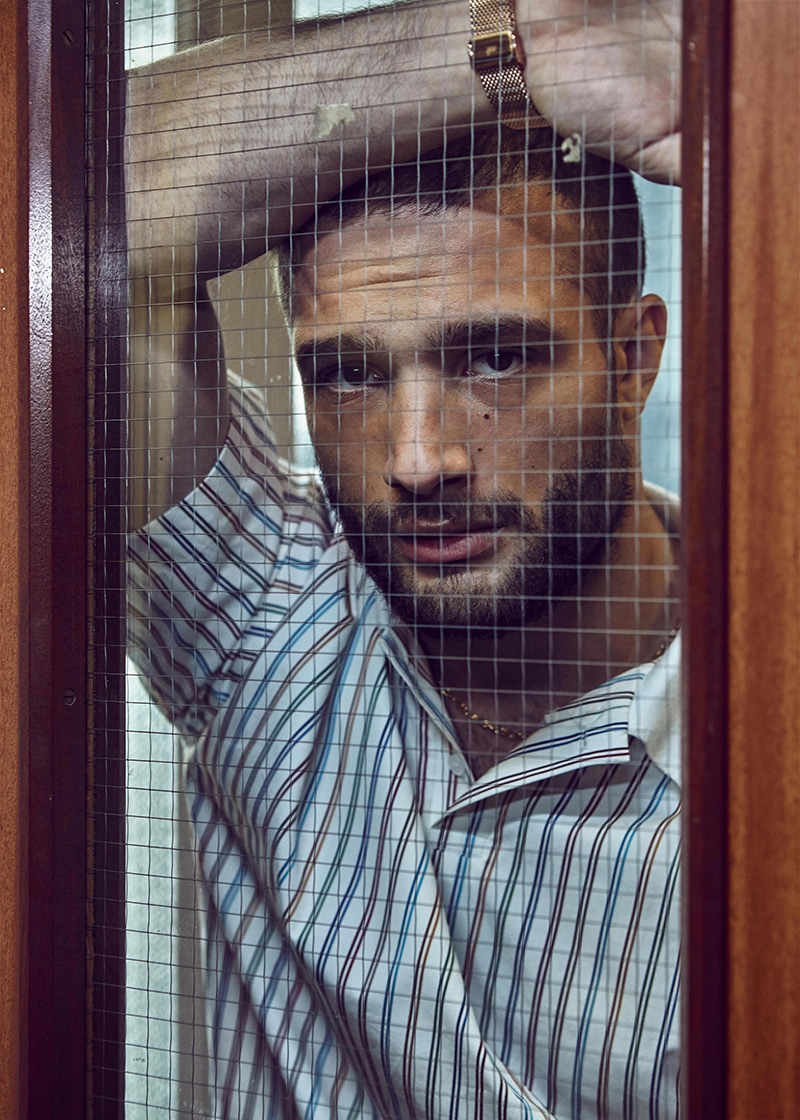 Favorite things you like doing in your spare time?
Playing the piano, playing devils advocate, skating mini ramps.
What are you listening to at the moment?
The Bronx, K Zakarian, Bruce Hornsby and Ricky Skaggs, Russian Red Army Choir, The Grateful Dead, Booker T and the Mg's, Aretha, Colorado Mass Choir, Thin Lizzy, Souls of Mischief, Elliot Goldenthal, Mad Dog Mcrea, Elliot Smith, The Chariot, Converge, James Horner, Stuff, Frank Zappa, Reuben, Allman Brothers, Daoiri Farrell, Chicago Transit Authority, Darren Hacquard,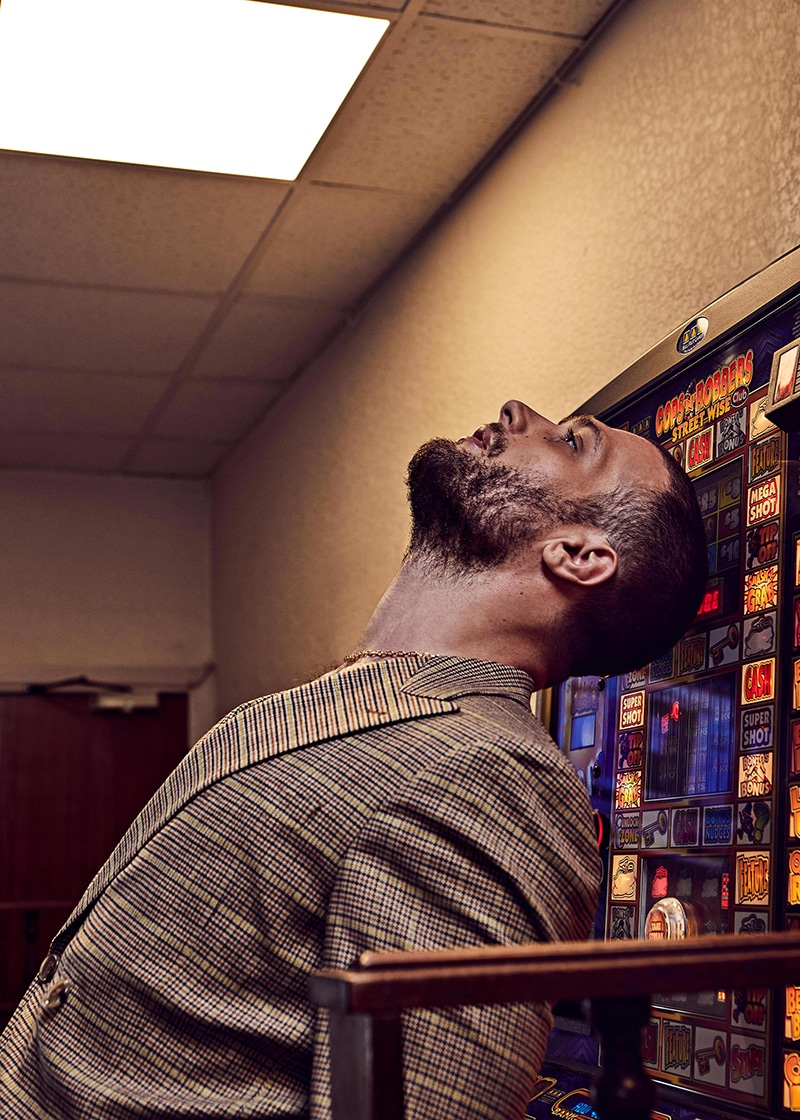 Future projects?
I'm attending job interviews regularly in the hope of securing further employment.
As always, our last question: what is really FUCKING YOUNG! today?
Humankind.
Photos: Robert Harper
Styling: Jessica Punter
Grooming: Tim Pateman at The Lion and The Fox, Clerkenwell, London
BRANDS: Barena, Larsson & Jennings, Jaeger, Sock Shop, Grenson, Nanushka at MATCHESFASHION.COM, Sunspel at MR PORTER, Jimmy Choo, Lou Dalton, Casablanca at MATCHESFASHION.COM, MR P at MR PORTER, Maison Kitsuné, Joseph, Scotch & Soda, Agnés. b.