Season after season we return to Copenhagen Fashion Week, with very good reason. While the menswear may be dwarfed by the opposite sex, it stands apart from Paris, Milan and New York with a Danish aesthetic gaining attention. It is masculine, utilitarian, whimsical yet commercially conscious.
Taking an encompassing look at the North at times can be paradoxical, style of thriving masculinity.
 The Danish man is built on practicality, clean cuts and simplicity; however that is starting to change. The fashion capitals of been characterized as "experimental", except for Fall Winter 2017 they have been taking a hints from their Northern friends and exploring outerwear for cityscapes. Luxury today has been under question, but Denmark has been leading the way with a respect for corporate responsibility in fashion that was mentioned during the opening lunch at the city hall, creating a powerful example in the market. Danish design is becoming a point of interest this season for menswear, not just an afterthought.
HÆRVÆRK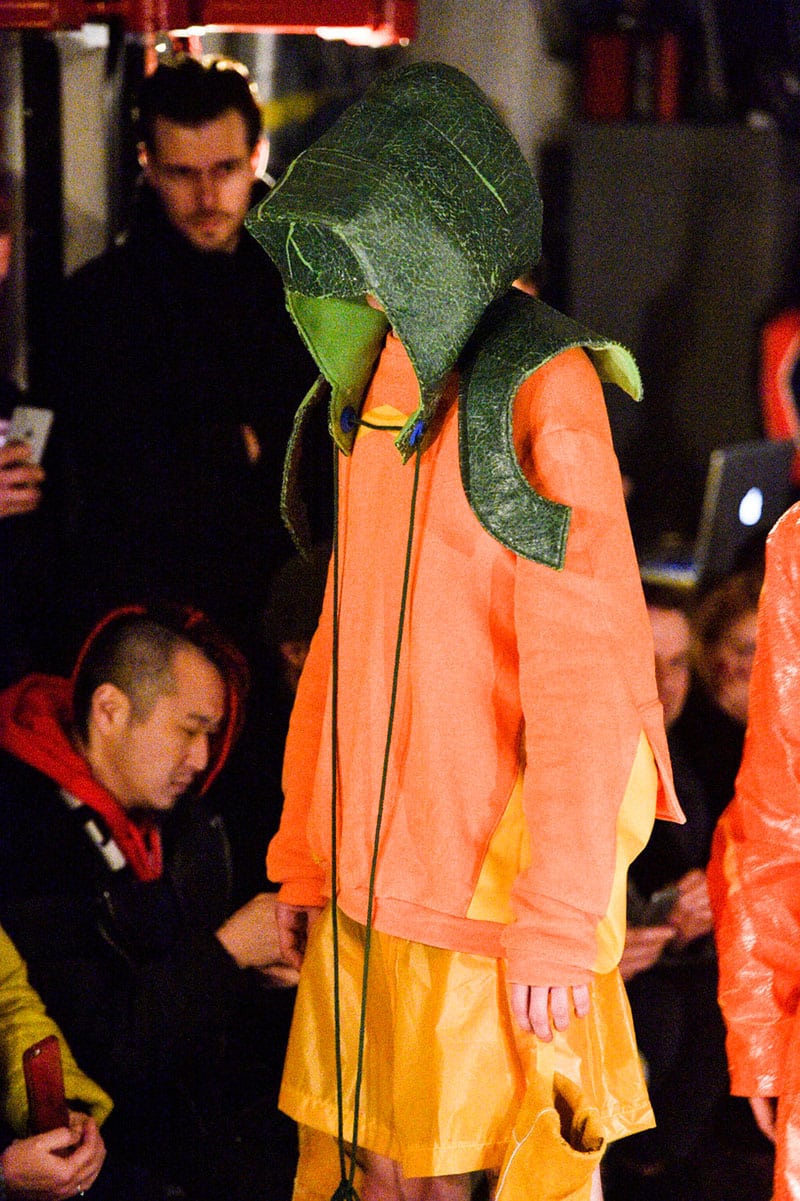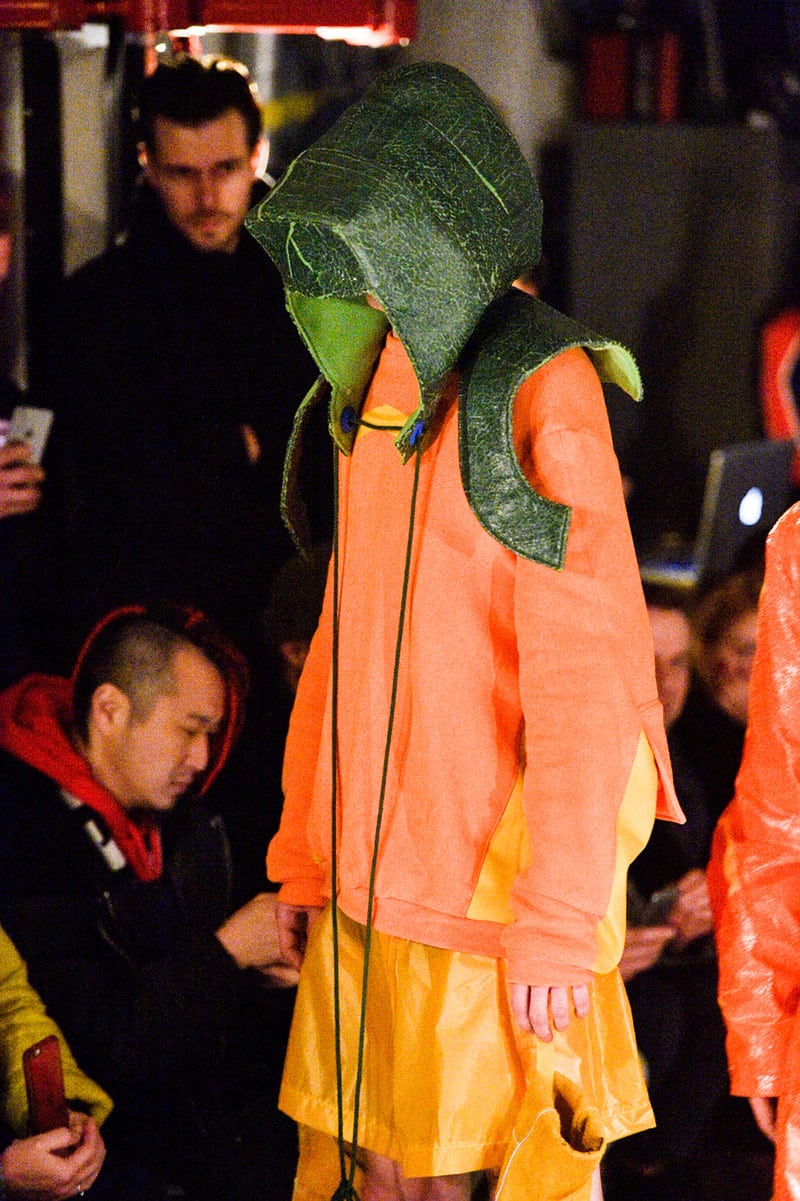 HÆRVÆRK undertakes the task of creating over-the-top statement pieces and making them ready to wear with the brand DNA found in the cult of the goofy and Naïve boys wandering the streets of the dewy and cold fairytale city of Copenhagen. Since launching the label in 2016, RCA graduate Niels Gundtoft Hansen brings a sporty silhouette with an undeniable playful dose. Streetwear for men has never looked so for fall.
HAN KJØBENHAVN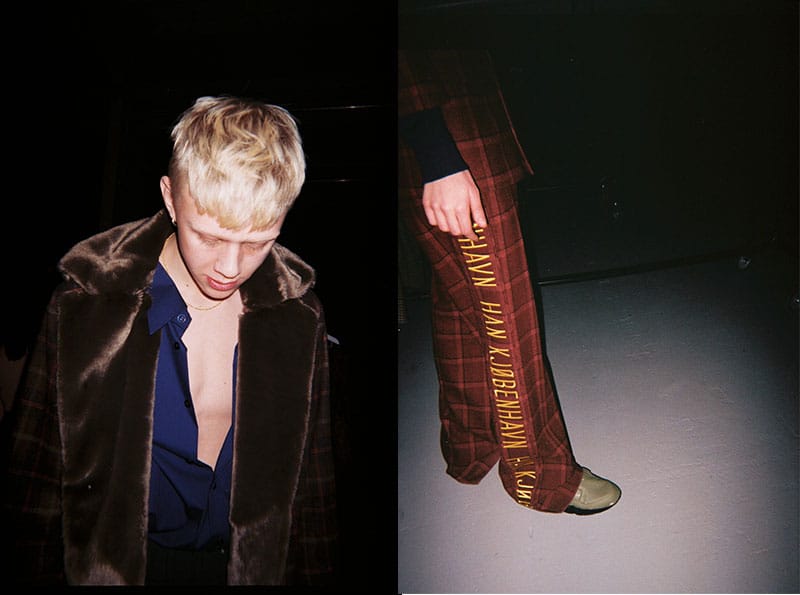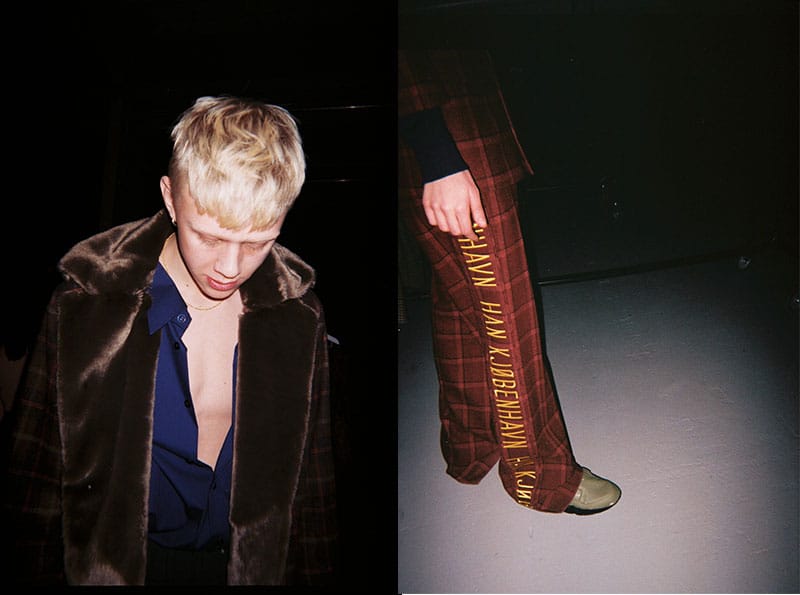 We walked into not a traditional runway, but a row gallows lined up with prisoners ready to be hung for the collection entitled 'Rats and dogs, killing men'. Canines continue to pop up on tapestry inspired prints. Beyond theatrics, details are found in closures, zips and buttons alongside a curated dissection of suits, jackets, pants and vests transformed to exist in the world of sportswear. By the way, the rats killed the men at the end.
Henrik Vibskov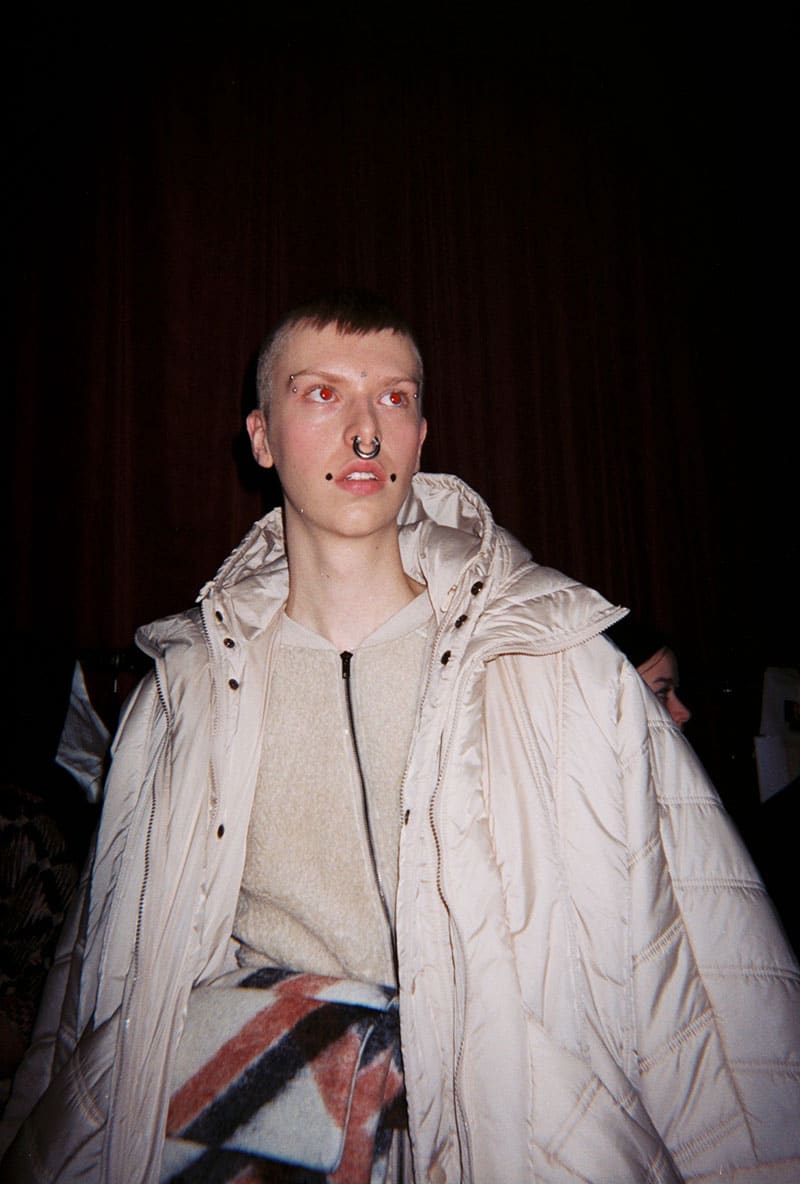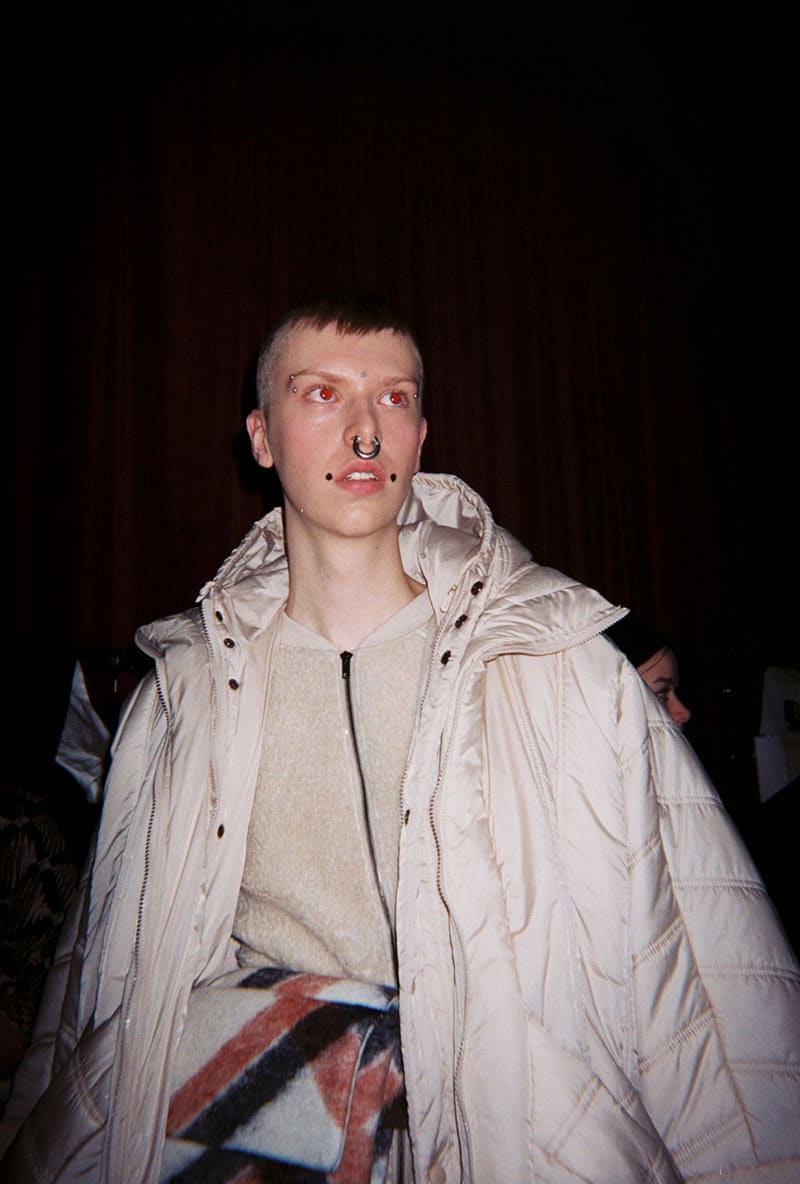 Henrik Vibskov continues to prove that the men's silhouette has been slowly evolving. Standing out was an oversized Kimono-inspired cut thermo-coats where the filling is made out of recycled plastic bottles. Outerwear played a strong role, reminding us that an active life with an abundance of physical activity can lead to harmony. Clothes are meant to be worn, not just adorned. Sports tracks with bending graphical lines, mind zones, striped sporting uniforms and games from our childhood have inspired the Vibskov design team for FW17 along with the editors.
Jean // Phillip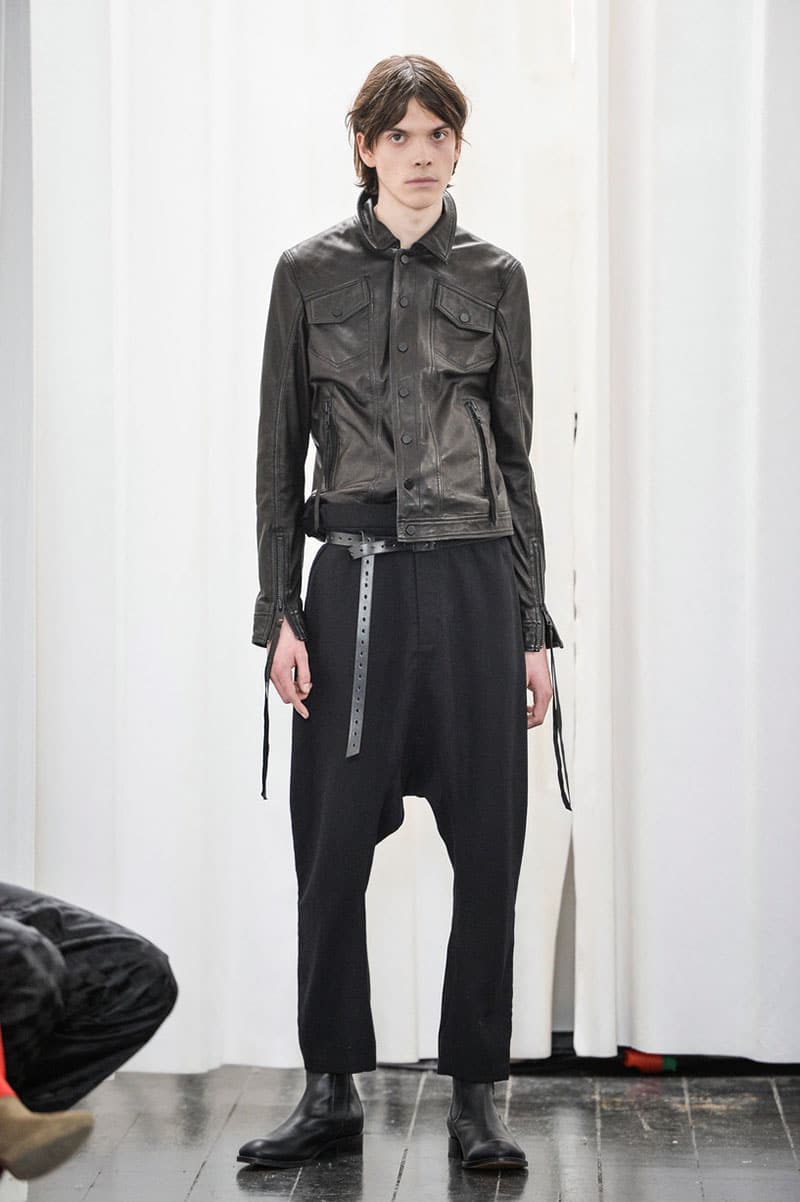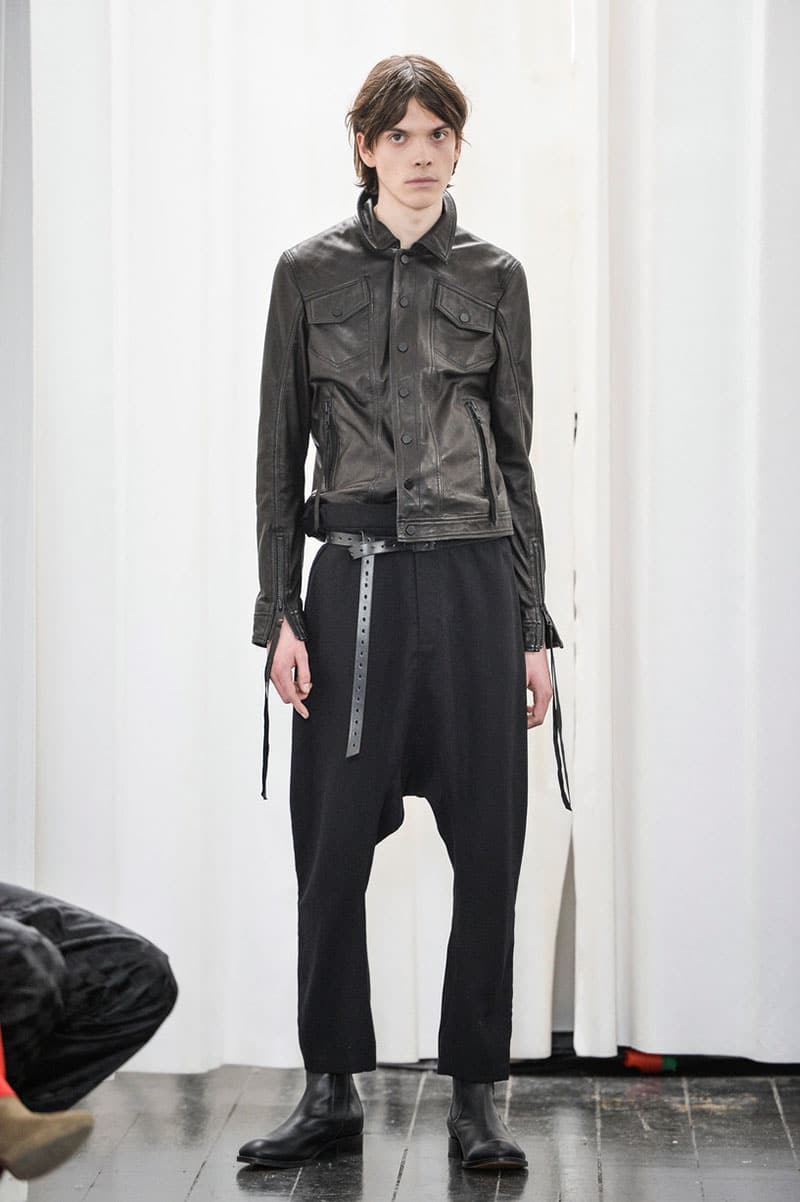 Jean // Phillip offered up a romantic, somber mood for menswear with a minimal yet daring palette of black, powdery pink and touches of slut red conjuring up imagery of a twenty-first century Baudelaire equipped with elongated cuffs and a cloak replaced with a hoodie. Models hair was tucked into turtlenecks, disheveled locks laid loose and romantic poet bobs were spotted. Leather gloves left room for a touch of kink. While a mix of conservative tailored pieces border lined subtle androgynous hints, the mood as full of strength, personality and attitude. This triggering the path for men who believe that shaping personality is through both an internal and external focus of for the fall. The key is effortlessness luxury.
Martin Asbjørn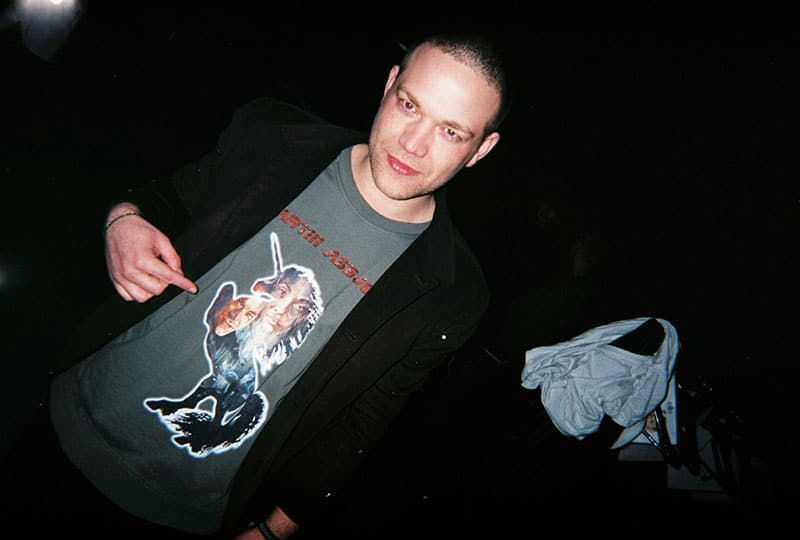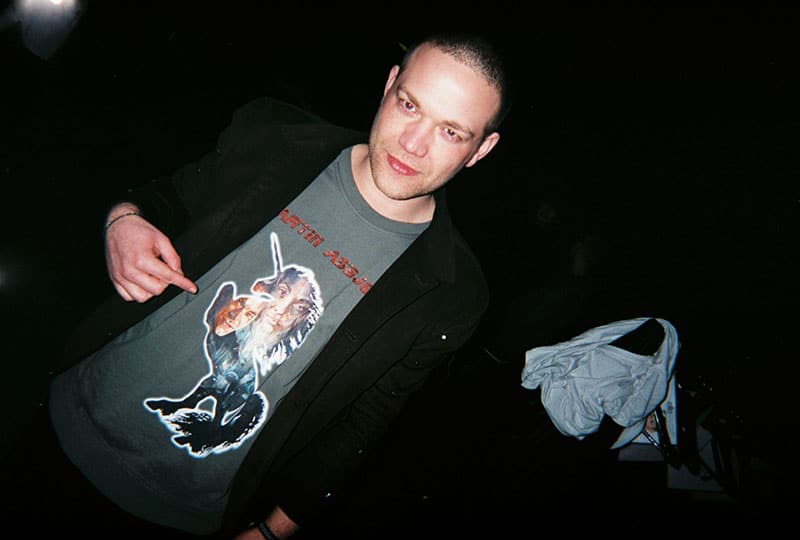 Martin Asbjørn made his Copenhagen Fashion Week runway debut full of artistry and passion behind his clothes making. Trucker hats, cowboy boots and bandanas tied around the neck hark back to the Wild West, completing a man's longing for composed sheltering while romantic undertones were laid out. The contrast of past and future was only heightened with Blade Runner references found in fonts and illustrations. For Fall Winter 2017, we are seeing that it is possible to bring classic tailoring into the working daily wardrobe.
Tonsure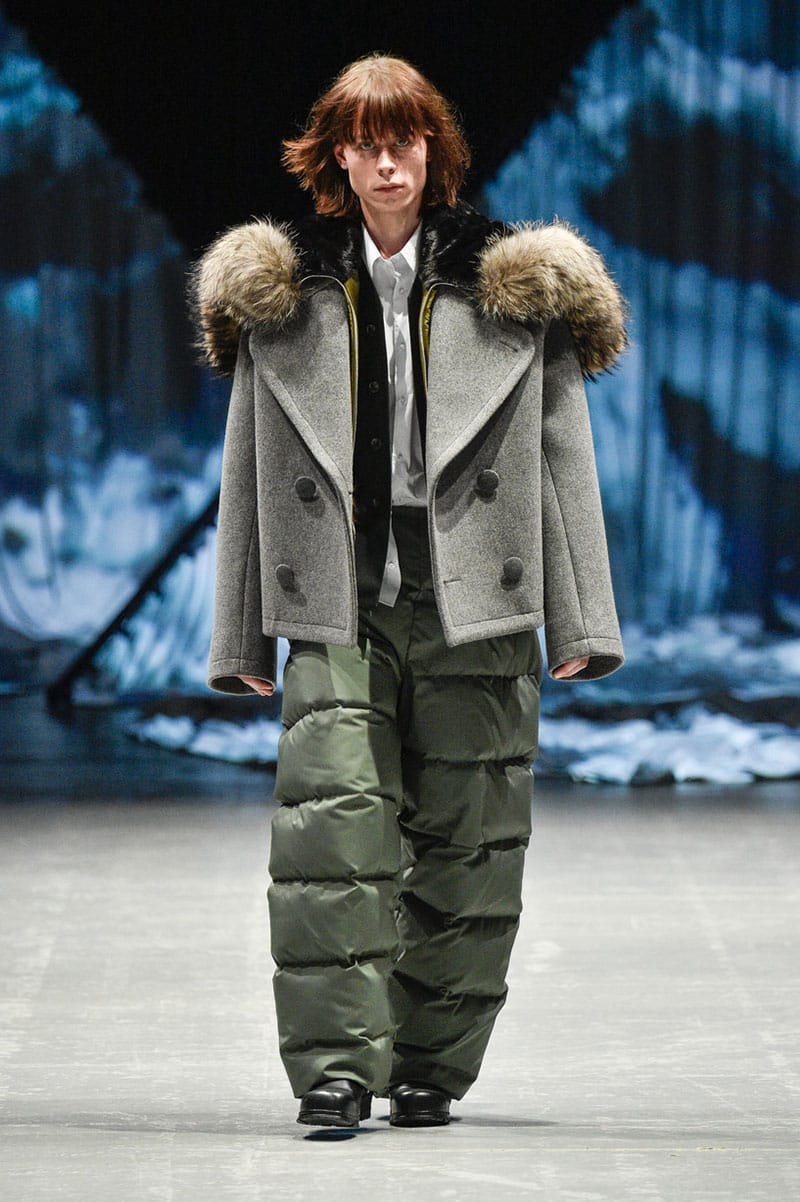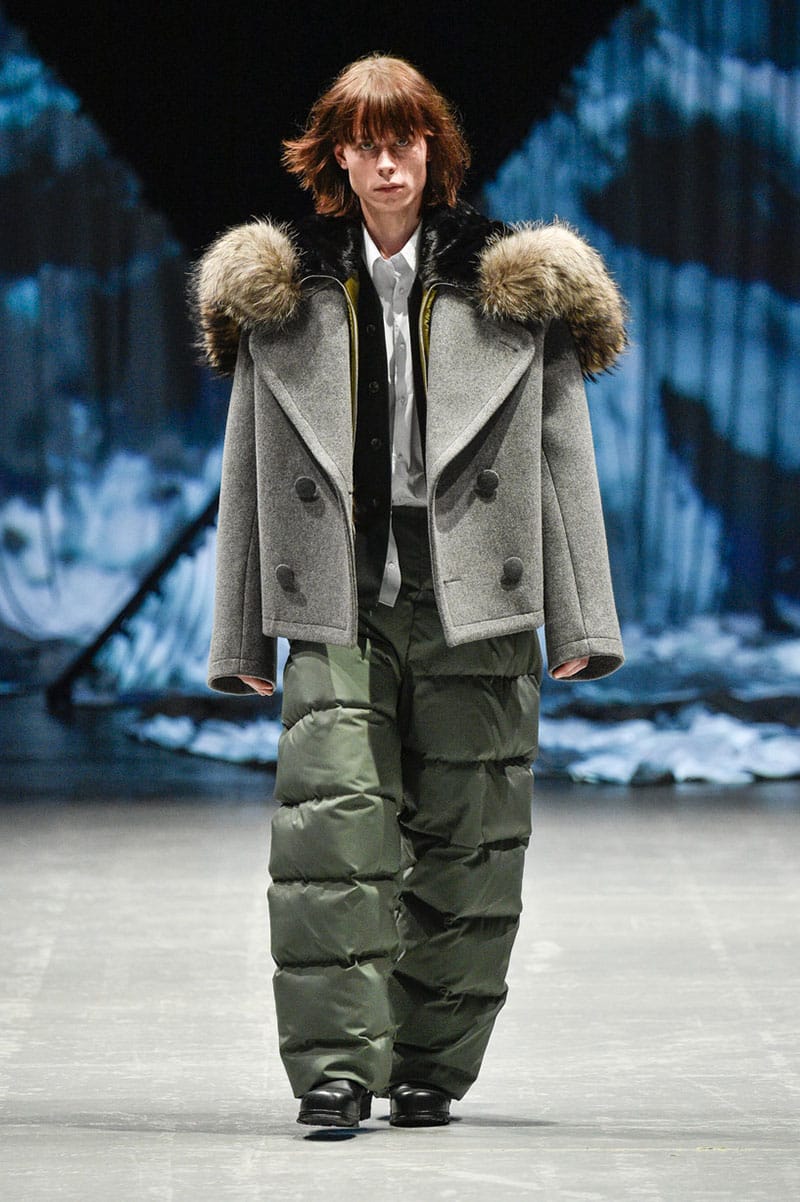 Tonsure, the brainchild of Malte Flagstad, a former Maison Martin Marginal designer and MA Central Saint Martins graduate, saw a search for fulfillment and satisfying pursuits in menswear through the exploration of conventionalism against artisanal fabrics. All eyes were on the highly anticipated collection by Tonsure, fresh from their Woolmark Prize Europa win in Paris. Menswear designer and judge Neil Barret explained "They have used wool in an intelligent and very real way that is desirable for a guy to wear today, bonding wool with neoprene for outerwear".
Won Hundred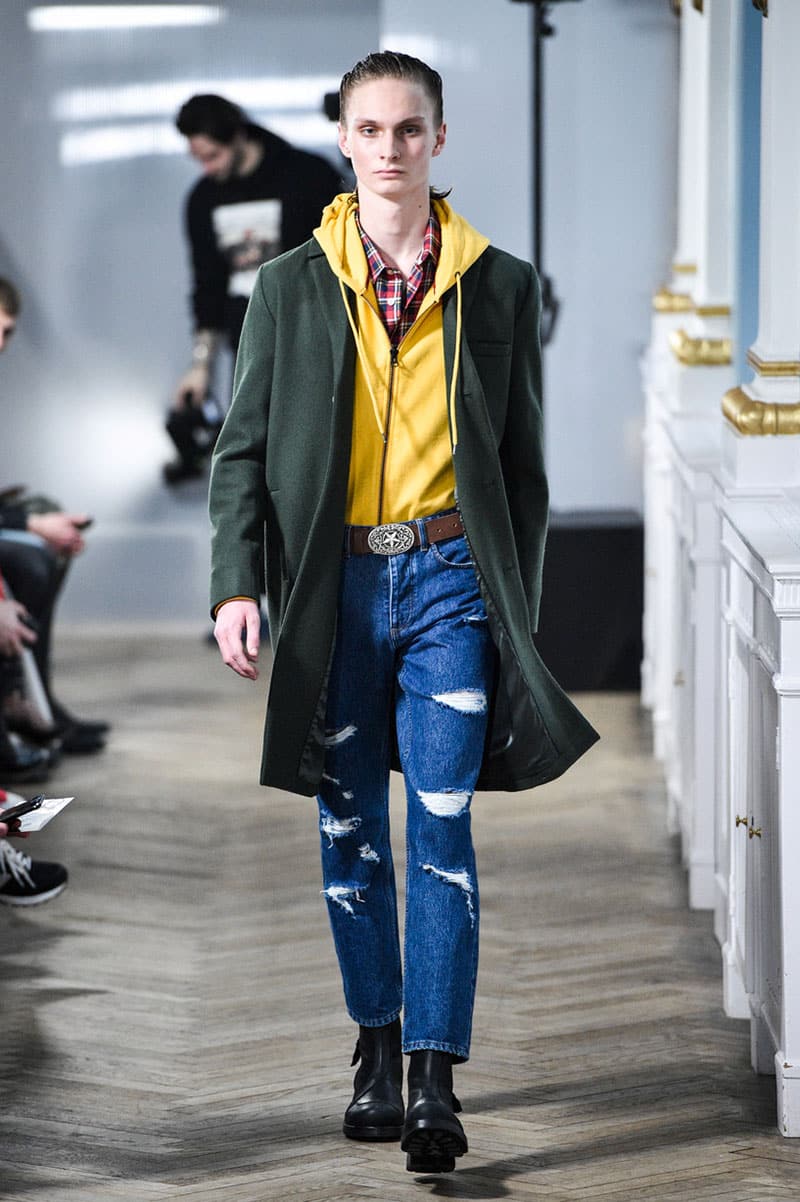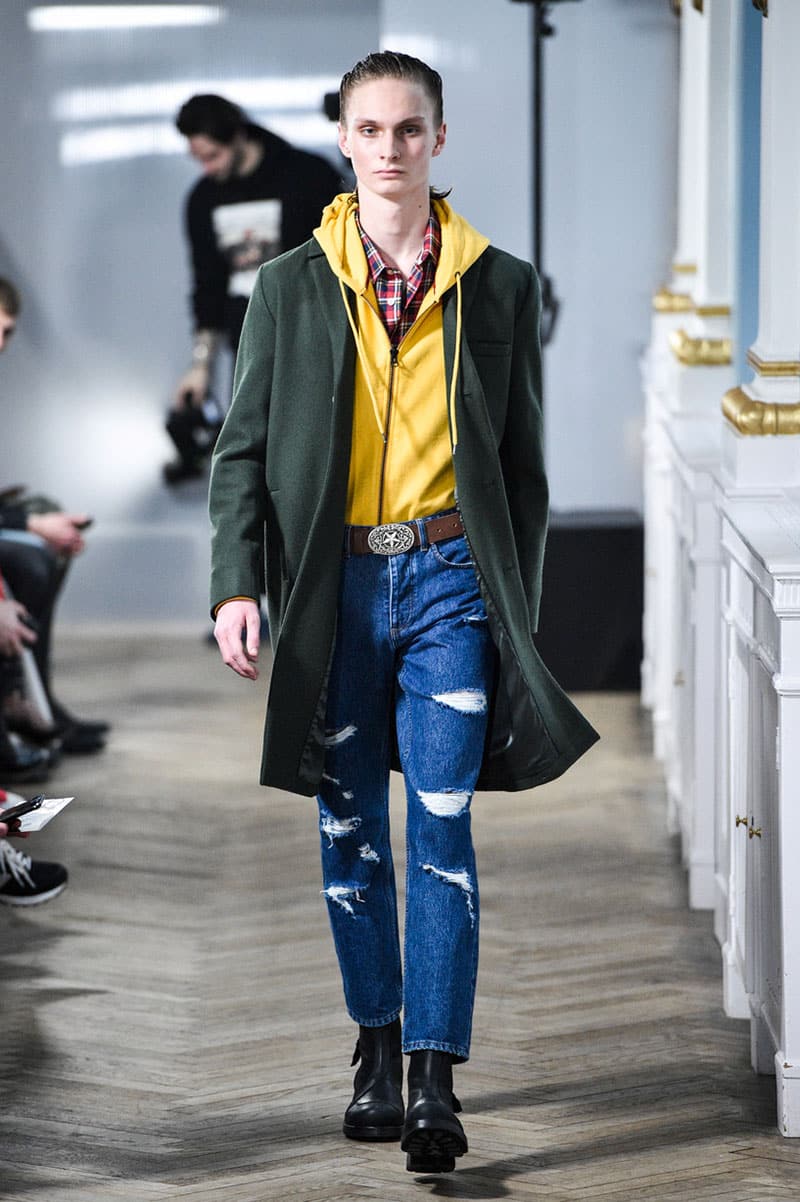 Urban denim brand Won Hundred opened Copenhagen Fashion Week with an undeniable Americana nostalgia of days gone by full of grease monkeys, checked flannels hid under hoodies tucked in with heavy belt buckles keeping everything in place, lamb's wool sheering lined faded denim jackets, combat boots, and transparent rain slickers reminded us that this fall we will see the return of Twin Peaks. This Americana is reminiscent of the Lynchian world we all love and sometimes fear, not too far away from today. The only thing that felt missed was some oversized wooly jumpers.
Photo Credits
HÆRVÆRK, Jean // Phillip, Tonsure and Won Hundred: Images courtesy of Copenhagen Fashion Week
HAN KJØBENHAVN, Henrik Vibskov and Martin Asbjørn: Images exclusively shot for Fucking Young! by Andrei Zozulya-Davidov @Pairsproject