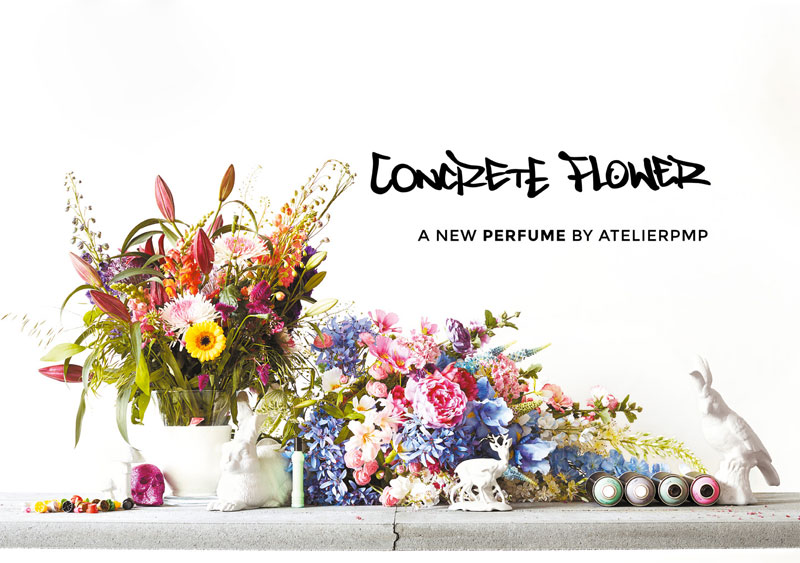 Colour blooming over the grey of urban sprawl – an homage to the art of graffiti. Once again, the house of AtelierPMP brings us a fragrance that is both modern and excitingly different. Following up on the success of their debut 'Dreckig bleiben' – elected by Gala as their 2013 "Perfume of the Year" – proprietors Stefanie Mayr and Daniel Plettenberg have once more carved out a new perfume concept which wanders consciously from the beaten track of the perfume world, concocting a fragrance as distinctive as it is ideological: Concrete Flower – an homage to the art of graffiti.
The name Concrete Flower seems at first contradictory – evoking as it does urbanity and nature in a single breath. Yet Concrete Flower is anything but a contradiction. It is, instead, a tribute to the movement that succeeds in making our cities truly more colourful and fascinating while lending a voice to society: graffiti. From thousand-year-old cave paintings and gossip on the walls of ancient Pompeii it has woven its way through the millennia – through 70s gang culture and on to today's stars like Banksy. As a political form it finds its intellectual foundations in street art; from guerrilla gardening to stencilling and urban knitting. An artistic expression which draws from a huge palette – from murals as tall as buildings to the cryptic scribblings of the street.
To create "a crackingly fresh alternative to dreariness" was the challenge we offered star perfumer Mark Buxton – a maestro usually found creating for such houses as Comme des Garcons Fragrances, Givenchy and Cartier. The result: a fragrance that comes on with the force of graffiti, that hints briefly at concrete and blasts of colour, but that primarily resonates with the beauty and power of nature – a scent for a liberated world.