The singer immerses us in the dark world of "Angelika", his new album.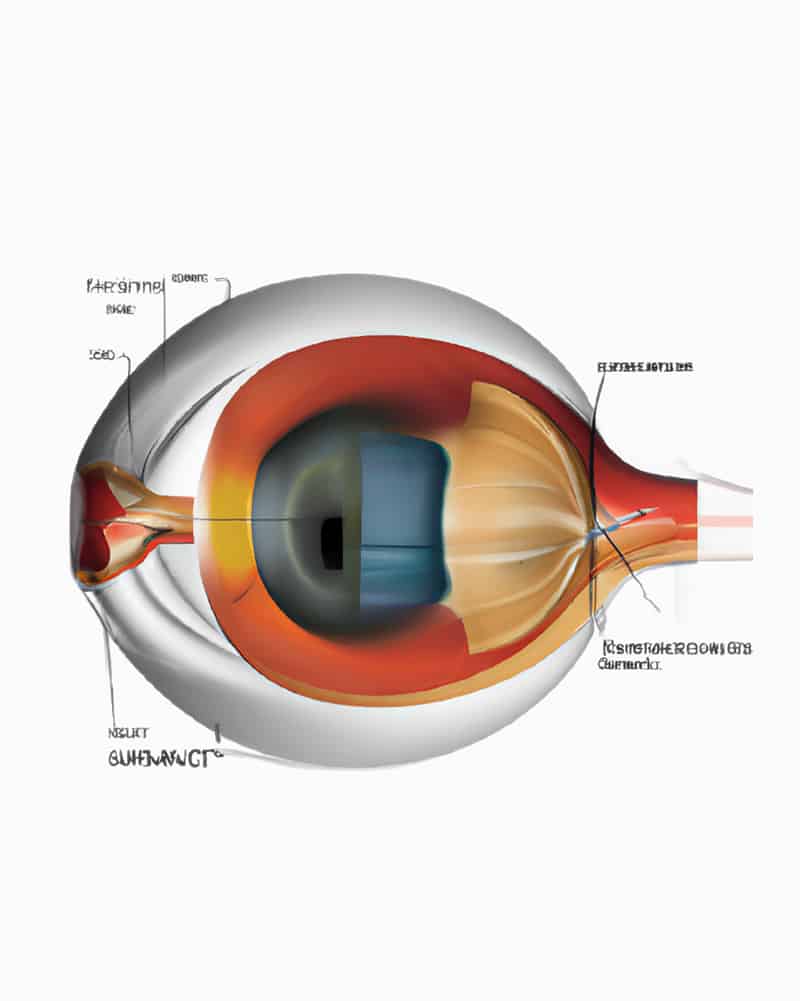 In a scene from the magnificent reboot of Hellraiser (David Bruckner, 2022) the unstable and fragile protagonist, Riley, manages to have something similar to a conversation with the leader of those creatures baptized by Clive Barker as "cenobites". During that interaction, The Priest orders the young woman to play with "The Lament Configuration", a mystical puzzle-box capable of opening doors to other dimensions with terrifying consequences. And that is precisely the feeling that the fans of the young singer Clutchill have had when listening to his new album "Angelika". Immersing yourself in the dark world created by the artist means navigating among deformed beings, dangerous technology and a deep darkness that manages to invade your body until you lose yourself in a black hole. Clutchill's music may be considered demonic to some or angelic to others but it's power is undeniable. Visually influenced by masters such as Ari Aster or Gaspard Noé, the singer has managed with this great work to create a unique and special universe similar to a journey to the heart of darkness. Are you ready?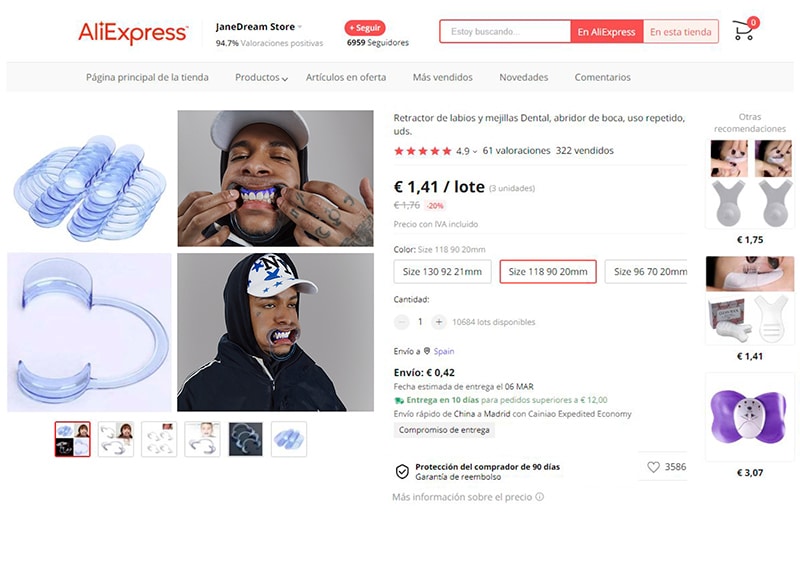 We are sitting here downtown and it is already nighttime, full dark no stars. How are you, Clutchill?
Great! I have recently returned to Madrid. I moved to London years ago with my ex, we broke up there and I was bored to death. Then I decided to go to Barcelona to live with Roju. Now in Madrid, I feel more comfortable, it is the city I know the most. I feel at home. I don't want to move in a while because now I'm finally good, except for the cold. In Madrid, it has been terrifyingly cold.
You left the music label  "La Vendición", right?
Yes, a long time ago. Now I am with "Altafonte" whose people treat me very well. I needed to shape my project.
Do you still define it as "musical avant-garde?
Definitely no! Now that sounds very pretentious to me. The music that I currently make is for people to have fun. Before I felt very insecure when it came to creating, I was looking to do something definitive, but not anymore. Now I'm looking to do something that entertains me.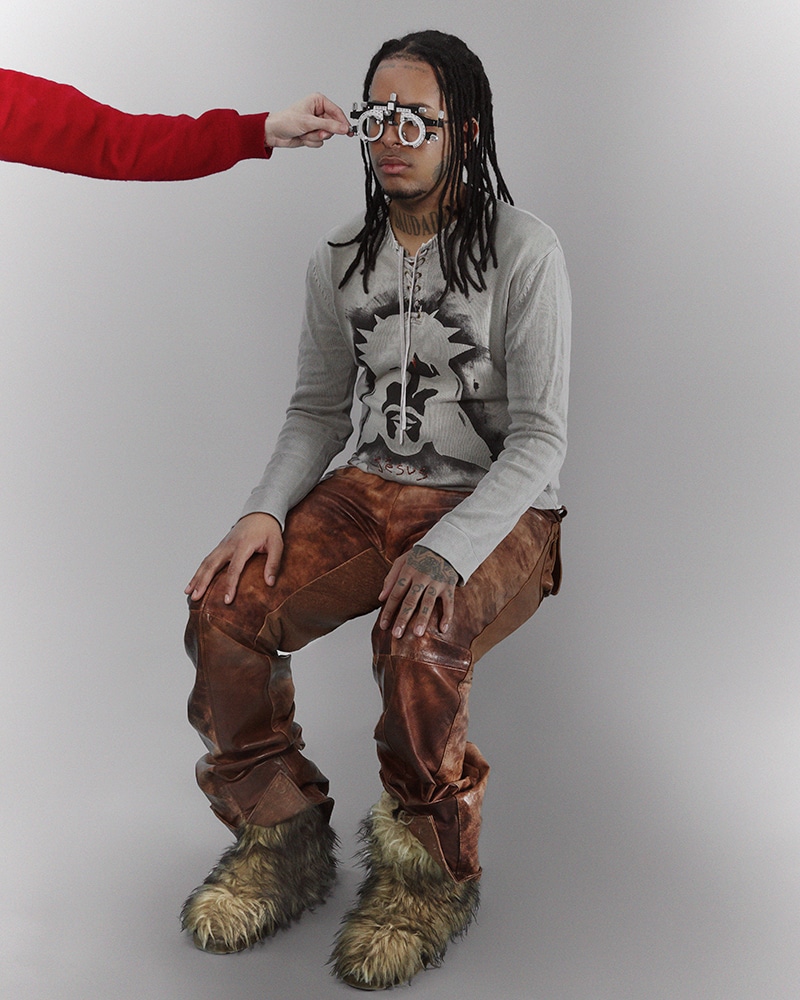 Pants Javier Guijarro
But where does that darkness that flows from your songs fit in this new Clutchill?
Darkness is fun for me. When I go to a party I like to listen to very dark techno. I no longer worry about doing something that marks me a lot and taking pressure off makes things work out better for me. Pushing yourself sucks and that's why I try not to let it eat me. You have to let the darkness and life flow by themselves.
You once told me that you forgot the lyrics of your songs during concerts…
That still happens to me. When I release a song and I don't listen to it anymore. The creative process of each song is very long and, therefore, once I release them, I prefer to concentrate on what I am going to work on next.
But what about concerts? what do you do when you forget the lyrics to your songs?
Not long ago I did a show in Madrid and I didn't sing anything because I didn't know anything. The executives of "Altafonte" attended that concert and I thought they were going to find out and they were not going to like it at all. But they sent me a text after the event saying that they loved it, that they thought it was very modern, very American. When I forget the lyrics I try to compensate it with acting and this is also part of my shows, a fun part that makes them worth it.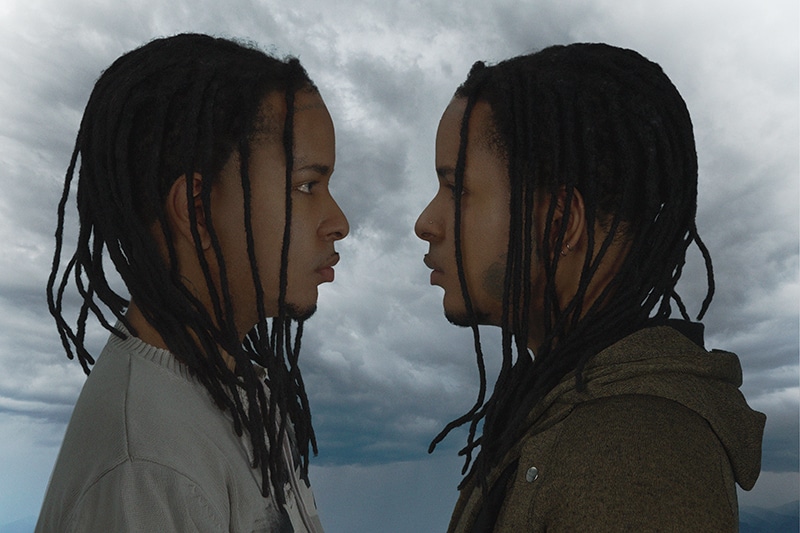 Sweatshirt 64stud
Angelika's previous album was Children of God, in collaboration with Rojuu. How have you changed from then to now?
In 2019 I made much more different music and I have been evolving, and growing since then. At that time I was nineteen years old and now I'm twenty-five. I had been making music for a very short time, realizing only three songs. Now I know what I want to do. With the "Angelika" album I tried to focus much more on the form than on the substance, which worries me much more. The visual is the most solid part and the one I give the most importance to. I know that it is usually the opposite for many artists, but I just love the visual part of doing music.
Do you share my perception that your musical universe is dark?
Yes, I think so. I like my music to look creepy. For me, the important thing is not that a piece of music can be classified within one genre or another, what matters to me is that it has consistency, since that can help me later to play with it on social media and at concerts. I am very happy to be able to focus on that visual part.
When did you feel that your music changed?
When I moved to London I wanted to study something related to music and with my producer, I started working on an EP called "degenerate3" which we put together in just three weeks. I had such a good time and I really liked the creative process and also the reception from the public. I learned how I had to do things, and how to treat the visuals and sounds. I want to work on what I like calmly, and even if I feel pressure, I don't want to feel it on the creative part. now I also listen more to the people around me and to the team I work with now, we talk and work together.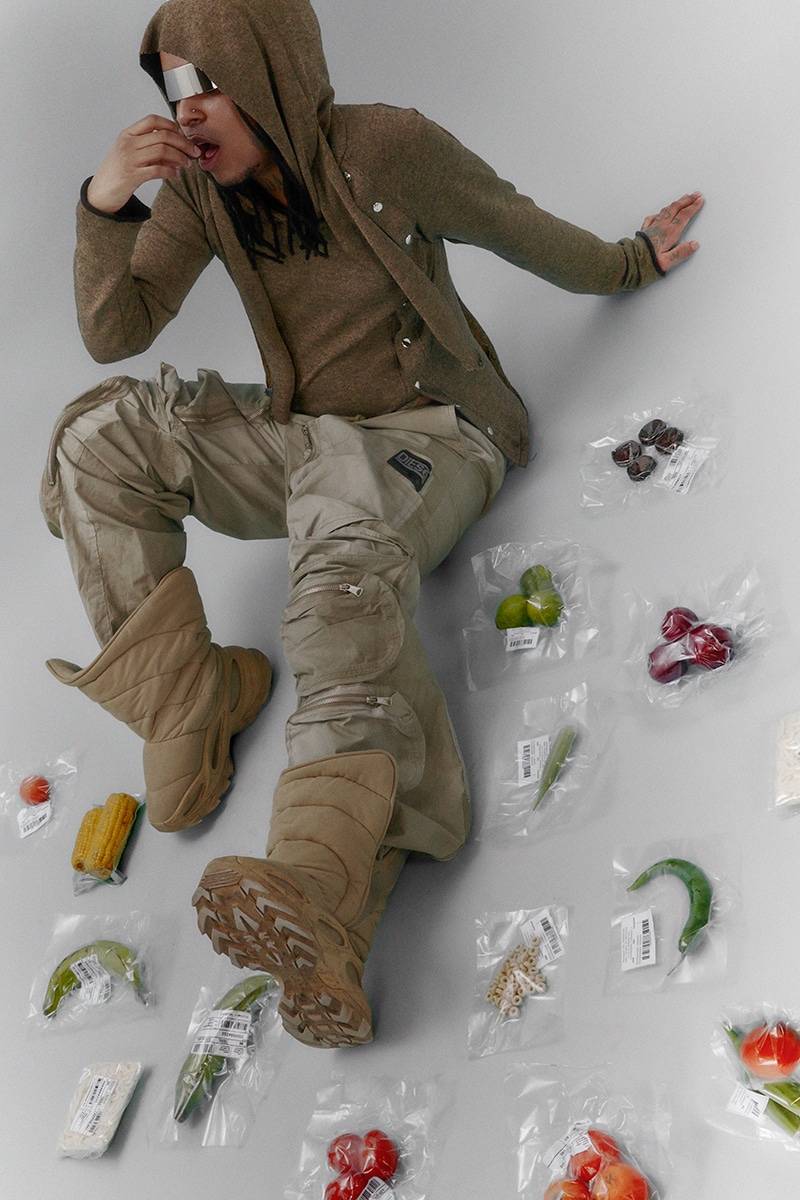 Sweatshirt 64stud and pants DIESEL
What inspirations are hidden behind Angelika?
 "Whole Lotta Red" by Playboi Carti is an obvious inspiration. Kayne West's Yeezus has influenced me a lot visually for a long time. The aesthetics of that album is the best of the best. There are also many film directors who inspire me like Gaspard Noé or Ari Aster. Aster manages to convey a lot to me with his films and Noé is super sinister and has a very marked aesthetic. Many times I am more fascinated by the aesthetics of an artist than by his music. I look at his lyrics, of course, but it's not something that I incorporate into my project.
Where is Angelika born from?
I was determined to carry out a consistent project by myself. Until now, I had only worked on one album in collaboration with Rojuu and one E.P. This time I wanted to transmit a consistent line of sound and visuals and that's why I thought that releasing several songs and several videos was the most appropriate way to do it. I needed it because of my fixation on focusing on the packaging that surrounds a musical project, I felt that what was right to do was something bigger. This is how Angelica was born.
Who is Angelica?
I am very concerned about the names of things, it is something that I pay attention to a lot. I talked about it with my friends and the word "angelic" came up, from which we ended up removing the "l". Once the name came up, I began to imagine the character and her circumstances. But in this adventure Angelika is not alone, there are other characters that emerge in each song since my intention was to create my own lore.
What is Angelika's story about?
 It revolves around A.I.. About how this technology opens a world of possibilities while dehumanizing so many other things. We wanted to tell the tragedy of a person who is disfigured when coming into contact with technology at alarming levels. The "Kanino" video is a good example of that duality that we wanted to show between a normal human and a human corrupted by technology. Angelika gradually deforms for all these reasons, she loses herself until she becomes a conscious entity.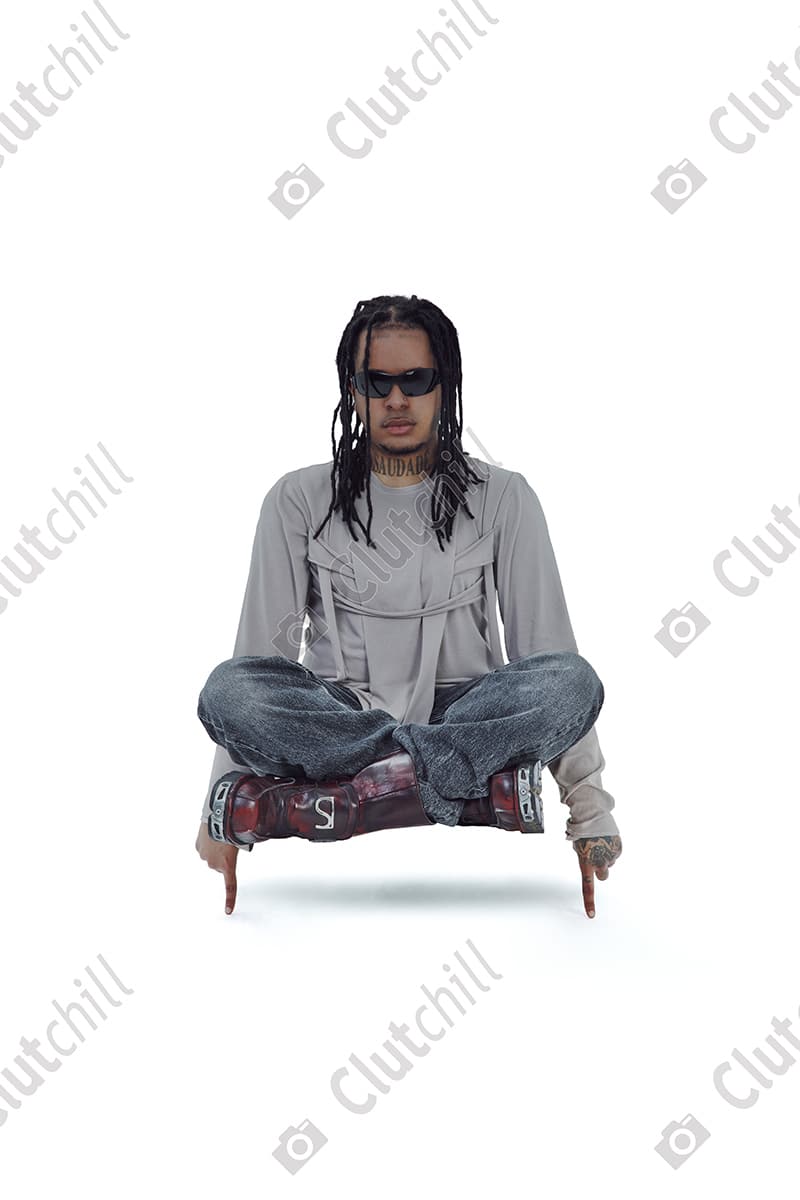 T-shirt 64stud, pants DIESEL and boots SHOOP
Why a woman?
 The characters that I usually like the most in series or movies are the female ones. I love Climax and the character of Selva played by Sofía Boutella, I also really like Toni Collete in Hereditary or Frances Conroy in "Six Feet Under".
I came to think that Angelika was your real girlfriend…
 My girlfriend is the one in the photo on the album cover but she and Angelika are not the same person.
What do you want someone to feel when they hear this new work?
 I want everyone who reaches this work to have fun and feel like going to a concert. In a live show is where I want people to enjoy what I do. My music is not for analyzing and listening concentrated, it's for partying and going crazy.
So you make music that you yourself consume.
Of course, I try to convey what I feel when I listen to the music that I love and it's not music to lie in bed and relax. It's just something else.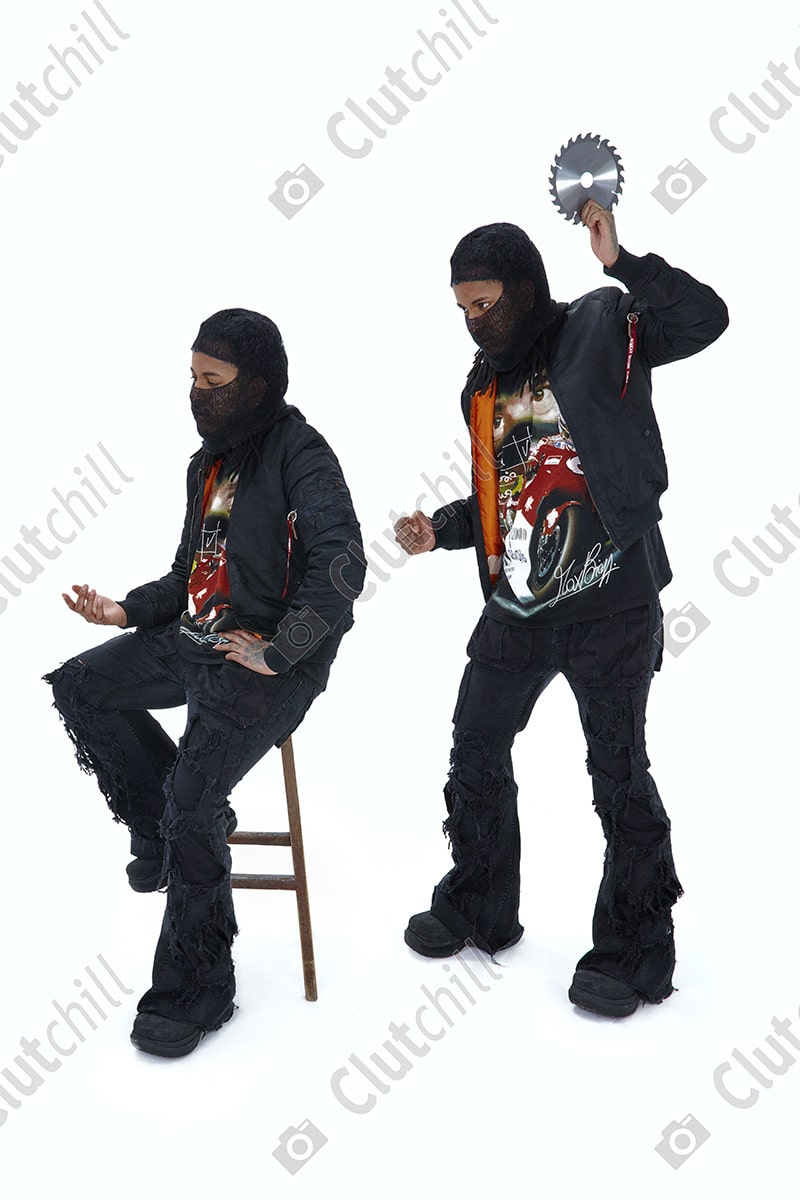 Bomber Alpha Industries @Wowconcept and pants 64stud
Rojuu is a factor that has been repeated in your last two works…
Roju has changed a lot during all these years and I wanted him to do something away from what he usually does. I love bringing artists into my world and going to theirs. I love taking risks. Sticky M.A. also participates in the album. I love his work. Getting him to do it was fun and simple. I sent him a DM on Instagram and he agreed to participate (laughs).
I know that with Arca you have something prepared but it could not be included in this album…
Yes, we have something and I would like to get it out soon but within another project. She seems incredible to me, she is musically one of the best.
During the process of creating this album, do you miss any collaboration?
No, now I can't think of any. The people who are in Angelika are who I wanted from the beginning. Nobody is missing. They all fit in this dark universe.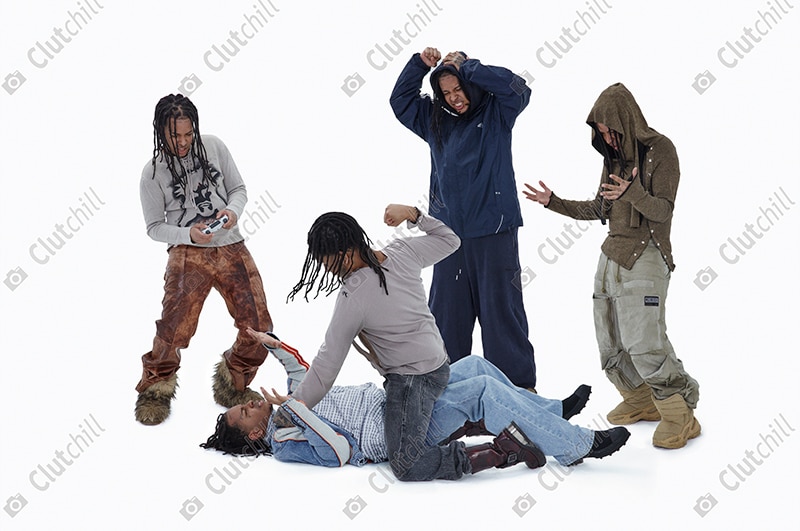 Left to right. Pantalones Javier Guijarro, cazadora Diesel, camisa Boltad, pantalones Calvin Klein, botas Camper, camiseta 64stud, pantalones Diesel, botas Shoop,
chándal Boltad, sudadera 64stud y pantalones Diesel.
And any dream collaboration?
I would like to do something with Destroy Lonely, whose music has gone viral on Tik Tok. It is part of the Playboi Carti label. If Kyne West told me to collaborate, I would also say yes (laughs). Sometimes I think about the biopic that could be made about West, it would be amazing, a masterpiece that would include all genders.
As mentioned at the beginning of our conversation, you who have been in "La Vendición Records" should do a song with La Zowi.
I'd love to!
Are you working on something new already?
I'm focusing on doing good merchandising. I would love to release something really powerful, maybe something fashion related. The idea of releasing my own little collection of nice clothes it's something that appeals to me. I am also focusing a lot on the visuals that I am going to put in my concerts.
Do you continue with your dream of dedicating yourself to the cinema?
I would love to write a script and direct a movie. Maybe in ten years, I'll be in the industry, I don't know. In an idyllic life, I would make music until I was thirty and for the next thirty years, I would dedicate myself to the cinema. It would be a dream to have Joaquin Phoenix or Scarlett Johansson as the protagonist of one of my movies.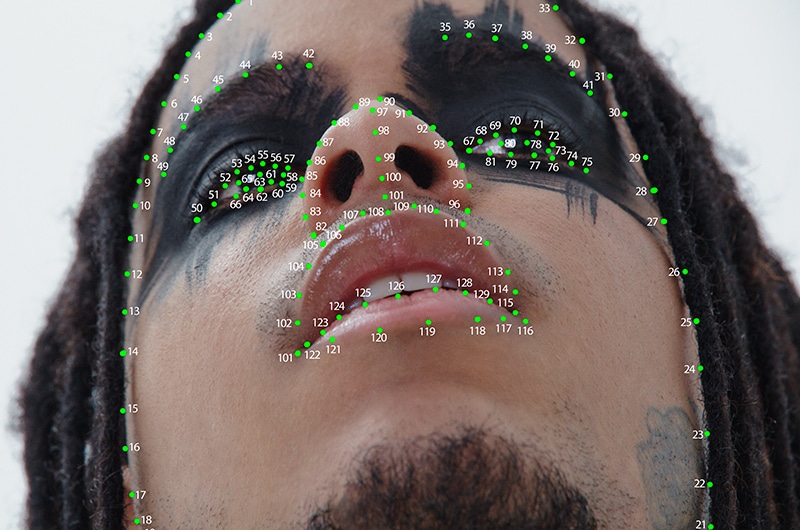 For more @clutchill
Credits
Photographer – Alejandro Madrid @alexgendro
Stylist – Jorge Ariza @Jorgeariza
Art Direction – Marta Ochoa @mrtaochoa
Production and Interview – Juan Martí @sswango
MUAH – María Limón @marialimon.maestre