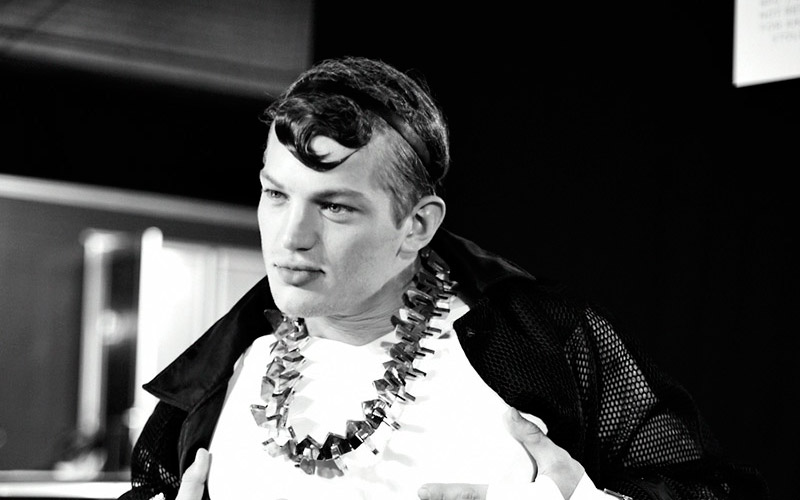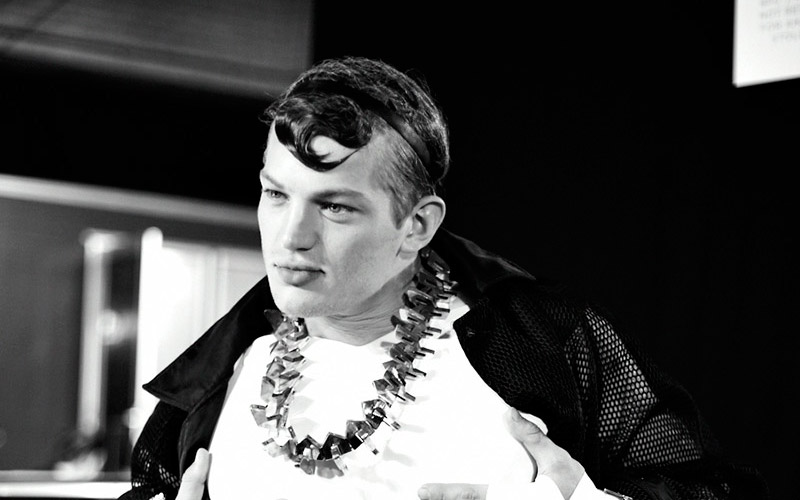 The sun was out in London town this week, and the style stakes were super hot as London Collections MEN arrived for three days of scorching fashion fun. Runways were awash with holiday hedonism as tropic colours and globe-trotter references prevailed. Here's what got us in the summer holiday mood…
Kokontozai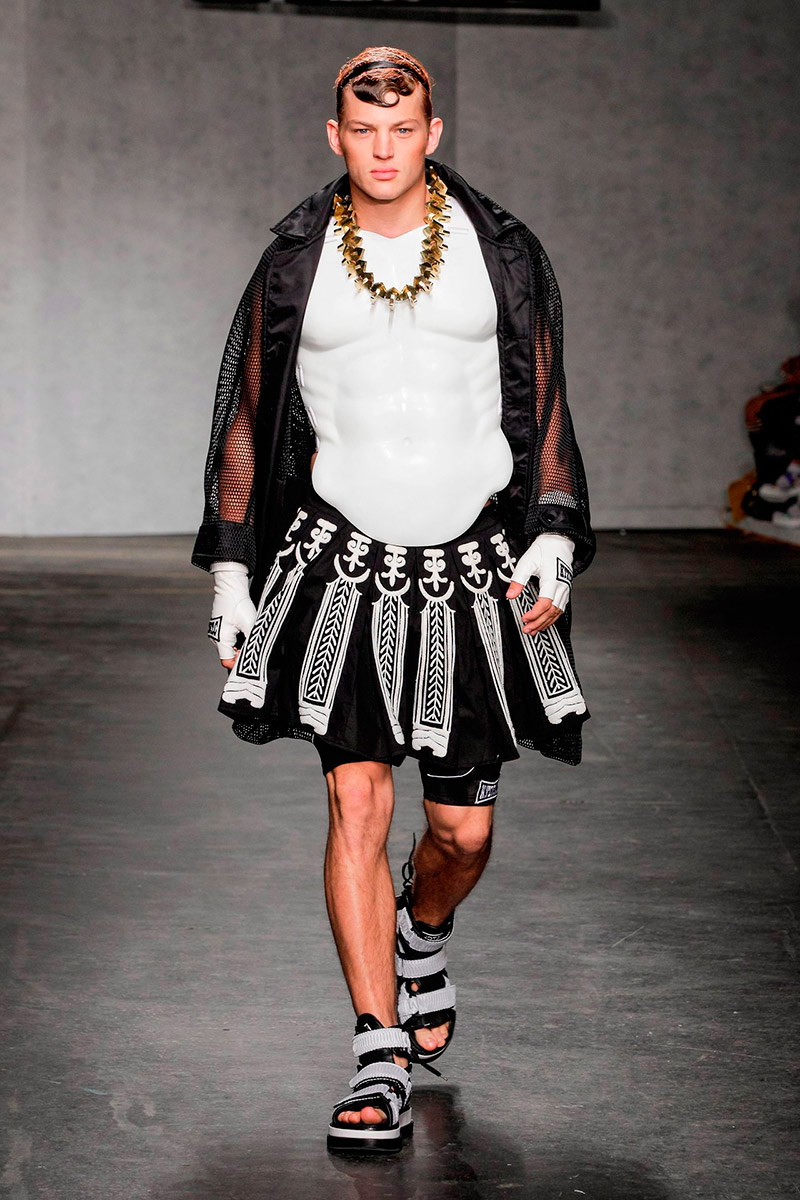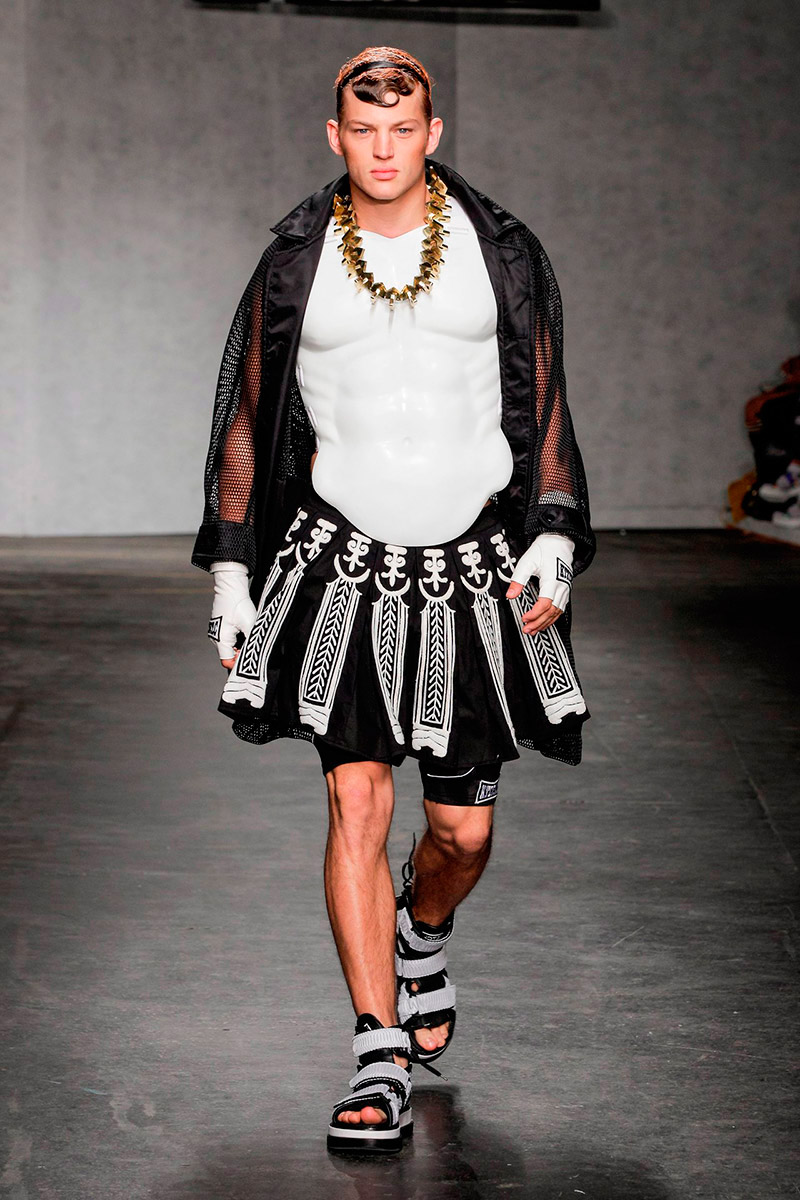 Greece was the first destination of choice, with a trip to the ancient Acropolis and the ruined temples of Troy. Kokontozai explored the theme of urban adventure through an intriguing selection of tribal street-wear looks that evoked images of lost civilisations. Graphic bombers, oversized tees and Peloponnesian crusader-cloaks were painted with scenes from ancient Greek battles, whilst monochrome tunics and gladiator skirts featured ornate laurel prints. The mythological mood then shifted eastwards, with KTZ slogans in Soviet Russian scrawl splashed all over street-ready vests and track pants. Orange and black Greek vase colour-ways further intensified the Spartan vibe along with the statement necklaces of ruined Greek statues. We fell head over heels, like a Hercules love affair.
Astrid Andersen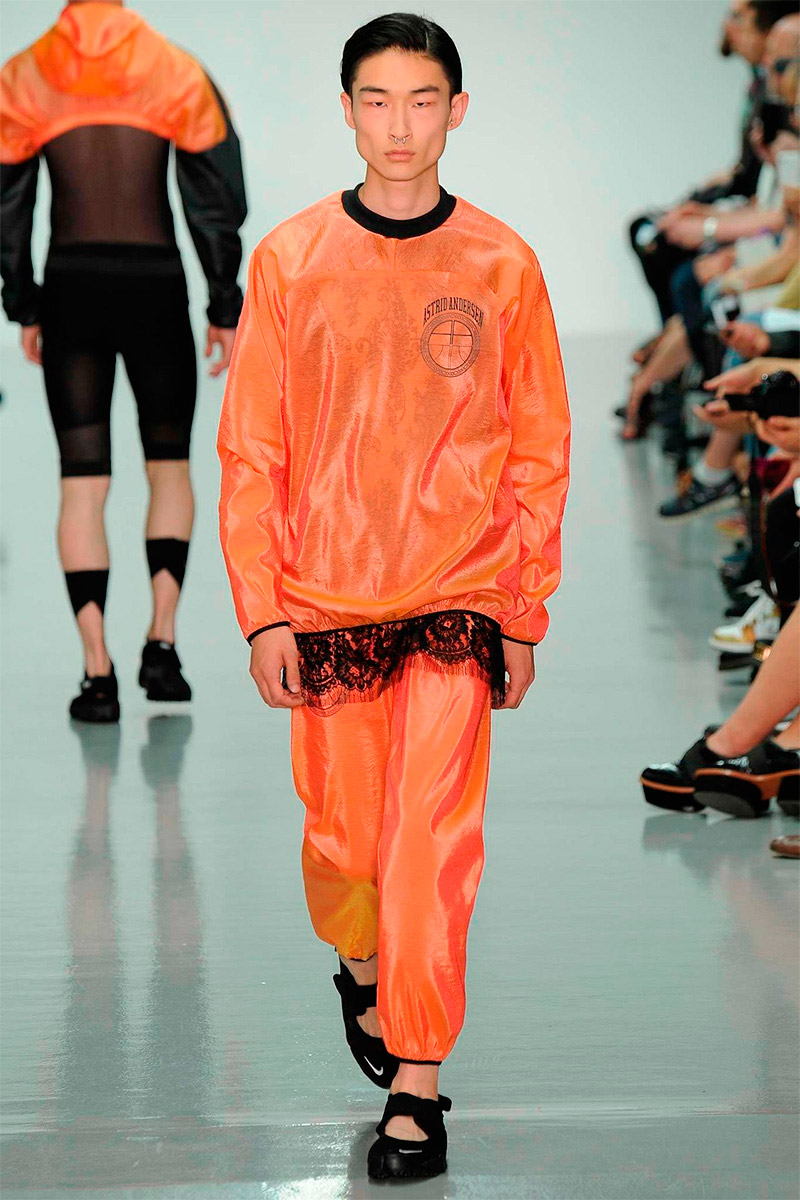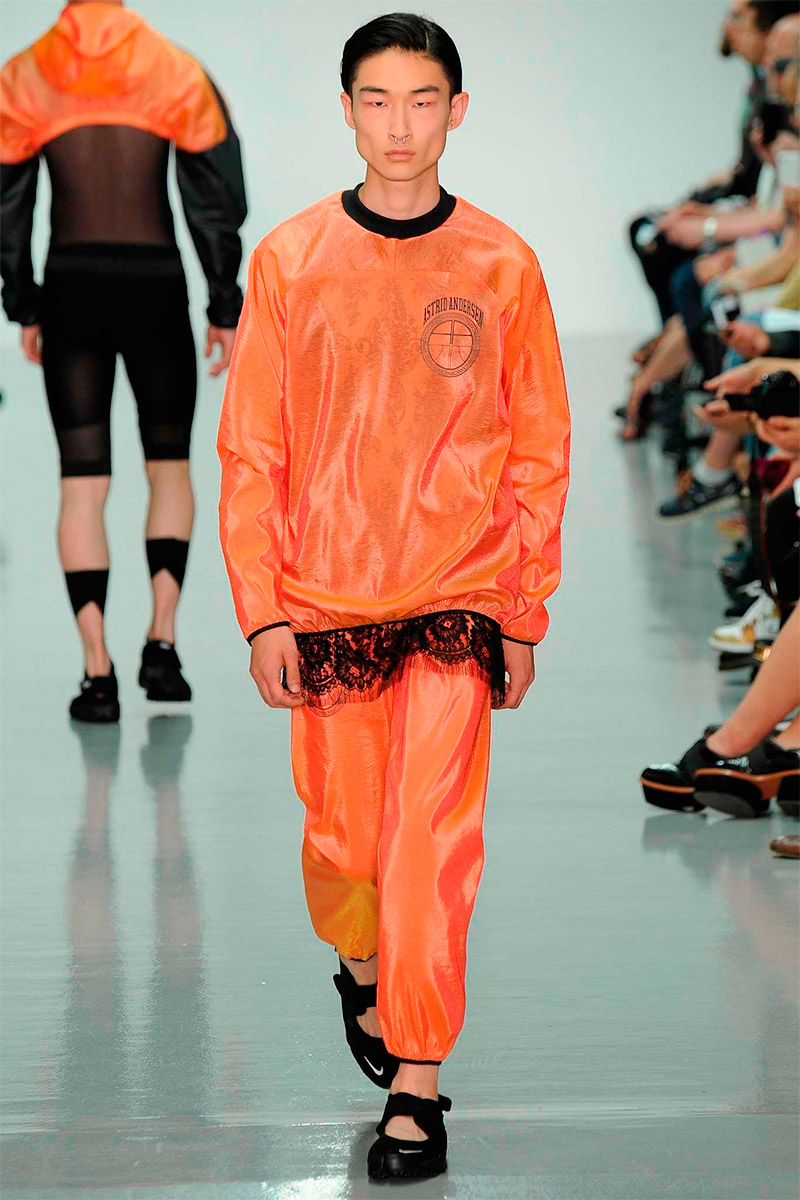 Tokyo was the next port of call, with a sumo-wrestling fashion soirée from the talented Astrid Andersen. Japanese influences infiltrated the entire collection, from the kimono-style robes and the revealing wrestling aprons to the Japanese cherry- blossom and Miyajima sunset colours. Sport-luxe was still the defining theme of her aesthetic, with slouchy tracksuit trousers and long slogan vests making a rugged re-appearance, but materials were totally luxurious, with colourful furs and crushed velvets that would keep you cosy on the foothills of Mount Fuji. The fanciful paisley florals added of touch of Indian art extravagance to proceedings, whilst the beefy boxer boys ramped up the strength levels with an awesome aggression that was matched only by the power-bright colours.
Katie Eary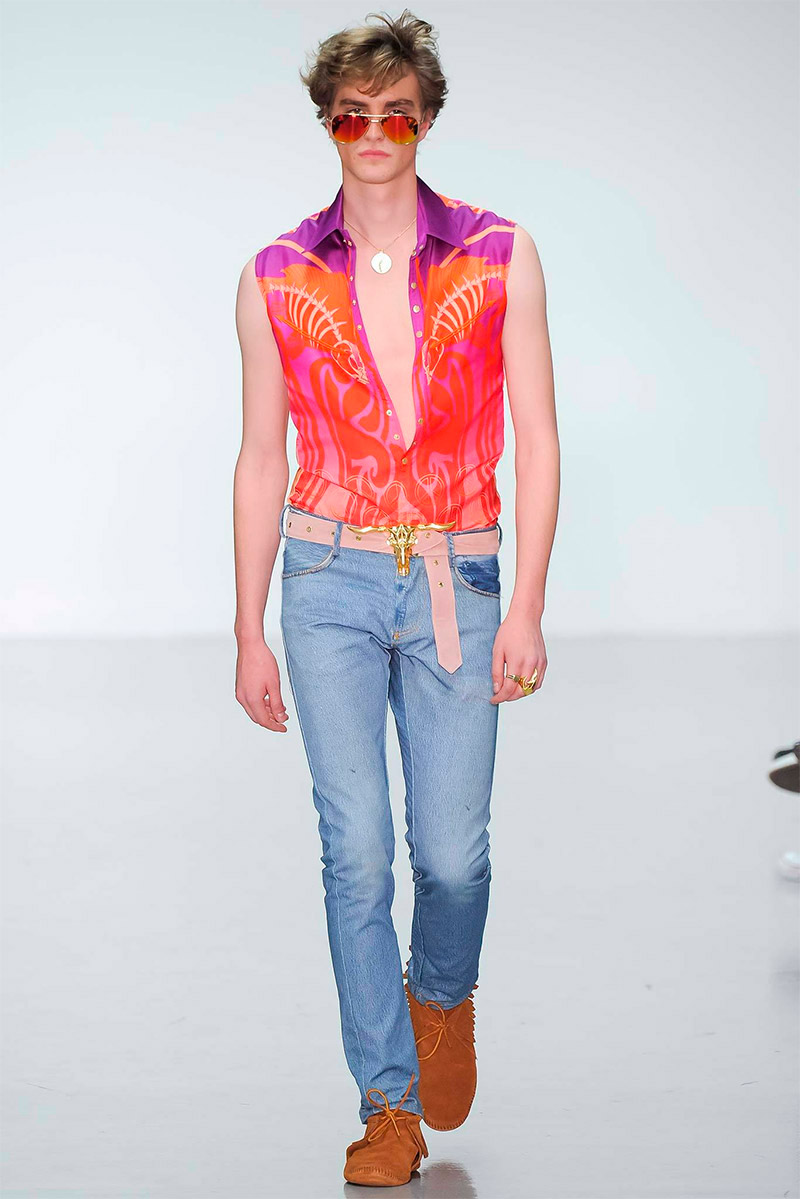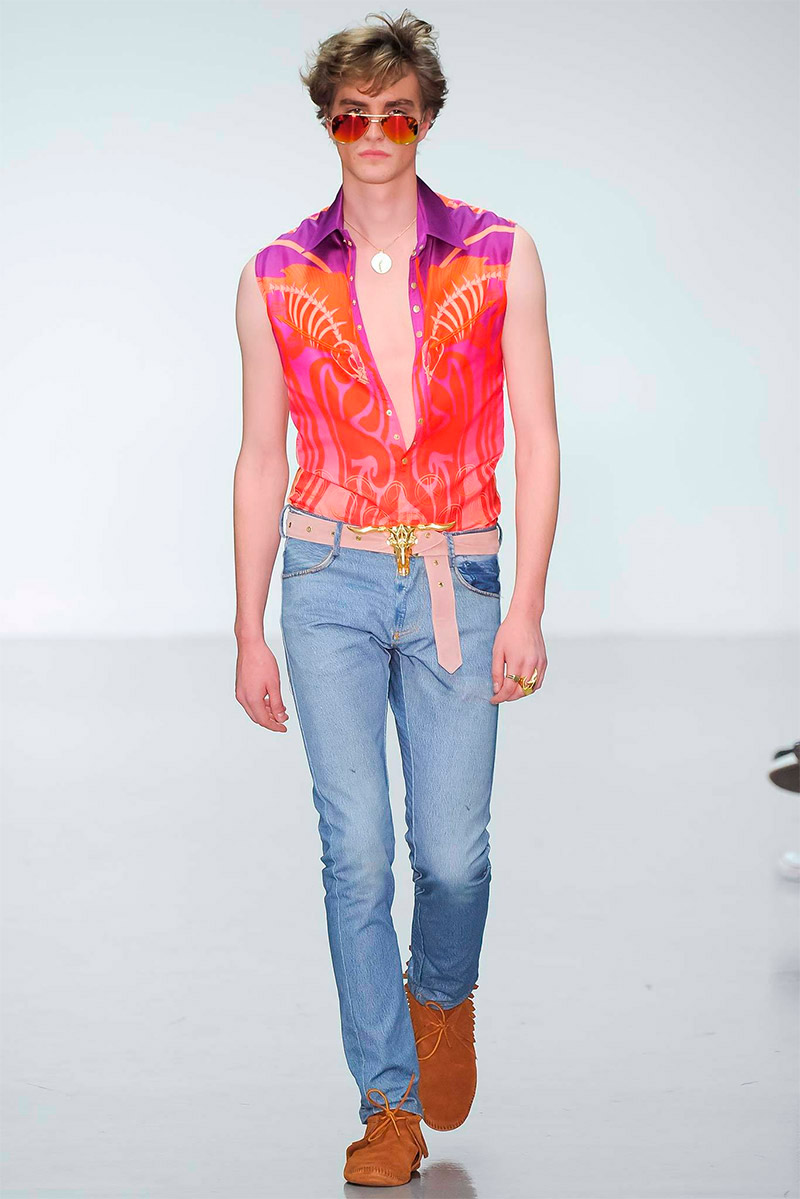 The US of A then beckoned with a raucous rodeo showdown at the kaleidoscopic Katie Eary show. Wild West cowboys in distressed double-denims drew their attention grabbing guns in the form of funky 70s cowboy shirts, which appeared in a multi-coloured myriad of desert sunrise colours and vintage Americana designs. Straight-cut jeans were emblazoned with pink and purple cacti graphics, whilst denim jackets in powder pinks featured luminous peace symbols that gave off a rustic San Francisco 'summer of love' sensation. The hippy-trip continued with whirling marble patterns and bohemian scarves, whilst fringed Western jackets and Clint Eastwood 'Rawhide' aviators brought home the arresting Arizona ambience. The fun fish-bone prints had us thinking of riverside BBQs on a cowboy campsite as the 70s wallpaper polos conjured the stunning visual flair of famous 1970s Spaghetti Western films.
Bobby Abley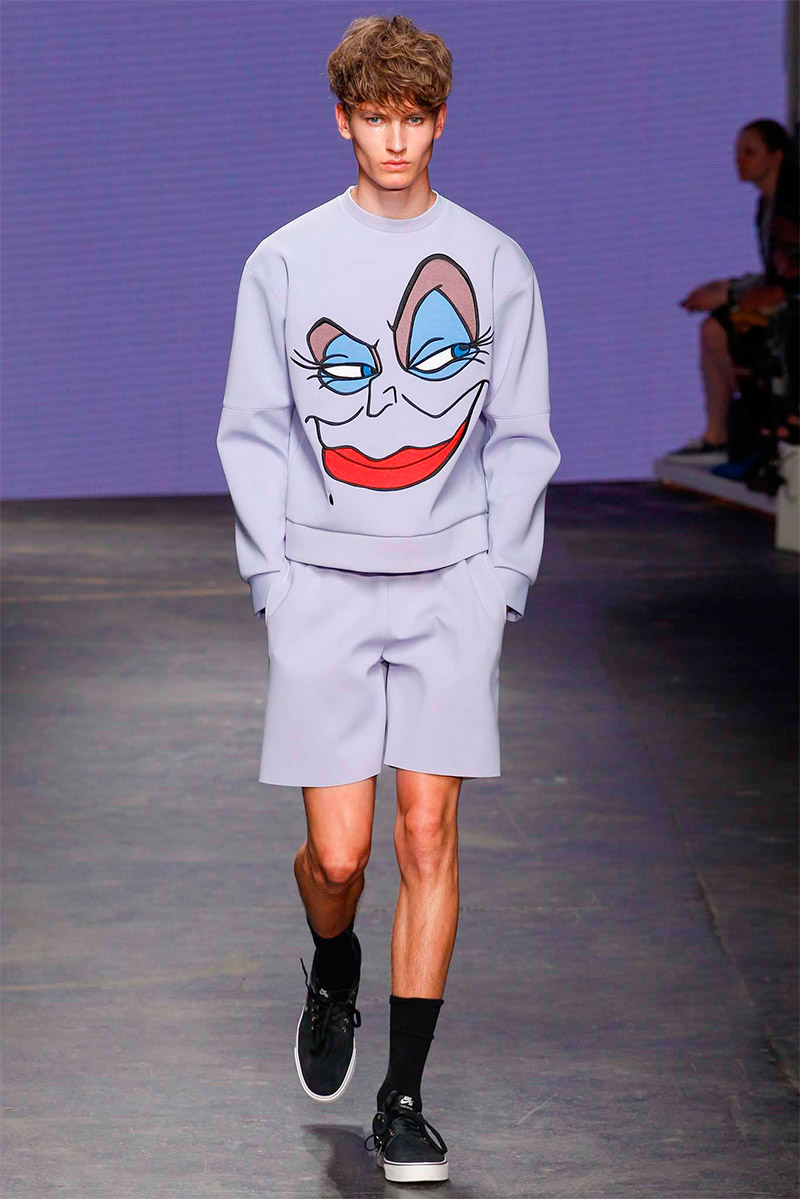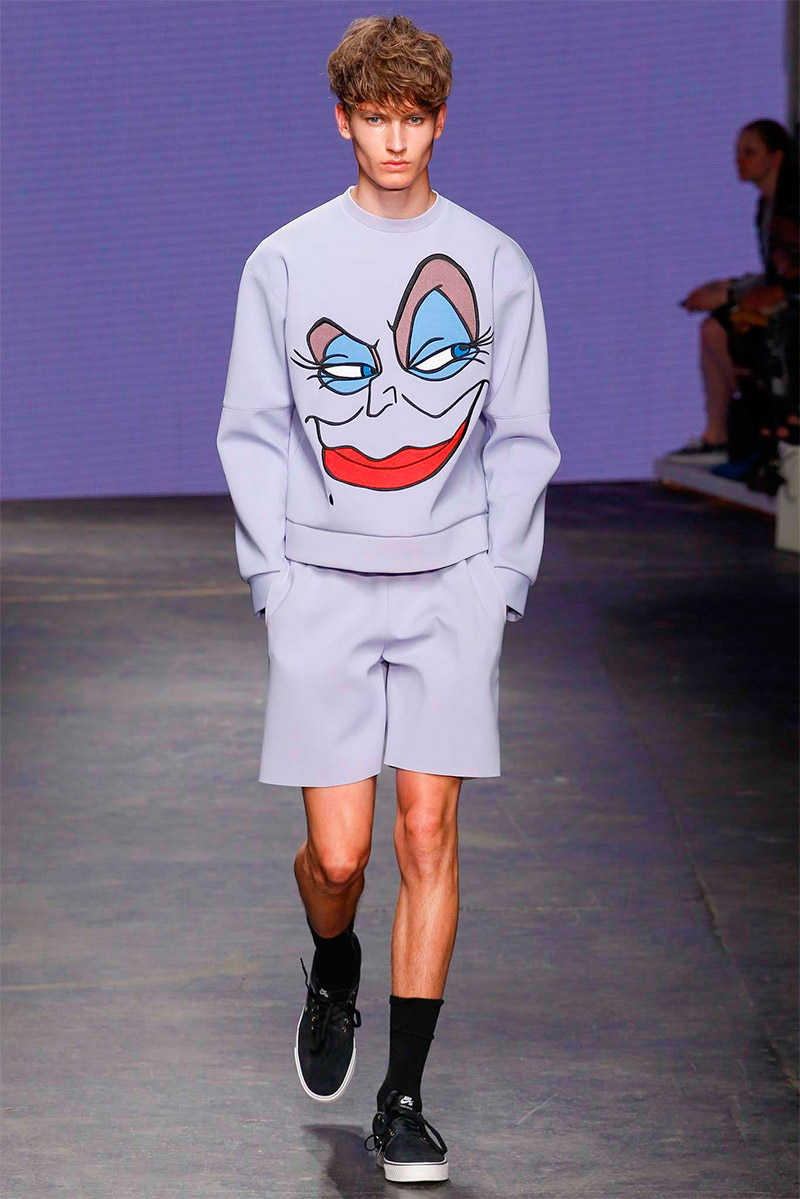 Deep sea-diving was next on the agenda, with an underwater expedition to 'The Little Mermaid' Disneyland. Bobby Abley returned to cartoon creativity once more in a decadent ode to the Walt Disney submarine dream-team; wetsuit neoprene jumpers of Ursula the sea witch and Sebastian the comic crab took centre-stage, whilst cute illustrations of Aerial the mermaid with her fiery red hair dominated t-shirts and sleeveless tunics. A metallic shimmer in the Lurex tops and shorts sparkled like Caribbean seawaters as the bubble print denim jacket aroused our fashion taste-buds like a thirst- quenching beachside cocktail. The addition of exotic hibiscus flowers enhanced the tropical Bahaman taste, which was made even sweeter by Bobby's signature teddy-bear designs.
James Long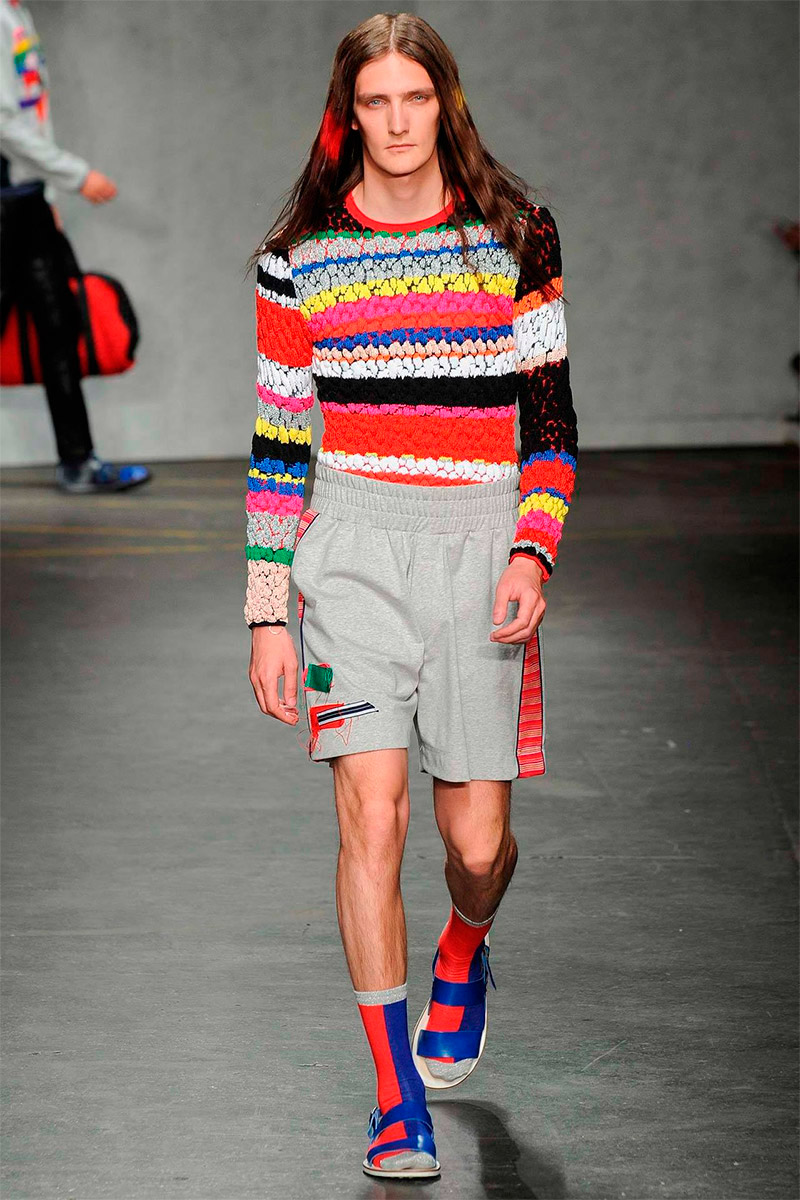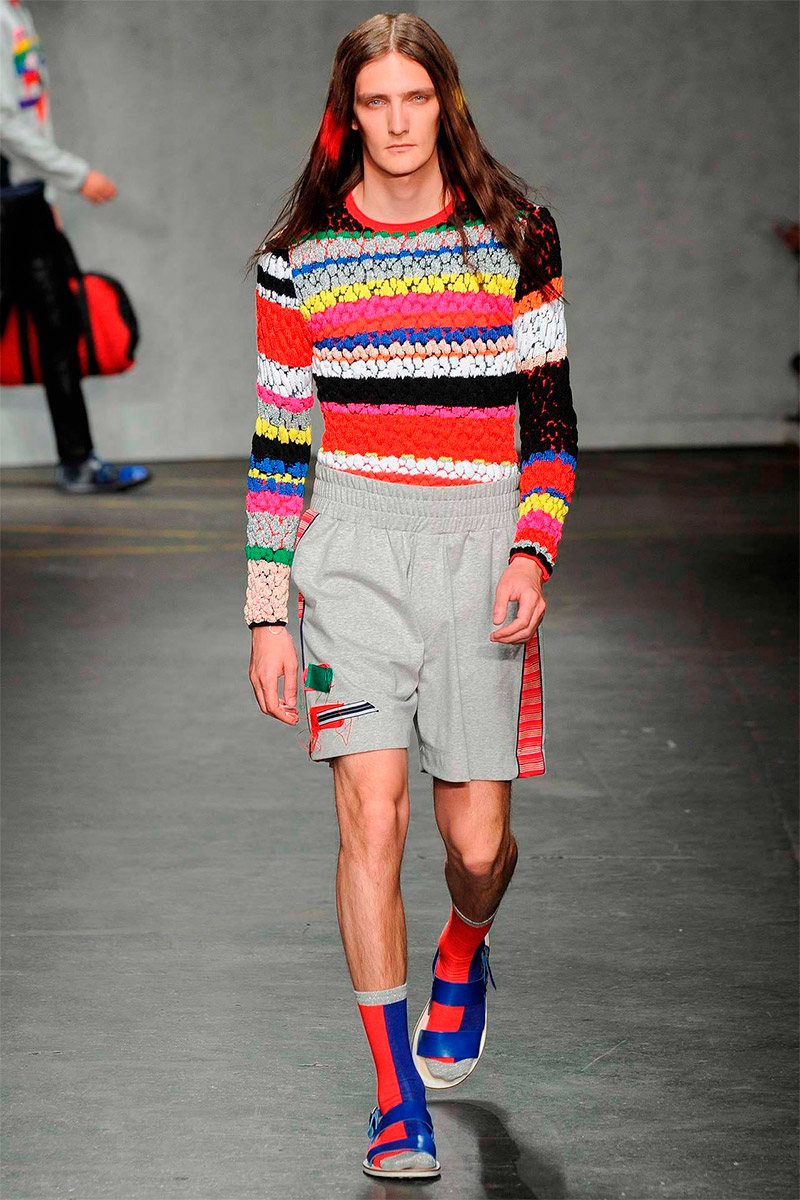 James Long opted for laid-back summer luxury as he unearthed a trippy hippy-trail that was leisurely and languid. Frayed patchwork denims and organic intarsia knits were displayed in array of rainbow shades that echoed the ethnic dress codes of nomadic Mongolian tribes and New Age travellers, whilst paint- swirl jumpers and hoodies evoked the nonchalant tie-dye outfit choices of Stonehenge pagan party-goers. Oversized shirts and Jesus sandals boosted the over-arching sleepy aesthetic, which was jazzed up slightly with the statement addition of athletic bombers, mirror-lens sunglasses and disco-deluxe silver jackets. So there was something for lazy beach days and lively Thai full moon beach parties too.
Moschino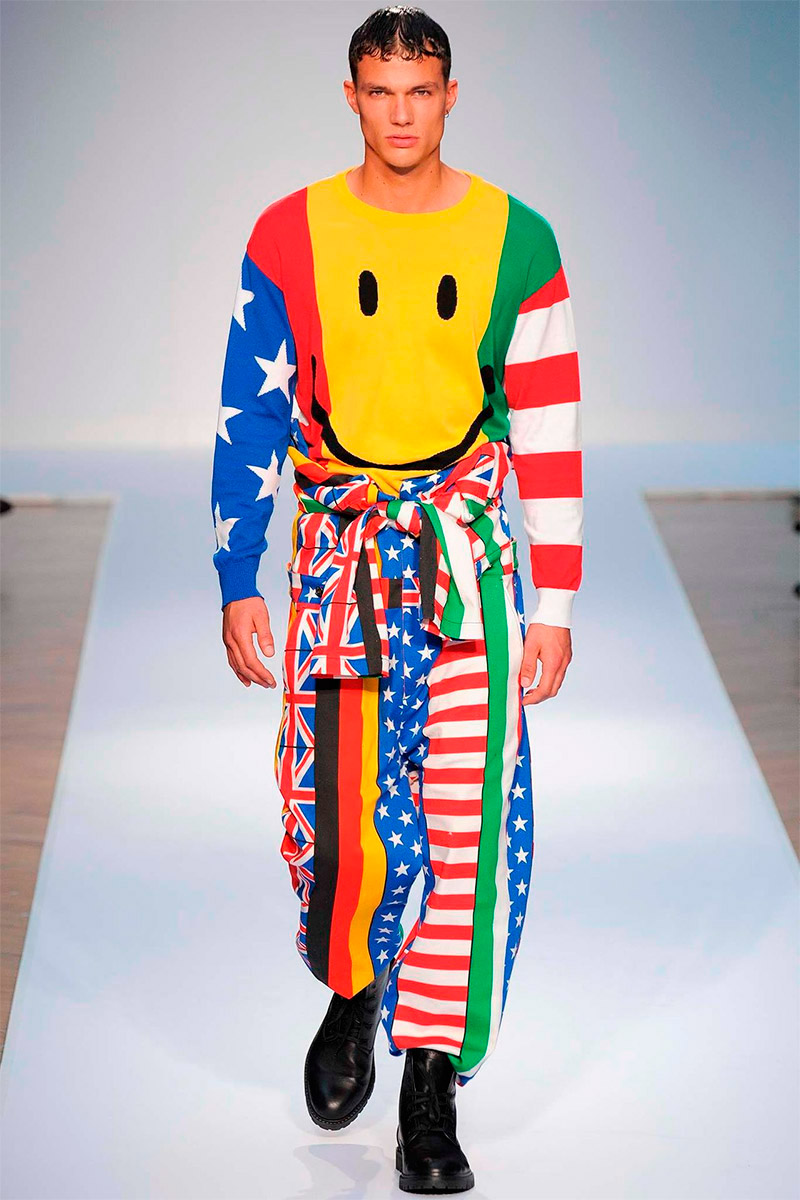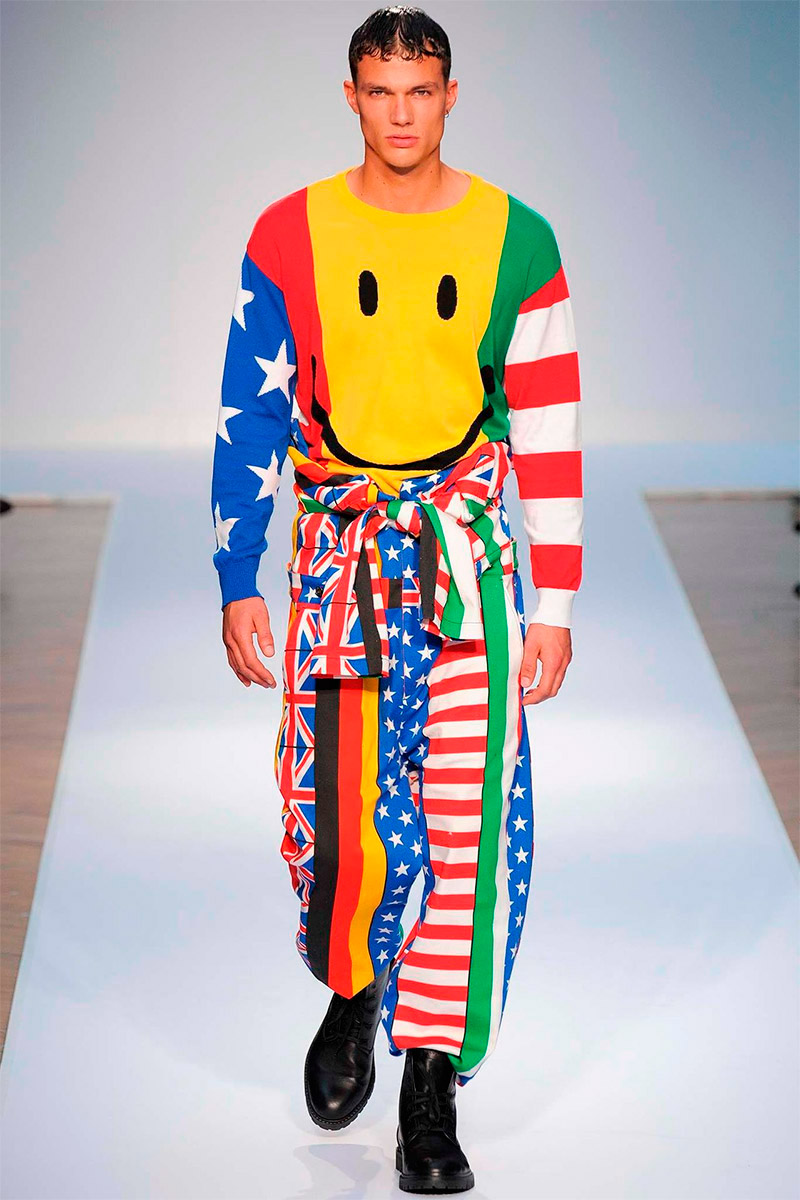 The final stop on the whirl-wind vacation tour was Jeremy Scott's euphoric collection of ecstasy-inducing summer wear for Moschino. Jeremy applied his pop-culture prowess and witty humour to the mighty Moschino label to create a collection that was embedded in typically controversial concepts and colour-clashing prints. The renowned Moschino shock-factor was present in full force with intentionally copied Louis Vuitton and fake 'Fauxchino' logos splattered everywhere on tangerine jeans, street-swag dungarees and sporty sweaters. Bling-bling dollar signs on slick suits and leathers further exposed the provocative satire of the tongue-in-chic mega-brand, whilst delicious fruit-punch and fizzy drink flavours on the parka coats, bombers and shorts made us delightfully dizzy with an intoxicating blend of bright calypso hues. It was a party- tastic plethora of heady hipster commercialism that will resonate with cool club kids the world over.