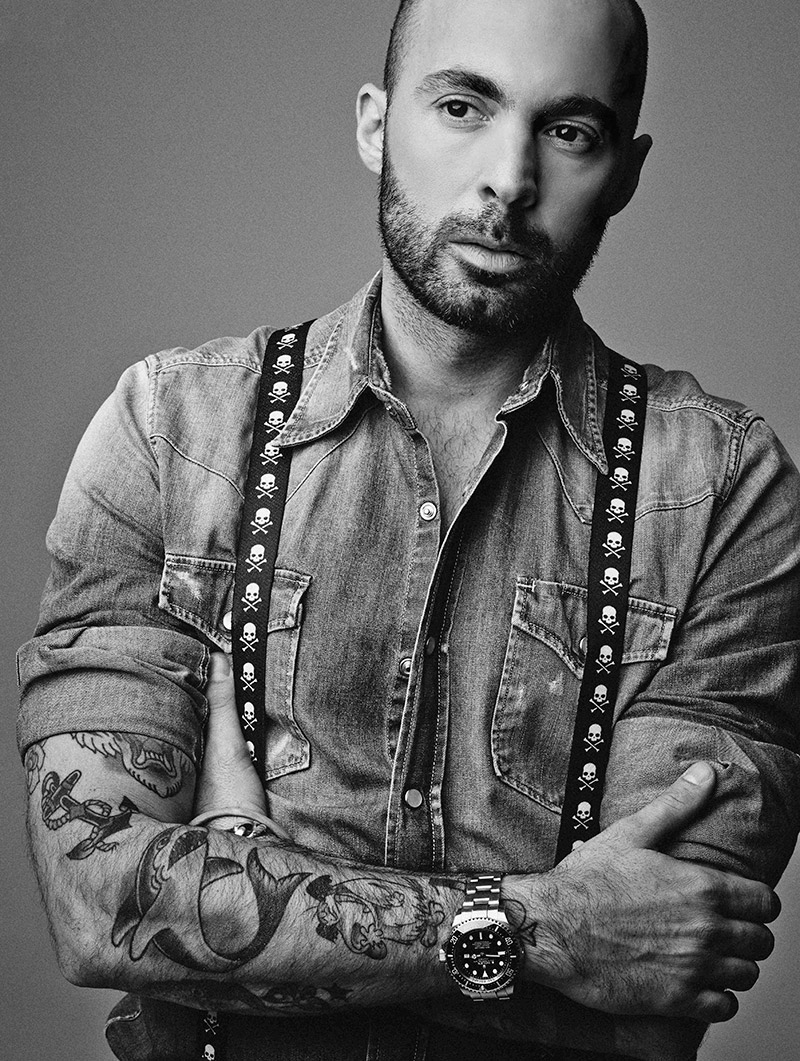 "Because I'm happy
Clap along if you know what happiness is to you"  (Pharrell Williams)
H as hydrogen. H as a fundamental element to get happiness. You can be happy by just wearing the right items… That's Alberto Bresci's philosophy and the right items are nothing but those of his Hydrogen.
Born in 2003, the brand expands in the international market thanks to an absolutely innovative idea for the time: the co-branding. The goal is to merge the clothing industry with brands of excellence. He achieves it.
He collaborates with prestigious businesses, from K-WAY to Superga, from Fiat to Automobili Lamborghini.
His is the first Italian company to produce a luxury sportswear. And he brings the concept all over the world. His is an informal made in Italy. The mood is nonchalant, ideal for the powerful man who wants to feel free from the formal rules when not at work.
Alberto is forward-looking when he chooses the skull as a symbol to remind of the hydrogen original volatile nature: light, mighty, fundamental.
Fucking Young! – Let's start from the very beginning, namely since 2003. When and how was Hydrogen born?
Alberto Bresci – Hydrogen was born a bit by chance. At that time, I was living in London and after studying Economics I had started to work for a company dealing with a new kind of sponsorship for Formula One. I was light years away from the fashion world. Back in Italy instead, I felt the desire to create a fashion brand, some items of clothing with a story behind. The drive? A gift from Lapo Elkann. Nothing but an old denim shirt belonging to his grandfather – the lawyer Gianni Agnelli – that had a peculiarity: the pen holder. Indeed Hydrogen was born with the intention to replicate this vintage and worn-out shirt. I had worked in the business and marketing environment for a while and noticed that anyone, especially the younger who were super impeccable at work, knew what to wear and where to buy when they needed to be casual. It lacked a certain type of product that could make them "cool", a type of sportswear that was at the same time luxurious.
FY! – Why the choice of a skull to identify the brand?
AB – Indeed, this happened later. At the time when the two most famous brands in the Italian denim panorama – Diesel and Gas – were Venetian. Because they are two kinds of fuel, I decided to create a brand that could represents the fuel of the future: the hydrogen. They didn't speak about it a lot and I thought that it was funny, so I chose the name Hydrogen. In the many trips and researches I did – from Japan to the United States – I often used to notice the use of skulls while in Italy it was not considered so good yet. I wanted to revise it again and create a very clean design, with an upturned heart as a nose. However, at the very beginning it was not well considered in Italy even if abroad it was immediately welcome.
FY! – Your brand is characterized by a fresh and quite nonchalant mood but who is it conceived for and who could your ideal customer be identified with?
AB – It is a well-rounded brand and the same is for the product. Today we can identify the ideal customer with a man aged between 25 and 50, a manager that, feeling forced to be always elegant, wants to feel free and buys Hydrogen. Hydrogen has two traits in its DNA: it consists in very classic products but with little details and it's a fresh and sophisticated lifestyle brand.
FY! – What makes you recognizable is also the co-branding concept that 'till a few years ago was not so popular in Italy while it already was in America and Northern Europe.
AB – Perhaps the first Italian brand which brought the co-branding has been Fiat and it had nothing to do with the fashion world. At first it was really difficult because I wasn't able to make the difference between co- branding and merchandising clear to certain people. The co-branding is about putting the two brands together and take advantage of the strengths of both. In that case there was this popular national brand, also known at an international level, that in a really hard time needed to bring the public closer to the car through something having nothing to do with the car itself. I took the old Fiat brand and did something a little bit snob, a sweatshirt with a logo, which cost €250 and was in a super limited edition, such to arouse interest. That experience was followed by others, but the idea of ​​working with people who had never worked in fashion was exciting, I'll always carry it in my heart, it enriched me a lot.
FY! – What's the goal of such a partnership? What the advantages and the difficulties one may meet?
AB – I feel more Anglo-Saxon than Italian, my mind focused on work. I believe that you cannot do anything if alone, we should always help each other and co-branding is a kind of help. We were successful in conveying brands that would have never entered the fashion world. In twelve years Hydrogen has collaborated with major customers – in Europe, Asia and now in the United States – while using very famous brands and changing them in its own way. I think of the partnership with Prince Emanuele Filiberto of Savoy, that allowed us to use the real logo. Or even of Lamborghini and the latest collaborations with K-Way and Superga thanks to which we are obtaining a positive outcome because of their status of iconic brands. All pieces are created in a limited edition, so they're collectible.
FY! – We have spoken about the concept of sport and luxury, a sportswear that becomes prêt-à-porter and that goes beyond the boundaries of a sporty item…
AB – I like playing with it, it happens that I wear sweatpants with a smoking jacket. It's the way I conceive fashion, maybe influenced by my living in London. I enjoyed and enjoy seeing men dressed in an impeccable suit combined with sneakers. Hydrogen is a luxury sportswear born for men but is today even unisex.
FY! – The luxury sportswear is a trend that has been embraced by different labels that have interpreted it in their own way. What do you think the success of this type of approach to fashion is and what about the key for your success? What is the final goal? 
AB – In my opinion, to see the things in great style you need to have a global vision. I believe the first showcase in the world is to be located where the brand was born but you must be aware there is a world around. Today, with the globalization anything is so much easier, i.e. reaching Australia or South America. I have expanded into the Japanese market and this is a great fortune for two reasons:
1. It's just from Japan that all the luxury comes. Ergo, for me it is a very important reference point.
2.The Japanese market is the most attentive ever. As for quality, if you make a mistake in Japan you are likely to be ruined. The Japanese customer really checks anything, from a to z. I've learned to do things well, especially because my mean model is the Japanese one.
The luck of a brand is in its being international, and I think that Hydrogen is an international brand able to bring the Italian spirit in the whole world. My starting point is the made in Italy luxury. The Italian men are the best dressed ones from any point of view.
FY! – We've touched on the Unisex Revolution, fundamental point in the Hydrogen new policy. How did you succeed in developing this idea? Why did you decide to take this route?
AB – We called it Unisex Revolution and it was born as a natural variation. If I had created ​​a line purely for women I'd have lost my DNA because it is not in my comfort zone. We make an upside-down unisex. Most famous brands are unisex starting from the woman. Ours is just a reverse unisex: we start from the man to dress the woman. I strongly believed and believe in this project. I think of myself not as a designer but as a human product, therefore I always try to create something that represents me as such.
FY! – In the Northern European countries this is a successful trend (four season, unisex, etc.)… Has somehow the economic crisis influenced this choice, that contributes to simplify and optimize the concept of fashion itself?
AB – It's not so easy to answer as it may be that the ones who came before decided to make this choice because of this reason. Mine was a choice of style. Today anything is fashion. Let's think of the women, who prefer to be more modern rather than inspired by the past. My business is to create a product that is in line with this current trend.
FY! – Let's speak now about the SS16 Collection that hides wishes for the summer… Would you like to tell us about?
AB – The collection is focused on the Dia de los Muertos. The inspiration comes from the Mexican myths, studied and revisited. They're an authentically creative starting point. In the Mexican tradition, skulls are real talismans: love, money and luck, of course. We've thought they could suit the fashion world to a T, because of the goals we want to achieve. We organized the event of the Collection presentation with Vogue that fell in love with the concept. From the main collection, other micro-lines were born. Just to name some, the Gin Tonic, the Lucky Star, the Summer Hockey, etc.
FY! – It's a quite big collection, divided into different mini-collections that together embrace a wide and differentiated audience. Which is the most representative item and which one is the fil-rouge linking all the mini-collections together?
AB – My starting point is the cotton that turns into sweatshirts, t-shirts, polo… All the things for which we are recognized all over the world in fact. Ours is a lifestyle fashion, then to choose an item that represents the whole collection is complicated . We have anything from the semi-tailored coats and jackets to the suits. I like to mix all together and maybe that's just the common thread that ties everything. The collection is very "easy" and it's just as easy to be able to play with it. The only iconic garment is the lawyer's shirt hat never changes. Maybe you can modify and embellish it but it's always the same. For example, this season it has been realized ​​with the stars in a limited edition.
FY! – We've chatted about lifestyle but Hydrogen is music as well in the shape of the Hydrogen Festival. Which could the song that best define the brand be?
AB – I love music and it's hard to choose just one song. Probably Happy by Pharrell Williams cause it's international and positive. It's a simple song but it touches anybody.
FY! – As usual, our last question… For you, what's today really FUCKING YOUNG!?
AB – For me FUCKING YOUNG! is to think FUCKING YOUNG!: to be positive, live in a certain way, do the things you like to do. I'm on this wavelength… If you want to get out in your underwear cause you think you're cool, you'll really be. You'll be cool, you'll be yourself and no matter about the rest.