French-based artists Bamao Yendé & Le Diouck unveiled their most recent work 'Okocha' a wildly infectious banger, specially written for 'NADSAT' – POC/LGBT+ positive compilation to be released on September 25th via Because Music. NADSAT' is set to reflect France's ultimate avant-garde rave scene where pop, rap, afrotrap, reggaeton, gabber, hard techno, eurodance, kuduro, trance, classic house, electro, techno, UK bass, R&B mix up together under the sign of maximal inclusiveness. Read the interview and watch 'Okocha' below.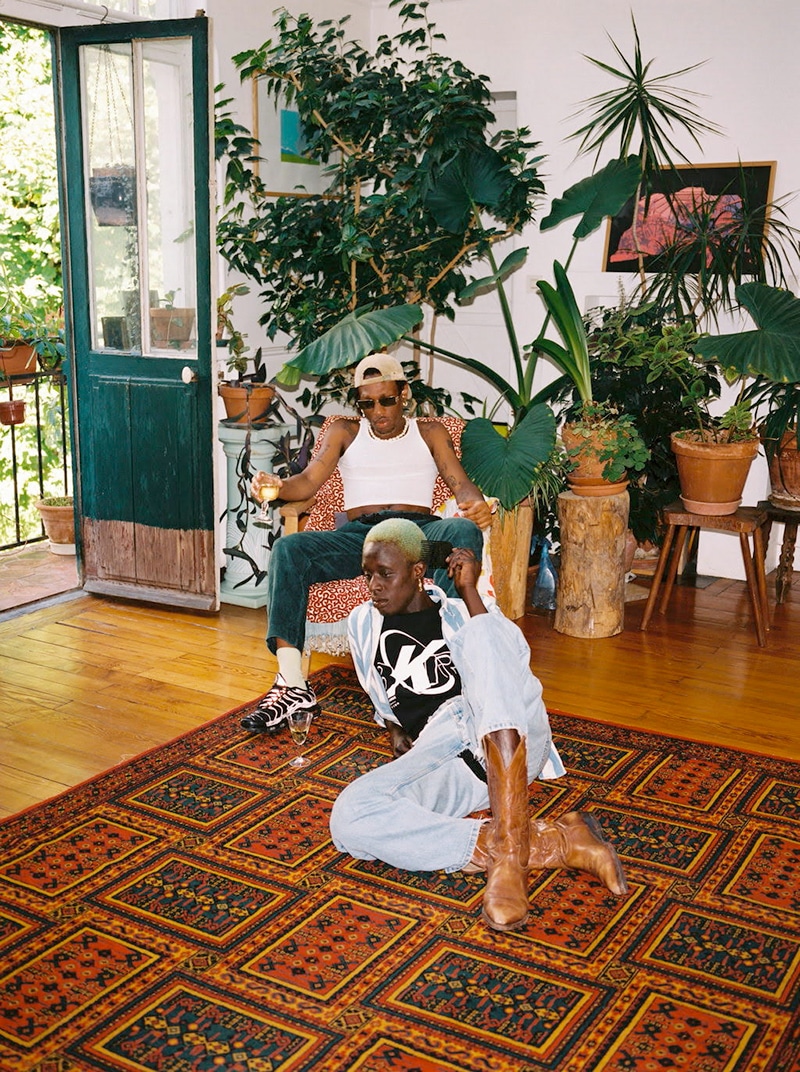 You guys are both affiliated with Boukan Records, could you tell a little bit more about the work you've been developing in promoting African music?
Yes, we are driving La Fédération du Boukan label, it's a "clin d'oeil' to the famous Morare track 'Le Boucan'. The work we are developing is about our life, our influences as children from the diaspora. We are listening to African music since our childhood with our mothers and our aunties, Le Diouck is from Senegal and his mother's favorite tracks are 'Ndongo Lo – Xarit' and 'Viviane Ndour – Sama Nene'. Bamao is from Cameroon and his mother's favorite track is 'Prince Nico Mbargua – Sweet Mother'. We discover music from our own from Angola, Ghana, or Nigeria and we try to mix it with UK garage and funky, or R'n'B influences.
I discovered your music for the first time last year I believe as Nyoko Bokbae, are you guys still working on that project?
Yes, still we have a lot of track on the fire, but we have to finish them, most of them are at 80% and we are looking for the 20% missing. We will release an EP at the end of the month in collaboration with Rad Cartier, it's gonna be called VT ZOOK, and there will be some guests like Lala&ce, Slimka, PH Trigano.
Tell me a little bit about the NADSAT project. Are you familiar with other artists? Did you hear the compilation? What are your thoughts on it?
Yes the NADSAT project is a mix of things from the underground, from gabber to something closer to style, as well as techno and UK breakbeat. We are closer to Sentimental Rave and Crystallmess—Crystallmess 'Issa Revenge' is incredible!
Le Diouck besides being a singer and artists you're also a model, is this something you want to pursue as a career in the future?
Yes, I like to have more than one string in my bow, and I want to discover new ways to express my sensibility and creativity. I don't want to be stuck to only one thing, I'm open-minded, open to the word and life.
What is happening for La Fédération du Boukan in 2020?
We will release a compilation to introduce our boys and Gyalz from La Fédération, we are still working on it, we have nearly 60% of the compilation ready now. We will release the second part of 55 Degrees with a lot of new tracks, a lot of very fun stuff is coming up, we are very excited!