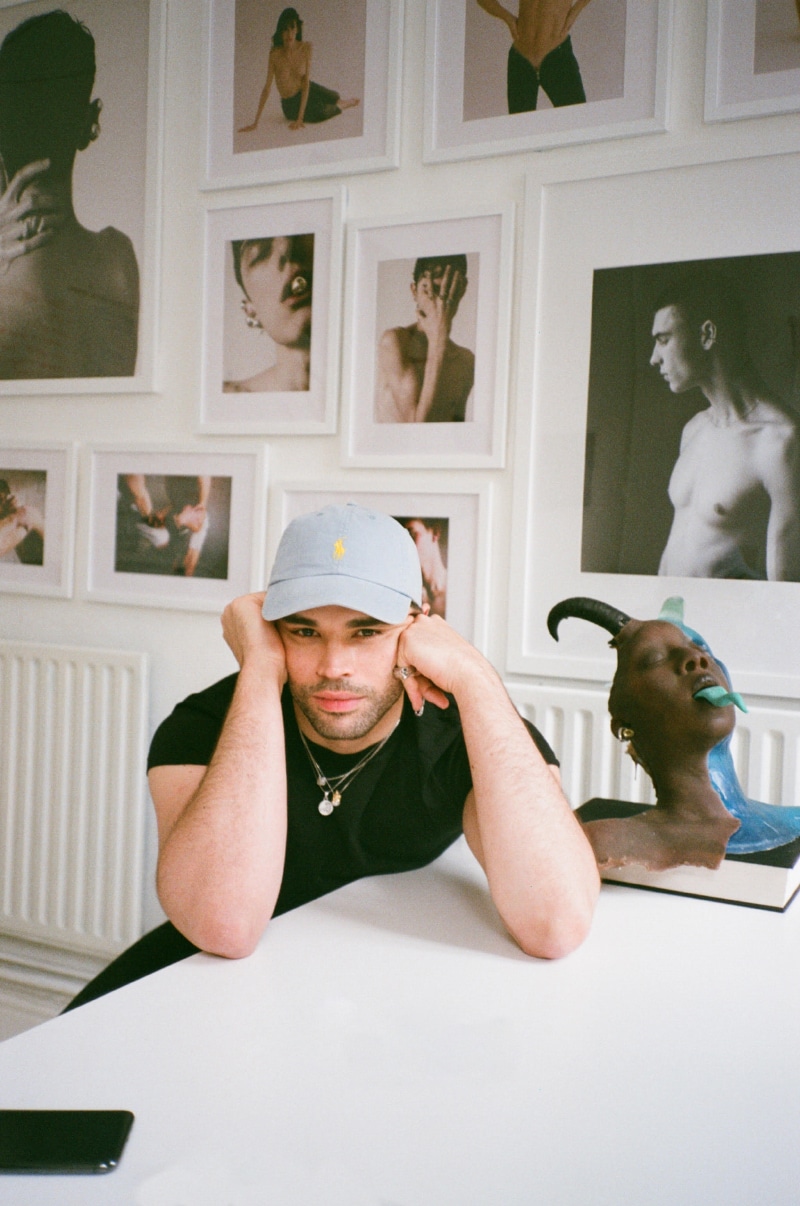 London-based jewelry designer Alan Crocetti has the unique balance of innovation and classic, exclusive and inclusive, minimalist and maximalist. His work makes pieces become an extension of our bodies. Adornments that make us feel adored. Since launching his line in 2015, Alan has made us fall in love with the intricacy of jewelry, it possesses a certain freedom to wear whatever we want and have a distinct precious presence. We caught up with Alan to discuss everything from viewing jewelry as post-gender to taking a peek at his Spring Summer 2022 collection Supernova.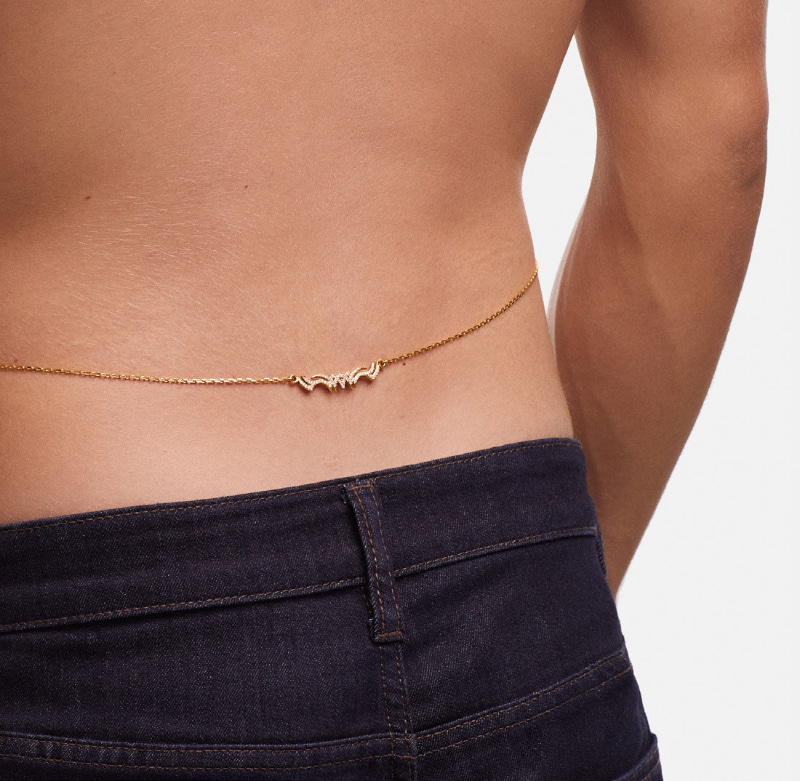 I'm going to start this by saying I've followed your work ever since your first collection, however, in my mind I thought you were Italian-British. I was surprised and not surprised to learn that you are Brazilian. In many ways, I feel that creatives from the continent are overlooked. Perhaps because we meet them in Paris and assume they are European. Saying that, tell me a bit about growing up in Brazil?
I was born in Goiania and raised in Belo Horizonte, Brazil. My childhood was awesome as my parents always not only allowed but empowered me to explore my creative passions. I left Brazil almost 15 years ago, my main contact with the industry was my parents' knitwear factory. It wasn't as creative though, as they used to manufacture pieces for other brands. Unfortunately, they went bankrupt when I started to study fashion in Belo Horizonte. Those made me go out into the world, more specifically Italy and England, to work and grow. 
I started learning all about jewelry here in London so I can't say Brazil has influenced me in that sense. However, my collection ODYSSEY was heavily inspired by Brazilian modernists Oscar Niemeyer and Burle Marx. Niemeyer designed the area I used to live in Belo Horizonte (the Pampulha Lake and structures around it) before developing the capital Brasilia. Somehow his aesthetics and futuristic projections have always influenced my work. I never research other designers' work because I feel it could temper my work. my whole purpose as a designer is not to make things people want, I want to make pieces they don't know they want yet.
Looking at your collections (past and present), it's clear that you observe deeply a certain tongue in cheek humor, like the tramp stamp belly chain, that adheres to people. Would you say you are a "street or beach voyeur"?
Even though I have always been the hugest fan of the fantastical and whimsical as escapism from reality, I am still quite down to earth. I always like to go back to things that represented something to me as they help create a balance between my sci-fi-prone mindset and the mundane details that were and are still present in my surroundings. On that note, I am a voyeur (period)! Everything about art, architecture and human anthropology fascinates me. I never look at things from a place of judgment. I try to get out of my bubble to understand people, their behaviors, and how they use fashion to materialize their feelings. By doing that, I approach the work from a place of compassion and respect and step out of my comfort zone to play with emblems that aim to strike a balance between humorous and serious, but most of all that have meaning and tell a story. In my eyes, there's plenty of poetry there.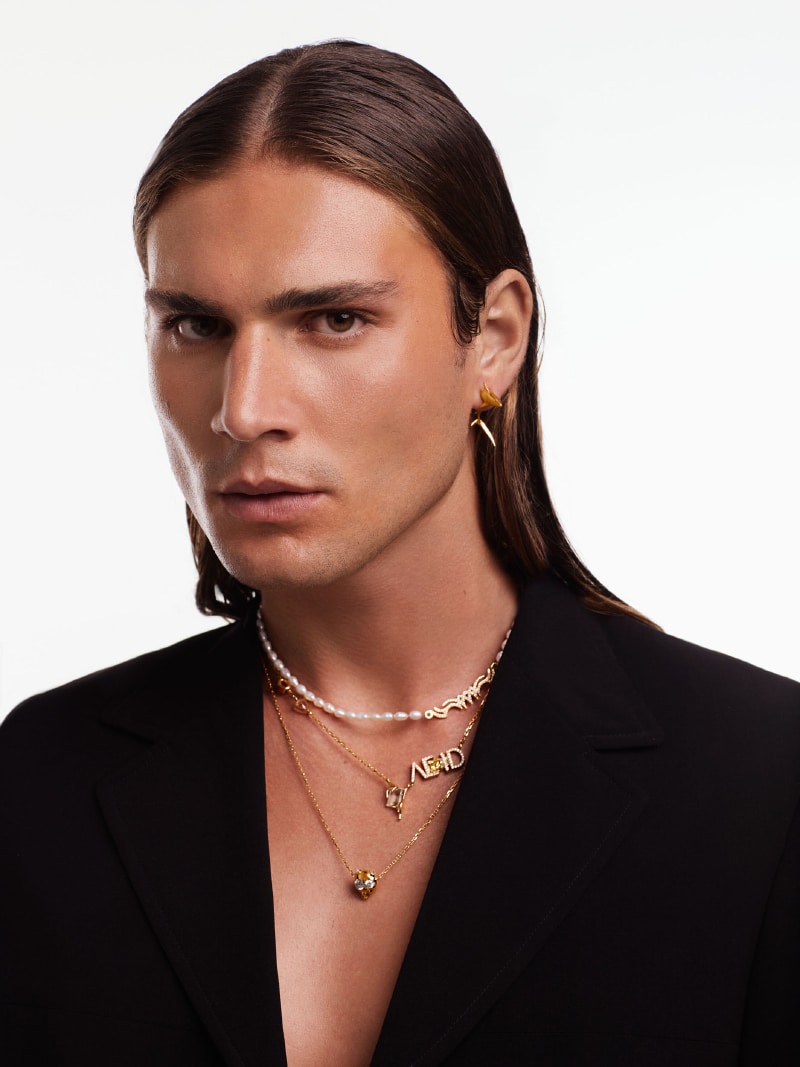 At the same time, the past decade will probably be remembered as "ugly cool", do you think it's finally over and where are we heading today?
I highly disagree with that. In my eyes, beauty is very subjective. There's so much more depth in things categorized as ugly than in plain "beautiful" pieces that carry no soul. I like messages and content. I would never design something just for the sake of it, with the intent of them being beautiful. I think we are heading to a more diverse ground and learning to appreciate the beauty of different, unique things. I don't think this will die out. We're moving to a time where there will understanding and above all respect.
You seem to know exactly what is missing from our jewelry box. How did you achieve this creative formula?
It wasn't much of a formula. I was so bored with what had always been catered to me as a man that I started designing pieces I had never seen in the market. Shopping for men's jewelry, all I could find were boring minimal silver rings and bracelets ..cuff links, and leather. Where were all the stones? The pearls? The fragile pieces. Men are not as strong as they have always been portrayed and there was nothing out there to disrupt these strongly held beliefs of toughness, strength, aggression, etc. It was this lack of sensibility towards men that bothered me when I first started to design jewelry. I must point out though, that from the very beginning, despite being triggered by the lack of jewelry options available to men, my intention was never to design jewelry for men. I think putting jewelry in gender boxes is beyond surreal. All I see are bodies and people wanting to express themselves by embellishing them in whichever way they want… free of stereotypes.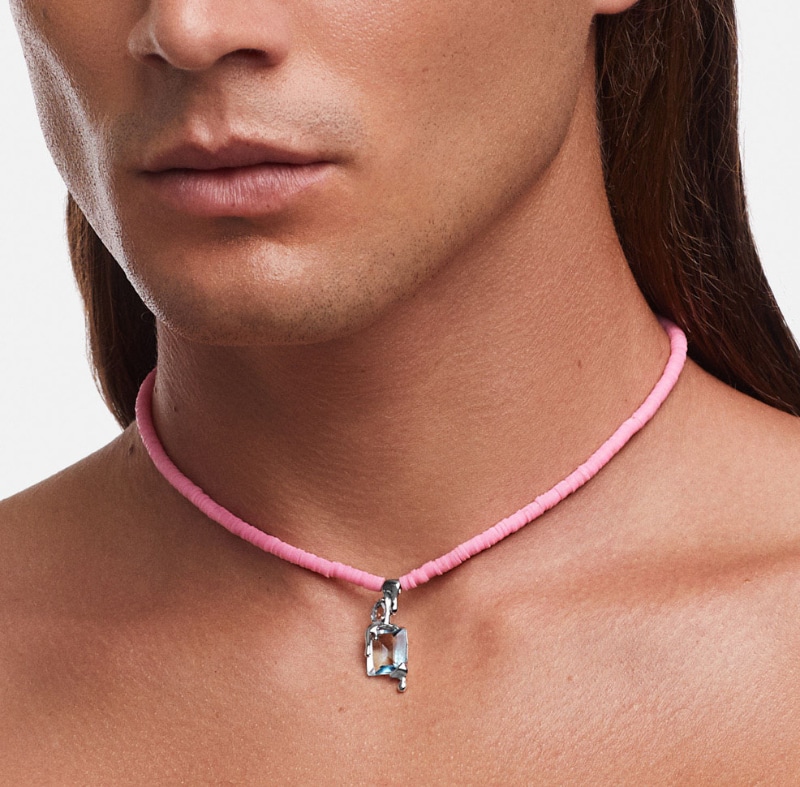 Are you alone in your creative sphere or do you work with other creative?
I design all the pieces myself and oversee the whole creative direction of shoots and visuals, but I have been lucky enough to work with amazing creatives who believe in me. I would not be where I am today without their ongoing support.
You switched from having studied fashion at Central Saint Martins to focusing on jewelry. I see that as an honest move to your vision. As a young designer, is honesty important?
Honesty is not just important, it's a necessity. I believe people must be true to who they are and to those around them. People tend to fear their vulnerabilities and rawness. For me, I got to be in peace with my weaknesses as much as my strengths to create freely and engage with others. There's no collaboration or synergy without surrendering and committing.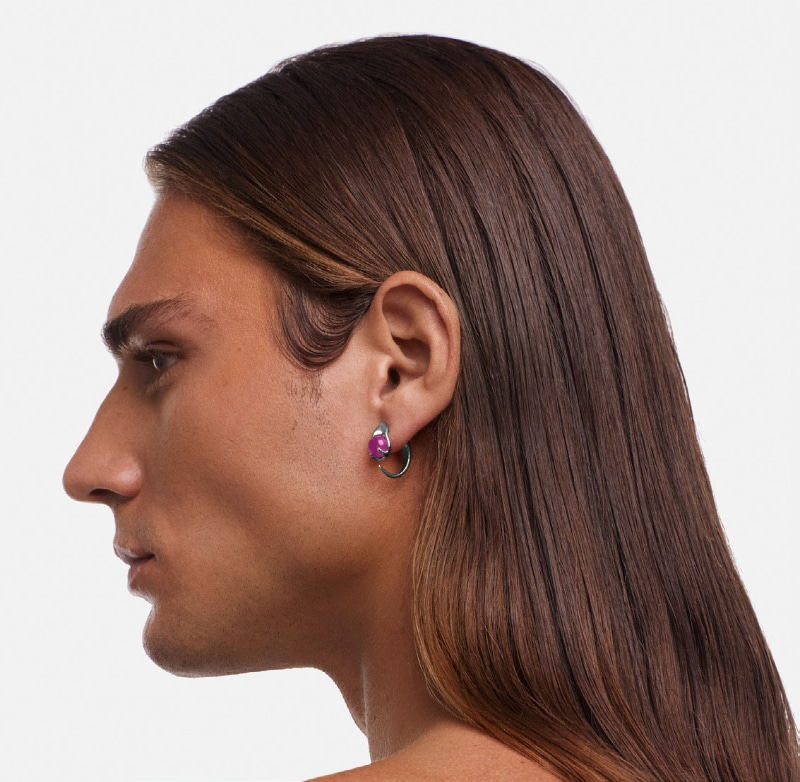 Accessories are sometimes referred to as mirrors of our personalities and extensions of our bodies. With your SS22 collection, I saw tattoo-like adornments. What's the story behind the collection?
"Rather than living our lives, we are "lived" by unknown and uncontrollable forces"  –  Sigmund Freud, 1920
SS22 SUPERNOVA is a provocation! It alludes to uncontrollable explosions that aid new, primal formation. This rudimentary state reflects a rather complex entanglement of raw instincts, desires, and passions. To unpack this idea, I explored the play on the word AC*ID. 
On the one hand, he draws on the works of Sigmund Freud, more specifically, the theory of personality. In it, the *ID is the part of the mind in which unrestricted, natural, irrational feelings and impulses manifest themselves. The *ID seeks immediate pleasure and gratification of all its animalistic urges, needs, and desires. The Ego, which is concerned with reality, and the Superego, the morality backbone, however, aim to curb and burry these primordial urges in the depths of the unconscious mind.  
On the other hand, the allusion of ACID as a substance that disconnects one from reality (Ego) and morality (Superego). It causes a feeling of exhilaration, of indulgence in newfound colours, sounds, and sensations. An awakening of untapped and unrestrained self (*ID).
If we had to reduce your collection to a single entity, a piece that would linger for centuries, which one would it be?
I want to think they will all linger for centuries but I have a few pieces from my earliest collections that are that I believe will stand the test of time. I decided to create a CORE COLLECTION to eternalize my signature pieces. Amongst those pieces, the rose earring, the space ear cuff, and the nose plaster stand out to me. The rose is iconic and classic and was inspired by my mother. I appreciate the sensibility of that piece. The space ear cuff was revolutionary as there was nothing out there with the same anatomic shape. Also, the cuff appealed to people who didn't want or couldn't wear earrings but were craving to adorn their ears. And the nose plaster, a piece from my first collection shown during London Fashion Week, strikes me because of its meaning. It represents men trying to fix themselves from toxic masculinity that has always pulled men back.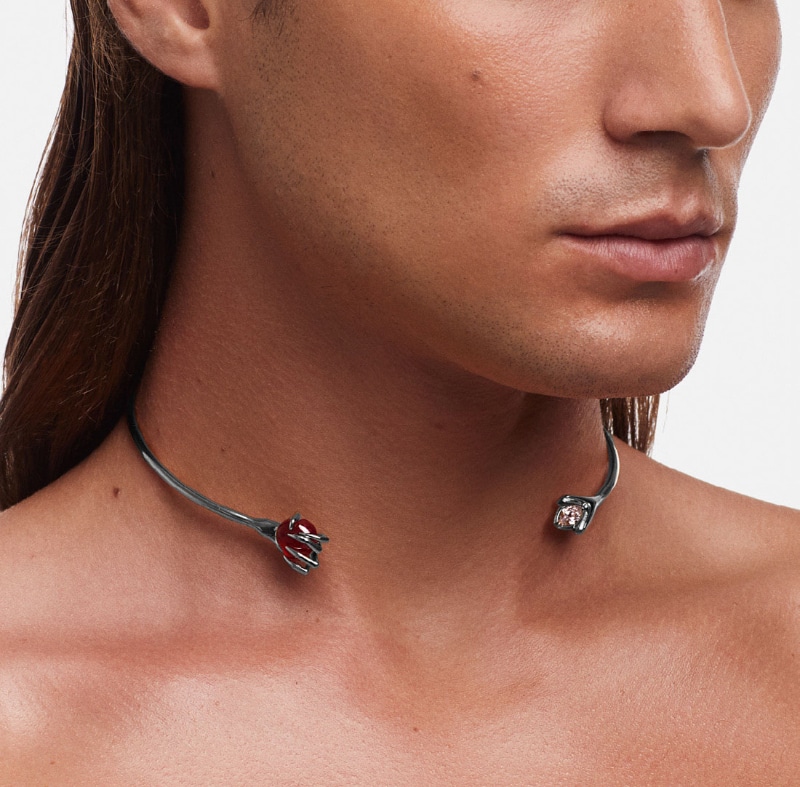 While making subtle pieces, upon closer inspection there is a theatrical side. Are you trying to revolutionize certain dogmas?
I'm trying to tell stories, sometimes political, sometimes with a social overtone, but there's got to be some fun twists. After these past two years, I feel people deserve to be amused and I'm all up for that.
Your pieces have a certain androgynous feel to them. Would you say your pieces are meant to break the gender diaspora? And do you see this as a belated revolution?
First and foremost, I consider myself a designer, the post-gender thing is a social statement indirectly attributed to the product itself. I didn't start my brand with the intent to provoke or with a mission to break norms. I wanted to convey a message that embraces individuality as an organic reality, as opposed to some kind of radical statement about the gendering of fashion. To me, the line between men's and women's jewelry has always been blurred or even non-existent. Jewelry has always been gender fluid in my eyes. My pieces acknowledge the complexity of human existence. That being said, my jewelry accentuates people's uniqueness and can help them perform or disrupt gender norms, if they wish to. 
I like to think of this as an act of resistance that hopefully will continue to be perpetuated in fashion and life in general. In my view, the nuanced changes we are seeing are connected to the overdue, downfall of toxic masculinity. We had always been fed ideas of masculinity since birth, so it's all been embedded in our brains. I questioned it a lot in my teen years. The whole idea of masculinity is related to strength and femininity to fragility is a patriarchal ideology that unfortunately has lasted for far too long. I see this wall coming down and more and more men and women resisting preconceived notions of how to perform masculinity and femininity.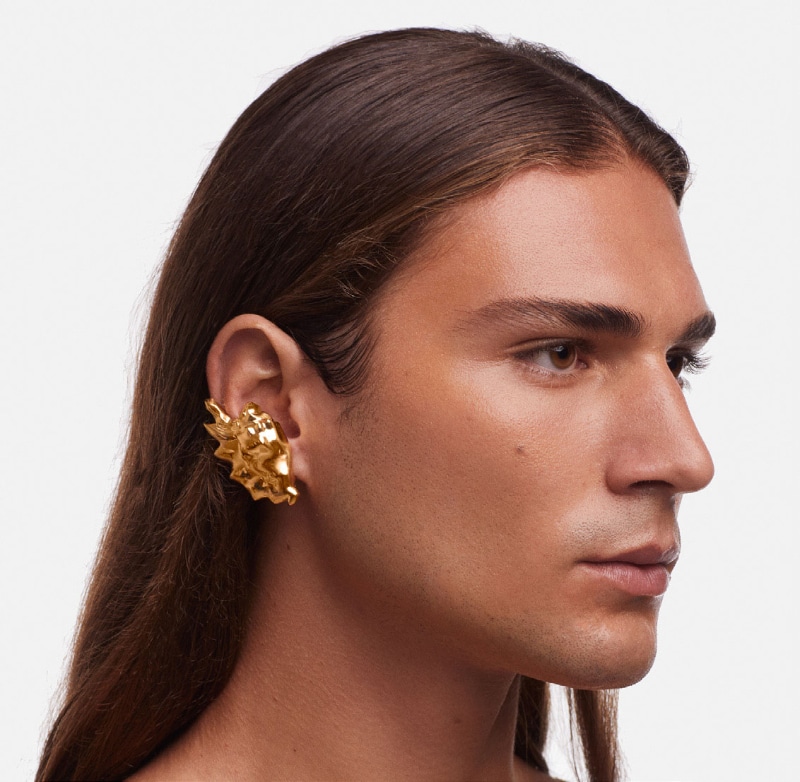 Do you see your label as a strategic black sheep in the current jewelry industry?
If being the black sheep means being different, daring to challenge the status quo, then I do see my label as a black sheep. In my view, in life and fashion, tradition perpetuates oppression and stereotyping, which is incompatible with my way of approaching life and my work with jewelry. I don't believe in creating boxes and suppressing individuals' instincts and desires. So, my goal is to disrupt ideas of sameness and celebrate individuality. 
In terms of it being "strategic", I see it more as a responsibility. I have a platform and can help enact change. So, I use it. 
How do you approach sustainability and do you incorporate any reclaimed materials?
The beauty of working with jewelry is that all materials can be reused, so there's no waste.
Finally, are there any big projects for the new year? What will your next pieces focus on? If you can't spill the beans, tell us what you've been listening to in your atelier. 
I can't say anything about what to come for legal matters but I'm beyond excited and they will be out very soon. I can tell you what I have been listening to! SebastiAN's Love in Motion, Lebanon Hanover's Kiss Me Until My Lips Fall Off, Fabaitos' B2U, and Malandra Jr's Venezia.