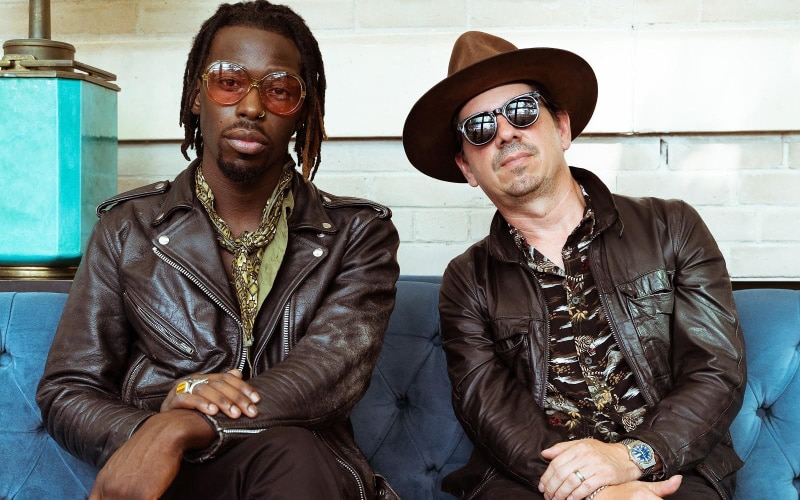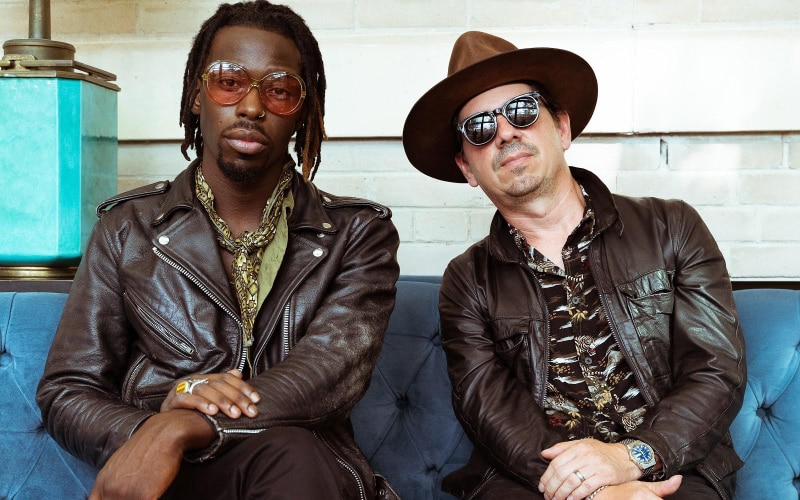 Black Pumas spread by word of mouth and gig by gig since they first appeared in 2018. By the time their debut album Black Pumas came out in 2019 they already had a strong fanbase anticipating the record. When 2020 rolled up, Rolling Stone summed it perfectly when they wrote "Few artists seem to tap the collective unease of the national moment quite like Austin's Black Pumas… never missing a beat is the tireless, charismatic energy of singer Eric Burton."
Now Black Pumas (Deluxe Edition) the reissue of the band's self-titled debut album that was released on ATO Records is nominated for 2021 Album of the Year in addition to Record of the Year for Colors, both the biggest categories at the ceremony.
We caught up with the Psychedelic-Soul Force that is Austin duo singer/songwriter Eric Burton and guitarist/producer Adrian Quesada, while speaking in sync on just about everything, fashion is where things got personal.
First of all, I have to say, I just took down my Christmas tree as I'm one of those people that keep it up until epiphany. I'm a sucker for Christmas movies and music. I actually started to listen to you last Christmases ago at the suggestion of my brother in law! So obviously, I was really excited in the fall when you dropped your cover of Lou Rawls' Christmas Will Really Be Christmas, especially at this time when so many people don't know if they will be alone for Christmas if there will be food on the table or gifts under the tree. What attracted you to the song?
We loved both the vibe of the song and the message itself. The song was a perfectly produced and arranged song by one of my favorite producers David Axelrod, and the message and singing by Lou Rawls couldn't be any more timely as it says "Christmas will really be Christmas when folks are happy everywhere."
I had plans to see you twice in Paris this year, obviously, that didn't happen and you were sold out back in February when I had the chance. Your live shows have had such great reviews, do you miss playing live? Is it important to engage with an audience? 
We do indeed miss playing live shows. To be honest, it was nice to pause briefly when the pandemic started but now we're at a point where we miss playing our music live. Interacting with people during and after the show was a big part of what made us happy.
Do you have any performance rituals?
We do a pre-show huddle where we put our hands together and a quick chant to get us connected and ready to play. Individual rituals vary from getting loose with a couple of drinks to pre-show warmups and occasional exercise to scrolling through our phones, haha. 
I don't know the story of how you both met. I'm sure you have told the story a million times, so feel free to embellish or make tweaks or flat out entertaining fiction if you prefer, but tell us the origins of Black Pumas and what's behind the name?
The name came in a long text thread where we were trying to come up with something related to the jungle cat theme. There was a little mystery to it as there is no such thing as a Black Puma, and it just had a good ring to it and fit the music.
Do you see your music in context to your Austin home base? How do you feel it resonates here in Paris for example? 
Our music definitely is influenced by our home base of Austin, there is a musical honesty here that we connected with. Paris sometimes feels like our second home so while we can't explain necessarily why it resonates there, we're happy it does.
How do you find Paris? Do you listen to any French artists? 
Adrian: Paris is one of our favorite cities in the world, every time we visit we love it more and more. I listen to some of the iconic French singers like Serge Gainsbourg, Jacque Dutronc, Francois Hardy, and the like and there is also some great French hip hop out there. 
And definitely some great rap, including old school! You are nominated for Album of the Year & Record of the Year ('Colors') at 2021 Grammys and Best American Roots Performance for 'Colors'. So far in your career, is there something you are very proud of, more than a Grammy nod?
I'm proud of the fact that we have managed to work hard, experience ups and downs, and at the end of the day truly still have fun making music.
Being a fashion mag, we can't miss the opportunity to ask if style is important to you and if you have any favorite brands or style icons?
Adrian: I like the timeless, effortless sense of style, among my favorite style icons – Yasiin Bey (Mos Def), Bob Dylan, Liam Gallagher, Ralph Lauren.  
Eric: I like The Gap, Jimmy Choo, League of Rebels, Alton Mason (model), and Mariane Calazan (model).
I think Liam Gallagher has made the parka timeless! Here we are now, in 2021, all looking for a bit of hope.  What are you positive about at this moment?
Adrian: Throughout all this craziness that is 2020, I'm positive about music and positive about family.
A last message before we disconnect?
Can't wait to be back in France, particularly Paris, hope to see you all out there sooner than later. 
Black Pumas – Black Pumas (Deluxe Edition) is out now via ATO Records