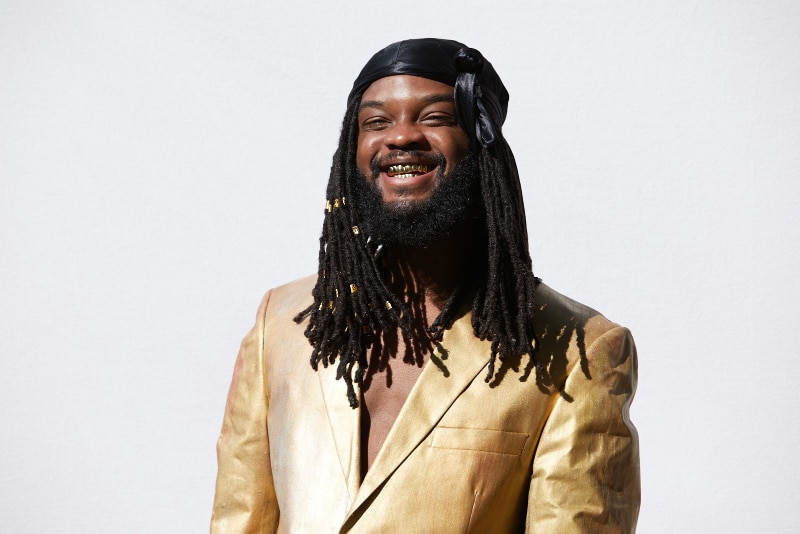 Genesis Owusu is already a breakout star back at home in Australia having one of the biggest radio hits of the year and receiving an ARIA nomination but 2021 is set to be the year that he skyrockets internationally. He creates an incredible blend of classic punk rock, utopian future funk, and anti R&B which is both politicized and deeply personal and he is totally magnetic in his delivery. He cites influences such as Outkast, Frank Ocean, Jimi Hendrix, and Wu Tang Clan and is signed to House Anxiety which introduced the world to King Krule and Courtney Barnett. He had an early champion in Elton John and collaborated with the likes of Mick Jenkins and Anderson Paak's Free Nationals, so lots bubbling away.
Genesis Owusu released his latest single, "The Other Black Dog", along with the long-awaited debut album Smiling With No Teeth, on March 5, 2021 via House Anxiety/Ourness.
The Ghanian-born, Canberra-based artist is becoming renowned for a maverick presence and an ability to conjure powerful storytelling in diverse forms, as he embraces a winding sonic path of his own. His new single puts a name to the inner and outer demons he lives with, the 'black dogs' that form his existence, a notion to become familiar with on his debut album, 'Smiling With No Teeth'. Directed by Riley Blakeway, Genesis bolts through the darkness along a deserted country road at night, trying to outrun himself and these relentless demons that feed off his fear and escapism.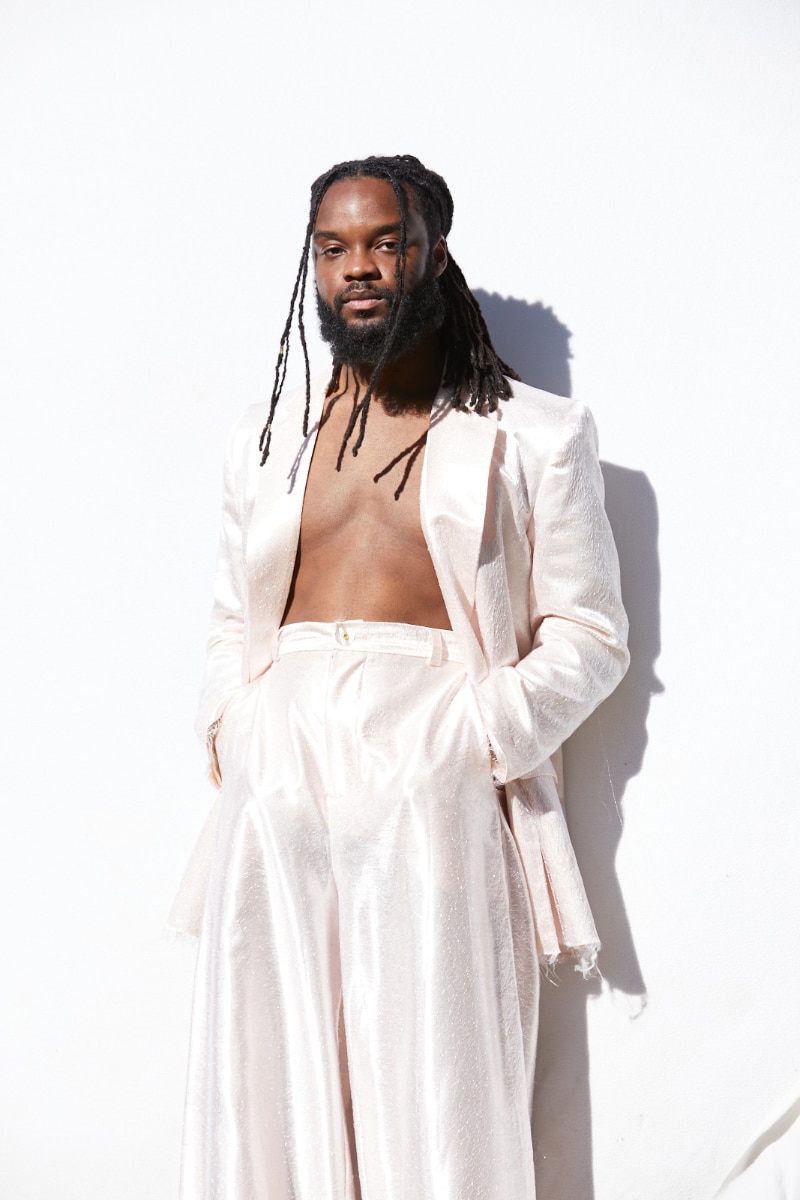 Owusu says of the single: "The track explores the internal struggle between a hopeful spirit of endurance and a gnashing black hole of ugliness. One is me, and the other is also me."
His debut album, 'Smiling With No Teeth', composed by a 15-track collection sees a prodigious talent confound genre while charting the epic peaks and troughs of mental health struggles and his experience of living as a black man in a very white society. Owusu layers these themes under a rollercoaster of ever-changing soundscapes: raw modern rap energy veers into industrial, punk, and funk-charged moments, to folk-pop songs about fishing. His debut album has songs that invoke the spirit of Prince and songs that nod to pioneers like David Byrne. It's an album dedicated to those who refuse to live inside any box, or at the very least, don't feel that they fit in, wherever they find themselves. Owusu's personal testimony of mental turmoil, race, and perseverance, 'Smiling With No Teeth' sees the culmination of crafted in unity on the pages of his sonic memoir.
Owusu says of the LP: "Smiling With No Teeth is performing what the world wants to see, even if you don't have the capacity to do so honestly. Slathering honey on your demons to make them palatable to people who only want to know if you're okay if the answer is yes. That's the idea, turned into beautiful, youthful, ugly, timeless and strange music."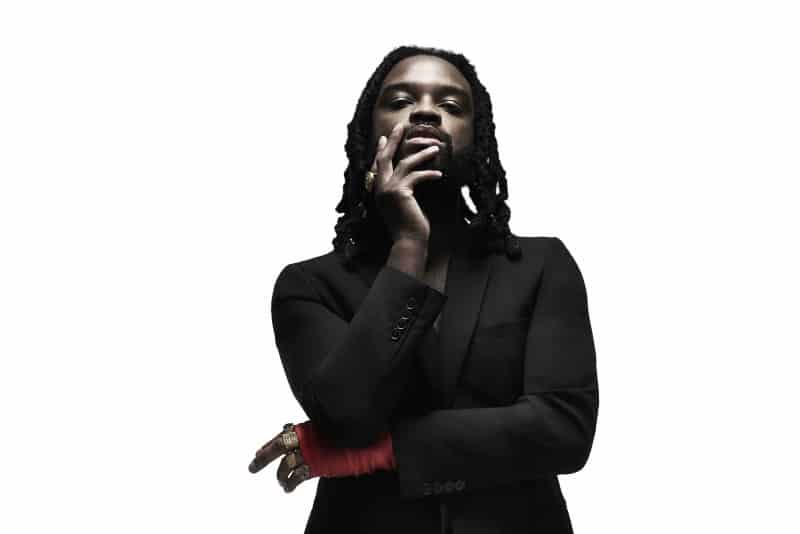 Looking back, what were some of your earliest memories of music appreciation?
My first ever favorite song was Gravel Pit by Wu-Tang Clan. It had somehow made its way onto my original Xbox and I would dance to it all the time. I was probably like 4 years old, and I had no idea what the Wu-Tang Clan was. That, and my parents having a Michael Jackson greatest hits DVD that my cousins and I would steal to try to learn all the dance moves.
Your early single 'Wit da' team' sounds like a theme where the main character lives inside a psychedelic bubble. Does this song show a vulnerable side of yourself?
I wrote that song about cultural appropriation and the consumption of black culture when it's convenient versus the neglect of black struggle when it's inconvenient.
Do you wonder how your music has an impact on your listeners? What do you want us to understand through your music and lyrics?
A lot of them tell me how it impacts them, which is nice. Whether a song has gotten them through a dark day, or when it's made them think about something completely different from what I intended when writing it. My process of making music is very self-centered, I shut out everything else and just focus on what I want to express, so when I get these messages, it kinda pops that bubble I live in for a bit. It's a cool experience. Take the music as you will, dawg. I make it, but once it hits your ears it's yours to take what you want from it. If you love what you take, I love that; if you hate what you take, I love that too.
Take us through your songwriting process. Are there any particular steps you took when putting songs together for 'Smiling with no teeth' album?
For the album, ME and a band of insane musicians that I had never met holed up in a small room for 6 days and jammed for 10 hours a day. Every song except for Black Dogs! and Easy is straight from those jam sessions.
What gets your creative juices flowing?
Weird shit.
Is it important for you that all the songs have a common thread or a theme?
For the album, yeah. Smiling With No Teeth is a concept album. Everything about the final product is very intentional, and (for me anyway) nothing is thematically out of place.
What inspired you in writing 'Don't need you' and what is the message behind it?
'Don't Need You' is an anthem of independence from toxicity, in my case/the context of the album, it's about depression, but it's written in a way where a lot of people take it as a fuck you break-up track, which is fun.
Studio work and music creation or performing and interacting with a live audience, which do you prefer?
Performing is my favorite thing. It's an art in itself.
How do you feel the pandemic situation has impacted your music career and how did you overcome it?
I made an album.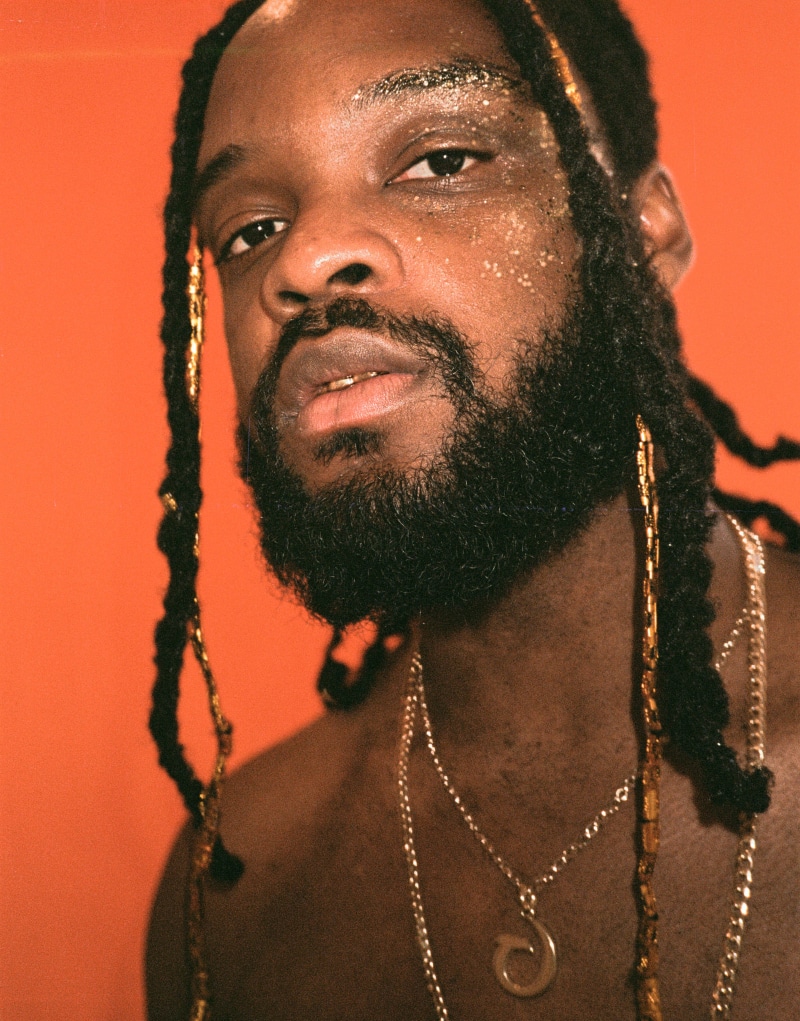 What would you be doing right now, if it wasn't for your music?
I think I'd be some sort of writer. I've loved writing since I was a kid.
What is the most memorable feedback you have had on your music?
"This shit weird as hell" & "This is a fully realized black man."
What's on your current playlist?
Duke Deuce, Yves Tumor, The Neptunes, Return to Forever, and me.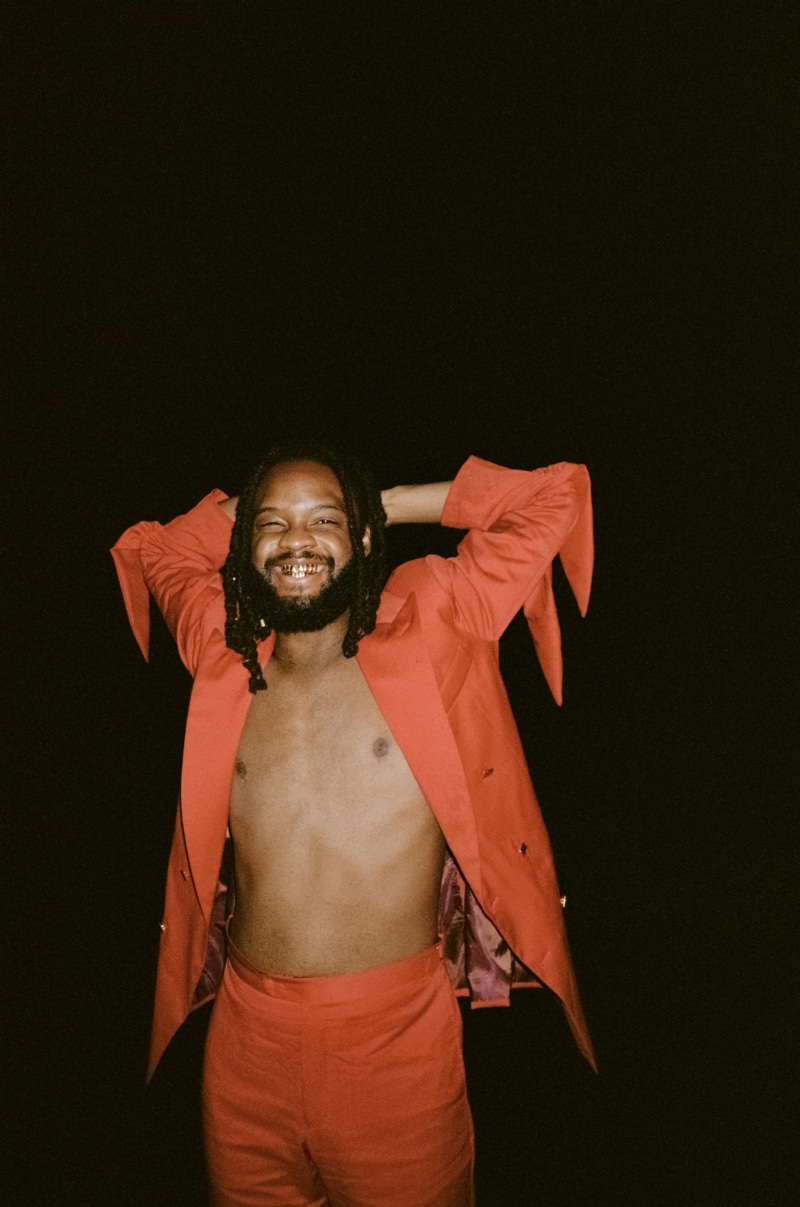 As a musician, it becomes apparent that there is a huge difference between the creative process and the business. Is there anything about the music industry that you would personally change?
I could write a thesis on this, my friend. I'm just very glad I have a great team around me to handle a lot of stuff; I try to stay out of the industry shit as much as I can. Two simple things: I would love it if the industry gave more merit to exciting, boundary-breaking art instead of just pushing what they already know will make them money, and I would love it if people in all positions of power would make more of an effort to be decent human beings outside of the gaze of the public.
Break down the news for us: what can we expect from you in the near future?
It'll be more exciting if you're not expecting it.
Imagine you must write a letter to your future self. What would you write?
Are you a supervillain yet?