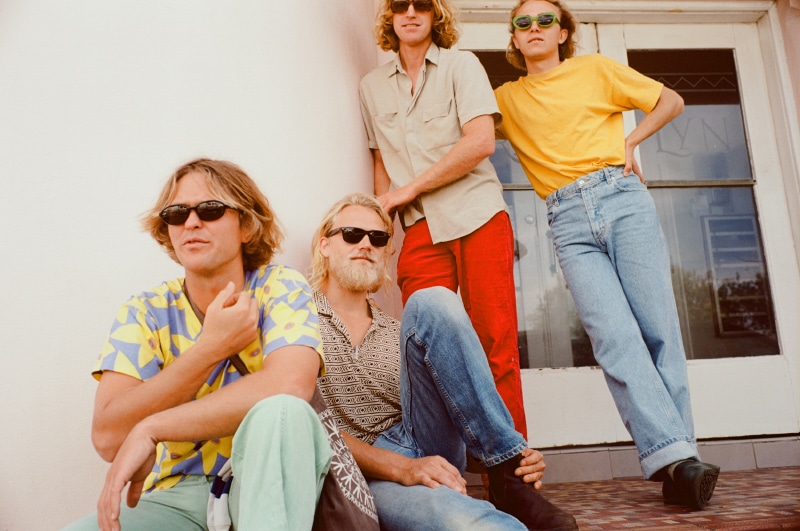 Babe Rainbow is an Australian psych-rock band that originated from the surf. They've released 3 records in the last three years through Danger Mouse's 30th Century in the USA, and King Gizzard's label Flightless Records in Australia. They're macadamia nut farmers by trade in Byron Bay, and are into permaculture and environmental issues, as well as being near-professional surfers.
They released a new album 'Changing Colours' that was released on 14th May via their own label Eureka, AWAL, and vinyl through King Gizzard's label Flightless. It's the type of music that floated down from the early 70s, and captures some much-needed sunshine – a relaxed meditation that folds the map between California and Byron Bay; compressing time, like a needle skipping over the past half-century of music.
After badgering them over Instagram for months, Jaden Smith got his wish to collaborate with his favorite band, and it's paired with a euphoric video that Jaden has part-directed in true 60s/70s style. Watch the video below:
We interviewed Jack "Cool Breeze" Crowther and here's what he told us:
Surf first, but what got you into music?
I'm thinking maybe it was my old man playing his CDs really loud in his car when I was young, that probably made me inquisitive then I had a guitar teacher Angelina Ellis who was such a legend. Making us get up really early for guitar ensembles.
Did you grow up in a musical household, or are you first generation?
First generation as a player, but both folks are definitely lovers of music.
How would you describe, in a few words, the music that you typically create?
Pastoral – folk – rock.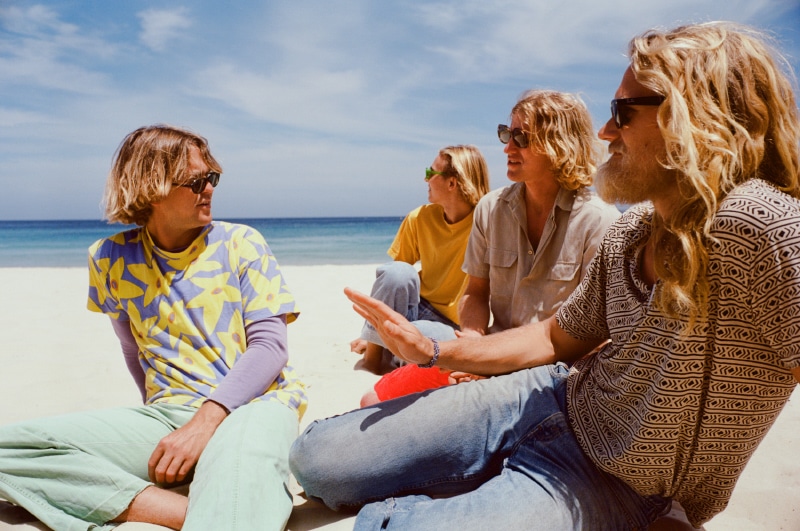 How has your life journey experience as surfers has an impact on your music career?
Puts us in a good mood, and very natural bonding occurs when driving around getting stoned looking for waves – what we did a lot of when we were younger. Meeting cool people.
Your last single 'Your imagination' feat Jaden Smith is an approach to sunrise. How was this collaboration born and why?
It was all pretty virtual you know. Over the email and stuff but all very very easy going. He liked what we were doing and just reached out. We think he is living his life own original path. It feels like the beginning of something GOOD.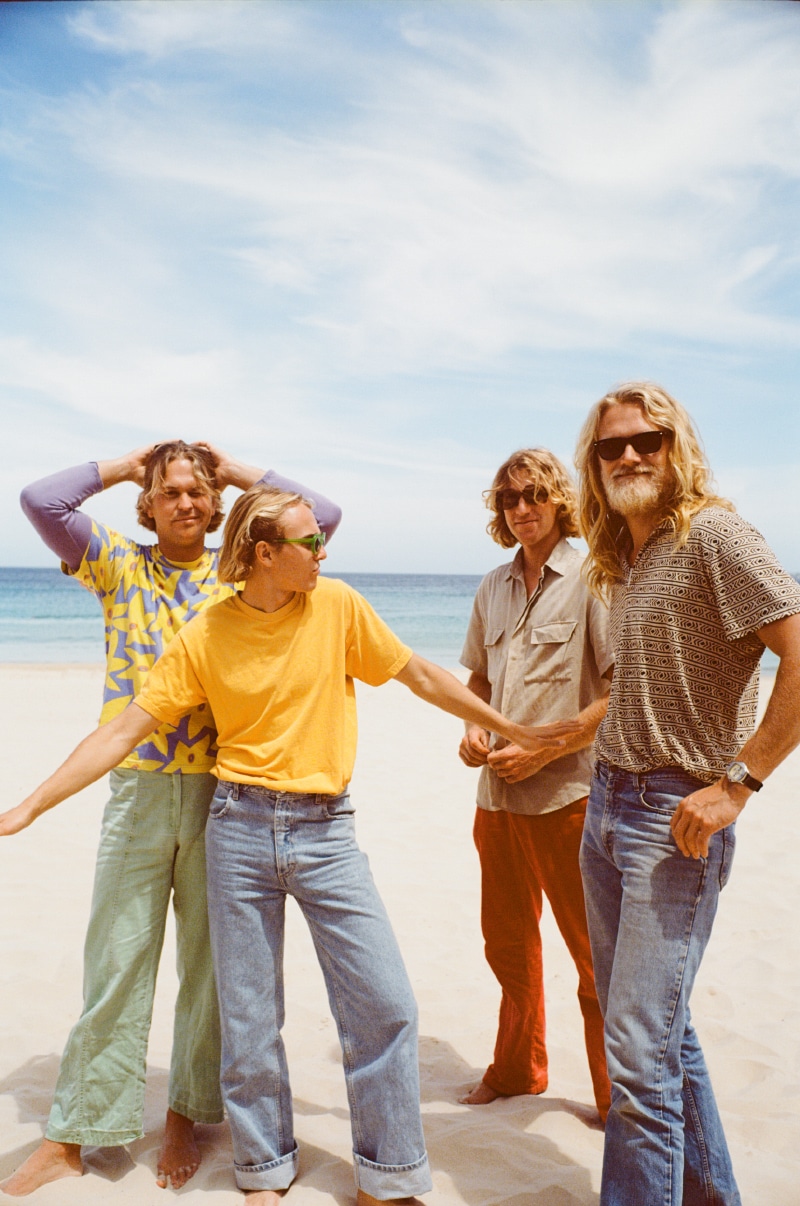 How do you feel the Internet has impacted creativity + the music business?
Good and bad. I'm a little ignorant about the streaming incomes and pros and cons of the economic side. Finding music and organizing it is a pretty sweet deal these days, I'm into that. The fast pace of playlists and the like as opposed to records tapes CDs takes the romantic aspect away from albums and the chapters of a music group if that makes sense. Always some sharks around, you just gotta take it in your stride I reckon.
While I was listening to your album 'TODAY' I wondered, which decades of music influenced you the most and why?
Started off pretty heavy in the 60s, I'm kinda up to the 90s right now, head back to the 70s pretty often.
What story are you trying to convey with the Babe Rainbow as a band? What makes it so unique?
Ummmm I think we are just making music together as our lives unravel. There isn't too much intellectualizing of the story I guess …Trying to stay as beatnik as possible while facing the regular growing-up challenges of money and relationships etc. We just tell stories of love, and nature, and the pastimes that frame our lives. It's not very unique, maybe it's our conviction.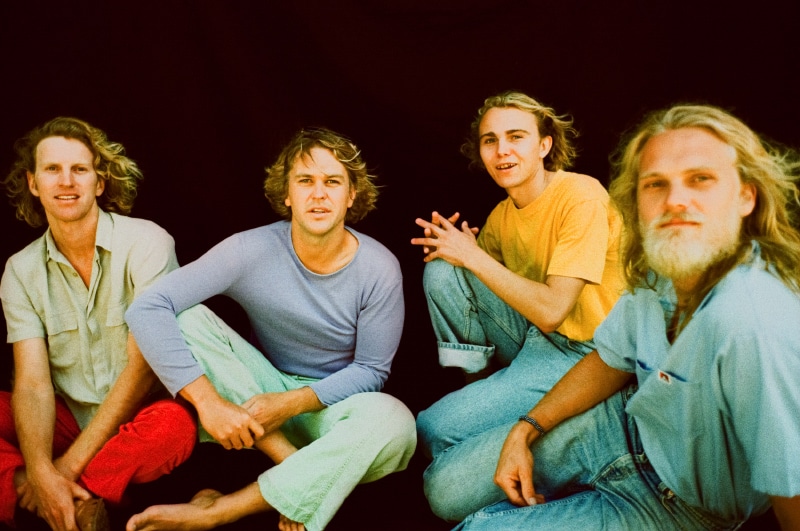 Your single "Zeitgeist" sounds very deep. Tell us a little bit about the story behind it.
I guess the poem is an attempt at discussing the limits to growth of the planet, the climate crisis, tragedy of the commons, and the. emotional courage kinda stuff. We were in Topanga where there had just been the huge fires, hearing word from home that the entire east coast of Australia was on fire! Our farms are under threat, so dry. Then when we were back home finally finishing up the song making the film clip it was raining heavily and it was all cyclical and like a strange dream.
How the pandemic situation affected your career and how did you overcome this challenge?
To be honest it hasn't impacted negatively apart from us getting a little rusty on the live show. We all have young children so not being able to tour was perfectly perfect. We focused on our recordings, family and the farms. Living where we do, we were so fortunate to be affected so little.
Secret crush of each one?
Jack: Monty Don
Miles: Nick van Bakel
Elliot : Marlon Magnee
Angus: Kristofski
What's next from the Babe Rainbow for us?
We have quite a few songs up the sleeve, polishing them off chopping and changing . Maybe an EP, maybe an album. It won't be far behind this next one. I am excited for us to travel the world playing shows again once international situations are all good. Some house building, some orchard planting elliot about to do a charcuterie course.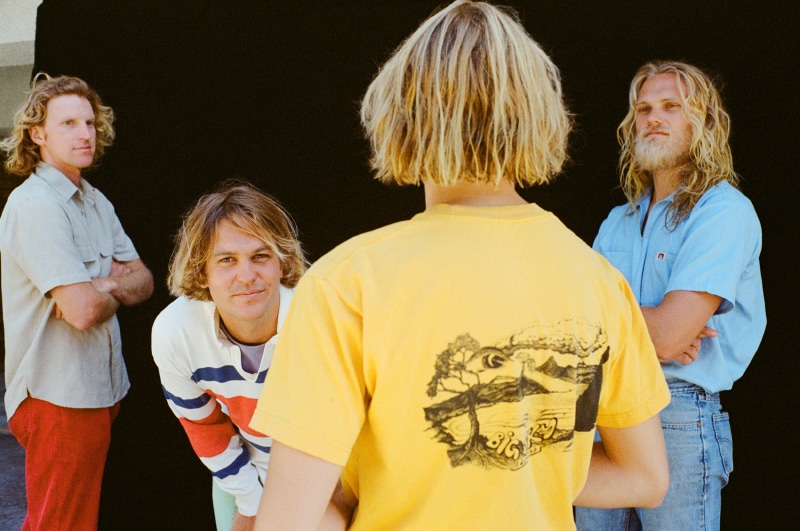 Photos by Maclay Heriot.