The Icelandic brand 66°North has been making waves in the fashion world, demonstrating its high-fashion credentials through various collaborations and the appointment of Creative Director Kei Toyashima, who has previously worked with luxury brands like Vuitton and Bottega. Building on this momentum, 66°North has partnered with up-and-coming designer Charlie Constantinou to create a capsule collection that combines the brand's technical expertise in performance wear with Constantinou's imaginative approach to functional wear.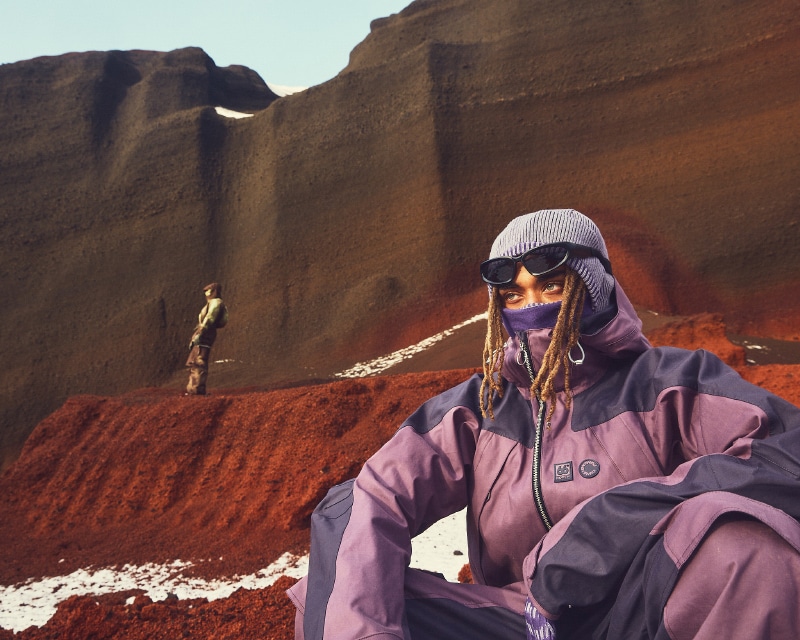 The collection draws inspiration from the Icelandic landscape and 66°North's archive, with technical knitwear and signature outerwear staples in muted earth tones, purples, and reds. The knit styles feature a pleated merino blend yarn with a 3-D effect when stretched, and a diamond graphic that gives the pieces a beautiful two-tone appearance. The fabric also features a unique technology that distorts pinstripe lines when light flashes on them, serving as a safety feature in Iceland's minimal winter daylight.
The pieces are sustainably made from leftover and deadstock fabrics, and were produced mostly in Latvia with direct input from the 66°North design team and garment technicians. The campaign for the collection features stunning images of the pieces in mesmerizing Icelandic landscapes during a wind storm, showcasing the collection's durability and versatility.
All pieces in the collection are adorned with the 66°North and Charlie Constantinou logos, and feature custom-made metal zippers and other trimmings. The collection is available at the 66°North London Flagship store and online at SSENSE. Overall, this collaboration between 66°North and Constantinou is a testament to the brand's commitment to innovation and pushing the boundaries of technical fashion.
Take a look below: