Earlier this month, we had the pleasure of attending the last show of IED Madrid (Istituto Europeo di Design), held in warehouse number 16 of Matadero Madrid, to discover first-hand the proposals of the students shortlisted on 18 May at the Avant-Défilé by a jury of 120 people.
The level was quite high and the complexity of the different collections that were seen in the space could be appreciated at first glance. All of them were more than valid, but if there was one that particularly caught our attention, it was that of Marcos Escobar, from IED Madrid Official Undergraduate Degree in Design, specialising in Fashion Design, who coincidentally won the Prize for the Best Collection of the Year at the Fashion School, with his project entitled "Jano Bikoitza", which is very interesting to analyse.
It seems that the already Basque-born designer has arrived to the fashion industry to stay, or at least to try to carve out a niche for himself. Recently, after his triumph, we were able to talk to him to find out how he felt and learn a little more about his point of view on fashion and, of course, his work.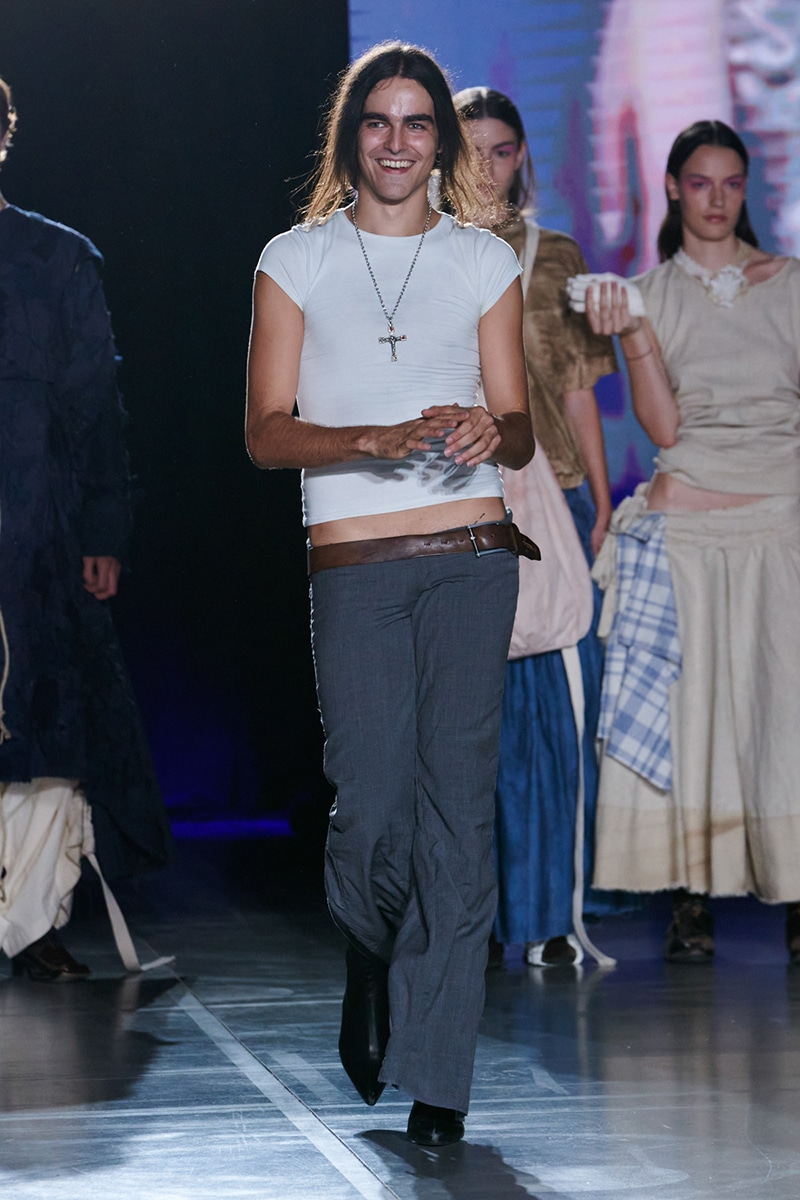 Marcos, a few weeks ago you presented your proposal "Jano Bikoitza" at the last IED Madrid show. How was the experience of showing the guests your work done during these four years? What feelings did you have before and after the show?
During my four years of career, I never had the opportunity to show something of mine at this level, and the truth is that it was healing and it helped me to believe more in myself and in what I do. I was very surprised to see people who didn't even know me smiling at me. I loved that!
Before the show, I felt very calm because everything was already done and it was the last push, so I felt a lot of liberation. And after the show, the only thing I remember is a lot of recognition from people outside of me and a lot of happiness.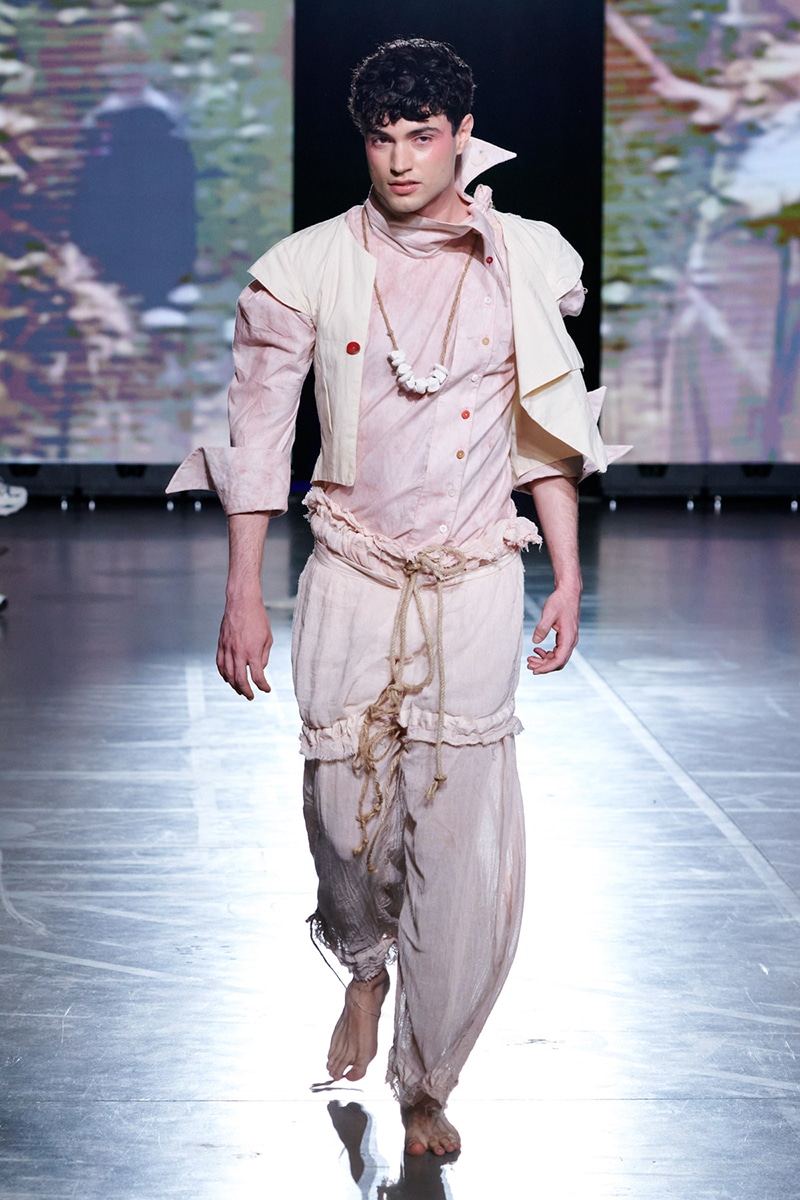 At this event, your project was awarded the prize for the best fashion collection among all your classmates. What did this mean to you? Were you surprised to hear your name called? How did you celebrate this achievement?
It was surprising, I didn't expect it at all! I am very happy with my work, but I am aware of the good projects that also paraded, so the fact that they gave it to me was a great pride, which I celebrated with the teachers who helped me during these four years and with my family, where I add my closest friends, who have always supported me in everything I do.
The evolution and differentiation that you and your twin brother have experienced through a series of external factors are the main themes of your line. How did this idea come about? Why did you decide to create a collection around it?
After trying to define myself, I realised how difficult it can be, at least at a young age like mine. As I was discovering who I am through people, experiences, places, and so on, I noticed that each of these new things that I was experiencing, were always accompanied by another, which in this case is my twin brother. An other who was the same as me physically, but also internally, although not 100%.
My brother Nicolás and I are twins, and identical I would say, that is to say, we come from the same ovum and have the same genetic load, so for many, we are the same person, with the same values, beliefs, tastes, and interests. But, to the surprise of many, this is not the case, as my brother Nicolás and I are different in some ways, such as musical tastes, aesthetics, sexual orientation, or gender expressions.
Even with all these differences, there is something in each of us that prevails from when the two of us were one, and we indeed become two complementary and, at the same time, often opposite beings.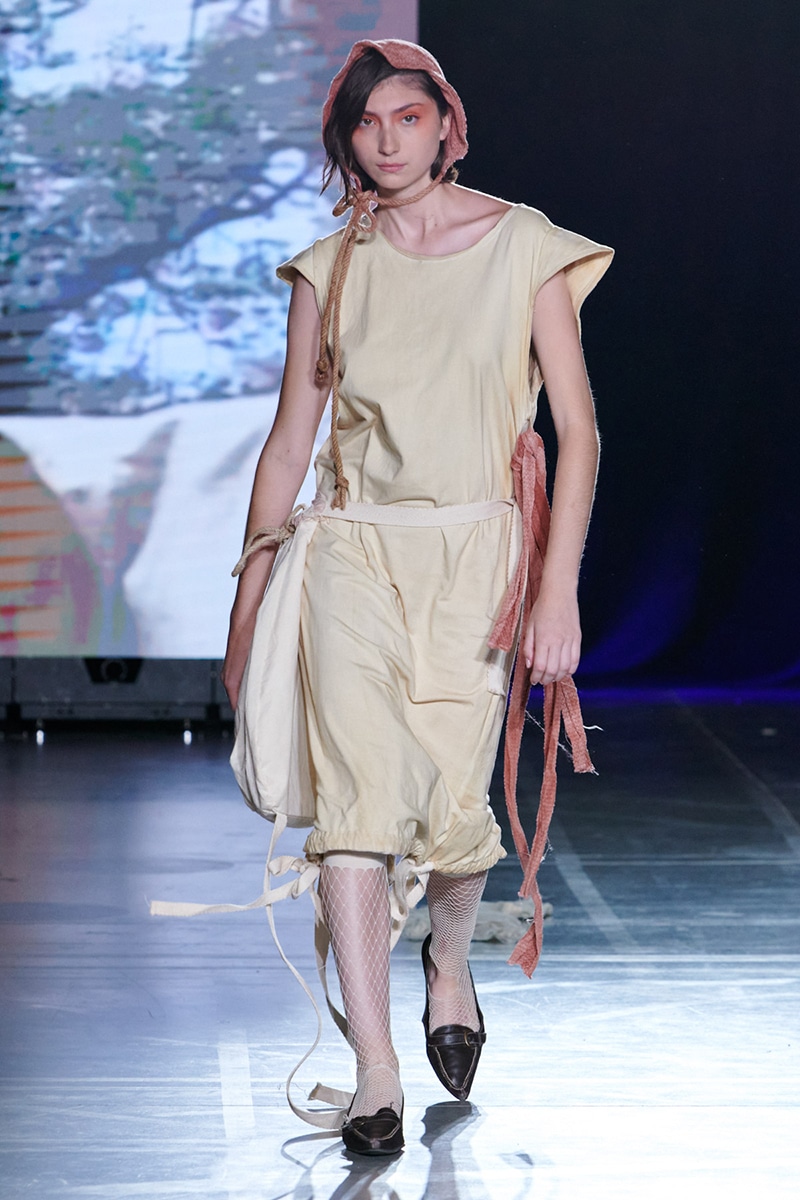 Childhood has also played an important role in this work. How do you remember those years?
I have very good memories of my childhood. I was lucky enough to have a stewardess mother with whom I could travel and get to know new places and cultures, always accompanied by my brother Nico, of course. I also remember a very familiar atmosphere between my parents, my uncles and aunts, my cousins, and my brothers and sisters, summering in San Sebastian (Basque Country), where all my family comes from.
When it comes to creating and developing a collection, the choice of fabrics is one of the most important parts. Which ones did you choose?
All the fabrics I chose are natural fibres, or recycled ones that I found at my grandmothers' house, as they were both seamstresses. I also used materials that I have been storing during the four years of my career, such as cotton, linens, and silks. The retor also played an essential role in the collection, as I used it as if it were a shared fabric between my brother's and my personalities. The remaining fabrics were those that varied, both in fabric and colour. The non-retor fabrics were all dyed with natural dyes such as oak gill, nogaline, iron sulphate, calcined iron+clay, lapis lazuli, and indigo.
Of the 6 looks you presented, do you have a favourite? And, which one is the most complex? In terms of construction.
I do! My favourite look is the fifth one that came out of the show, a linen two-piece, skirt and dress/shirt styled with a crochet necklace and hip scarf, recycled from a dress my mother wore when she was 16. I like it because of a very visceral theme that doesn't understand why, but it's probably because of the simplicity of the look.
The most complex look when it came to making it, was the third one in the show, which consisted of a coat made with twill fabrics dyed with indigo, lapis lazuli, and iron. Its complexity is due to the whole process of dyeing the remnants, which, as I was getting them, I sewed them all together in the base pattern.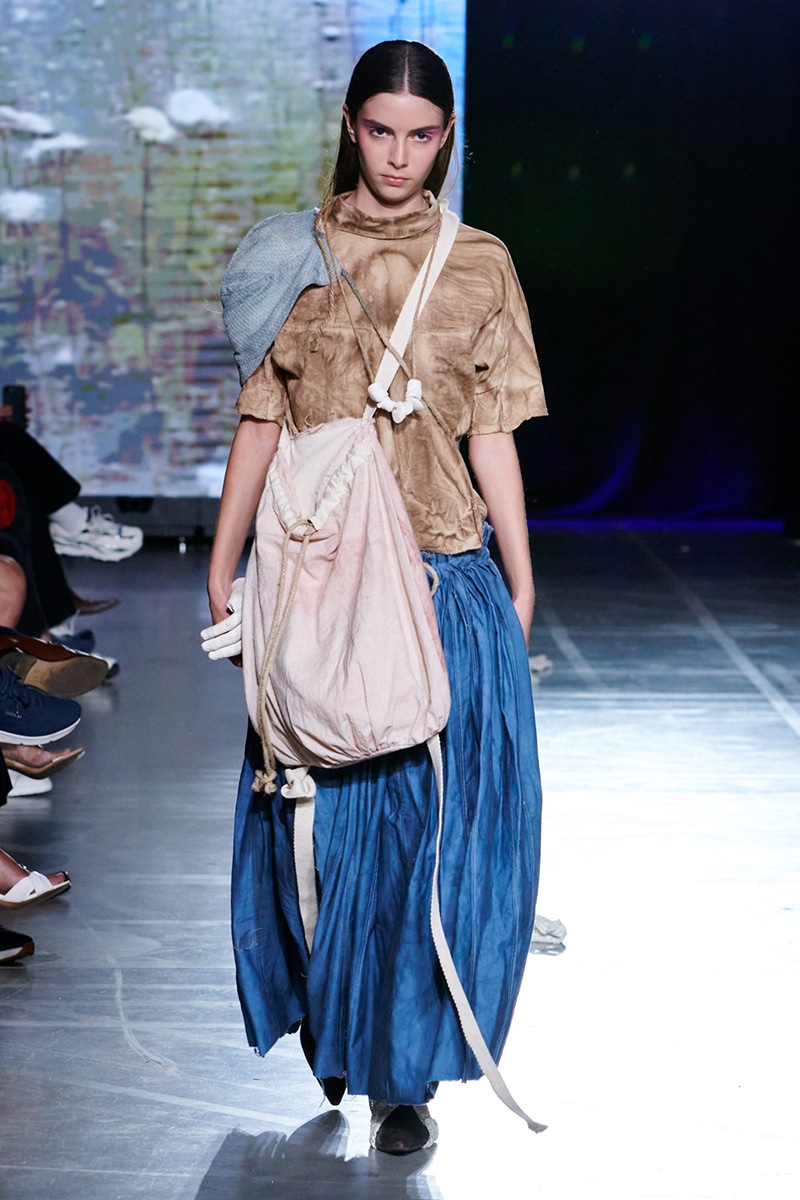 Fashion is something you have been passionate about for a long time. Who are your references? If you had the opportunity to work for a big fashion house or designer, who or which one would it be? And why?
I think a person's references change as the designer does, so I've had several references throughout these four years, such as Alexander Mcqueen, John Galliano, Rei Kawakubo, Issey Miyake, Yohji Yamamoto, COMME des GARÇONS…
At the moment, the ones that are most present in my day-to-day life, and with which I would like to work, would be Marithe Francois + Girbaud, Maison Martin Margiela, Chalayan, or Prada. I think that today Marithe Francois + Girbaud is a brand that inspires me and helps me to create pieces that have a purpose, both because of the design and the utility of the garments, which were designed in the 90s and 2000s. In the case of Maison Martin Margiela, it would be more for the personality that his clothes acquire and how he puts them into "action", as well as how his models become characters. From Chalayan, I would highlight how he creates new fabrics and plays with very different materials, such as paper dresses or even robotic fabrics with a more futuristic aesthetic. And finally, Prada, undoubtedly for the simplicity of its pieces, but without letting it become a bit commercial. I think it lands very well the idea of bringing to the market something different but sellable.
One more that I also feel I have to mention, for what he has inspired me throughout this project, is Miguel Adrover, who to my taste has the best Instagram account in the world.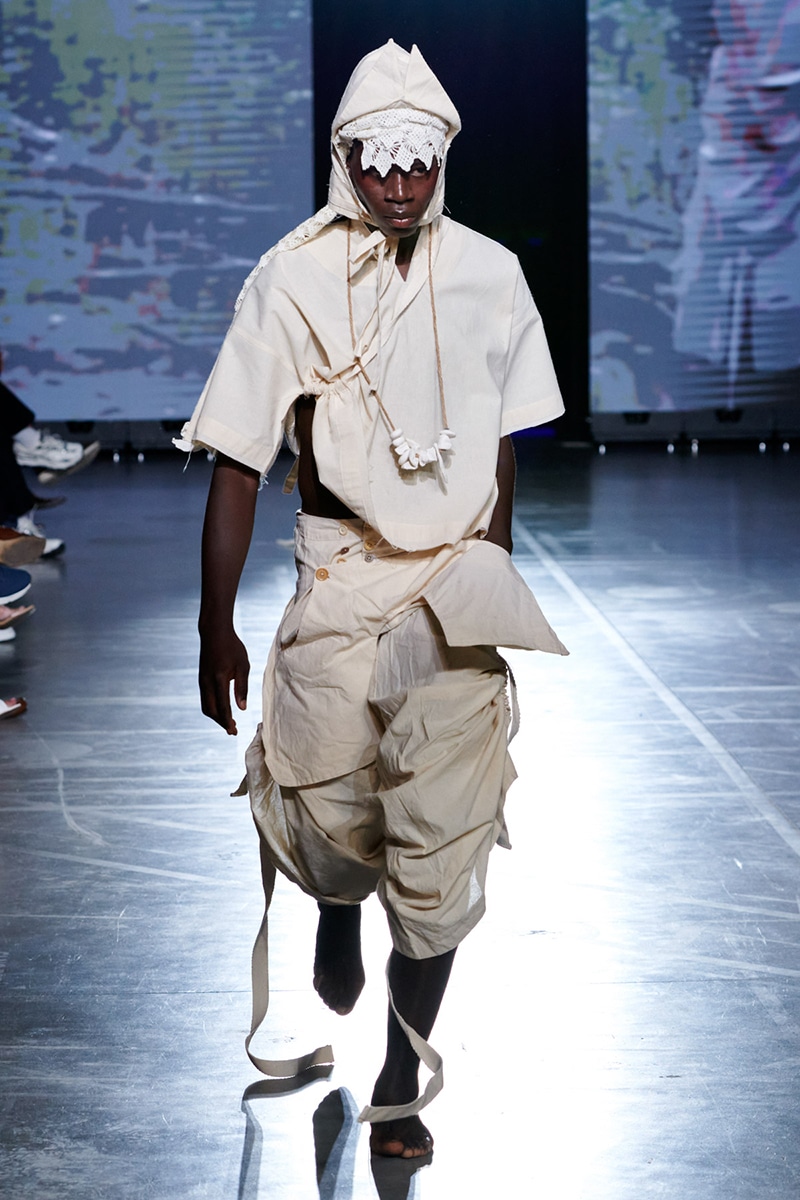 So, with these scenarios in mind, let's now take a look at the immediate future. What are your next steps in the sector? How do you imagine it from the inside? Would you like to focus on the national market or more on the international one?
Thank you for asking me this! It's very nice to dream, as in the previous question, but the truth is that in my current situation, my main goal is independence and for that, I need money, so, for now, I'm going to focus on a more national market and work in a Spanish company where I can get to know the fashion industry, in which I have not yet worked, so that little by little I can climb the ladder and reach my more distant goals.
For now, I rule out starting to create my brand 100% but I will work gradually, as I think I need to get to know the market better and look for a fashion sector I want to focus on.
How do you see the current situation of the fashion industry in Spain? Do you think there has been any progress regarding attention?
The fashion situation in Spain is changing, and people who at first decided to leave have come back to establish themselves here and start to grow, and then make the leap to the international world, so I don't think it's going too badly. But the reality is that it is at a disadvantage on the European fashion map.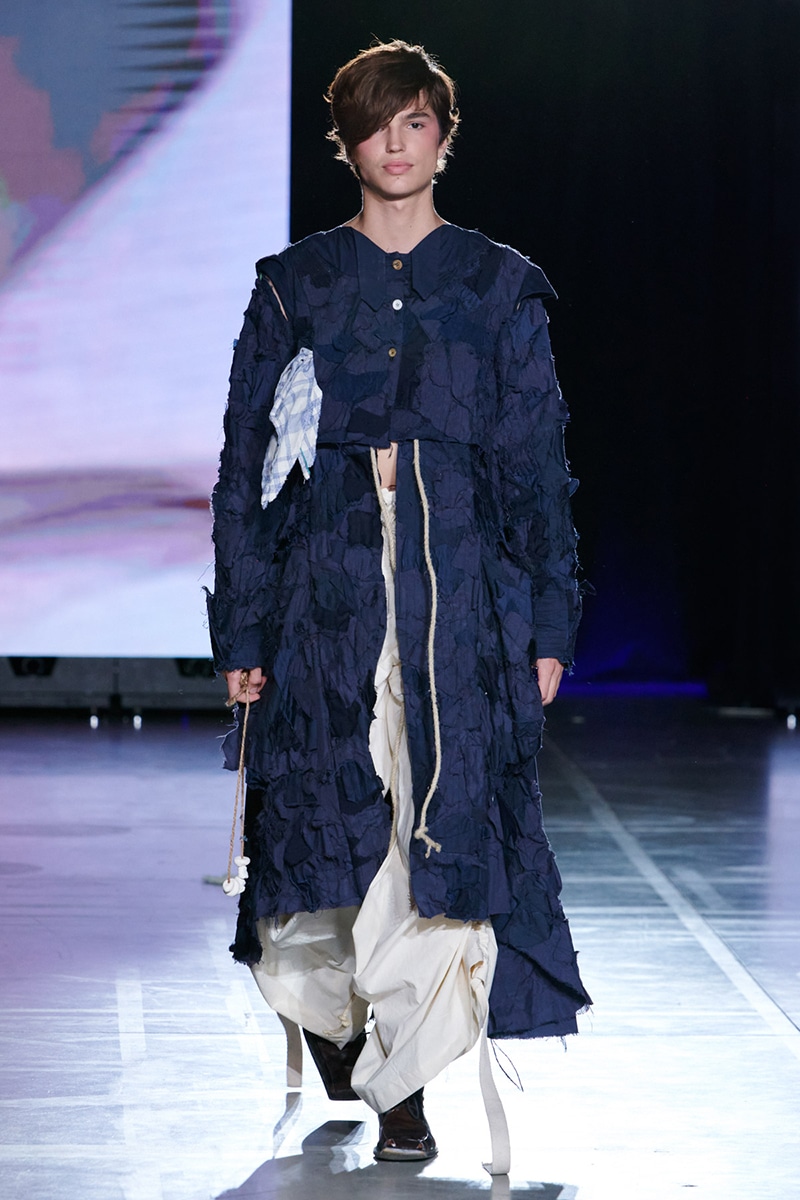 In conclusion to this interview, would you like to share any reflections on your time at IED Madrid?
I would like to thank the whole team that makes up the IED Madrid, from teachers to secretarial and management staff. I am very grateful for everything they have taught me over the years and for the trust they have placed in me from the beginning, giving me opportunities. I would also like to thank my colleagues for all their love and kindness.
Closing stages is something I enjoy very much because it brings out of me a rather primitive instinct of what I have to do now. I embrace whatever comes with open arms!
If this story has inspired you, find out about upcoming courses at IED Madrid. The enrollment period is open. More info here: www.ied.es