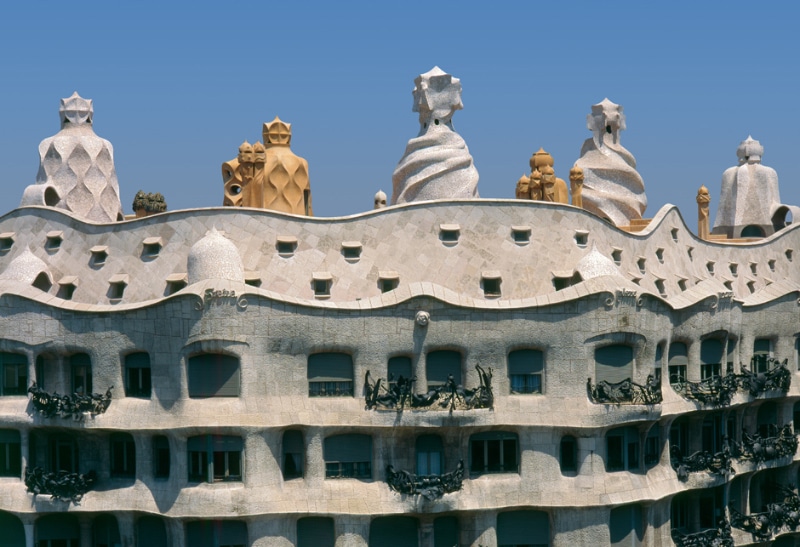 080 Barcelona Fashion like so many other fashion weeks around the world has adapted to the unusual circumstances and keeps showing support to its fashion designers. For its second digital edition – celebrated from April 26 to 29 –  22 designers and brands will show their collections in one of the most beautiful locations of Barcelona, the Casa Milà-La Pedrera. This Gaudi masterpiece will be a scenario accessible to everyone everywhere, as long they have internet on their laptops and phones. All you need to do is click HERE, grab a snack or a drink, and enjoy.
In this edition, 080 continues to bet on technology, sustainability, the circular economy, as well as the international promotion of fashion and design that is made in Catalonia. In this sense, digitization is an opportunity to increase the projection of Catalan fashion and reach new audiences at the international level.
The schedule includes some familiar faces and also some new additions to the Catalan runway. Below some of our favorites:
ÁLVARO CALAFAT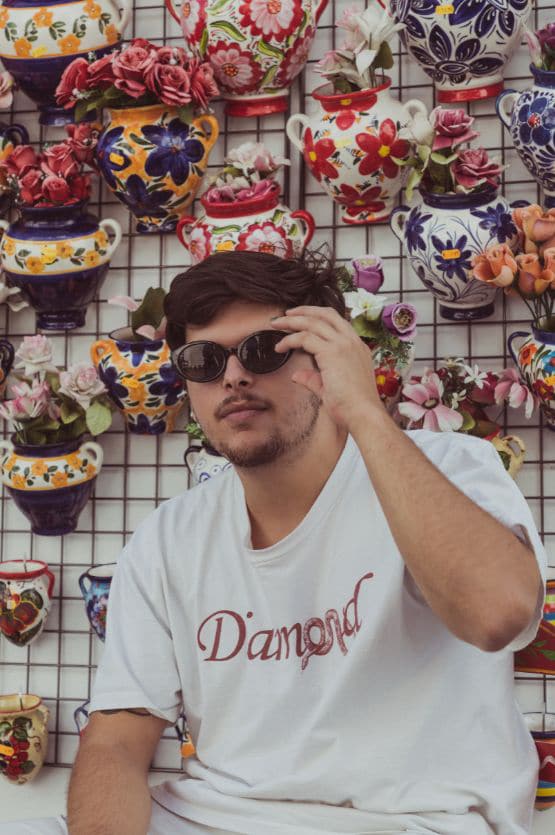 "I would like to introduce myself briefly, all my life I was a 'bad student', my creativity and interests developed when I took a cooking course. Years later and having realized that the kitchen sector was not really my world, fashion appeared in my life, and suddenly, it became my vocation. I began my studies at the Cádiz School of Art, where I developed my skills as a designer. While I was studying, I created my first collection, 'Tobalo', inspired by the crafts of Andalusia, my land. After winning some fashion contests thanks to "Tobalo", I was able to continue working and investing in new collections, like Qarmida. This new collection continued to open doors for me in different competitions at the regional level. When facing the end of my studies, I developed Chapter 1 Imbalance. In recent months, after finishing my higher education, I continue to work, research and prepare. I believe that a good designer can never stop training, you have to be in continuous resilience." → @alvarocalafat
ANTONIO MARCIAL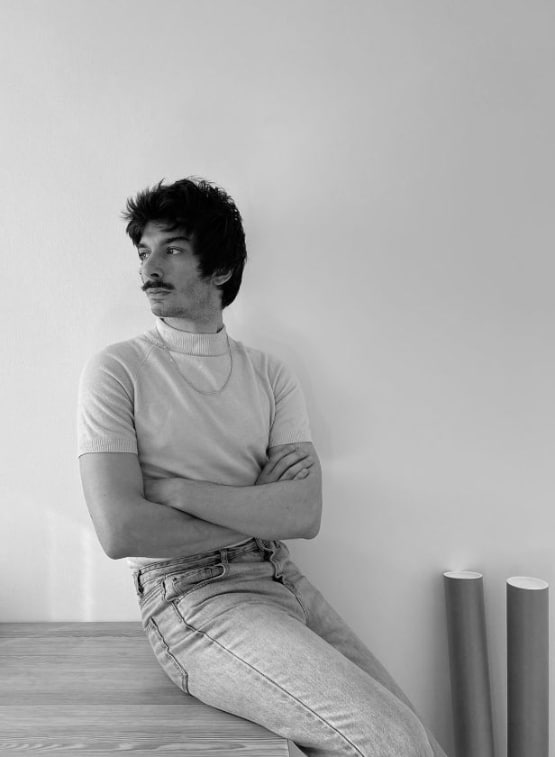 "At first I studied Fine Arts in Madrid, which helped me develop my artistic eye and taught me to build projects and concepts. It is thanks to this background that one of my fundamental sources of inspiration in fashion is art. After finishing my studies I decided to continue my training, this time directed towards the fashion industry. I was accepted into the Master of Fashion Design at Ravensbourne School, University of the Arts London. During this year I learn and develop my knowledge and my sewing skills. After finishing the master's degree, I returned to Spain and in Madrid I began to work as a dressmaker and designer assistant for Santiago Bandrés. During this time I learn from the inside about the fashion business, about fabrics, hand sewing and tailor-made, I improve and begin to mature the idea and concept of my own firm. It is in the summer of 2020 that I finally create ANTONIO MARCIAL." → @srantoniomarcial
LR3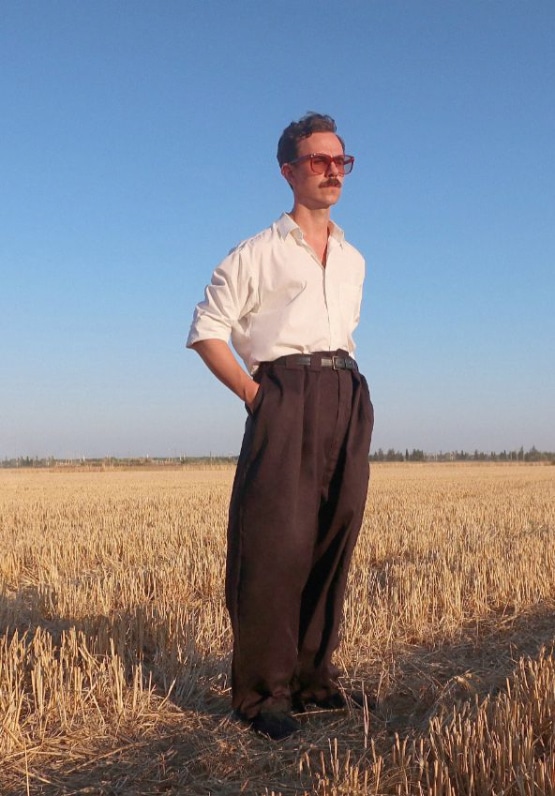 "I have been very fortunate to work for more than 15 years in the world of multinational fashion companies. Working in these large companies has helped me to have perspective and knowledge both in the creative processes and in the management of a company. Roles as an international trainer, visual merchandising director, collection coordinator or image director are part of that experience that today helps me to be able to do what I do. In the middle of my career I decided to stop and study fashion design, which I did not finish because I think I arrived too late in the world of school, but the experience was key. 4 years ago I decided to follow my heart and start my way. I quit my job as an image director and decided to set up a studio where we consult with fashion brands. And a year later we started LR3." → @LR3_community
ONRUSHW23FH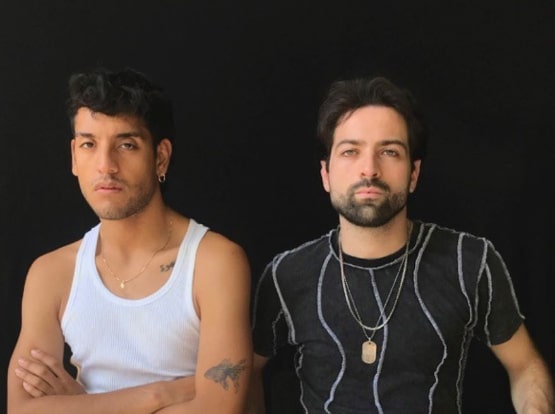 "In our previous collection, we based our work on the daily flow of life and the speed that it demands of us. Looking at the lapses of stress and friction generated in those rushing moments, we have used as a starting point for this collection to focus on the energy of individuals and how they behave in the space we inhabit through movement and tension that this provokes. In this way, we take as a reference the work of the artists Panayiotis Vassilakis (better known as Takis), and Peter Sedgley who explore that intangible space and energy seeking to reveal them through their kinetic works based on studies of movement, sound, and color. For this reason, we propose a collection where the garments act as a vehicle to represent that invisible/intangible energy and connections, existing between and in our bodies." → @onrushw23fh
PABLO ERROZ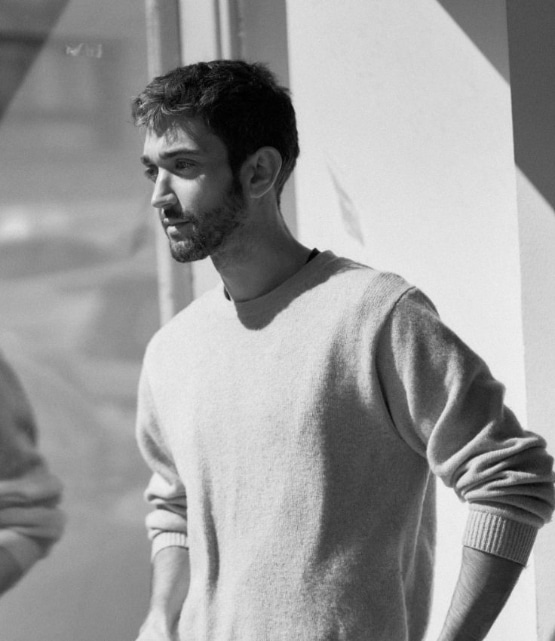 "Pablo Erroz is a clothing brand created in 2012 by the designer who gives it its name and life. Under the concept – SEASONLESS, INDIVIDUALISTIC AND GENDERLESS QUALITY CLOTHING MADE IN SPAIN FOR MULTITASKING CITIZENS OF THE WORLD – the collections are born interpreting the fusion of the most street style together with an easy and sophisticated luxury, updated to the new times. Nicknamed by VOGUE as a worthy "heir to New York cool", the brand has received several recognitions such as the Onda Cero design awards (2014), Barcelona Designers Collective (2015) – curated by Georgina Chapman (Marchesa) and Collin McDowell (Vogue USA) – as well as best Spanish male designer in the prestigious Woolmark Prize (2017)." → @pabloerroz
VICTOR VON SCHWARZ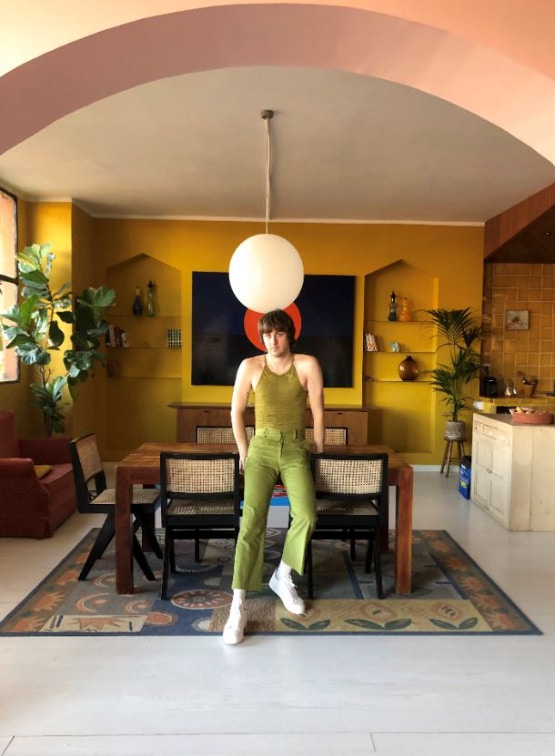 "Disco 2000 is a collection that was born in confinement, reviewing photos of adolescence I find all my references in music and aesthetics of the time. Old photos, concert tickets, folders lined with all the singers of groups of the britpop movement inspire this 2021 collection. Oasis, Blur and Pulp captained my life and whatever their singers wore was what we were looking for in the vintage stores of our city . Windbreakers, 1970s blazers, sweatshirts, and straight pants were our uniforms." → @victorvonschwarz
Take a look at the complete schedule below:
MONDAY 26.04.2021
18:00h: Avellaneda
18.30h: Menchén Tomàs
19.00h: Eñaut
19.30h: The Label Edition
20.00h: Antonio Marcial
20.30h: Álvaro Calafat
TUESDAY 27.04.2021
18:00h: Txell Miras
18.30h: Y_Como
19.00h: Paola Molet
19.30h: Escorpion
20.00h: Paloma Wool
WEDNESDAY 28.04.2021
18:00h: Eiko Ai
18.30h: Pablo Erroz
19.00h: Lebor Gabala
19.30h: LR3
20.00h: Lola Casademunt by Maite
20.30h: Custo Barcelona
THURSDAY 29.04.2021
18:00h: Victor Von Schwarz
18.30h: Otrura
19.00h: Is Coming
19.30h: Onrushw23fh
20.00h: Paraiso
Besides all this, you'll be also able to take a better look at behind the scenes and many other exclusive content related to fashion.