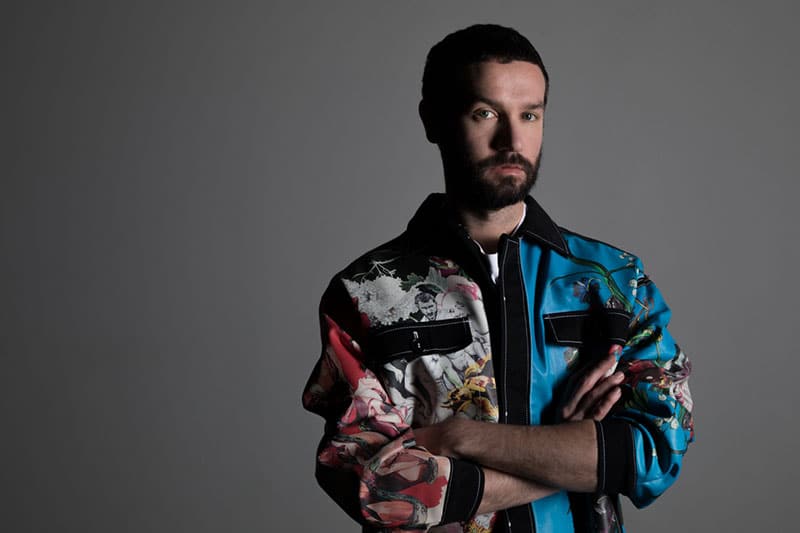 "Sex and art are the same thing" – Pablo Picasso, artist
Art and sex are also important for Andrea Semeghini. His VANADIO23 expresses itself by focusing on a series of soft forms drawn from the botanical, floral, human and animal world. Mixing them together with erotic and sexual themes that stimulate heart and mind, VANADIO23 is a true expression of creativity in all forms.  The name of the brand refers to the chemical element commonly used in the metallurgic industry to produce specialty steel tools. Its symbol in the periodic table is V23 and its background color is a light and delicate shade of pink, leitmotiv in the color palette.
The VANADIO23 collection of ready-to-wear jackets is characterized by simple and timeless shapes along with refreshing colors and artwork applications that bring life to each piece. Offering an array of re-worked, menswear-inspired jackets in oversized masculine shapes, each garment is embellished with a digital print on faux leather who has started from a hand-painted version, vision from the artist's mind. This blend of utilitarian and reverie is VANADIO23's cornerstone. Capturing the Zeitgeist with a strong sense of ideals and beliefs, VANADIO 23 ignores gender lines, offering a unified menswear and womenswear collection.
Handmade in Italy with only the finest materials and the highest level of Italian craftsmanship, just as a collectible work of art, each limited edition jacket is dated, numbered. A unique statement in and of itself, VANADIO23 is fresh, stylish and sustainable but above all, offers a unique and personal take on fashion.
We met Andrea some weeks ago and that's what he told us.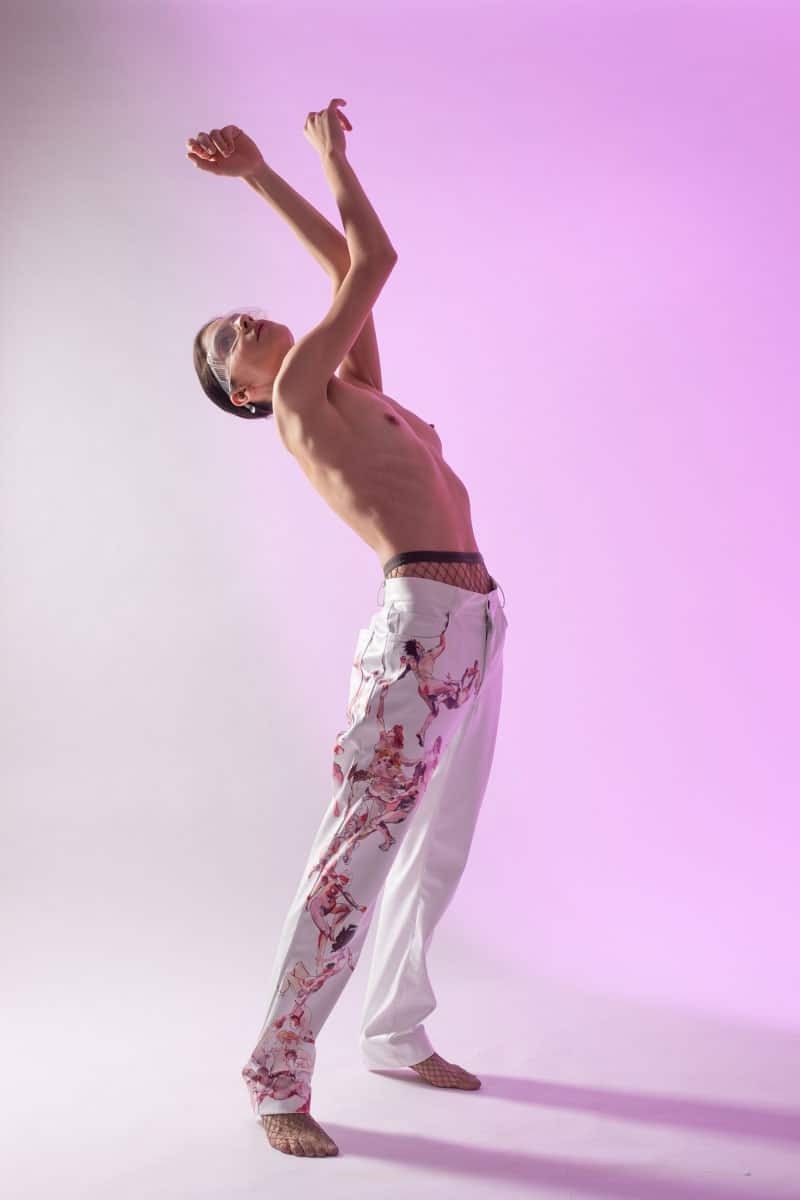 Hello Andrea! When and how did your interest in fashion start?
I was born in a small provincial town where fashion seemed not to exist, there was no need or desire to have a personal style, dressing up was connected to special occasions or Sundays in the Church. There was no research aimed at a personal aesthetic taste. I hated those ordinary looks, the precision, and rigor that were imposed on me. I immediately developed attention to what I decided to wear and an aesthetic sense born out of opposition, in contrast to what was imposed on me. Over time, in parallel with my love for painting and drawing, the need to create something from scratch arose, something that would go beyond my image and my personal clothing. Whether it was a painting, an object or a piece of clothing, to me it made no difference, I wanted to create something with my hands.
What is VANADIO23?
The name VANADIO23 owes its origin to the material used for working tools, recalling the workwear inspiration that imbued the first collection – and still represents the brand's DNA today. It is a chemical element described in the periodic table by the symbol V23, and pink color; the name also derives from the Scandinavian goddess of beauty and fertility, Vanadis.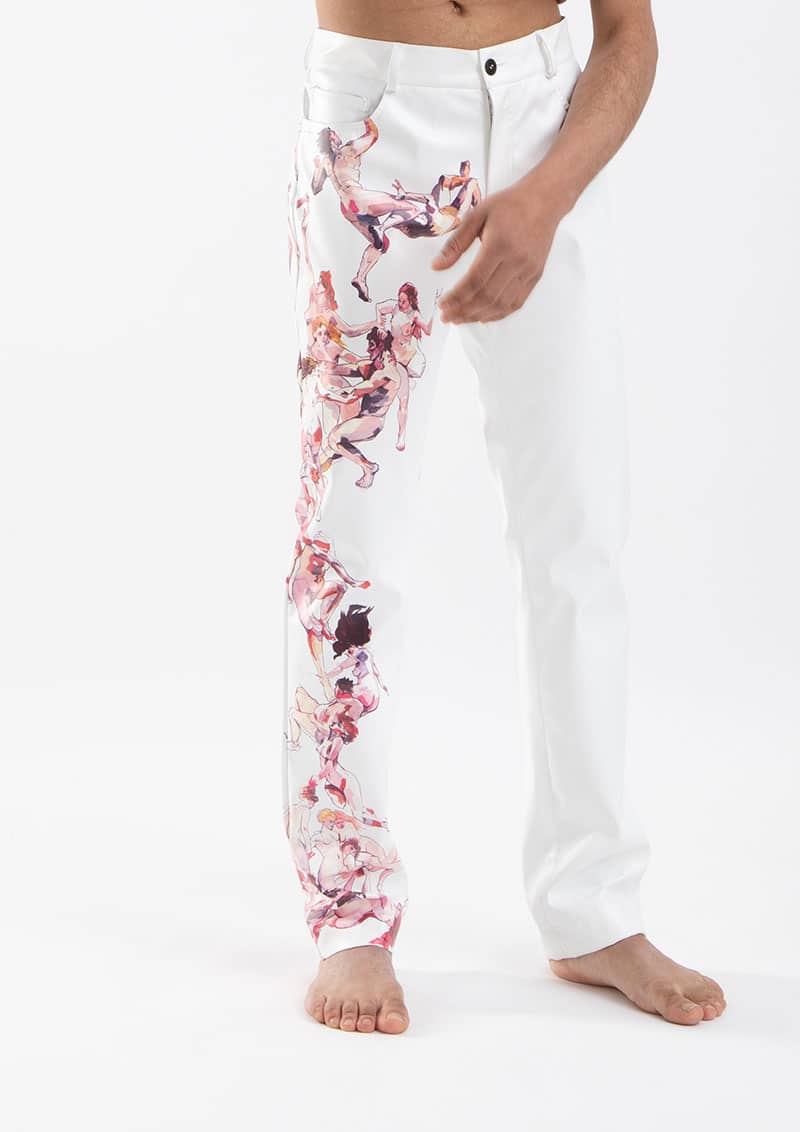 VANADIO23 is a gender-neutral Italian brand, starting from the idea of physically wearing a piece of art. The main inspiration for all your garments comes from the work-wear clothes commonly used in that industry. How do you define your style? Who is your top customer?
VANADIO23 is flashy, colorful and incredibly maximalist. The subjects vary from naked bodies' orgies to a wild anthropological bestiary with references to the Italian figurative pictorial tradition, full of romanticism and sensuality. Creations of the man who celebrates himself and his body combined with the delicacy of nature.
Those who wear my clothes certainly don't go unnoticed. I would like to dress anyone who wants to feel special, anyone who wants to dare and is not afraid to do it. And that is exactly the type of customer that I would like to reach: someone who has the courage to dare.
Art, vision, fashion: how do you combine these three elements in your work?
Art, vision, and fashion are so interconnected that they are impossible for me to separate. In my work, there is no separation between one and the other. The paintings are the original engine, the one that gives life to the whole research work, the beginning of the collection and the world behind which the whole collection will develop.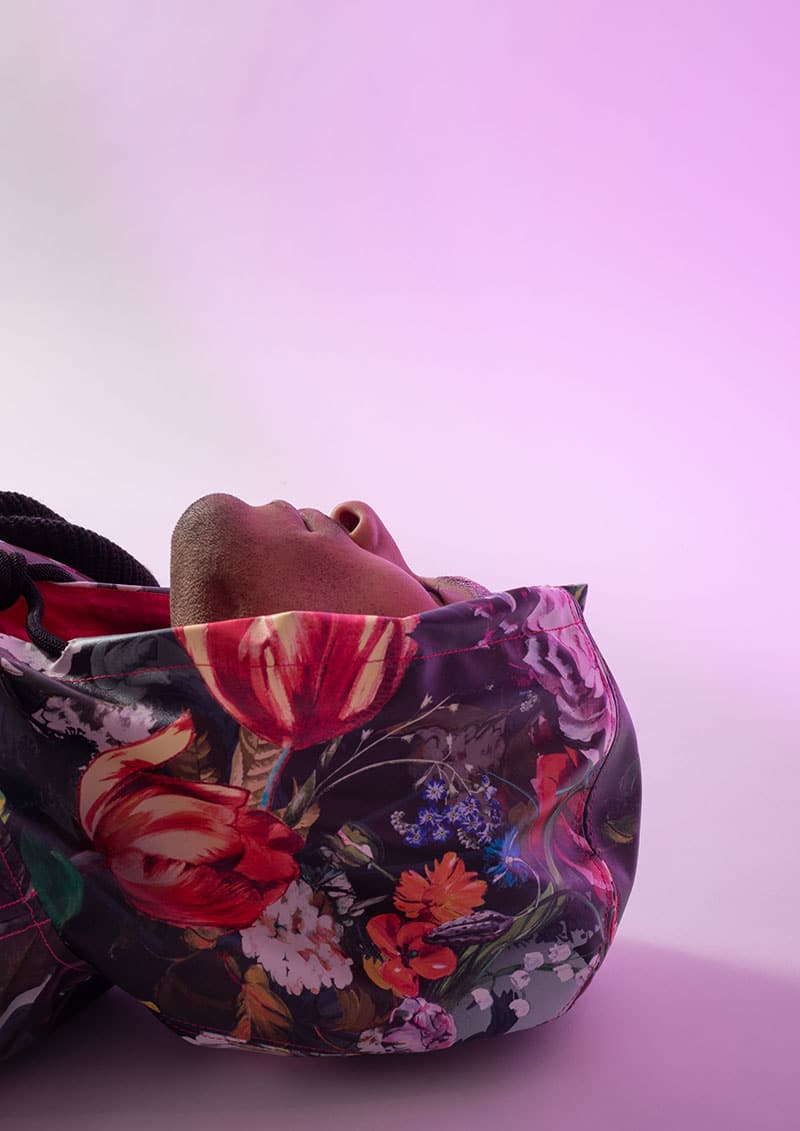 Tell us something about this FW20-21 collection.
The inspiration for ​​this collection is the earthly paradise, THE EDEN, in Hebrew Gan ' Eden (גן עדן), the" garden of delights" (Genesis 2,8-14). The paintings I made come to life starting from the idea of the Eden as an intricate flower garden, a colorful hortus conclusus; then we have corruption, through the tempting snake, and finally an orgy of humans fleeing from this earthly paradise.
I have assigned a color to each theme. In my imagination, there is a character reference for each painting, an ideal person who'd wear it, and a hypothetical customer.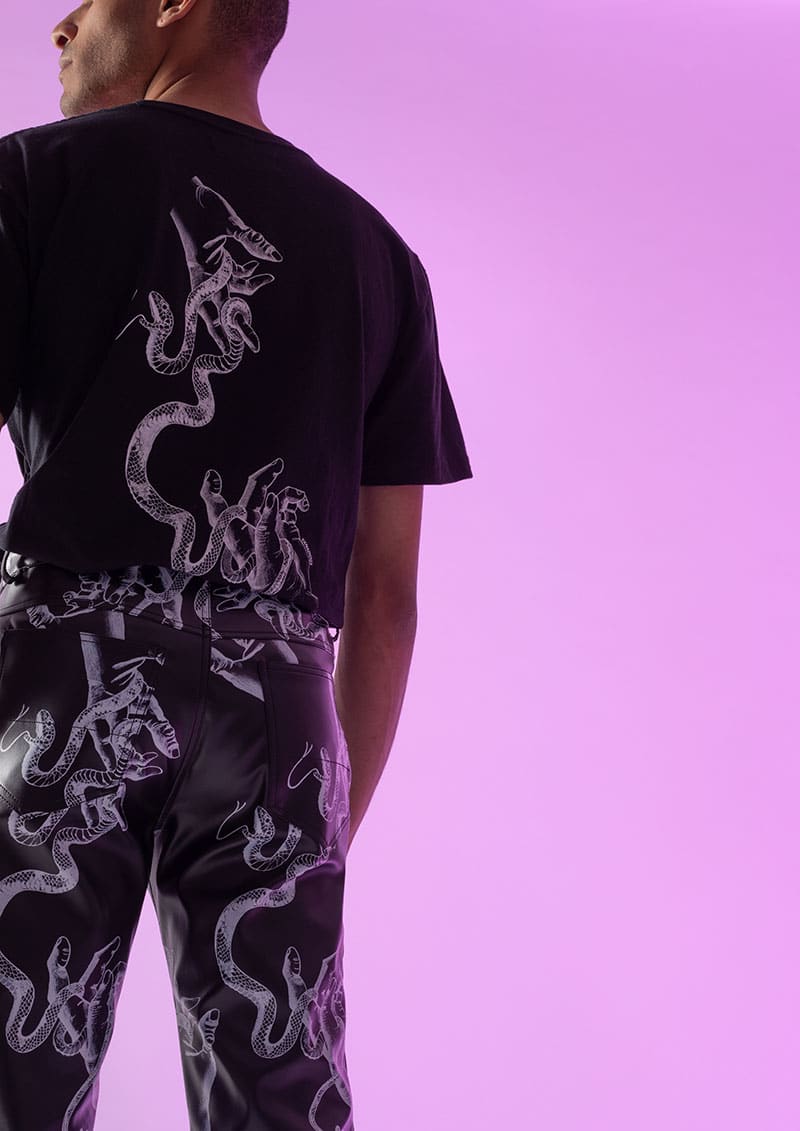 What is the key piece?
The most important item of the collection as always in my collections is represented by outerwear: jackets. A jacket with a strong workwear inspiration but a thin, slimmer fit and, for the first time, an avant-garde material: an ecological BIO eco-leather derived from vegetable fibers and printed with oxide-free pigments. All-over prints of my paintings adorn the whole garment, gigantic figures embracing those who wear VANADIO23.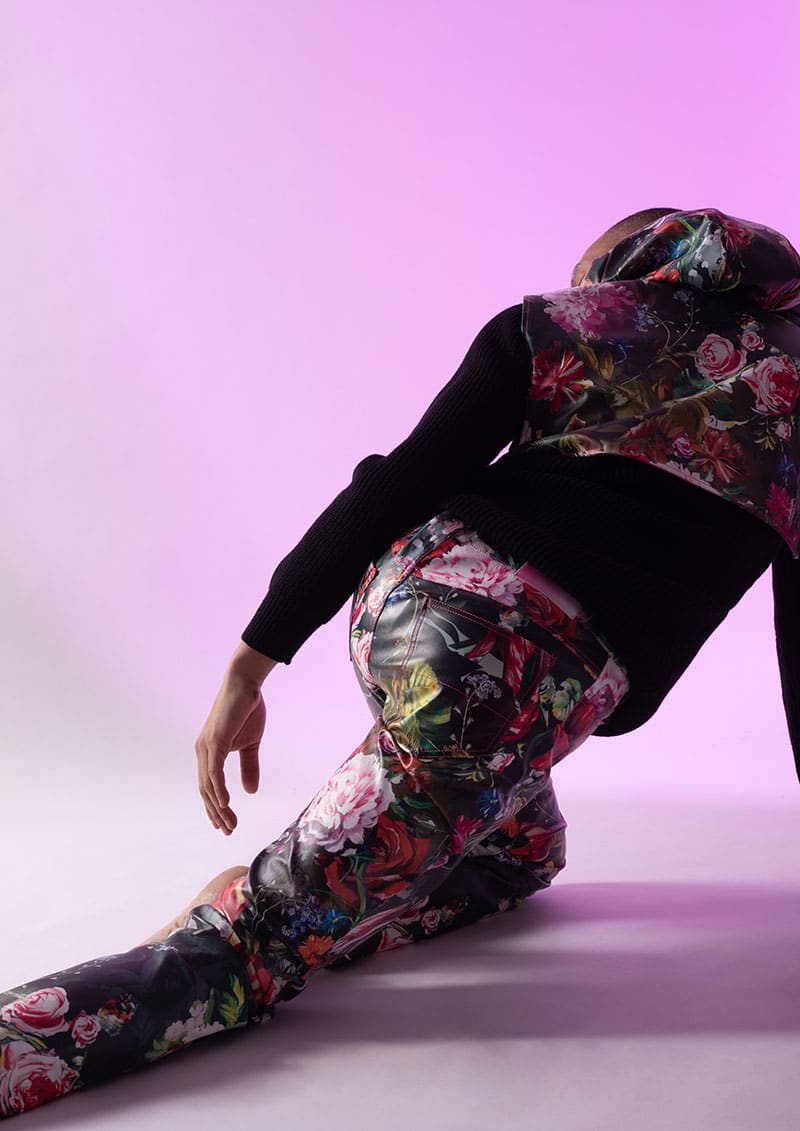 As a young designer, how do you imagine the future of fashion?
I think the fashion world is experiencing the biggest change that has ever been seen. Countless factors – politics, socio-economic revolutions, environmental pollution, uncontrolled production, and an overloaded supply market contribute to this change.
There is a lot of confusion and amazement and we are all aware that something is about to happen. Predicting what I think is extremely difficult.
My hope is connected to the possibility and freedom to create. I want to continue painting, drawing, inventing new shapes and volumes, new objects – not necessarily related to the world of fashion, with increasing attention to their environmental impact. I see Vanadio23 as a concept that I would like to apply in a much broader way to the world of interior design, home, sculpture, furniture. In the Vanadio23 world.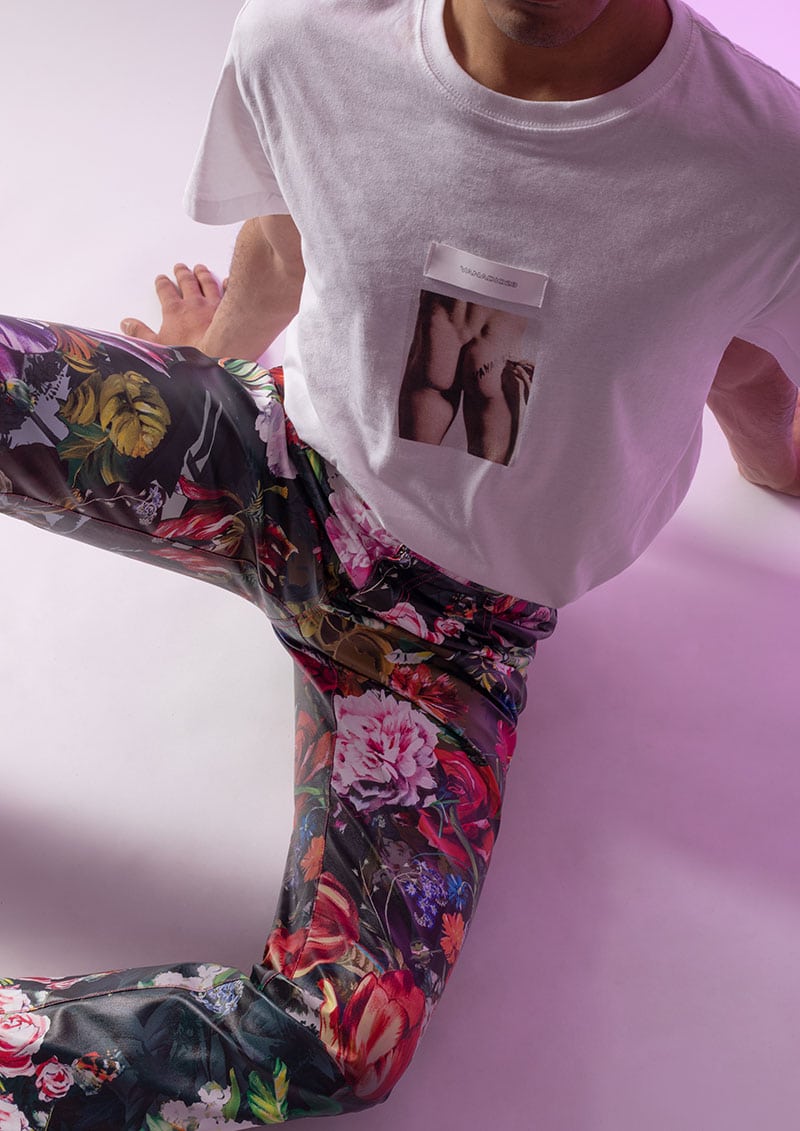 As always, our last question… According to you, what is really FUCKING YOUNG!?
It is the freedom to experiment and allow yourself to make mistakes. Making mistakes and not caring, not caring about other people's judgment.