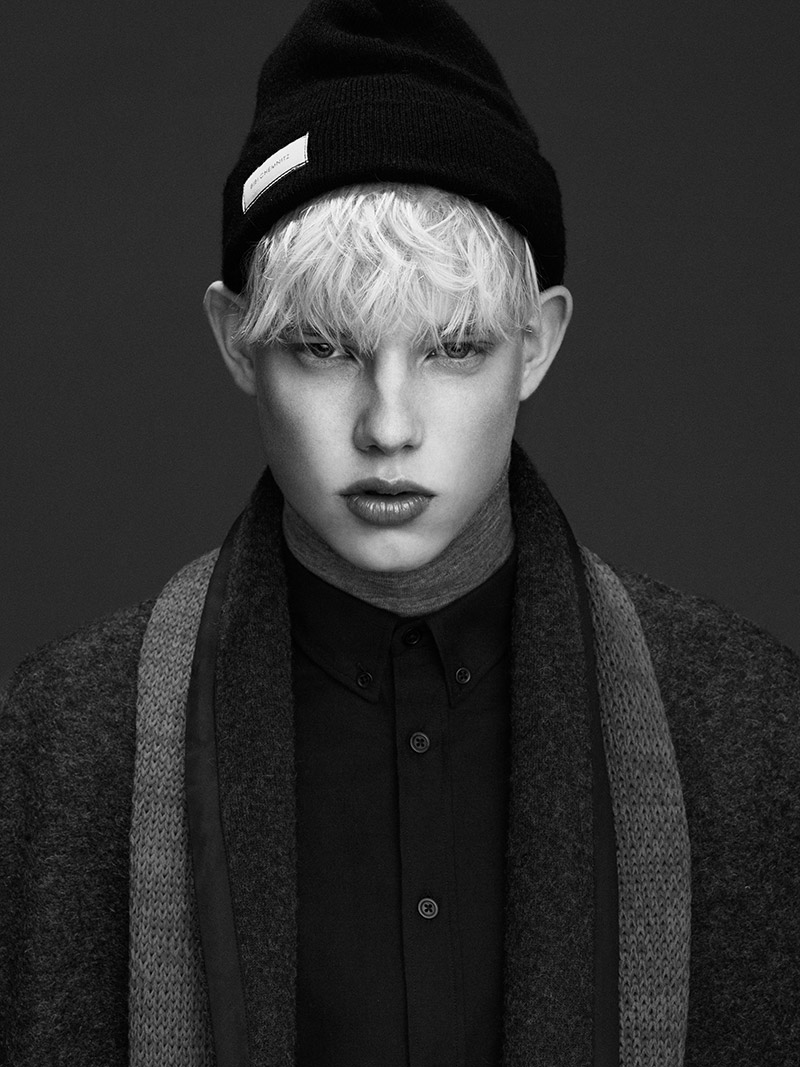 Hoodies, hoodies, hoodies! If we think about BIBI CHEMNITZ they just come to mind the fantastic hoodies that in 2006 changed the small Scandinavian + Greenlandic + Danish brand into an international phenomenon. By that year Bibi and David Røgild have traveled a long way… Made in Copenhagen but exported all over the world, BIBI CHEMNITZ is today one of the emerging brands which to keep an eye on. The collections are simple, functional and funny… The clothes a mix of Scandinavian street couture and Greenlandic tradition… Perfect for those who are not afraid of wearing something different! Their Aurora Borealis has now begun to inflame the fashion firmament but, we are sure, it will be able to shine a light for a very, very long time!
Fucking Young! – Welcome Bibi and David! You founded the brand that bears the name BIBI CHEMNITZ in 2006… A Scandinavian + Greenlandic + Danish brand… When and why did you decide to join your two "worlds" into one able to represent you both?
BIBI CHEMNITZ – In winter 2006 Bibi created the first small line of hoodies under her own name (Bibi Chemnitz) and at the early beginning she did not really create full seasonal collections. After some time, more stores got interested in the brand so she needed more help for the visual and graphic departments. As Bibi and I are partners also privately and I am a graphic designer, it made perfect sense to continue together. If I remember correctly, the first proper collection was SS07; it was created a long time ago and since then a lot has happened within the BIBI CHEMNITZ universe.
FY! – What is the message BIBI CHEMNITZ wants to convey?
BC – Simplicity, functionality and quality at a gentle price. We use these ideas to create our own combination of modern sport and street wear. Bibi was born and raised in Greenland and this place plays a huge role in the design process. It has a powerful impact on the graphics, the conceptual ideas of garments' dimensions and the overall feeling of the collections.
FY! – No doubt hoodie is the item that made your creations recognizable at an international level and became the fil rouge connecting all your collections. Why did you decide to use it? What does it represent?
BC – The response to the initial hoodie small capsule collection was very good, so we both felt it could represent a starting point for us to expand BIBI CHEMNITZ collections and universe. Hoodies always remain important items in the collections. We borrow simple elements from Scandinavian design and traditional craftsmen from Greenland, then mix them up and play with the different elements' fit and scaling. To say it boldly, I think we make the best hoodies in the world. We don't try to do too much, but the things we do with our design have to be strong, functional and unique. Our oversized lengthy hoodies are garments you almost feel you can wear season after season.
FY! – A mix of Scandinavian street couture and Greenlandic tradition… How could we define BIBI CHEMNITZ's style? Who is your ideal customer?
BC – We tend to look at both ourselves and our brand BIBI CHEMNITZ as rather universal so our ideal customer could be from everywhere. We are still a relatively small brand but we are selling in places as Hong Kong, Tokyo, Moscow, Copenhagen among others. BIBI CHEMNITZ designs for both men and women, young and old people, so the ideal customer is someone that both wants to opt for a high quality design with a story and is not afraid of doing things differently.
FY! – What instead Bibi's and David's personal style? What is the garment or accessory you would never give up?
BC – Bibi always wears black cloths while my style is relaxed with a street look, mostly a t-shirt and a cap or a beanie on my head. Both Bibi and I are huge sneaker heads, so you will almost never see us in anything else.+
FY! – You are exponents of that North European "fashion" that is gradually conquering the worldwide market. In your opinion, what led to this result and what different do you have to offer with respect to the more well-established and classic exporter countries?
BC – In Copenhagen, Denmark, where our studio is currently based, the concentration of good brands and designs is so high that you have to do your very best to stand out. Competition is one of the things that helps us to excel. There is a huge tradition of design in Scandinavia so since you are very young you get bombarded with great designs in clothing, buildings, furniture et al. We tend to keep it simple and to focus on good craftsmanship. BIBI CHEMNITZ uses all these great ideas and influences coming from living in Copenhagen, but we also have Greenland as the great big extra inspiration to draw from. It is such a different and raw place, so peculiar and special. This gives our designs a slightly more ominous and darker look than other brands from Scandinavia.
FY! – For this F/W you conceived a collection with a raw and dark style, inspired by the flapping Greenlandic nature and the Scandinavian typical clean lines. A collection designed for both men and women, whose look is indeed unisex and oversized. Can you tell us about it?
BC – BIBI CHEMNITZ is not that new anymore, from 2006 till now we have been searching for and exploring the identity of BIBI CHEMNITZ and we are not finished yet. The F/W 13-14 collection is called HOME SICK which refers to Bibi's never ending longing for Greenland. It is a feeling, I think the one shared by many Greenlandic people living in Denmark. It's a dark desire to move back coming out sometimes. It's just that dark feeling that we have tried to express in the collection. But it is not ALL dark and there are also very positive elements, because with longing, also the huge love for something comes. Bibi is very happy that our work often takes her back to Greenland. As it is very isolated and rather expensive to travel to, it is nice that Bibi gets offers of coming back to Greenland to hold lectures, teach or to participate in different art projects. All the prints of the FW13 collection have a connection with Greenland, but they also boast strong street hiphop elements. The more tailored side of the collection consists of heavy wool fabrics to construct big coats, vests and quilted bomber jackets. Our thermal isolated quilted wool pants are also very special and should keep you warm at even the most remote places!
FY! – LIMITED BEAUTY is instead the collection that you presented during the Copenhagen Fashion Week for the upcoming S/S… "Featured streetwear silhouettes from the 90's and clean lines inspired by the flapping Greenlandic nature". Is it the F/W natural consequence or did you want to break with the past and change direction?
BC – We do not see this as a change of direction, the SS14 collection LIMITED BEAUTY is maybe more clear than FW13 in its sporty street feel, but both collections are functional, sporty and wearable. The theme of SS14 is indeed very much focused on the 90s New York urban hip-hop scene. I started to play basketball and listen to hip-hop around 1991 and my love was for east coast (New York) hip-hop from 90-96. Logos and sportswear were the major players on that scene, we wanted that to come out in a new updated version with that special BIBI CHEMNITZ touch added. It was very important to us that the feel of the fabrics was correct, so we used a lot of time to get the right mesh for the basketball suit for instance. It is also the first time we have used logos as much as we do now and we did this for two reasons. Firstly, it is about remaining true to the theme of the collection and secondly we felt it was about time everybody woke up to a BIBI CHEMNITZ dawn and saw us for what we stand for. We are here to stay strong and we would like everybody to know this, (smile).
FY! – Your store is often also used for events related to music and art… How much do they matter in your life? How did and how do they influence your work?
BC – I think you refer to our old shop when we were living in Aarhus. Back then, we had a totally different set up in the shop that was much better for doing small art events and stuff. We sometimes miss it but we now support different art projects around the world. Next March, we are taking part in the third Nordic Biennale (www.nordicfashionbiennale.com/nfb) in Frankfurt – Germany, so it is more about our own work now. But from time to time we still collaborate with the artists we had on display in our shop. We still maintain a close connection with several of them.
FY! – You give space to young talents as well… Today, how important is to be able to offer this space to those who deserve it?
BC – We try to help new creative peoples as we can, but now it is more about helping them to go in the right direction and trying to prevent them from making too many mistakes. We also try to get involved in different social projects, right now we are working on making a style/product whose profit will be for unprivileged Greenlandic kids and we are also designing a school uniform for a girls' school in India.
FY! – Is or was there a designer able to influence your idea of fashion?
BC – We have many that we think are doing a great job, but we do not have any we look up to or draw direct inspiration from. We get inspiration from everywhere but mostly from the streets.
FY! – In recent years we are witnessing a real revolution … The fashion industry is progressively changing its both face and modus operandi… According to Bibi and David, what is the market claiming today?
BC – The big financial crisis hit the whole world but maybe it was in many ways also a blessing in disguise for the fashion world. Before the crisis everything could be sold, after the crisis your design had to be strong and the quality much higher. Over the last couple of seasons everything had to be heritage and we are not a heritage brand, so the new development towards a more sporty and functional look helped us. Of course, we do not follow the trend-conjuncture, but we like to do our own thing and try to do just what we like to do. I think it is the only way for us to run BIBI CHEMNITZ as we have a growing following, which we appreciate very much. We are now 7 years old and we have never been in a hurry to grow, we want to create and to have sales increased to have the opportunity to do more different and special projects. But again we do things at our own pace and in our own style. There is always a place for hard working people in the market.
FY! – Today fashion is… marketing or dreaming?
BC – I think it has to be a good mix of both. You can propose the best and coolest styles in the world, but if you don't know how to get people to notice it, it is almost worthless. On the other hand, fashion design without original ideas and dreams, is rather soulless according to us and wouldn't last long. Over the past seasons, there appears to be a pop-up brands' tendency based on concept ideas, which can be challenging and shallow. According to us, fashion has to spring from heart and has to have that original flavour, stripped of all gimmicks and easy punch lines. We shall always cherish that part of dreaming and foster originality. We try to maintain a very honest approach towards our brand and designs.
FY! – Your own favourite book, song and movie…
BC – Bibi – Favourite Book: Kalak by Kim Leine. Song: I do not have a favourite song, but I like Robyn a lot. Movie: I have a bad tendency to not remember movies, I can NEVER remember what a movie is about even after only a few weeks… David – Favourite book: World War Z by Max Brooks or The Stand by Stephen King. Song: Like Bibi, I do not have any song that is my favourite one. I have a lot of artists I like to come back to, as Nas' Illmatic from 93 that is an album I really love. It brings me back to when everything in my life only revolved around hiphop and basketball. Movie: I have a lot! Donnie Darko by Richard Kelly, Requiem for a Dream by Darren Aronofsky and in general I like Zombie movies when they are made in a good way. It is not about the gore etc. it is about how humanity would respond to a world crisis.
FY! – The secret desire…
BC – Passion for your work and making your life your only true passion.
Thanks a lot!