"All compromise is based on give and take, but there can be no give and take on fundamentals. Any compromise on mere fundamentals is a surrender. For it is all give and no take." –Mahatma Gandhi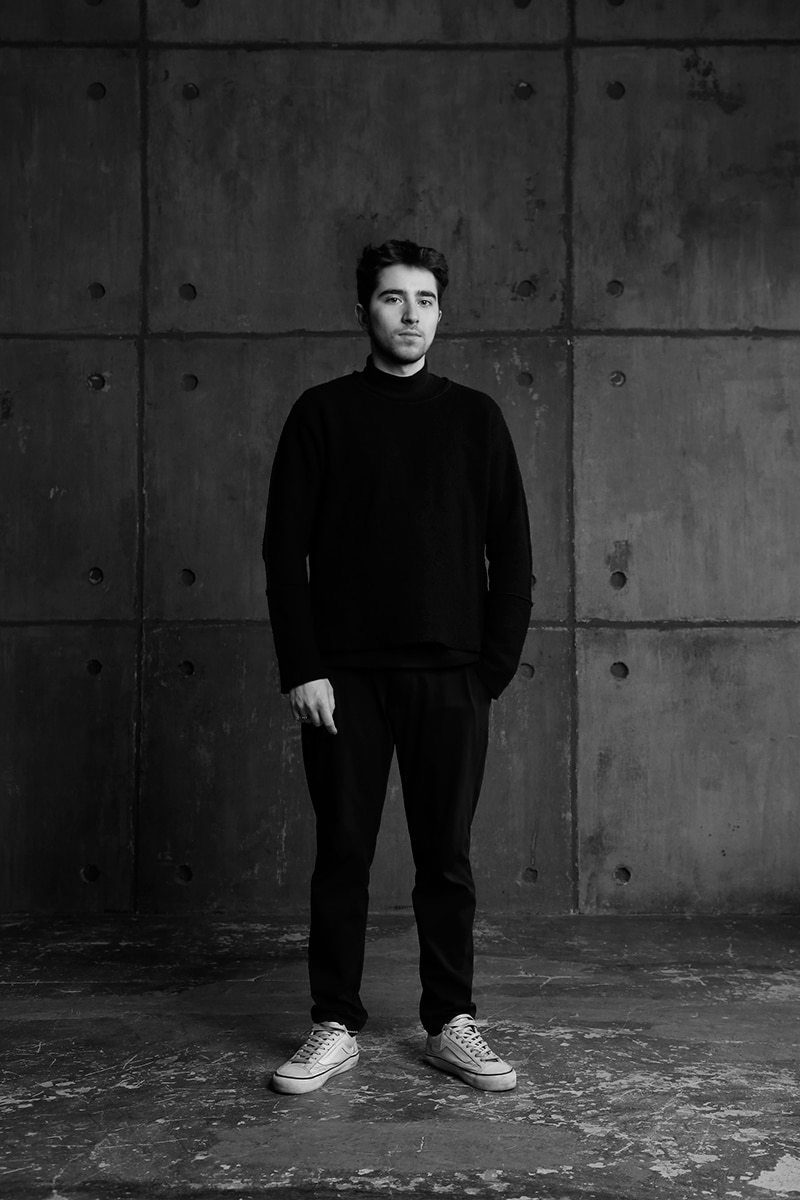 And certainly Francesco Moggi – creative director for the n: ght novel aka TNN – chose not to compromise. His independent brand is a warning to sloppiness and carelessness. It is a cultural and at the same time democratic loyalty, sensitive to epochal changes but substantially linked to a real concept of made in Italy: refined, discreet, radical. Research in the selection and use of fabrics and the application of a saving-avant-gardist method make every item appealing to a transversal audience.
Founded in 2017 in Milan, TNN intends to elevate the garments to their most profound meaning. It is aimed at those who go beyond the appearance, who see in one garment the expression of complex research, at a both conceptual and manufacturer level.
We met Francesco some weeks ago and that's what he told us.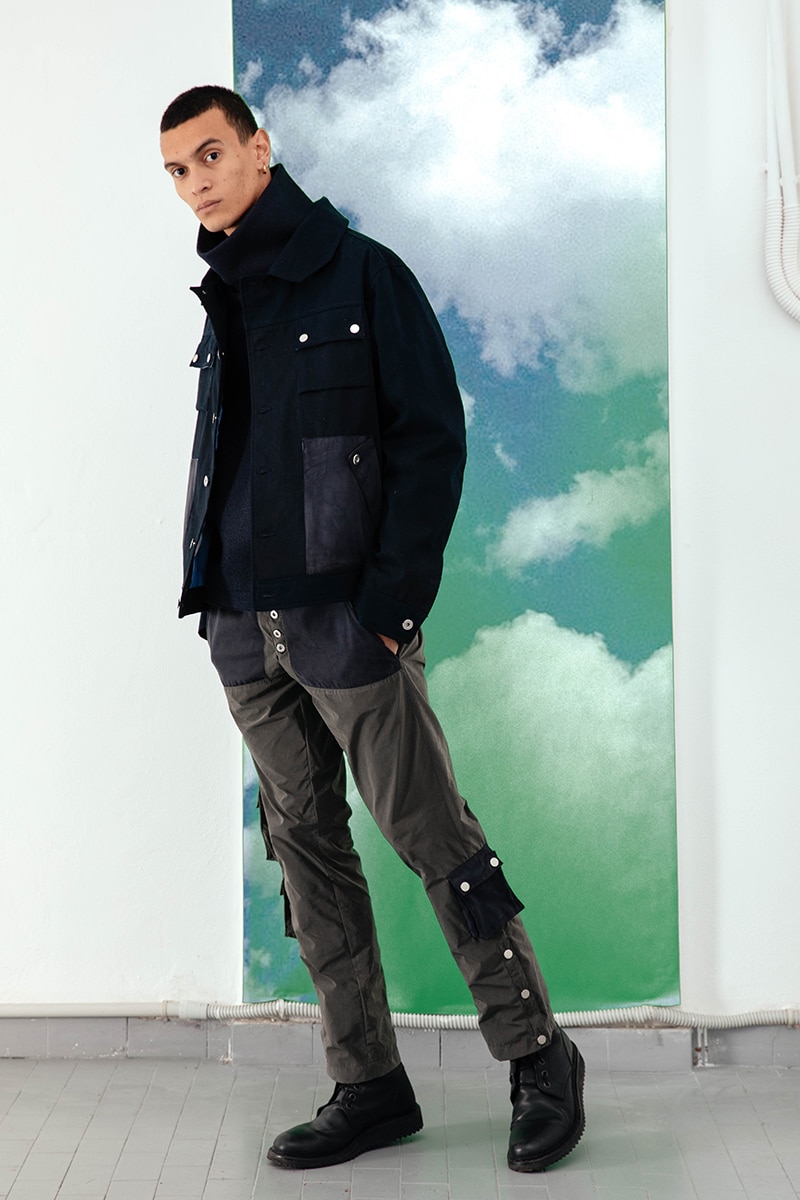 Hello Francesco! What is The N:ight Novel (TNN)?
the n:ght novel is first a way to express my own vision, giving voice to one's ideas that are independent of the brand's concept. For me it is a way of living and of dealing with my surroundings, always with curiosity and a critical eye. In fact, I aim to ensure that the brand becomes, for those who approach the n:ght novel, the opportunity to shape one's story through a more profound and personal interpretation.
Immediately after my degree in architecture at Politecnico di Milano, at the beginning of 2017 I decided to undertake this path driven by the desire to create something mine and concrete, a clothing line that could narrate about myself, my ideas, my background through a tactile dialogue between expression and constructive quality, with recognizable details and volumes.
Why did you choose this name?
From the original idea, I wanted to create something that could tell a story, my story. I wanted it to be a sort of "travel journal" during this new path of my life so that people could come with me on this journey through undiscovered horizons. That's how the word novel came up; then I decided to add night as an adjective to describe the unclear and unknown nature of a personal journey. Last but not least the choice of swapping the letter I of night with the colon: is just another hint of the aim to narrate a story since it is used in writing to explain and illustrate. This is how the n:ght novel was born.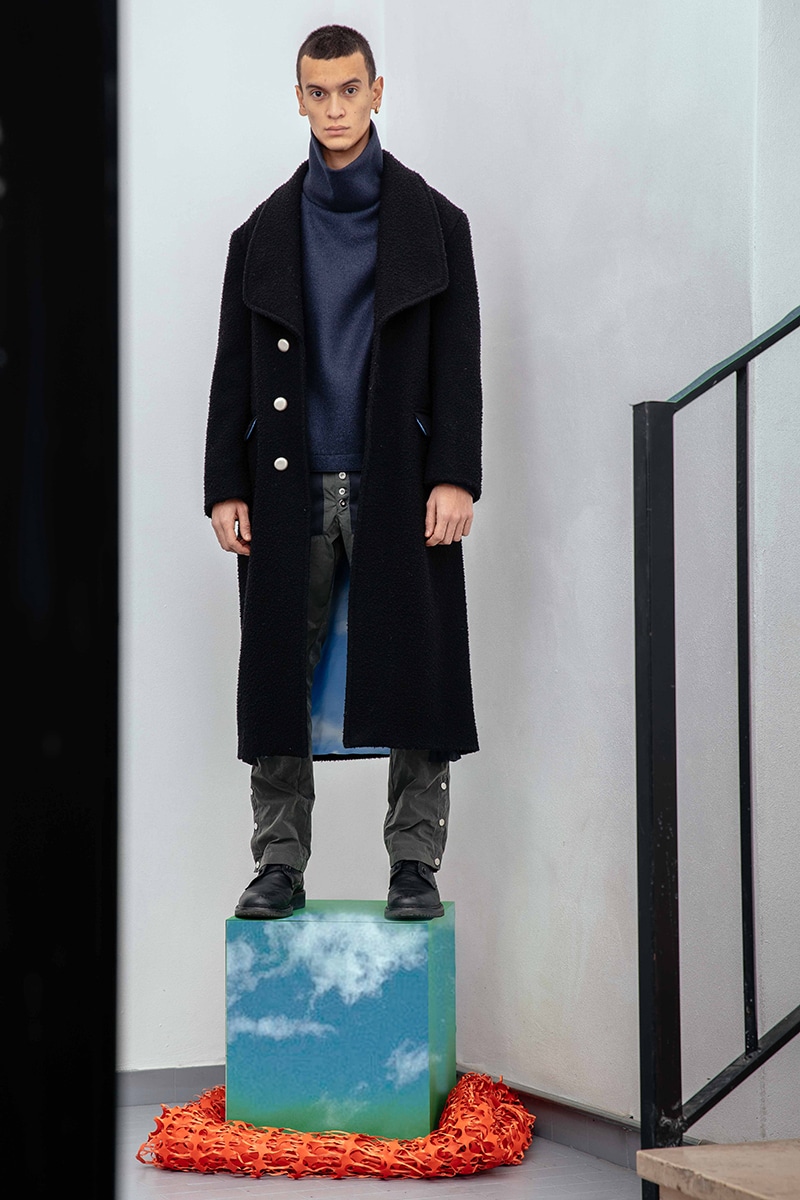 In your description, I read in your description that you do not want to accept compromises. What are the real compromises today?
A brand, by nature, is a witness to compromises since constituted by several factors such as the creative process, corporate strategies, and marketing. Elements that must be sought and compromised in order to constitute the balance required to follow the direction taken. Aware of this, however, the n:ght novel refuses the compromise within the creative process, the essential part of this whole that transforms a sketch into a garment built and ready to be worn. Here the compromise cannot be a coherent answer to the story and the message on which the n:ght novel has been founded since it does not feed and does not respect the sincerity between the garment and the person who wears it. Therefore, the compromise can manifest itself in the evaluation of different routes, but never in the quality of its vessel.
If I tell you "made in Italy" what do you reply?
I live in Italy where manufacture and craftsmanship have always been the crown jewels of this country not only in fashion but also in mechanical engineering and industrial design. Made in Italy is synonymous of high quality, high specialization, elegance, and luxury and we still can boast such recognition all over the world with a high amount of companies coming here to produce their top-level products. Living here I cannot take advantage of this great resource because not only it allows me to offer high-level garments, but by delivering here I can also help and support the economy of the country.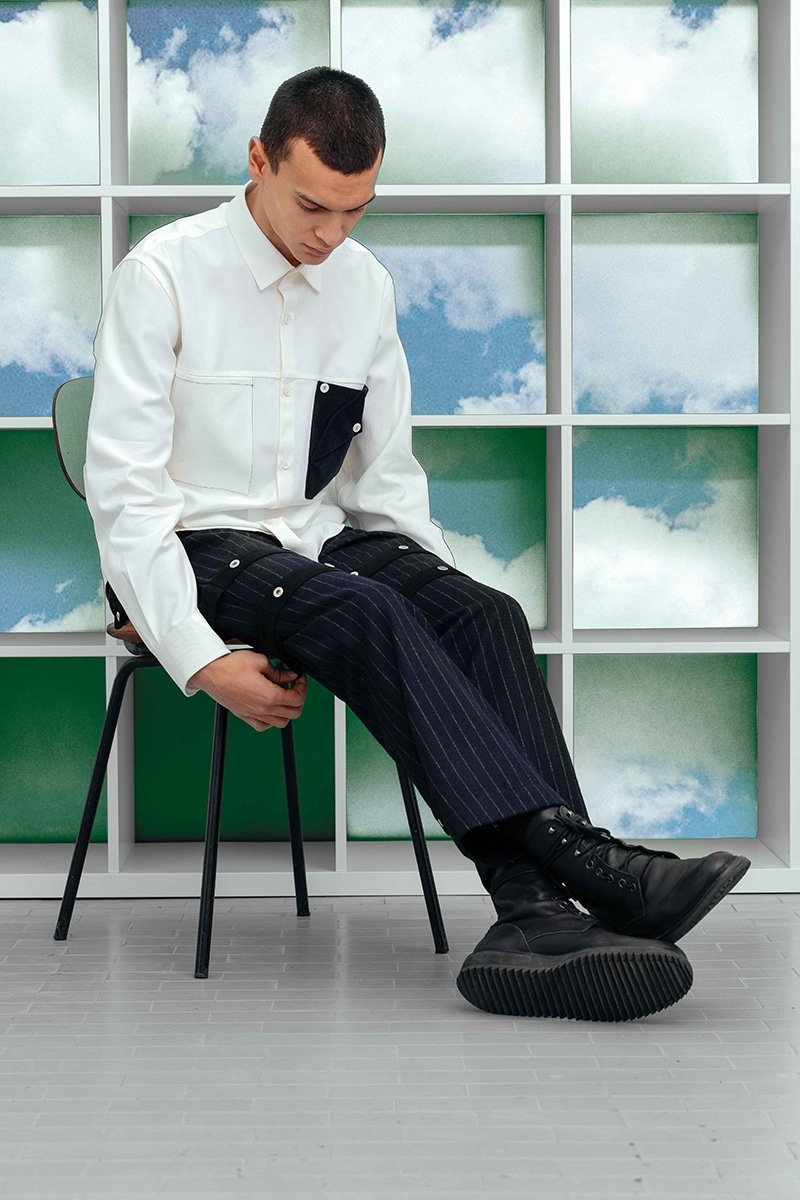 Your one is a niche brand, definitely not mainstream. In 2019, is it possible to be different and at the same time be attractive to the international market?
It is possible but challenging. Surely when you decide to offer an intensely studied product with complex research, on both a conceptual and a manufacturer level, strong refinement of details and connections between all the garments and collections you already know that you will cut out a significant market share. Most of the people do not want to listen to this message of going beyond the surface to discover the hidden essence or the reason behind the creation of that garment, the construction or the choice of a specific fabric in that context. That's probably because nowadays we have been accustomed to instant brief gratification and superficial interpretation of messages and information. I think that in fashion, this attitude has led to fast-fashion, meaning that every product must be immediately identifiable with big prints and logos in compliance with the trend of the moment to end up left at the bottom of your closet after few months. In contrast, I have always been intrigued by those garments shrouded in an aura of mystery but in which you can really feel the soul of the person who created them, those garments that you understand and appreciate more and more over time because they become part of your story. Maybe this might not be the right approach to the current market, but as long as I can protect it, I will stay consistent with my vision and ideas.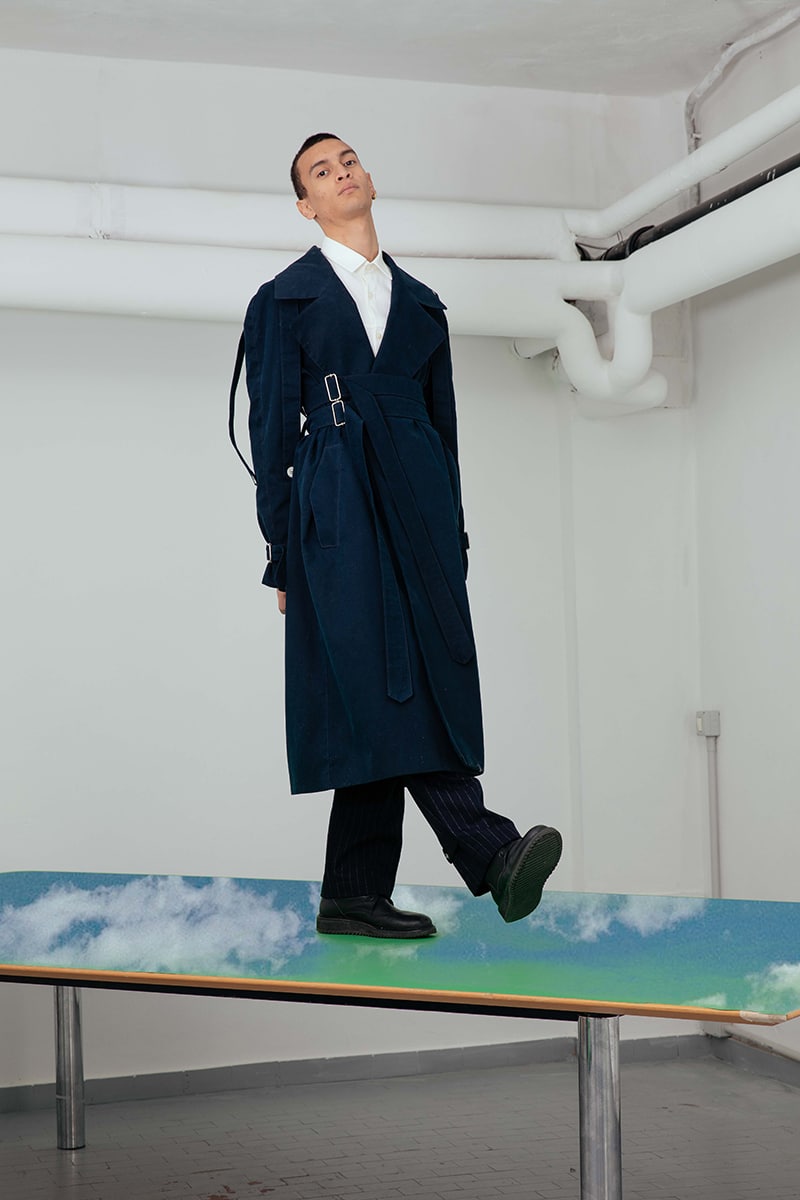 All your garments are conceptual, distinguished by a strong refinement of the details as a highest expressive means. Explain to us your own philosophy.
I could sum up my whole philosophy with timeless clothing. This statement really contains the essence of my thoughts about my work and fashion. I am entirely against the idea of a wardrobe that has to change every six months because the garments do not match with the trend anymore or, even worse, you have already shown them in public "too much." In this era social networks have implanted in our mind the idea that we must appear in the best possible way, freshest than the other day and of course with a different outfit every day; all of that has driven people to buy tons of cheap products, or "premium mediocre" (cit.), with which they have filled their closets. The fashion industry is the world's second largest polluter, and over-production and over-consumption are just making things worse; there should be more awareness about that and more responsibility when we decide to buy something. In my little way, I try to do it as a consumer but also as a designer and entrepreneur by always choosing factories that work regarding the environment and human rights. At the end of the day, a well made long wool coat will ever do his job after twenty more years, and all the little stains and tears on it will tell your own story.
SHIFT is the name of the SS19 collection: a visceral search of the border between appearance and reality, through the experimentation of original forms in their own correlation. Tell us something more about.
SHIFT takes shape from the work Transfiguration by French artist Olivier de Sagazan. A visceral and primitive art that projects the n:ight novel into a new chapter in which the research digs into the profound area of ourselves. The SS19 collection thus becomes the tactile materialization of a visual performance, which through the relationship between the parts and the choice of the fabrics, weaves intangible sensations, shortening the distances between sight and touch, between the bowels and the outside world.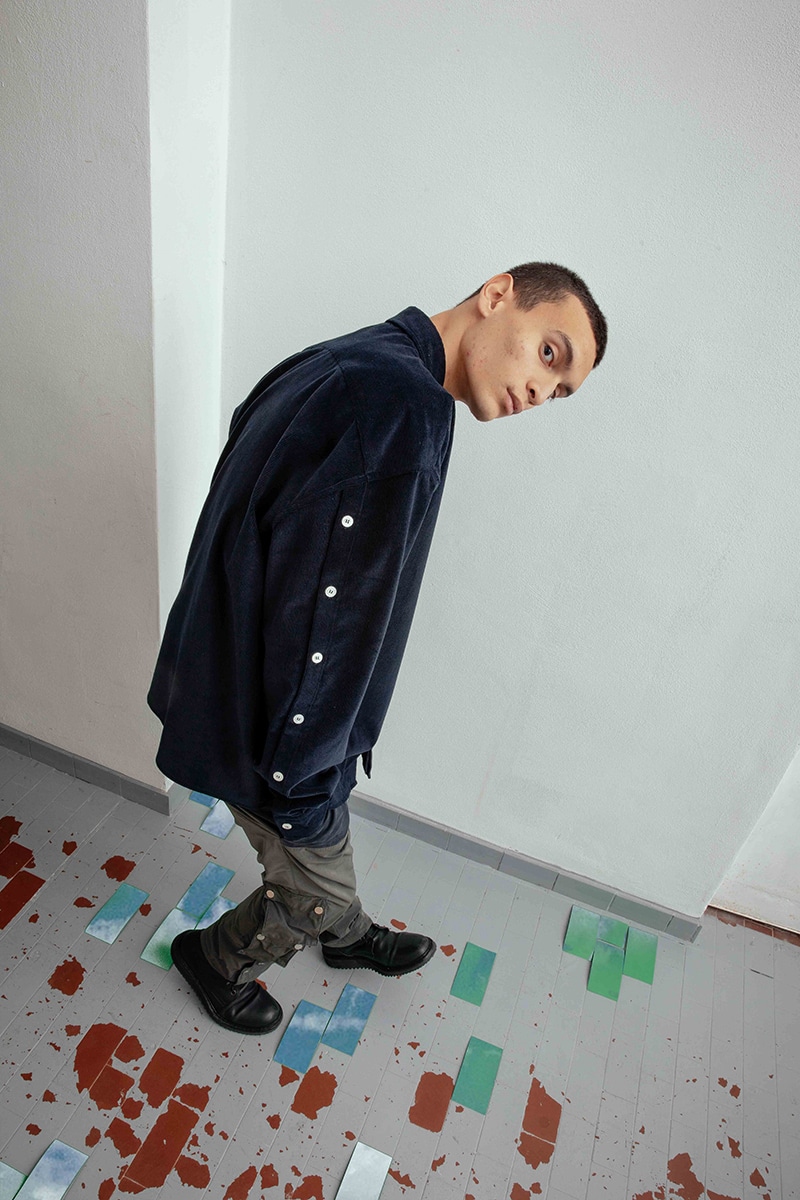 Could you give us some revelation about the new FW19-20 collection?
All the collections have a sort of connection between each other since they are different stages of the same path and even if all the garments are significant and have their own meaning in the context, I have to say that the trench coats always sum up the real essence of the whole collection. In particular, I would say that the most representative garment, until today, is the trench coat of the upcoming FW19-20 collection; it came out from my mind straight to the sheet and had never been modified, I feel like it is kind of "pure".
TURBULENCE, the new FW19-20 collection, sums up everything that happened over the last few months with all the conflicting feelings and sensations. This time the main inspiration comes from music, particularly from an album's cover of an Italian artist very important to me, Fabrizio De André. He left us twenty years ago now, but his music has always been so powerful and relevant to me since I was listening to his songs in my mom's car as a kid; then growing up I learned to appreciate more and more the essence of those tales and poems. I truly wanted to pay homage to him this year in this collection, and I did it in a very subtle way without making it too obvious. Many of the garments have been sketched while listening to his music, so I tried to transfer those sensations to the fabrics.
As always, our last question… According to you, what is really FUCKING YOUNG!?
FUCKING YOUNG! is dropping all the certainties and take your own path, it is following your dream no matter what, it is the strong ambition that drives you to keep fighting every day for what you believe in. It is not following the mass, it is going straight with your vision, it's examining everything, including yourself, with a critical eye.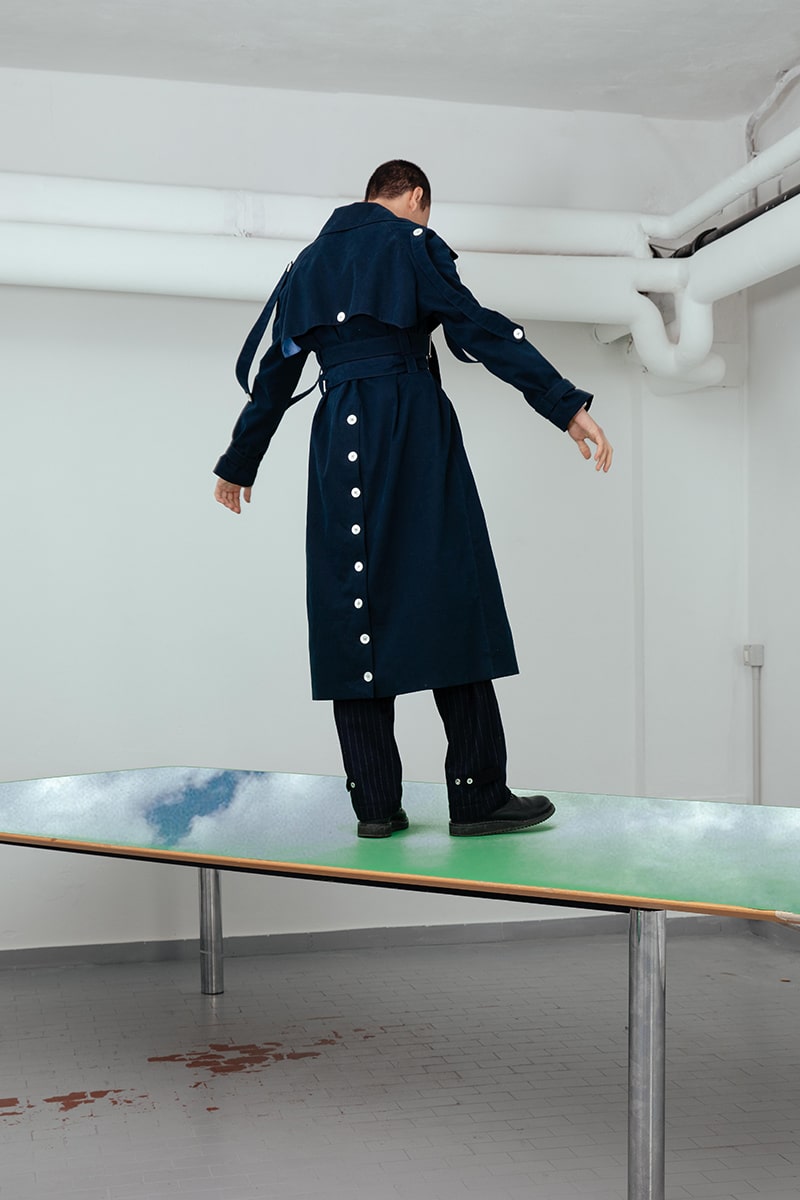 Photos: Adriano Cisani @adrianocisani