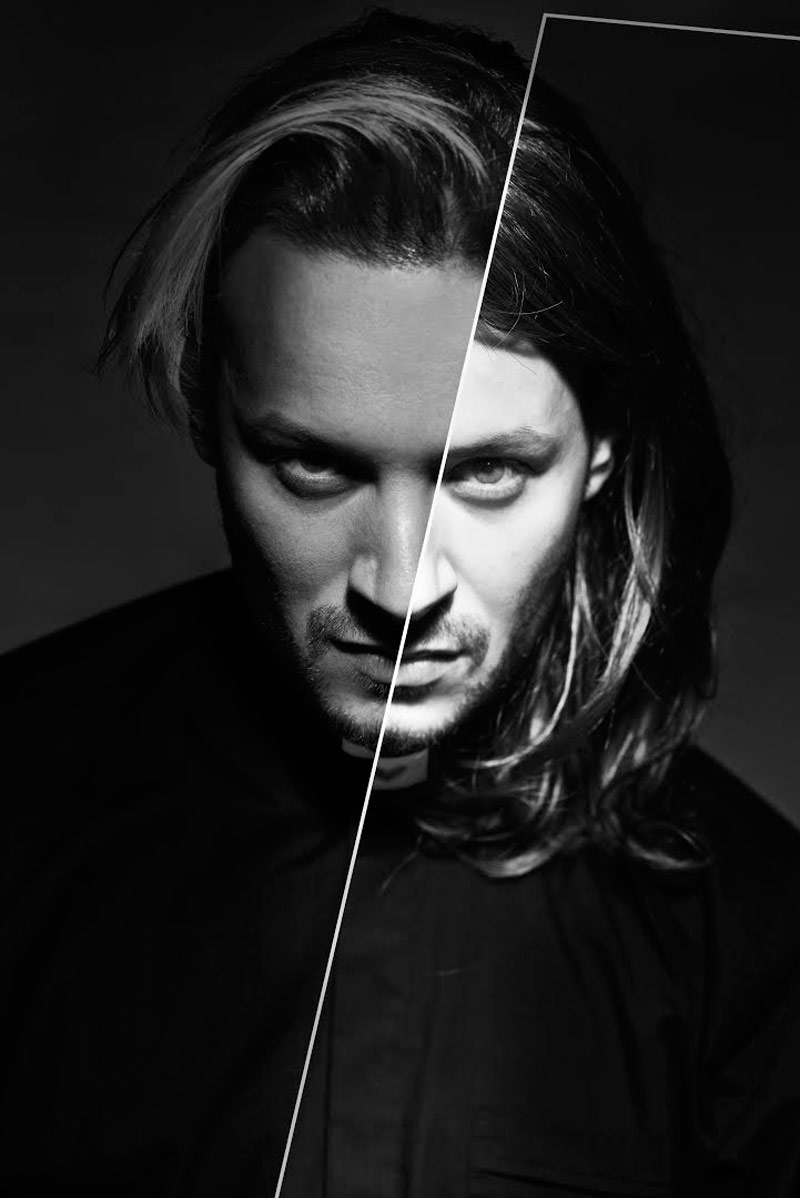 That's what Angelo Cruciani has always made with his fashion and his art. Art and fashion. Fashion and art together in a single, deep, vital breath. Through his creations, Angelo launches a message, more than one. Always in a simple but effective way. Always with lightness, without didactic or academic presumptions. Always with modernity.
On the occasion of the 88TH edition of Pitti Immagine Uomo, he presented the capsules LOVE'S NATION that will be followed by the LOVVISM exhibition at MA-EC in Milan from July 2ND to 31ST. They are both a hymn to pure Love. A tribute to Love that's back in fashion and claim its throne, no intention to abdicate.
Fucking Young! – Hi Angelo! When and how was your passion for fashion born?
Angelo Cruciani – Since when I was a child  I have undertood fashion was on my destiny. As my mother told me, I started to say "I wanna be a designer" since I was 3 years old.
After I started to make a dolls dress with socks, or others fabrics. I think I had chosen fashion inside me to make better my world. I came from a little countryside town in the center of Italy, and fashion was far 20 galaxy from my origin culture.
FY! – If I say art, what is your reply?
AC – Art for me is the step after excellence… art for me is the creation near God or Mother Nature.  Art is the extreme level of the expression's disciplines. The art word is too much used to describe all kind of expressions. Today everything is art and everybody are artists, but only few people and few operas are immortal, are eternal.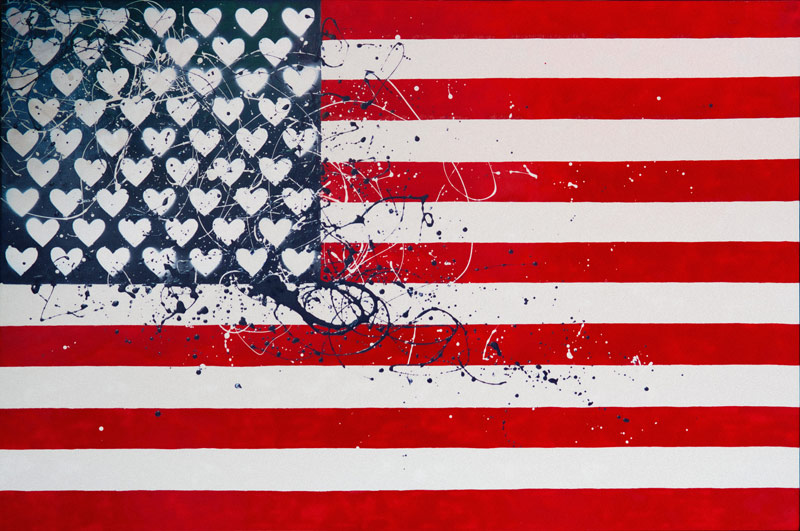 I LOVE U.S.A. (2015) vernice multistrato 150×100 
FY! – Your life is in the balance between these two worlds. In the late '90s, you work with Energie. From 2001 to 2008 you lead the Piero Guidi brand. Simultaneously your interest in art grows and you go on nurturing it. In 2007 and 2010 your love flows into two performances: Save your Angel and Apokalypse. Which are the experiences that left a major mark in your personal path? How much and how did they change you?
AC – My life is too much full of different experiences, I have follow always my instinct. I started to work into the fashion system as a model. Then, I decided to study and work inside this world but there was always a side of me who needs to change rules. Inside me there is a rebel soul, very pacific but always ready to go out of the limits.
I have started my artistic experience with street art, after performance, paints, videos, etc. All these experiences helped me to discover one side of myself. Art is my connection with the universe. Fashion is my connection with the world. I believe this is why I need living like two lives in the same time.
The best experience in this double way life is the interaction with people: each person can teach me a new lesson, I can use the experience of others to evolve myself and give back my point of view about life, love and politics.
I need to express myself and communicate with the world: this is the only fixed point of my life.
FY! – Which is the compromise between fashion and art? Where does the artistic essence finish and the wearability start?
AC – I don't like very much the word: compromise. It sounds like a prison. As I told you before, I need to go out of limits. I think this could be my limit. I'm always hungry of poetry, beauty is my drug. Many times I didn't accepted the big opportunity to save my freedom, others times I choose by myself to live into the prison of my fear. It's very complicated to describe because I believe everything is a game between me and myself. Compromise means often the acceptance of the audience. Always I need a dialogue with people, maybe the compromise is the language to give them the chance in understanding me.
FY! – In such a tough socio-economic moment, so hard even for a strong sector like  fashion, how much space is there for creativity and dreams? Which are today and which should be, in your opinion, the features you need to stand out in the international market?
AC – I don't care about economic time. I have learned from history that everything change ever, we cannot fix anything. We only need to be ready to walk in different lands. I believe passion, love, dreams can help people not having fear of future and live better the present. Many problems come to us because we are too much ambitious. I feel the secret of happiness is to follow our souls, not our mind. Mind is to much connected with troubles… the soul is more close to the universe. The mind thinks too much to problems so I believe that the secret to jump beyond this hard time is STOP THINKING.
FY! – LOVE'S NATIONis the capsule you presented in the Pitti Immagine Uomo 88th edition. Three t-shirts to celebrate an imaginary world with no war. What about it?
AC – LOVE'S NATION is a capsule collection of t-shirt that we presented at Pitti 88. The concept is very simple, I had an image of a world where the nations stop making war and they fall in love with each other. I have simply changed stars with hearts on the flags. Power becomes the power of Love. I everyday suffer a lot seeing conflicts: from the economic reasons to the global fear for differences. It is time to change… to give back the power to Love. Fashion can help society to evolve in a better way. I love to mix my communication ideas between art and fashion… on this ideas there will be also a part of my future Art Exhibition: LOVVISM.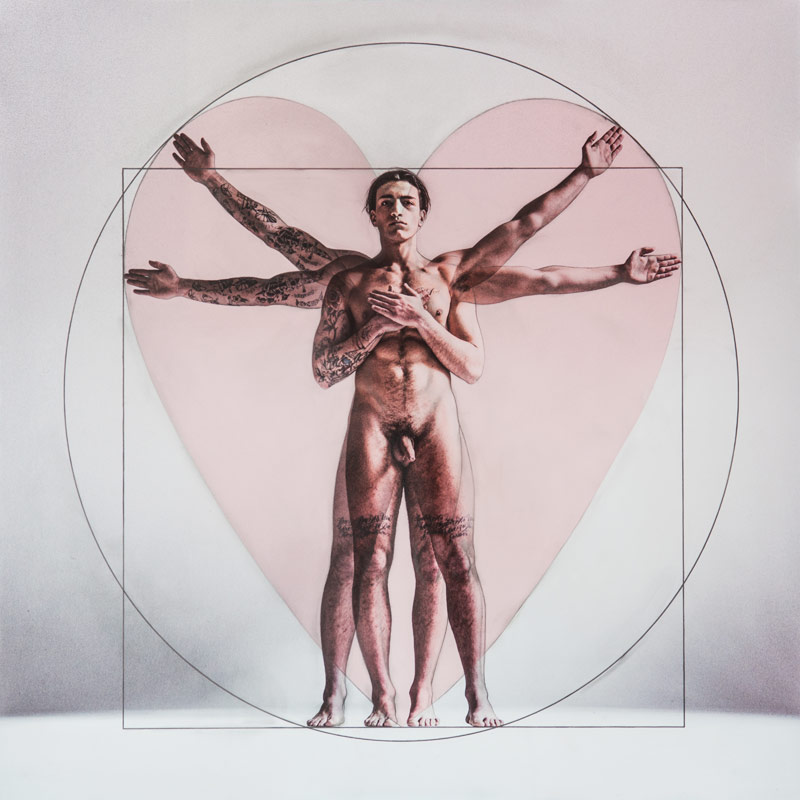 Lovvism perfect lover by Angelo Cruciani and Manuel Scrima
FY! – LOVVISMis instead the name for the exhibition you will inaugurate next 1st July in Milan. Thirty-five paintings focused on love to celebrate a comeback to art after your 5 year-absence. What did you want to tell? 
AC – I'm painting one million of hearts divided in 35 paintings; 6 of them in cooperation with Manuel Scrima.  After Apokalypse, my last art show, something died in me, it was like the end of my old version… after 2012 there was like a resurrection of a new person: Angelo 2.0.
Before I was very interested into human suffering, discover how to survive to a hard world, full of conflicts and blinded in front of the light. After that, it come to me the heart, this symbol would be a bridge to the future. Before I had a bad feeling with this symbol but day by day it become my religion, my life, I can't stop to see it everywhere. During this 3 years I have experimented his power in street art, flash mob, performance, installation, fashion… now, is time to give images. It was like a pray, repeating the symbol lots of time… how to create a new world where the main rule is love. Reinventing a language, leaving the old style, I become new and so far from my past.
Far from the idea of myself and closer to my soul. This exhibition is a path of images in which everybody can understand my point of view about future.
FY! –  On the occasion, a whole male collection, authentic masterpieces to be worn, are going to be put up for auction. Why the choice of an auction and what about the clothes to sell?
AC – Into the art exhibition there is only a little part of the collection, some pieces comes from ARMY OF LOVE:next fall winter collection. All the new collection (SS 2016) will be presented in Milan in September.
I decided to sell my collection into art gallery because this way is closer to my personality… for the moment, I prefer to give people really exclusive pieces, out of the brand; today everything is for business, fashion in this contemporary way becomes everyday more commercial. Actually, this is not my story! Surely, step by step and time by time the collection will be structured in a more classic way, but for now I want to experiment new possibilities: unfortunately for my nature, I can't repeat pre-existing schemes!
FY! – What cannot lack in your life?
AC – A lot of things: time, ideas, poetry, love, friends, parties, study, spiritual research, independence, dreams, chances of expression, madness and wisdom… and China!
I need a lot, I know! But first of all I need to be connected to my soul, then everything comes accordingly.
FY! – As usual, our last question… For you, what is really FUCKING YOUNG!?
AC – It is Fucking Young being honest, being out of the system's rules. To be creative, innovative and to reinvent the meaning of all things. As honesty I mean to live following your own light. It's Fucking Young working to reinvent our planet. It's Fucking Young stopping to judge others' life and accept all the differences. What it is really Fucking Young is to LOVE EVERYBODY!!!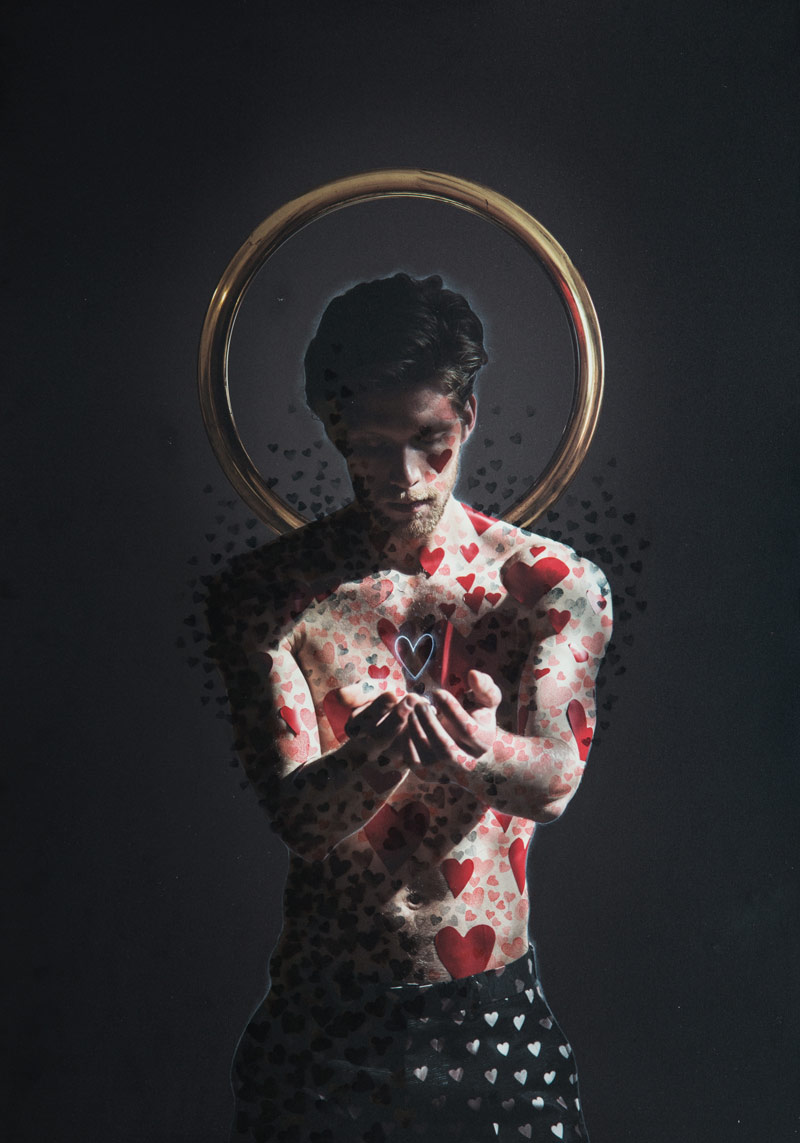 SANTO GRAL  (2015) Stampa su legno inchiostri, matite, resina  Angelo Cruciani and Manuel Scrima 70×100
Thanks a lot!